26 June 2019
Wine not, am I right?
1. It's beautiful
Where rolling hills blanketed in crops of barley are interrupted by villages atop rocky bluffs, it's hard not to feel like life here would be infinitely better than at home. The coastlines of Italy are famed for crystal blue waters and colourful villages like Cinque Terre, and the white washed clifftop towns in Puglia. There's immense charm in the canals of Venice and the brightly coloured streets of Rome, too. If there's anywhere that is going to make you stop and appreciate the beauty, it's Italy.
2. The pasta is the best thing you will ever eat
Provenance is important here. Much like in France, where the butter hails from a specific town, the lentils all come from Puy, and chicken from Bresse; in Italy, the dishes we call 'Italian' at home, are in fact generally regional specialties. In Rome there is a bowl of cheesy, peppery magic they call Cacio e Pepe. Places like the Mercato Centrale at Termini Station, or that quaint osteria on the corner will do it pretty well. Then there's Amatriciana, a tomato pasta based off pecorino specifically from Amatrice. Sicily is where you'll find Arancini balls (balls of rice filled with ragu and deep fried), while Florence is, of course, home to the Floretine steak.
3. The Pizza is even better
At the café in the departures lounge at Rome Fiumicino Airport, there is a wood fired pizza oven. This is evidence that the Italians refuse to serve a bad pizza.
4. Wine
There's a picturesque hilltop town in Tuscany called Montepulciano that is well worth a visit for the views, the food, the quaint streets and all that. Then there is a type of wine named after this very town, that you must also try. Try too, the syrah, the sangiovese, the barbera, the primitive, the dolcetto. Try them all, actually, because they're good, but also because they're very affordable. Think $5 for a bottle that would cost you $20 back in Aus.
5. You can live in a villa in Tuscany
In fact, the Italian government is selling dilapidated villas, castles and country homes for as little as $1, on the condition that they will be restored within three years. So you really could start a new life in the Italian countryside and live under the Tuscan sun. If that sounds like too much commitment, you can also stay in a villa for a week and live a life of luxury. Life is all about choice. 
6. There is history everywhere
Rome's history spans a whopping 28 centuries, with the oldest surviving part of the city - the Roman Forum – dating back to the 8th century BC. On a morning stroll through the city you can see the Colosseum, Caesar's Forum, the Pantheon, St Angelo's Castle, St Peter's Basilica, and hundreds (yes hundreds) of statues, carvings and frescos from some of the most famous artists ever to have lived. It's a little mind blowing to be honest, but incredible to pause and consider who else through history has stood right where you are, and what they would have seen then.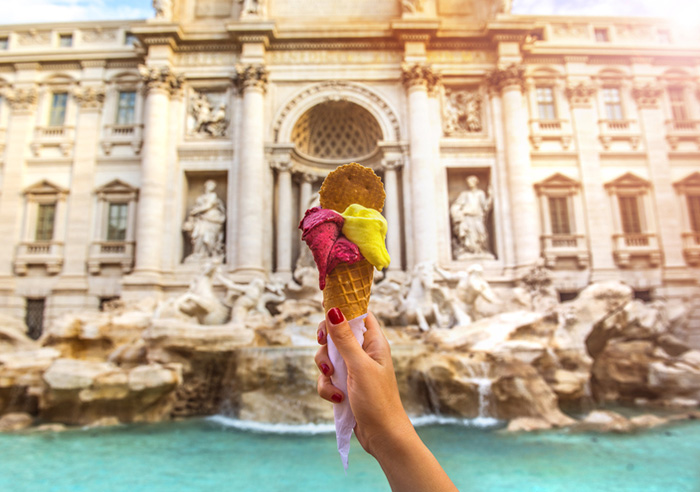 7. Gelato
I could go into a spiel about how gelato is an appropriate meal for any time of day, but I think you probably get it. Breakfast, morning tea, lunch, post lunch, afternoon snack, dessert, it's versatile.
8. There are beautiful artworks everywhere
If you go to Rome, book a skip the line ticket to the Vatican Museums and prepare to be in awe. There are more frescos and artworks in here than I've ever seen in my life. And I've spent a lot of time in the Louvre. And if you get tired of the audio guides with the sheer volume of information there is, pause to look for the excellent facial expressions you'll find in the artworks. Trust me, it's great entertainment. 
9. The Italians appreciate a slower pace of life
Do you find yourself rushing to get the train in the morning for fear of being late to the office? Or are you ever in a panic to finish your meal and end up with indigestion? Not in Italy.
It's no coincidence that the Slow movements were all born in Italy. The Slow Cities movement, which bans vehicles and favours independent, locally owned businesses, the Slow Food movement, which avoids international fast food chains like McDonalds in favour of savouring a multi-course meal over hours. This is also why Italians (along with the Spanish, Portuguese and other Mediterranean cultures) still observe a daily siesta. To sum it up, nothing is urgent in Italy, so you've no reason to ever feel stressed. Unless your team is playing a football game, I guess.
---
---
Other Travel Articles You Might Like...