28 September 2016
Words by Carlie Tucker
Qantas revealed a new line of pyjamas today. Designed by Martin Grant, they will be available for all international First Class passengers. It marks the first foray into sleepwear for the Australian born, Paris based designer who also designed the Qantas cabin crew uniform that was introduced in 2013.
"Designing the new Qantas First pyjamas was a terrific challenge. The style considerations, material and design elements were completely different to my usual collections and I focused on combining style and sophistication with comfort and practicality," Grant said.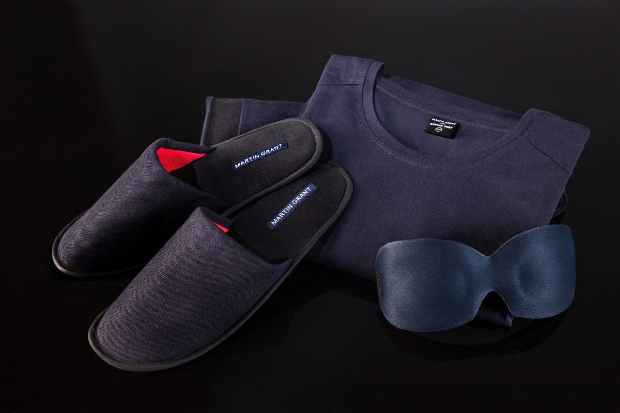 Considering every detail, Grant even road tested the pyjamas himself to better refine the design before submitting them for production.
"Material breathability, flattering colours and tapered lines were top of mind when coming up with the design, as well as ensuring the pyjama bottoms don't crawl up the leg and a non-restrictive neckline just as important."
This new sleepwear is 100% cotton with a unisex design in navy with a black trim. The men's version feature black horizontal stripes, while the women's features black cross stripes. They are presented to passengers in a Martin Grant drawstring bag with matching travel slippers.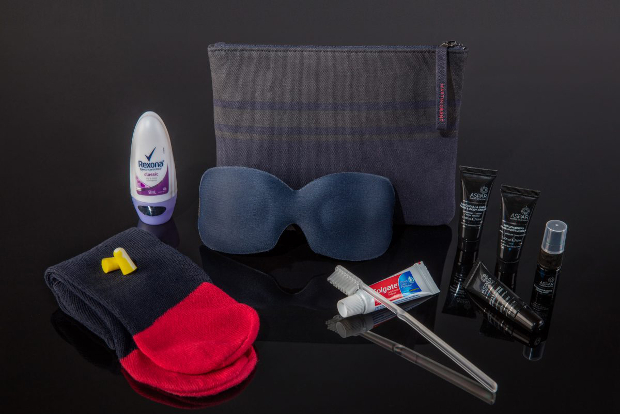 Accompanying the new sleepwear, Grant has also designed a new male and female amenity kit in the same navy colour-scheme as the pyjamas. The new kit offers Martin Grant-designed travel socks, a dental kit, ear plugs, deodorant and range of bespoke hydrating ASPAR by Aurora Spa products. This includes Sweet Orange & Shea Hand Cream, Vanilla & Orange Lip Moisturiser and Ultra Hydrating Face Moisturiser.
This marks only the third time Qantas has redesigned their First Class sleepwear since 2007, and this new set will replace the charcoal and dark grey version released in 2013. It is a feature of First Class that many passengers appreciate, with Qantas Head of Customer Product and Service Development, Phil Capps, commented, "Qantas is one of only a few airlines in the world that provides complimentary pyjamas in both First and Business Class, and more than 95 per cent of our passengers travelling on overnight international flights change in to them so we are well aware of how important they are on the comfort scale.
"What's also important is that they tick the boxes on the style scale and we have no doubt this design will be worn with great flair in the First cabin."
Other Travel Articles You Might Like...