8 June 2020
---
Film locations to visit in Hawaii:
Banzai Pipeline, Oahu North Shore - Blue Crush

Waikane, Oahu - 50 First Dates

Grand Wailea Hotel, Maui - Just Go With It

Na Pali Coast, Kauai - Jurassic Park

Kualoa Ranch, Oahu - Jurassic Park, Lost, Hawaii 5-0
---

Ever watched a movie and decided you absolutely must visit the place it's filmed because it looks so incredible? Hawaii is totally one of those places that inspires this type of wanderlust. It's all so appealing, from the epic surf breaks to lush green forests, and of course the laid-back Hawaiian culture and sunshine. Here's some of the best Hawaiian escapism movies, and where to head to if you want to chase a slice of the paradise for yourself. Even better, get in touch with us to find out how you can make your own Hawaii experience unforgettable!
Crushin' it
If surfing floats your boat, then you've probably seen the chick flick / cult classic movie Blue Crush. Set on Hawaii's famed North Shore, the movie follows the lives of a bunch of local girls trying to make ends meet while bust into the male dominated pro surfing scene. Filmed on Oahu, this is one of the best movies you can watch to experience the amazing surf breaks of the island's North Shore, including the famous Banzai Pipeline. Other filming locations in Oahu include the tourist mecca of Waikiki on the south of the island, as well as Makaha on the island's western side.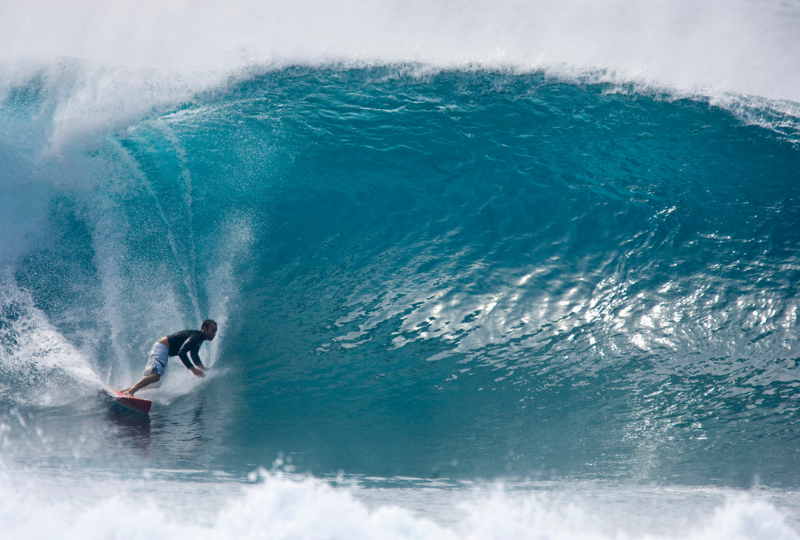 North shore of Oahu. (Getty Images)
More than 50 reasons to see Waikane
Another popular chick flick filmed on Oahu is the Drew Barrymore movie, 50 First Dates. This movie really captures the idyllic Hawaiian lifestyle and totally makes you want to go there for yourself. The scenes set around the dreamy landscape of the Whitmore's house are all shot in rural Waikane on Oahu's east coast, and the scenes of Henry (Adam Sandler) sailing, are just a bit further down the coast in Kaneohe.
Just Go With It ... to Maui
Another Adam Sandler flick (he must really love filming in Hawaii) Just Go With It, was filmed on the islands of Maui and Kauai. The main setting for the Hawaiian part of the movie is an idyllic upmarket beachfront hotel, filmed at the Grand Wailea in Maui. Another amazing scene is where they hike to a spectacular waterfall, which is filmed on Kauai, Hawaii's 'Garden Island', famous for its beautiful natural scenery.
All The Dinosaurs
Jurassic Park is another hollywood blockbuster filmed on the island of Kauai. Set mostly along the rugged green coastline of the Na Pali Coast State Park, the location is a remote and adventurous destination. This is where to go if you really want to get away from it all and experience remote Hawaii in all it's natural glory - and don't worry there aren't really any dinosaurs there! In sharp contrast to the Jurassic Park setting, Hawaii's urban and military scene is uncovered in the 2015 romantic 'Aloha' movie starring Bradley Cooper, Rachel McAdams and Emma Stone. This movie is set almost entirely in Honolulu offering a glimpse into modern Hawaii, from the multicultural food and delicious cocktails to the native Hawaiian identity and culture.
Keen to chat about your Hawaii travel plans? Get in touch with us or search our HOT deals.

Other Travel Articles You Might Like...