31 Galleries And Museums Around The World To Visit Virtually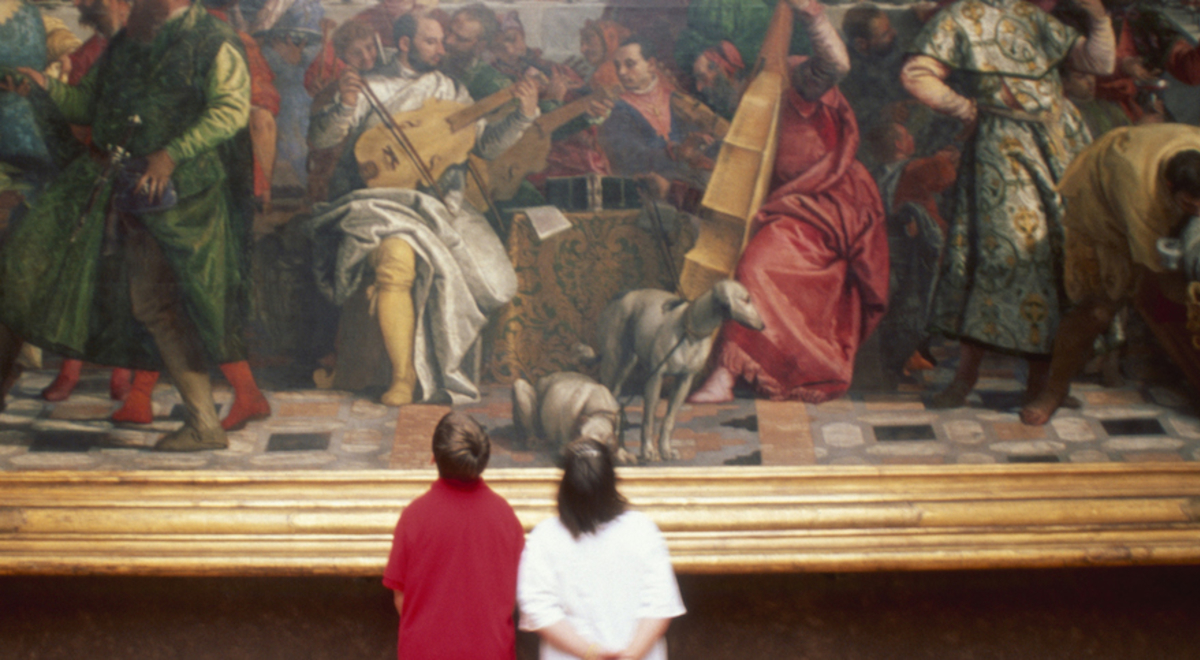 ---
---
While we're all stuck in lockdowns or hemmed in from holidaying by border closures, the good people in galleries around the globe have kept their doors open (virtually) for us to all come on inside and take a walk around, no pants required. That's right, you can explore the world's most famous and storied archeological and artistic institutions all from the comfort of your living room. No plane ticket, long queues, hours of entry or suggested admittance fee, it's all yours for free, whenever you want to visit.
---
Not only are you able to visit these worldly institutions' regular exhibits, many also host vast online archives, which means you can take a digital stroll through more exhibits than would usually be on display even if you rocked up with pants on in person. From Parisian Impressionist works in the Musée d'Orsay to a walk through ancient Greece from Athens' Benaki Museum to the recent 'Keith Haring | Jean-Michel Basquiat: Crossing Lines' show at the National Gallery of Victoria. There are some incredible exhibitions at the click of a mouse.
So whip up a brew of your choosing, hop on the couch and settle into some seriously arty farty self-isolation learning and discovery with these museums and galleries you can explore from your living room.
Take A Look At These Virtual Museum And Gallery Tours Around The World
In Europe:
Pergamon Museum, Berlin
Described as one of the largest museums in Germany, this historical museum houses everything starting with ancient artifacts such as the famous Ishtar Gate of Babylon and, naturally, the Pergamon Altar.
https://artsandculture.google.com/partner/pergamonmuseum-staatliche-museen-zu-berlin  
The whole Museum Island: https://artsandculture.google.com/project/museum-island-berlin
Guggenheim, Bilbao
The interactive tour takes viewers around its collection of postwar American and European painting and sculpture. Including pieces by artists such as Rothko, Holzer, Koons, Kapoor – and even down between the weathered curves of Serra's Matter of Time (turn left at the entrance). Frank Gehry's sculptured titanium and steel building, on the banks of the Nervión River, is one of the world's most distinctive art spaces and is wonderful to explore virtually.
https://www.guggenheim-bilbao.eus/en
Rijksmuseum, Amsterdam
Featuring a collection of art and historical objects across 80 galleries, the interactive tour lets you get up close to every brush stroke by Vermeer, Rembrandt and other Dutch masters while exploring the Great Hall and beyond. The Street View-style tour is good, but you're better off sticking to the brilliant online exhibitions, like the interactive guide to the master of throwing shade, Rembrandt. You can even get up close and personal with 'The Night Watch'.
https://artsandculture.google.com/partner/rijksmuseum
Van Gogh Museum, Amsterdam
Step up and see the paintings of this ingenious artist, up close and personally (online) at this virtual museum which is home to the largest collection of artworks by Vincent van Gogh. The collection includes over 200 paintings, 750 of his personal handwritten letters and 500 drawings.
https://artsandculture.google.com/partner/van-gogh-museum?hl=en
Musée d'Orsay, Paris
One of the interesting facts about this space is that it sits in the magnificent Gare d'Orsay, an ornate Paris railway station and hotel. Aside from its architecture, he musée is home to Cézanne, Monet and other French masters. Under a 138m-long curved glass roof, sits the largest collection of impressionist and post-Impressionist works in the world. 
https://m.musee-orsay.fr/en/home.html
https://artsandculture.google.com/partner/musee-dorsay-paris
The Louvre, Paris
You've probably heard of this place before, being one of the world's largest art museums and one of Paris' most iconic historic monuments. The museum offers free online tours of some of its most significant and popular exhibits, including the Egyptian Antiquities and works from Michelangelo. Try out a 360-degree view of the gallery, and click around the rare artifacts to see more information.
https://www.louvre.fr/en/visites-en-ligne
British Museum, London
When the British Museum opened in 1759 it was the first museum in the world to open to the public. One of the unique features of this tour is the ability to tap through a musical guide to Africa, the Americas, Asia, Oceania and Europe – and play a tune throughout the tour.
The museum's 360-degree tour allows the viewer to see each and every one of the 3,212 panes of glass in the domed ceiling of its Great Court, of which no two are the same. You can also see here the Rosetta Stone, Egyptian mummies and plenty more ancient wonders. The museum's interactive infographic platform, History Connected, goes into further depth of various objects with curators, along a timeline.
https://britishmuseum.withgoogle.com/
https://www.britishmuseum.org/
Natural History Museum, London
The Natural History Museum's vast collection has long been a favourite of both Londoners and tourists. From the diplodocus to the dodo you can get lost in the corridors and gallery spaces – one surprise however is Dippy the dino, who despite recently going on tour still makes an appearance in the entrance hall in this virtual guide.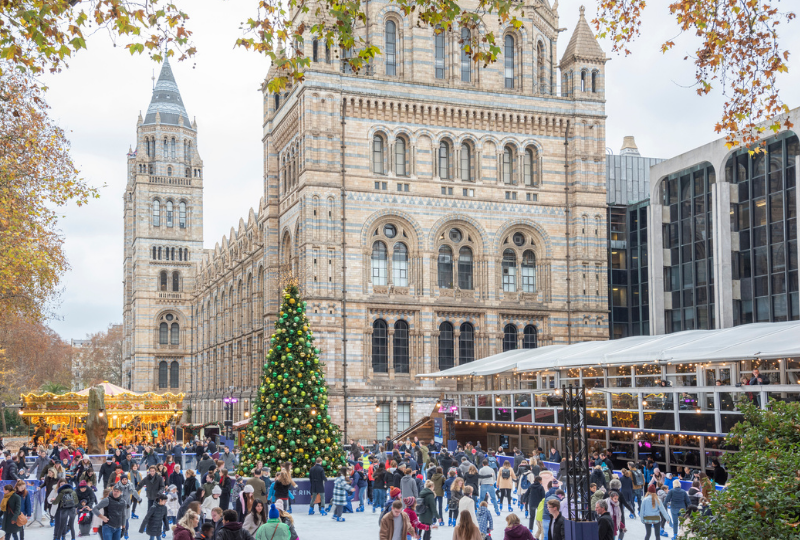 National Gallery, London
You may have noticed this gallery only as a backdrop to London's four lions in Trafalgar Square, if you've visited before. However the National is home to 2,300 publicly-owned paintings, watercolours, drawings and other European art from the 13th to the mid-20th century, across seven exhibition spaces.
https://www.nationalgallery.org.uk/visiting/virtual-tours
Andy Warhol Exhibition, Tate Modern, London
Unfortunately the Andy Warhol retrospective opened at Tate Modern on March 12, before soon closing on March 17 because of London's Coronavirus lockdown. However thankfully the Tate has instead created a virtual tour of the show available on its YouTube channel and website.
https://www.youtube.com/watch?v=ZjgAd6Z-dd0&feature=emb_title
Picasso Museum, Barcelona
This place of worship to all things Picasso offers up a vast online catalogue of the artist's best work, in addition to a 360-degree tour of the museum which features some of the best-preserved Medieval architecture in Barcelona. 
http://courtyard.museupicassobcn.org/
Thyssen-Bornemisza Museum, Madrid
On the homepage of Madrid's Thyssen-Bornemisza you can take a wander around all of its public galleries. The recent exhibition 'Rembrandt and Amsterdam portraiture, 1590-1670' includes an impressive collection of 80 paintings and was a hit when first revealed. The other museums and galleries that make up Madrid's 'Golden Triangle' of institutions, the Prado and Reina Sofía, also offer up virtual tours for online visitors.
https://static.museothyssen.org/microsites/vv_permanente/index_in.htm?startscene=0&startactions=lookat(153,-22,106.74,0,0); 
The Dali Theatre Museum, Catalonia
Located in the town of Figueres in Catalonia, Spain, the Dalí Theatre-Museum is completely dedicated to the artwork of Salvador Dalí. It features many rooms and exhibits surrounding every era of Dalí's life and career, and the artist himself is buried here. The museum offers virtual tours of the grounds and a few exhibits.
https://www.salvador-dali.org/en/museums/dali-theatre-museum-in-figueres/visita-virtual/
Benaki Museum, Athens
Take a sticky beak through ancient Greece with the Benaki Museum's 360-degree tour. It's easy to get lost in their extensive collection of ancient artefacts – from ancient fertility statues to gilded Byzantine paintings, with some dating back as far as 6500BC.
https://www.benaki.org/index.php?lang=en
Vatican Museums, Rome
Vaulted ceilings, incredibly detailed murals and tapestries, the Vatican's museums are creatively rich spaces even beside the relics they hold. Make sure you look up when exploring the seven spaces in the museum's virtual tour which includes the Sistine Chapel. See all of the Vatican City with a You Visit tour that includes Saint Peter's Basilica and Square, complete with the narration.
http://www.museivaticani.va/content/museivaticani/en.html#lnav_explore
Uffizi Gallery, Florence
Scroll through more than 300,000 works in the digital archives of the Uffizi, Florence's library of Renaissance art. Botticelli, Titian and Canaletto – it's all in there. Head to the HyperVisions tab for thoughtfully curated tours around themes such as angels, epiphany and 'intercultural vision'.
RELATED: 28 Films That Will Transport You From Your Couch Far Away
In North America
Art Institute of Chicago
There are 572 artworks available on the Art Institute's virtual tour, which includes Edward Hopper's well-known ode to urban alienation, 'Nighthawks'. But if you're looking for something a little more cheery, there's also Georges Seurat's Post-Impressionist masterpiece, 'A Sunday on La Grande Jatte'.
https://www.artic.edu/visit-us-virtually
Solomon R. Guggenheim Museum, New York
One of the Gugg's biggest drawcards is the building itself, designed by Frank Lloyd Wright. Thanks to this Google Street View tour you can take a look in addition to the museum's postmodern, conceptual and installation art, then head to the homepage for a database of its entire collection.
https://artsandculture.google.com/partner/solomon-r-guggenheim-museum
National Gallery of Art, Washington DC
The USA's National Gallery of Art has over 42,000 items on its Google Arts & Culture site. You can search through every single last one or view them via categories such as 'Renaissance', 'Engravings' and more. The gallery's homepage also features slideshows of some of its popular exhibitions like 'Degas at the Opera'.
https://artsandculture.google.com/partner/national-gallery-of-art-washington-dc?hl=en
Smithsonian Institution National Museum of Natural History, Washington D.C.
The National Museum of Natural History is one of the most-visited museums in the world, and you get to see it minus the crowds! The online tour offers a peek at both the treasures within and around the entire grounds. Online visitors are first welcomed into its rotunda and are greeted with a comprehensive room-by-room, 360-degree walking tour, which of course covers the Hall of Mammals, Insect Zoo, Dinosaurs and Hall of Paleobiology.
https://naturalhistory.si.edu/visit/virtual-tour
Museum of Modern Art, New York
Check out over a hundred artworks from MoMA's collection on Google, including world famous paintings like van Gogh's 'The Starry Night', Paul Cézanne's 'Still Life with Apples' and Rousseau's 'The Sleeping Gypsy'. To ensure the experience is a fun, easy and informative wander, artworks are grouped into categories such as contemporary art, Modernist art and Cubism.
https://artsandculture.google.com/partner/moma-the-museum-of-modern-art
J Paul Getty Museum, Los Angeles
Go from neolithic clay figures to Van Gogh's Irises and Renoir's La Promenade – just two of many artworks that feature in the virtual tour of the museum with more than 6,000 years worth of creative artifacts. As featured in several of the selected museums and galleries below, Google Arts and Culture offers a "museum view" tool to look inside gallery spaces, with clickable artworks presenting further information. The Getty's sunny sculpture plaza and garden terrace are worth adding to your digital trip, via another viewing platform, Xplorit.
The Metropolitan Museum of Art, New York
The Met is home to over 2 million works of fine art, but you don't have to be in New York City to enjoy them. The institution's website features an online collection and virtual tours of some of its most impressive pieces, including works from Vincent van Gogh, Jackson Pollock, and Giotto di Bondone. In addition, The Met also works with the Google Cultural Institute to make even more artwork (that's not featured in its own online collection) available for view.
https://www.metmuseum.org/art/online-features
https://artsandculture.google.com/partner/the-metropolitan-museum-of-art
NASA, Virginia
For a tour that is out of this world, NASA offers free virtual tours of the Langley Research Center in Virginia and of Ohio's Glenn Research Center. The Space Center Houston also has an app that provides virtual tours, augmented reality experiences, and videos and audio stories about space exploration.
https://www.nasa.gov/glennvirtualtours
The National Museum of the United States Air Force
The official museum of the United States Air Force is located on Wright-Patterson Air Force Base in Dayton, Ohio but you can see it all online for free which includes the entire museum grounds. It houses a huge array of military weapons and aircraft, but even more interesting is that it also houses the presidential airplanes of Franklin D. Roosevelt, Harry Truman, Dwight D. Eisenhower, John F. Kennedy, and Richard Nixon. The museum also displays decommissioned aircraft from World War II, Vietnam, and the Korean War.
https://www.nationalmuseum.af.mil/Visit/Virtual-Tour/
In South America
National Museum Of Anthropology, Mexico City
This incredible museum is dedicated to the pre-Hispanic heritage of Mexico and is home to many archeological artifacts and in depth history. See all 23 exhibition rooms which host a plethora of ancient objects, including some from the ancient Maya civilization.
https://artsandculture.google.com/asset/the-national-museum-of-anthropology-mexico-city-ziko-van-dijk-wikimedia-commons/bAGSHRdlzSRcdQ?hl=en
MASP, São Paulo
The Museu de Arte de São Paulo has a very particular way of displaying artwork in their galleries: paintings are hung on crystal easels that make them look like they're floating mid-air. Check it out on their virtual gallery, which features online exhibits of art from Brazil and beyond.
https://artsandculture.google.com/partner/masp
In Australia & Asia
National Gallery of Victoria, Melbourne
Much like most of the big museums around the world, the National Gallery of Victoria has temporarily closed because of the Coronavirus. But if you missed out on the two super popular exhibits: 'Keith Haring | Jean-Michel Basquiat: Crossing Lines' or the 'Kaws: Companionship in the Age of Loneliness' (a title which feels all too real right now), they're both available as a free tour led by the curator. The galleries website now hosts virtual tours, ebooks, online galleries and children's activities, in addition to its already huge online collection which features 75,000 works, 90percent of which are available online.
https://www.ngv.vic.gov.au/channel/
RELATED: 19 Travel Podcasts To Take A Mental Break
National Museum of Modern and Contemporary Art, South Korea
This interactive tour pulls together the many sites that make up this museum from the main gallery in Gwacheon and branches in Deoksugung, Seoul and Cheongju. The tour is perfect for a dose of print, design, sculpture, photography and new media inspiration. From Joseph Beuys to Warhol and Nam June Paik, the collection includes a worldly lineup of international artists, contemporary Korean artworks and emerging creators.
https://artsandculture.google.com/partner/national-museum-of-modern-and-contemporary-art-korea?hl=en
National Palace Museum, Taipei City
Host to an unrivalled collection of Chinese arts and crafts from the neolithic to the modern era, Taiwan's National Palace Museum is fascinating. You can embark on a guided tour and select anything that catches your eye to explore further.
https://tech2.npm.edu.tw/720vr/museumen/views.html
Emperor Qinshihuang' Mausoleum, Xi'an
Check out the famous terracotta warriors at the Emperor Qinshihuang's Mausoleum Site Museum in Xi'an.
http://39.104.142.130/html/public/zl/500yvr/bc726d2972a949c180c4f85216e6c5ea.html
The Google Art Project
Many of the museums and galleries on this list are hosted by the Google Art Project which was created to help its users discover and view important artworks online in high resolution. Google partnered with more than 1200 cultural institutions from around the world to archive and document priceless pieces of art and to provide virtual tours of museums using Google Street View technology. The Google Art Project features fine art from the White House, the Museum of Islamic Art in Qatar, and even São Paulo street art from Brazil. Here's a list of museums you can visit virtually: https://artsandculture.google.com/partner
---
Flight Centre acknowledges the Traditional Custodians of Country throughout Australia.