Travel Guides: Our Guide To Spending 48 Hours In Darwin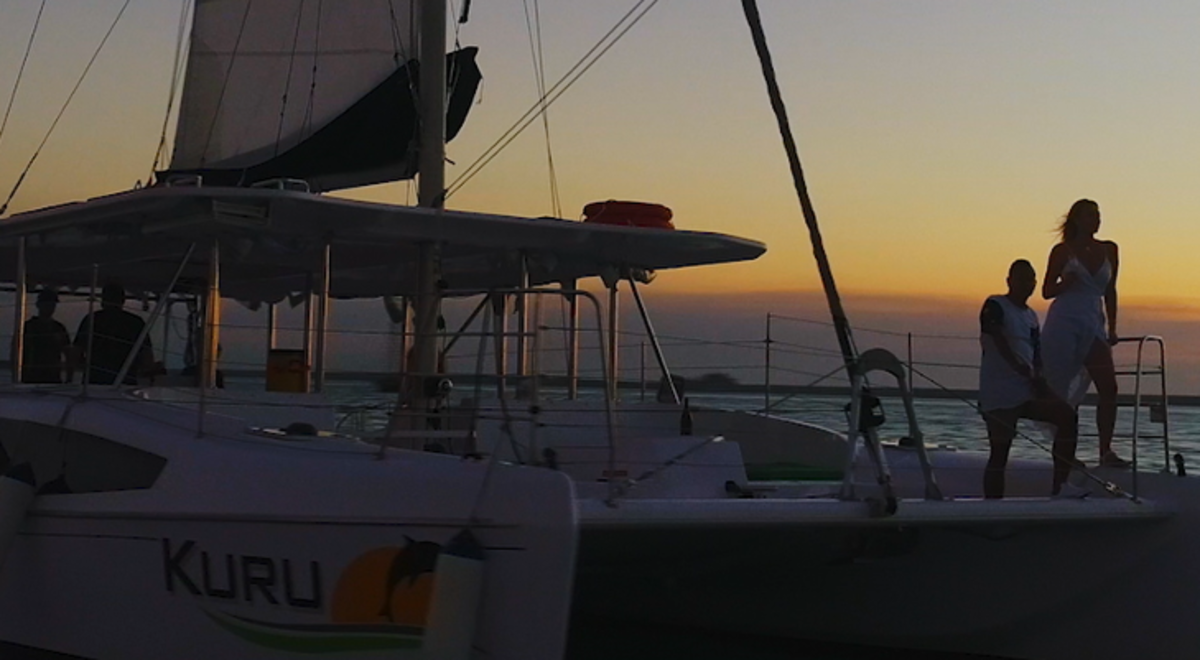 ---
---
Follow Flight Centre consultant Greer Gardiner as she samples the best of the Top End has to offer, as seen on the new TV series produced by Flight Centre, The 48 Hour Destination. The catch? She only has 48 hours to experience it all. Here's her action-packed Darwin itinerary to inspire you to head to the tropics.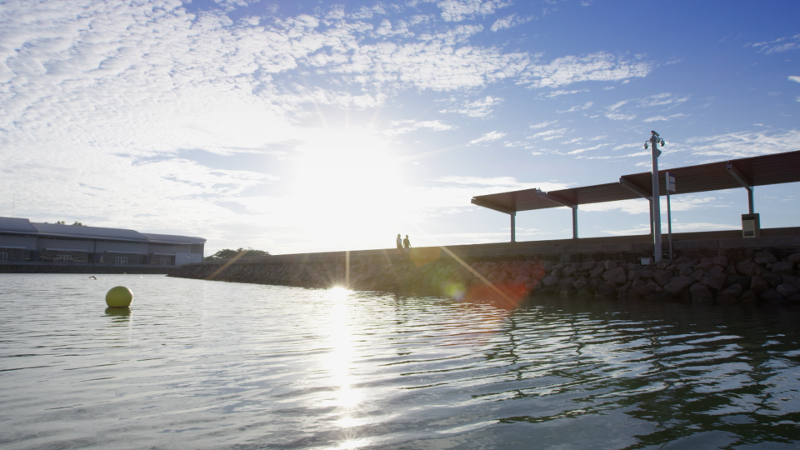 Itimai and Greer meet at Darwin's popular waterfront, bustling with locals in the cool morning air.
Day 1
8am Darwin Waterfront
Darwin is a city with a surprisingly layered history and culture. There is no better place to begin than on the waterfront, once a solely military frontier, today a bustling beach precinct filled with excellent restaurants and bars. It's here where Greer meets local Flight Centre consultant Itimai Kamkulna, her local guide for the next 48 hours. They leave behind the historic Oil Storage tunnels and locals swimming laps for their first destination, for which they head to the airport.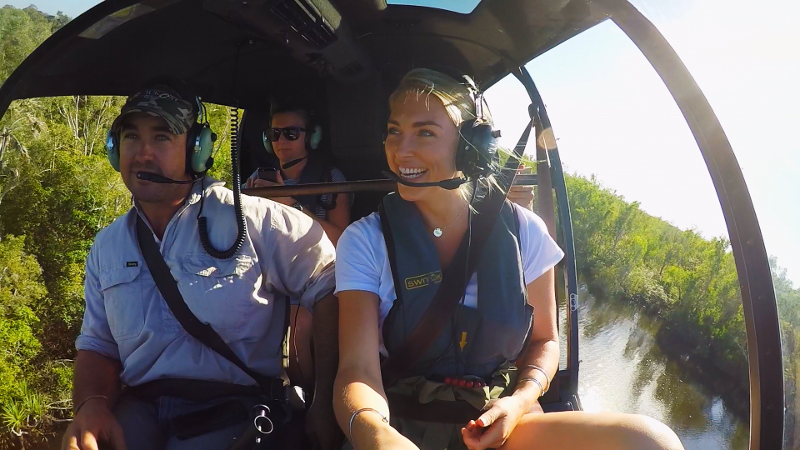 Greer and Itimai flying over the river trying to spot crocs and birdlife!
9am Sweets Lagoon
Taking off from Darwin Airport, Greer and Itimai board a seaplane for a scenic flight over the city to Finniss River, southwest of Darwin. This region of rich wetlands is renowned for its fishing and wildlife, including, of course, crocodiles. After landing on the river, Itimai and Greer board a boat to cruise down the river to where it meets the sea at Fog Bay. Keeping their eyes peeled for wildlife, they're lucky enough to find Otis the crocodile and a few of his friends, as well as spotting eagles and kangaroos. To ensure they really get a feel for how remote and immense this wilderness wetland is, they jump onboard a scenic helicopter flight to follow the river to the sea and watch how the flora blankets the land, before setting off in the seaplane back to Darwin.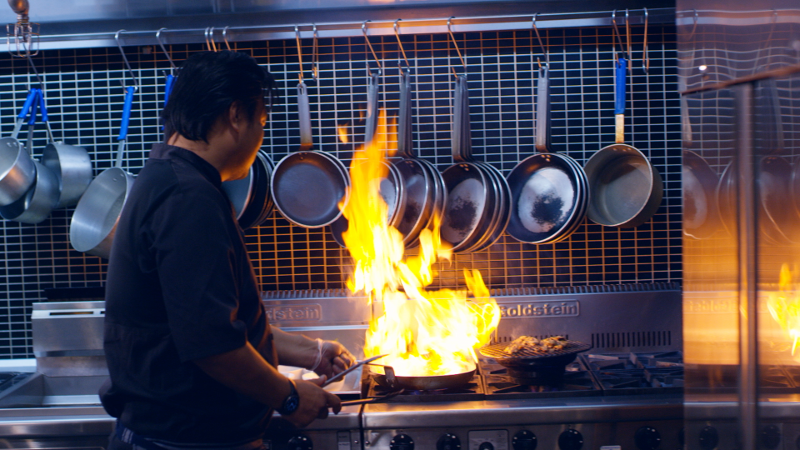 The chef at Little Miss Korea shows Greer and Itimai his skills before taking them through the menu.
12pm Little Miss Korea
After an action-packed morning, Itimai takes Greer to one of his favourite lunch spots, Little Miss Korea. A barbecue restaurant with a modern take on a la carte dining, Little Miss Korea is just one of a growing number of excellent Asian eateries in Darwin.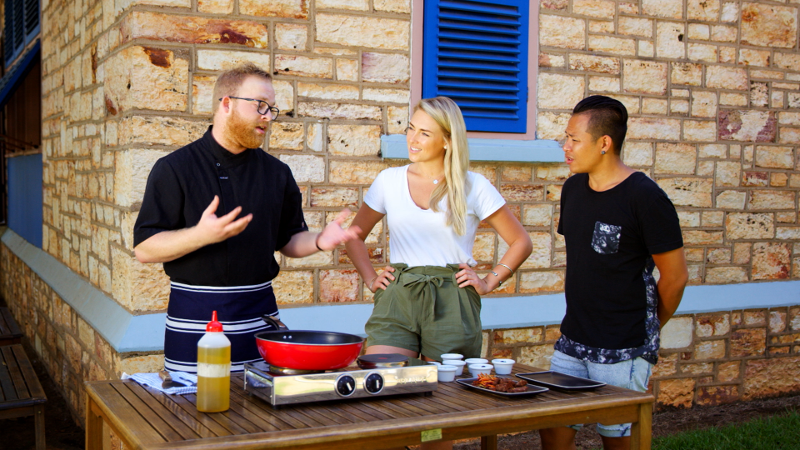 Zach from the Aboriginal Bush Traders teaches Greer and Itimai about bush tucker.
2pm Aboriginal Bush Traders
Following a filling Korean barbecue lunch, Itimai takes Greer to the Aboriginal Bush Traders to learn about the local culture and history. Situated in the historic Lyons Cottage in the heart of Darwin, this not-for-profit attraction is designed to give visitors a unique, authentic experience of the region's rich culture and history. Tour guide Beck takes Greer and Itimai through the gallery, pointing out artworks by prominent and emerging artists from the surrounding areas, while chef Zach at the onsite cafe teaches them about bush tucker, and Noah shows them how a didgeridoo is made and played.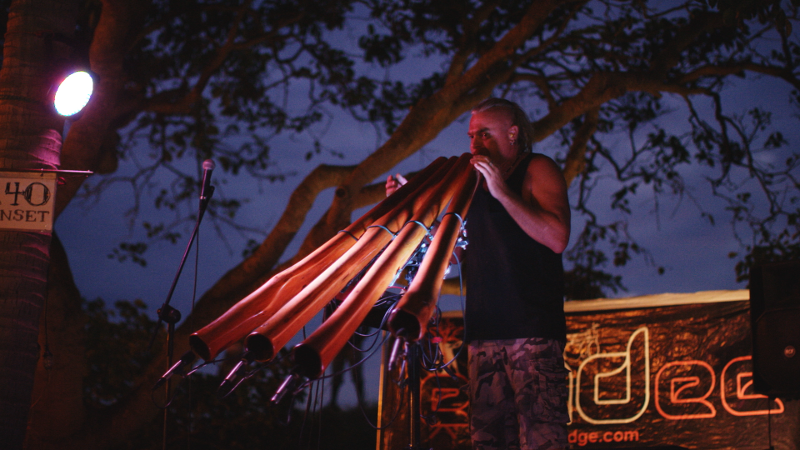 The Mindil Beach Markets are bustling with music, food and entertainment options.
4pm Mindil Beach
A trip to Darwin wouldn't be complete without visiting the renowned Mindil Beach Sunset Market. Home to over 300 stalls, the markets serve up delicious street-style food while performers wow the crowd as the sun sets over the ocean.
9pm Trader Bar
The final stop for the day is a new hotspot in Darwin. Housed in an old Darwin home, this funky espresso and cocktail bar is just one of an increasing number of lively new places to down a pint in the NT capital. 
Day 2
7am Nightcliff Markets
You have to be up early to beat the heat in Darwin, and there's no better place to start than at the Nightcliff Markets. Another hotspot for authentic Asian cuisine, Nightcliff Markets also have great coffee stalls as well as an array of artisan crafts and wares.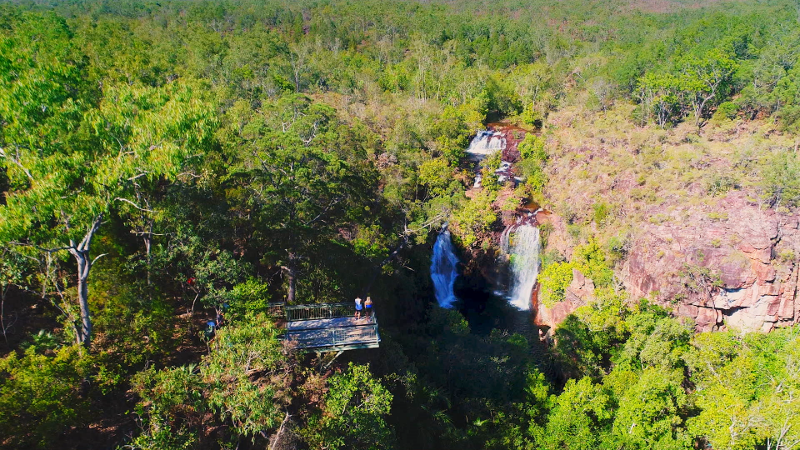 Litchfield National Park, is filled with waterfalls and walking tracks to explore.
8am Litchfield National Park and Buley Rockhole
After fuelling up at the markets, Greer and Itimai set off for another day of adventure. Litchfield National Park is renowned for its spectacular waterfalls, swimming holes and massive termite mounds. Itimai takes Greer to both Buley Rockhole and Florence Falls to cool off from the harsh morning sun.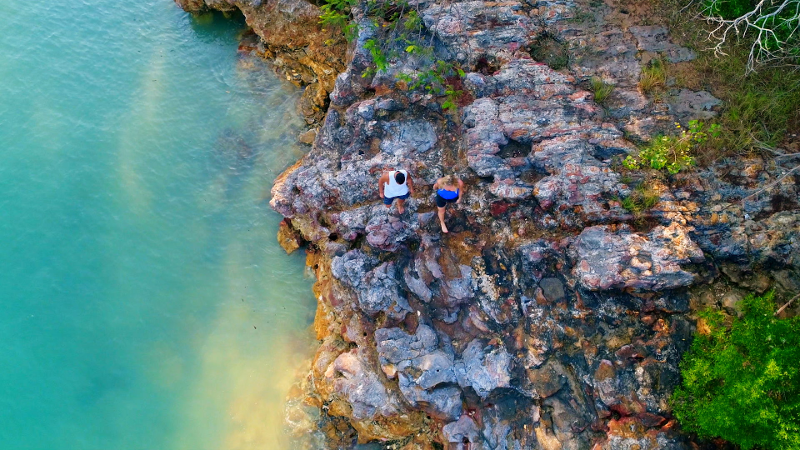 East Point Reserve is one of the most beautiful coastlines in Darwin.
11am East Point Reserve
Returning back to Darwin in time for lunch, Itimai takes Greer for a quick stroll around East Point, a beautiful reserve distinguished by its unique, vibrant rock patterns and formations.
12pm Hanuman Restaurant
Lunch today is again at one of Itimai's favourite Darwin eateries, and a restaurant Greer has heard so much about. Hanuman is the brainchild of chef Kr Jimmy Shu, the man behind Melbourne restaurants Monsoon, Shakahari, and Isthmus. Jimmy's team of chefs at Hanuman hail from all over the Asian continent, creating a unique, authentic blend of flavours at the restaurant that's hard to come by in Darwin.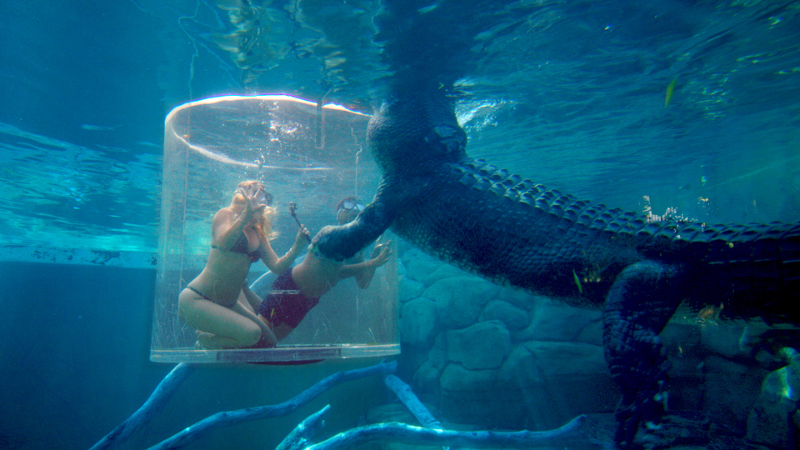 The Cage of Death is a must-do adrenaline filled experience while in Darwin.
2pm Crocosaurus Cove
Itimai may have found the perfect post-lunch exercise for Greer – swimming with crocodiles! Crocosaurus Cove, home to some of the largest saltwater crocodiles in Australia as well as the world's largest display of Australian reptiles, is a must-visit when in town. Hold baby crocodiles, visit turtles and check out myriad fish species in the freshwater aquarium. The main event, however, is the Cage of Death, and Greer and Itimai jump in the water for what is Australia's only crocodile dive!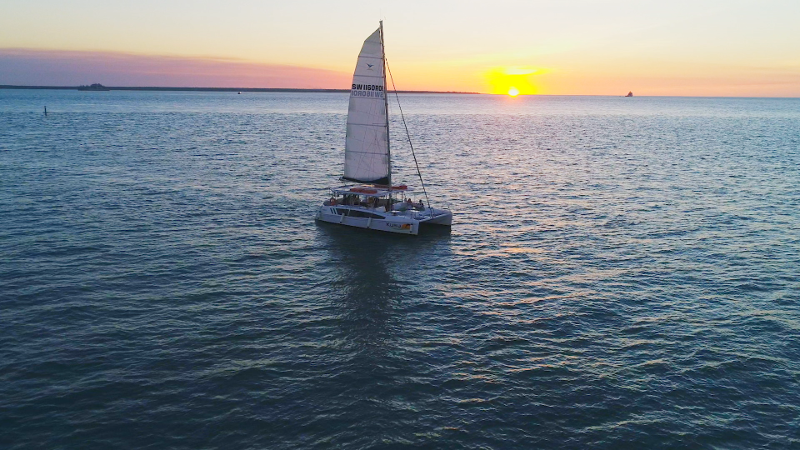 There's no better way to experience Darwin's magical sunsets than on a catarmaran cruise.
4pm Sunset Cruise
Darwin is renowned for its epic sunsets, so of course 48 hours in Darwin deserves a harbour cruise. Greer and Itimai meet skipper Leslee and board the yacht to watch the sun set over the harbour and city.
8pm Lola's Pergola
An action-packed day wouldn't be complete without a unique and vibrant dinner destination. The sunset cruise doesn't just take Greer and Itimai back to the harbour, it takes them straight to Lola's Pergola. This quirky local hotspot is a carnival-themed restaurant and bar run by local personality Kitty Kat and her husband Mulga.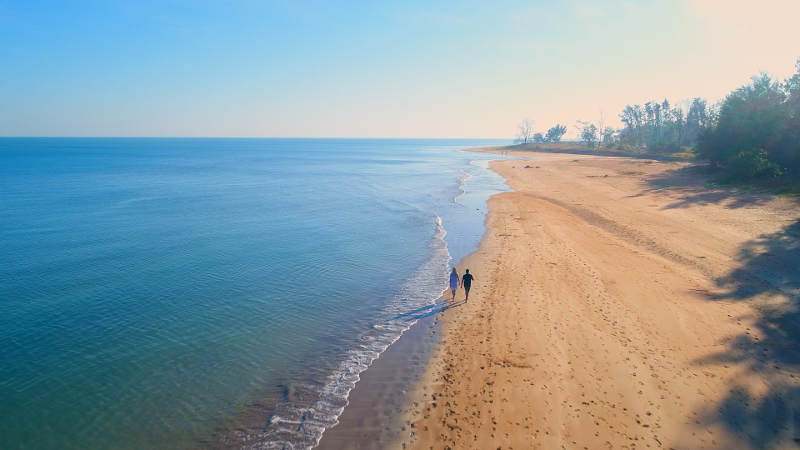 A post-breakfast stroll along Casuarina Beach is the perfect end to 48 hours in Darwin.
7am De la Plage
The perfect setting for their last breakfast together in Darwin, Itimai takes Greer to De la Plage, a laidback beachfront cafe at Casuarina Beach Reserve. Serving breakfast through to sundowner drinks, including a fresh offering of salads and over-filled baguettes, Greer and Itimai settle for coffees overlooking the clear blue waters, reflecting on what an adventurous, inviting town Darwin has proved to be. 
All images: Flight Centre
---
Watch the full episode of 48 Hours in Japan on Sunday at 3:30pm on Channel Ten or stream on tenplay.com.au. For more information, visit flightcentre.com.au/48hour
---

---
Flight Centre acknowledges the Traditional Custodians of Country throughout Australia.