Adventure Awaits: See The Kimberleys While On A 4WD Tour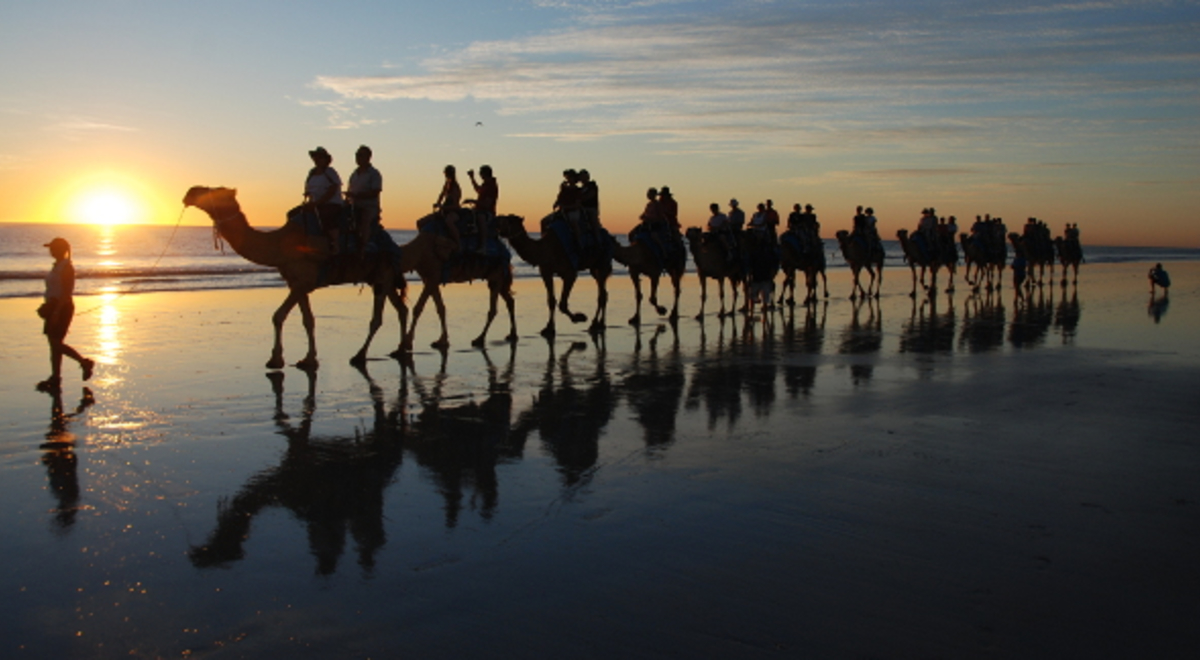 ---
---
I have always hated four-wheel drives. They bash their way through the bush and destroy everything in their way. Me go on a four-wheel drive adventure? Never ! No way ! I would never do that to the environment.
Then I decided to go to the Kimberley. And the ONLY way to see the wild heart of the Kimberley is in a four-wheel drive. The roads are deliberately kept rough to protect the wilderness. Although it does not seem to deter the thousands of tourists we met on the road.
We started with a luxury first night at the Mercure Broome. Very friendly staff and comfortable room opening on to a pool.
They have a restaurant there, but we decided to walk across Bedford Park to Matsos Brewery. A good variety of award-winning ciders and beers to sample. A Curry House in a courtyard offers a taster that was delicious. Great atmosphere, sitting on the verandah listening to a local band.
Gaining Knowledge...And Provisions
We hired our vehicle from Britz. It cost $4,100 with linen, camping equipment, full gas bottle,etc. Check that your insurance covers four-wheel drive accidents.
The Britz rep took us through everything we needed to know - avoiding the big sharp rocks on the side of the Gibb River Rd, deflating tyres for different conditions, locking the wheels for four-wheel drive and using the gears, using the second tank.
It was worth the time he took to make sure we had it all clear. We needed all of the information he gave us.
On to Broome Hire Centre for an extra tent and self-inflating mattress (very comfy). They are a local firm that hire out all sorts of camping equipment.
Then on to Shopping Centre in Chinatown to stock up on needed groceries.
We had to stop in Derby. Book ahead. The caravan parks fill up quickly. We walked out to the pier to watch the tide pouring in like a river in flood.
Spiritual Leader And Guerilla Warrior
This part of the world has the biggest tides in Australia and some of the biggest in the world – up to 14 metres.
The Gibb River Road is unsealed for most of its length. If it has just been graded, you can sit on 100 km/hr, but parts will require slowing down to 40.
Plan for an average about 80 km/hr. It will always take longer than you think to get anywhere. And remember that you are travelling long distances, there are cattle, wallabies, creek crossings and unexpected bad patches to look out for.
First stop was Napier Range, an ancient Devonian limestone reef, full of fossils and caves. Tunnel Creek was made famous by Jandamarra, spiritual leader and hero of the Bunuba people.
This is where he waged his guerilla war against the European settlers.
It will take you about 90 minutes to walk through the 750-metre tunnel. Wear shoes that can get wet and take a torch.
There are big rocks to scramble over at the start and end, but the rest is easy walking on sand and wading through shallow water. Take your time and enjoy this amazing cave with its jade green water and stalactites and tree roots hanging from the ceiling.
Watch Out For The Crocs - They Bite
You emerge on the other side to the pool where Jandamarra died. There are aboriginal paintings at both ends, but you have to look for them. At the far side the paintings were on a wall covered with butterflies.
Windjana Gorge was spectacular. Lots of freshwater crocodiles ("Freshies"). We counted 30 in just one pool. Show respect. They will bite,
There were lots of raptors circling in the sky. Expect lots of raptors everywhere you go – eagles, hawks and falcons.
There is an honour system of paying your fees as you come in, but expect a ranger to come around to check at dusk. The campground was empty, but quickly filled up at nightfall. There were toilets and a basic shower.
The most interesting part was the people – grey nomads with their solar panels, young families, people from around the world (July is the summer school holidays in the northern hemisphere) and backpackers.
Day Three we stopped at Mt Barnett Roadhouse (expensive and out of milk).
Further on, Bell Gorge is a welcome break. Take your swimmers and explore the pools below the waterfall. We should have stopped there and camped in Silent Grove campground, which was very pleasant. But we decided to go for El Questro, which took another five hours to reach.
Do NOT travel at night. It is very dark. There is no one else on the road. You come on cattle on the road (one aggressive bull did NOT want to move). There are river and creek crossings (we had to cross the Pentecost River without being able to see the other side); and you can come across rough patches suddenly on the road.
This is how tourists get themselves into trouble.
El Questro will provide you with warm showers, toilets and washing facilities. And access to a million acres of amazing wilderness.
On Day Four we woke up to a cacophony of bird song. You will not sleep in. The birds will wake you up early every morning. A wonderful way to wake up.
Don't miss spectacular Emma Gorge with its towering red walls and hot springs pouring out ….
Glowing Red Walls And Clear Pools
Have a relaxing soak in the warm waters of Zebedee Springs, surrounded by palms. The springs are only open from 7am to 12pm to try and conserve them.
We tackled El Questro Gorge, which was the most difficult walk there. Scramble over rocks and cross water constantly.
Blue markers show the track, but are sometimes hard to find. Expect the usual Kimberley gorge – glowing red walls, tall palms and crystal clear waters forming cool pools perfect for swimming.
The best activity was the two-hour cruise up Chamberlain Gorge.
The afternoon sun lights up the glorious colours of the walls, which are reflected in the still water of the river. There are lots of "freshies" and rock wallabies in caves.
At the top of the gorge, we stopped for champagne and a fruit platter while we fed the fish. Angler fish spat at the pellets to knock them out of our hands. Huge catfish, barramundi and myriad other fish competed for the food. A fisherman's paradise!
There is a saltwater crocodile there (a "saltie"). Don't think you can't get "salties" in fresh water.
After the big males get sick of fighting for the females, they "retire" upstream to live out their life in comfort, living on the myriad fish. The locals can tell you where they are (and where not to go!).
It only happens in Broome. Broome – Two Rare Events
Lake Argyll is among Australia's top five. Top 5 Australian Lakes
Clouds Of Yellow Butterflies
There are two restaurants at El Questro. The Bar and Grill where you can get wraps, coffees, etc. and the Steakhouse down by the river. Good tucker at both. Have a treat dinner before the Bungle Bungles.
Day 6 on to Kunnunurra to buy fuel and groceries for Pernululu (the Bungle Bungles).
Yay!!! Sealed roads again. If you have time, Kununurra would be worth spending a day in to look around. Lots of Aboriginal art galleries, Ord River irrigation system and Lake Argyll and perhaps a tour of the famous Argyll diamond mine.
We stopped at Warnum roadhouse for lunch. We drove through clouds of yellow butterflies for kilometres.
The road into Pernululu is infamous - rough and very twisty, with lots of creek crossings. It is only 30km, but will take about two hours.
Stop at the Walanginjdji lookout just past the ranger's station. A spectacular 360-degree view walking along a ridge. The Bungle Bungles on one side and a view over the glorious east Kimberley landscape the other side.
At Night You Can Gaze At The Universe
Kurrajong campsite was the best place we camped in. Away from generators, tour groups and the helipad. No facilities, just a bush toilet and a tap.
But you have the choice of camping in groups, or a quiet secluded site. We had a quiet little cul de sac amongst the trees. We had a very peaceful two nights there. When you woke up at night, you looked straight up into the universe.
We headed out to the Beehive Domes on Day Seven.
You walk past the beautiful domes down into Cathedral Gorge. It's indescribable. You need people in there to get the sheer scale of it.
A good place to just sit and cool down and marvel at its magnificence. Definitely the best place of the whole trip. It is also well worth the walk down Picanniny Creek to the lookout. If you have two days for the full walk, you need permission to do it.
In the afternoon, we drove north to Echidna Chasm. Another must do. It becomes quite narrow towards the end and quite dark. There are two ladders to negotiate, but still not difficult walking.
Don't be tricked by the two huge boulders blocking the way. They are easy to negotiate. And you definitely want to go the full length. The sun makes the upper walls glow. It will take you about 1.5 hours.
Nearby is Osmond Lookout with views up and down the valley. One short walk nearby we enjoyed was Stonehenge. It is signposted to show the plants used by the indigenous people and what they were used for.
Day Eight we travelled down the highway to Fitzroy Crossing, via Hall Creek. We camped behind the Old Crossing Inn which is close to the old Fitzroy Crossing. The indigenous art gallery is worth a look.
We ate out the back on a veranda area overlooking the garden. It was very popular, filling up soon after we sat down.
On Day Nine we went on a cruise up Geikie Gorge, part of the Napier Range.
There are two cruises. The National Park tour runs a variety of cruises with a variety of prices. We went on the indigenous tour Darngku Heritage tour which went for two hours. You can book at the visitors centre. No cards, just cash.
Our guide was very informative about the gorge, the culture of the Bunuba and the birds and animals. We saw lots of "freshies", fairy martins building their mud nests under the cliff faces, little pittas running along the shoreline and wallabies.
Camel Rides In The Sunset
We stopped halfway up the gorge for a cuppa made by our guide which gave him a chance to talk and answer questions about Bunuba culture.
Day 10 and 11 found us back in Broome. Book ahead or you will end up in one of the "overflow" parks out of town waiting for a place the next day.
We stayed at Cable Beach Caravan Park. Big shady trees and a refreshing pool to cool down in the afternoon.
There was lots to do in Broome.
We ended up on Cable Beach every evening to watch the magnificent sunsets. We stayed on to watch the colour fade to darkness.
You can eat and watch the sunset from the Sunset Bar and Grill or Zanders (a good place for breakfast too). We also enjoyed fish and chips from there, just sitting on the grass. You can wave to family back home here (broomecam.com.au). On Sundays, Broome Surf Life Saving Club has sausage sangers that you can eat on the lawn overlooking the beach.
Don't miss the famous camels. You can ride them along the beach at sunset. They also make incredible photos.
Follow The Dinosaur Footprints
Chinatown is worth a look around. Kimberley Bookshop has unique books not found anywhere else. You can look around an old pearl lugger, or take a cruise in one.
There are lots of jewelers selling beautiful pearl and mother-of-pearl jewellery. Shops full of amazing shells. Colourful Bali clothing stores. Amazing art work.
Roebuck Bay Shorebird Sanctuary is 25 kilometres out of town. The "flyway" extends across Australia to New Zealand, and up through Asia to Siberia. At low tide there is 751 square kilometres of mudflats.
We ventured out to Gantheaume Point early one morning at low tide to see the dinosaur footprints and fossils. It is a difficult scramble down a cliff, across huge rocks and across a slippery rock platform. I would not recommend it unless you are feeling adventurous.
Don't expect them to be signposted. You just have to find them. If you have a failure of courage, there are casts of them at the end of the path from the lighthouse.
Some advice
Wear light coloured clothes - dark clothes too hot. But make sure that it does not matter if they are stained by red dust.
Just accept the red dust - it will be in and over everything - you will be blowing it out your nose for days after - it is part of the experience.
Sunscreen and hat for the tropical sun. You will drink and drink water and still be thirsty.
Take as little as possible - can wash nearly everywhere except National Parks.
Don't worry about phones or computers. There is no phone coverage and no internet. But take your tablets and iPads – very handy to read in dark tents on very dark nights.
Share the driving. You are exhausted at the end of two hours of hard concentration.
Expect everything to be expensive in the Kimberley. It is very remote.
Talking to other campers made me realise that the only way to see the most amazing parts of Australia is by four-wheel drive. I also realised that four-wheel drive enthusiasts have a big stake in preserving these wildernesses. The four-wheel drive community is friendly and supportive. You never know when you have to come to someone's aid – or they have to come to yours.
I'm hooked. What is next? There are four-wheel drive adventures to be had all over Australia, and now I know the secret. Pilbara, here we come !
---
Flight Centre acknowledges the Traditional Custodians of Country throughout Australia.