7 Stunning Queensland Islands To Add To Your Bucket List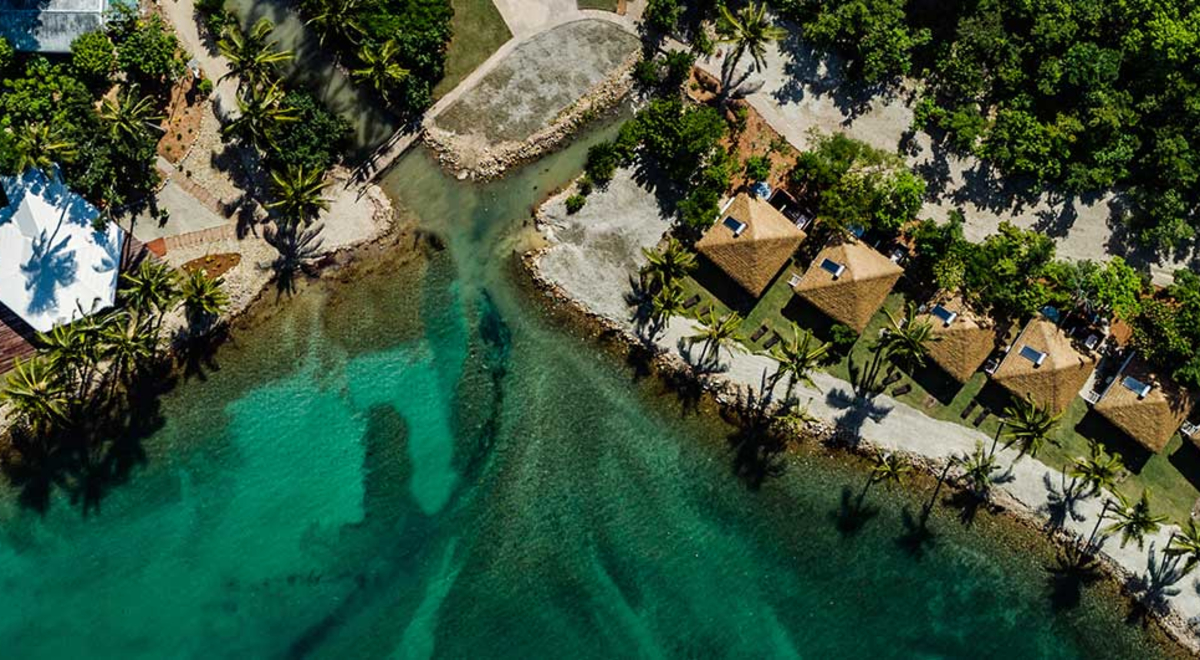 ---
---
Queensland is fortunate to boast around 2,000 islands, stretching all the way from Mabuiag Island in the north, to Stradbroke Island in the south. With so many beautiful and unique islands, how will you ever choose which ones to visit?  No worries! We've come up with 7 Queensland Islands to add to your bucket list!
1. Fitzroy Island 
Located just off the coast of Cairns (45 minutes on the Fitzroy Flyer, to be precise) is Fitzroy Island - 4 square kilometres of island bliss!
Day trippers can spend a day exploring the island via its multiple walking tracks - while the 4km return hike to the lighthouse is enjoyable, my personal favourite is the Summit Track where your efforts are rewarded with unbelievably breathtaking views.
After walking the trails, cool down by swimming in the crystal clear waters or do some snorkeling around the fringing coral reef. For those feeling a bit more adventurous, there are stand-up paddleboards and sea kayaks available to use.  You can dry off on Nudey Beach, the picturesque sandy beach that was voted the best beach in Australia in 2018! Don't mistake the name for a suggestion though, clothes are definitely required here.
Don't feel too energetic? Stop by the turtle rehabilitation centre, where visitors can spend some time learning about turtle conservation, and how the centre rehabilitates sick and injured turtles.
And if you feel like a day trip isn't enough time to explore all that the island has to offer, why not extend your visit and stay at Fitzroy Island Resort?   
2. Orpheus Island
Situated a little north of Magnetic Island, Orpheus Island has been designated as a National Park and part of the Great Barrier Reef World Heritage Area. 
Named after an old British navy ship, Orpheus Island is a vehicle-free paradise, meaning bushwalking is the best method of exploring the island. But first you'll need to get to the island, and the best way of doing so is via helicopter from Townsville - a perfect way to get a birds-eye view of the entire area.
Once there, base yourself at the luxurious Orpheus Island Lodge, the all-inclusive as well as exclusive resort (accommodating a maximum of 28 guests at any one time) located right next to the ocean. The clear blue waters will beckon you to go snorkelling, with the bays surrounding Orpheus home to over 1,000 of the Great Barrier Reef's species of fish, as well as hundreds of types of coral. There is a giant clam garden that you can snorkel around, or take part in a snorkelling excursion to the outer reef and potentially see turtles, sharks and whales!
There is also a marine research station on the island, operated by James Cook University, which offers eco-tours to curious visitors.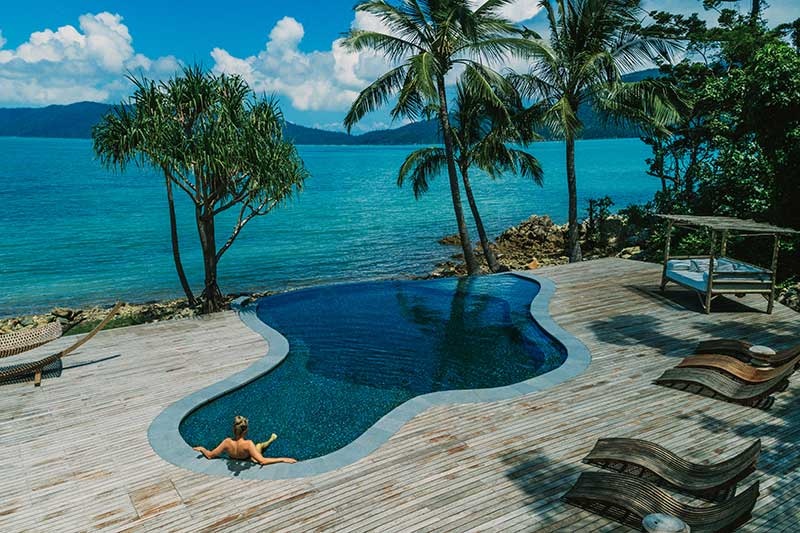 Image: Elysium Resort
3. Long Island 
The descriptively-named Long Island is the closest of the 74 Whitsundays islands to the mainland, and is aptly named as it is 9km long, meaning lots of national park area in which to explore the walking trails. With plenty of room between the island's secluded bays, Long Island is perfect for those seeking a calm, tranquil experience.
Long Island is home to two resorts, located at either end of the island. To the north, positioned in the 'neck' of the island, is Palm Bay Resort, a boutique self-catered resort featuring beautiful Balinese-inspired villas. Palm Bay Resort's self-catering gives guests flexibility and freedom, and also provides the option of bringing in caterers for those special occasions!
To the south is where you'll find Elysian Retreat, an exclusive, luxurious adults-only resort, which accommodates a maximum of 20 guests at a time. To add to the calm theme, you can even start your day here with a gentle morning yoga session!
---
---
4. Magnetic Island
Located a stone's throw away from Townsville (if you can throw a stone 8km that is), the island affectionately known as "Maggie" is a gem of a destination. Named after the apparent magnetic effect the island had on Captain Cook's compass, Magnetic Island is equally suitable for a day trip or a longer stay.
For starters, explore the island's history by completing the Forts Walk, which shows off some of the WWII fortifications while trekking through the National Park, which covers over half of the island.
Want to meet a friendly local?  Keep an eye out for one of the sleepy koalas hiding in a tree - there are hundreds living on the island.  Or pop down to Geoffrey Bay to visit the friendly rock wallabies - they're particularly fond of visitors with carrot treats!
Looking for some amazing photos for the 'gram?  Hire one of the very photogenic topless cars to drive around and explore the island's beautiful bays, like Horseshoe Bay or Picnic Bay.  
Magnetic Island is also great for boaties - whether you simply want to enjoy a sunset sail with a glass of champers, or whether you join in the excitement of Magnetic Island Race Week, held in late August each year.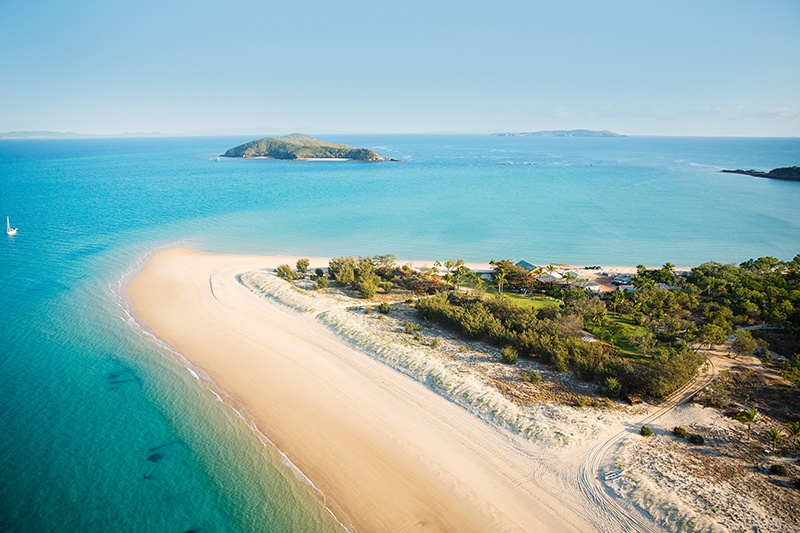 Image: Great Keppel Island
5. Great Keppel Island 
One of the islands located in the Southern Great Barrier Reef, Great Keppel Island can be found 30km north-east of Rockhampton, or about 15km (and a 30 minute ferry ride) off the coast of Yeppoon.
Surrounded by seventeen beautiful white sandy beaches stretching almost 30km in total, Great Keppel Island is a blissful destination dotted with interesting locations such as Monkey Point, Butterfly Bay, Wreck Beach and Clam Bay.  
Head inland from the island's coast and get close to nature by bushwalking through the island's interior, where you may find a variety of native wildlife such as possums, butterflies, and birds, including sea eagles, kookaburras, and rainbow lorikeets.  
If you're feeling energetic, continue hiking all the way to the eastern-most point of the island until you arrive at the lighthouse. It's a 15km journey so not for the faint-hearted, but the views over the other islands in the Keppel Group are definitely worth it. For a bit more exhilaration, adrenalin junkies can jump on a guided jet ski tour that travels all the way around the island!
And after all of the adventures of the day, there isn't a better way to wind down than to stroll down to Fishermans Beach with some sundowners, watching the orange and purple hues of the sun as it dips below the horizon, before heading back to spend the night at Great Keppel Island Hideaway.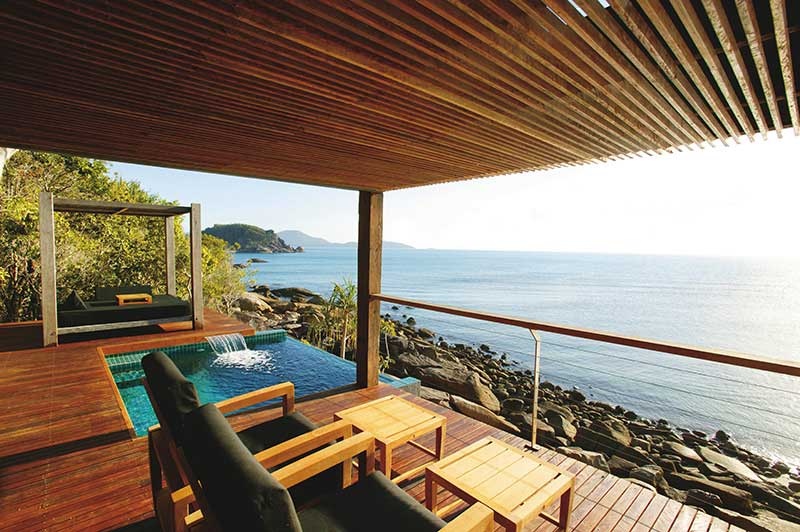 Image: Bedarra Island villa deck
6. Bedarra Island
Bedarra Island, located 2 hours south of Cairns and approximately 10km off-shore from Mission Beach, was originally inhabited by First Nations people who called the island 'Biagurra', which translates roughly as "the place of endless water". This name eventually morphed into Bedarra, and is where the all-inclusive, secluded and luxury Bedarra Island Resort is located.
With a huge emphasis on sustainability, Bedarra Island Resort is limited to ten guest villas to reduce consumption of resources whilst also ensuring guests' privacy during their stay. It's likely you'll only see other people in the main lodge area, where the dining and bar facilities are located. Dinner can be enjoyed in the central dining area amidst good conversation with other guests, or at several nearby private locations overlooking the waves crashing onto the beach's large boulders and soft sands.
Sustainability also extends to the resort's energy being produced by an off-grid solar system, while the water supply is fed by the island's freshwater springs.
Access to Bedarra Island Resort is available via helicopter flights, either from Mission Beach or direct from Cairns.  Alternatively, a scheduled trip in the Sealegs boat (a vessel with wheels that drives from land straight into the water - no more wet feet!) provides a scenic trip through the Family Group of Islands before arriving at Bedarra Island.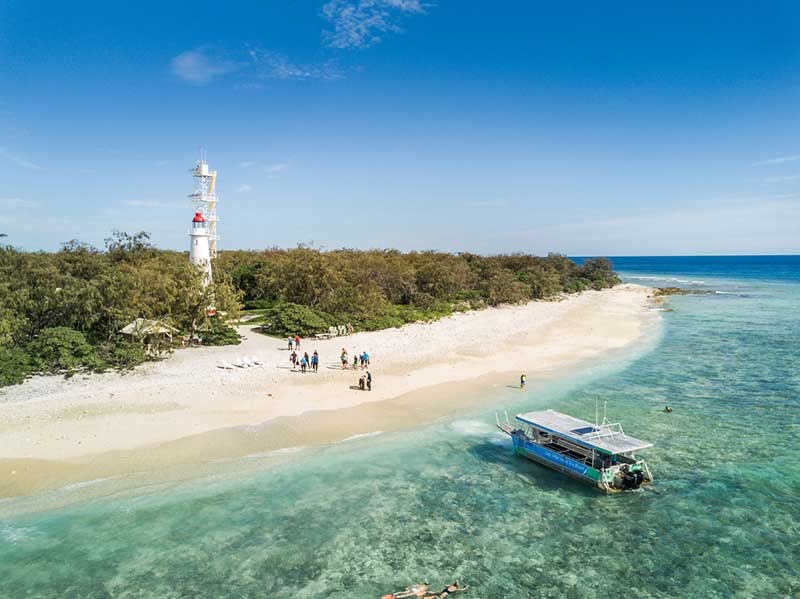 Image: Lady Elliott Island
7. Lady Elliot Island
Positioned right at the southern tip of the Great Barrier Reef (approximately 85km from Bundaberg), Lady Elliot Island is a coral cay small enough to walk around in under an hour.
Similar to Orpheus Island, Lady Elliot Island is also named after an old ship. The name comes from the wife of a British diplomat and Governor of India.
Known as the Home of the Manta Ray, the island lives up to its nickname with an abundance of manta rays throughout the year, drawn to the area to feed on plankton. Snorkelers and scuba divers can meet these mild-mannered mantas in the crystal-clear water, and then climb out of the water to watch turtles coming ashore to lay their eggs during breeding season.
Being located close to Hervey Bay, the popular humpback whale resting spot during migration season, visitors may even be fortunate enough to view one of the majestic monsters from their room at Lady Elliot Island Eco Resort (the only accommodation on the island).  
Visitors can only access the island by air, and can choose to depart from either Bundaberg, Hervey Bay, Redcliffe or the Gold Coast.
---
Sign up to our newsletter for more travel inspiration, tips and exclusive deals sent straight to your inbox. 
---
---
Flight Centre acknowledges the Traditional Custodians of Country throughout Australia.