Airline Review - We Put The Spotlight On Cathay Pacific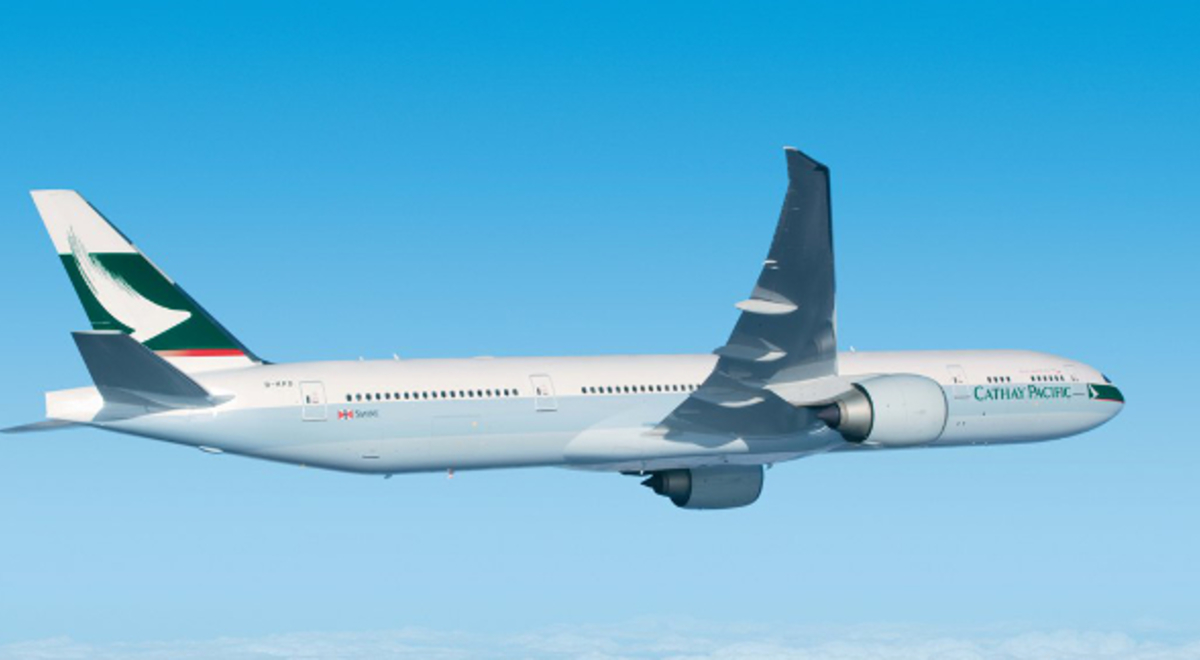 Founded back in 1946 by an Australian and an American duo, Cathay Pacific has been in the air for almost 70 years and is now the largest airline of Hong Kong and the third largest airline in the world.
Despite humble beginnings (both founders only had to front $HK1 each to register the airline), Cathay Pacific has achieved world-wide success winning the 'World's Best Airline' award four times and 'Airline of the Year' in 2014.
Cathay Pacific has recently added the 'giant of the skies', the Airbus A330-300, to its vast staple of aircraft and has recently garnered praise for its Premium Economy seating. The future is bright for this carrier.
Cabin Classes
Economy
Cathay Pacific offers a modern and refreshing economy cabin, which features the latest in seat technology.
The new seat design allows for a generous six-inch recline while at the same time maintaining plenty of leg space when the seat in front is in the reclined position. Other seat features include a handy USB port and power supply for laptops and other devices, a clever amenity storage area for things like mobile phones and pens and a handy bi-fold tray table.
For optimum comfort, each economy seat is fitted with a four-way adjustable headrest.
Entertainment: Experience Cathay Pacific's StudioCX entertainment system on your personal nine-inch touch screen TV. Enjoy a wide selection of movies and TV shows as well as music and games, or opt to stream your own content through seat connectivity.
Food and Beverage: Complimentary menu selections include a choice of regional and western dishes as well as a full bar and beverage service with snacks made available throughout the flight.
Premium Economy
Take the inviting features of economy and add the unique benefits of an exclusive cabin, wider seats with greater recline and more leg room along with many other features and you have Cathay Pacific's popular Premium Economy.
The enhanced service starts on the ground with a dedicated check-in counter, increased baggage and priority boarding. Once on board enjoy the extra room and attentive Premium Economy service with an amenity travel kit, welcome drink, hot towels and an enhanced menu.
Entertainment: A full range of in-flight video and audio entertainment is available on the Cathay Pacific CX entertainment system. Spend hours watching the latest movies and other programs or stream content directly from your personal electronic device. Noise-cancelling headsets are available for added enjoyment.
Food and Beverage: The menu in Premium Economy offers several selections for an enhanced dining experience. Snacks, complimentary bottles of water and full bar and beverage service can be enjoyed throughout the flight.
Business Class
Business Class offers a sophisticated and private space with direct aisle access no matter where you sit. The comfortable seat turns into a fully lie-flat bed and even comes with an extension for greater seat width.
Ample storage space means there is a place for all those important travel items such as toiletries, eye glasses and mobile phones. Passengers can even control the level of privacy they would like with a storage consol acting as a privacy screen.
Entertainment: Business-class seats feature large TV monitors with touch screen useability. Hundreds of entertainment options are available as well as streaming capability from personal electronic devices with in-seat connectivity. Noise-cancelling headphones deliver superior sound quality and block out ambient noise for greater entertainment enjoyment.
Food and Beverage: The superb service extends to in-flight dining with chef-inspired menus offering delicious three-course meals that are served separately. Menu offerings include both Asian and Western selections along with the finest wines, spirits and liqueurs. Snacks and beverages are also available throughout the flight.
First Class
Cathay Pacific has recently refurbished its First Class seating on its Boeing 777-300ERs. The new design now features carpeted flooring, artwork throughout the cabin and your own private pod in which to relax and enjoy the flight.
Entertainment: Passengers in First Class can enjoy a "dynamic entertainment experience", thanks to BOSE QuietComfort Noise-Cancelling Headphones, a wide-screen television and a selection of movies and TV shows. You can also connect your personal devices to the media centre.
Food and Beverage: A sumptuous menu of Asian and International dishes awaits. All meals are freshly prepared in the state-of-the-art galley, and those with a palate for wine will be able to enjoy a wide selection of award-winning drops.
---
Learn more about Virgin Australia. Airline Review - Spotlight On Virgin Australia
Flying Premium Economy? Cathay Pacific: A Premium Way To Fly
---
Cathay Pacific Baggage Allowance
Carry-on
Cabin baggage allowances vary for each class flown. Economy and premium economy classes each offer one bag up to seven kilograms in weight. The hand luggage allowance for business class is one piece up to 10 kilograms.

Always pack medication and valuables in hand luggage.

Checked
Checked luggage allowances are also determined by class flown as well as destination and frequent flyer status. Allowances are as follows:
Economy - One piece at 20 kilograms (Destinations in the Americas allow two pieces at 23 kilograms each)
Premium - One piece at 25 kilograms (Destinations in the Americas allow two pieces at 25 kilograms each)
Business - One piece at 30 kilograms (Destinations in the Americas allow two pieces at 32 kilograms each)

Excess weight for any single bag may not exceed 32 kilograms.
Bulky items
Any item in excess of the free baggage allowance is subject to extra baggage charges. This includes sporting equipment, music instruments and pets. Ask your Flight Centre Travel Expert for specific rules on bulky baggage policies for the many different items that are accepted.

Different weights and charges apply depending on your destination.

Infant baggage
Infants under the age of two who do not occupy a seat are allowed multiple pieces for check-in up to a maximum of 10 kilograms. For routes to the Americas, infants are allowed one piece with standard weight restriction for an adult according to class flown. A small bag of food and nappies is allowed in the cabin along with a collapsible stroller.

An approved car seat is allowed in the cabin only if a seat has been purchased for the child.
Restricted or dangerous goods
Ask your Flight Centre Travel Expert for specific advice on items that are not allowed in luggage. Items such as flammable liquids, gases and materials, explosives, fireworks and other potentially harmful materials are never allowed in hand luggage or in checked luggage.

Toiletry items and liquids taken in hand luggage must be in individual containers that do not exceed 100 millilitres.
---
Check-In
Check-in online, with your mobile or at the airport
Cathay Pacific offers several check-in options, from web and mobile check-in to airport check-in.
Website and mobile check-in is available from 48 to two hours before departure. Your reservation number is required for this type of check-in. Passengers choosing to check-in at the airport counter should do so at least 90 minutes before departure.
International check-in guide
At Home
Know what time you need to leave the house to get to the airport
Pack your things, check out our baggage guide
Have your flight itinerary ready
Ensure you have your valid passport ready
Getting There
Be at the airport at least 

120 

minutes prior to scheduled departure time
At The Airport
Proceed to check-in counter with passport and itinerary ready
Go through security
Continue through customs
Check the gate number and flight status
Sit down and get comfy!
---
Cathay Pacific Lounges
Cathay Pacific offers a myriad of lounge choices at its hub in Hong Kong as well as lounges around the world. Elite members of Cathay Pacific's Marco Polo frequent flyer program are also allowed entry into over 550 lounges across the Oneworld alliance network with locations across the globe.
---
Marco Polo Loyalty Program
Marco Polo frequent flyer members can earn points on Cathay Pacific, Dragonair and Oneworld alliance airlines. Benefits are determined by status level and include things such as extra baggage, check-in privileges and free upgrades.
Status levels begin with entry level Green and continue with Silver and Gold and up to the highest tier of Diamond.
---
Visit your local Flight Centre store or call 131 600 for more advice and the latest deals.
---
---
Flight Centre acknowledges the Traditional Custodians of Country throughout Australia.