Luggage Rules For Travelling With Sports Equipment in Aus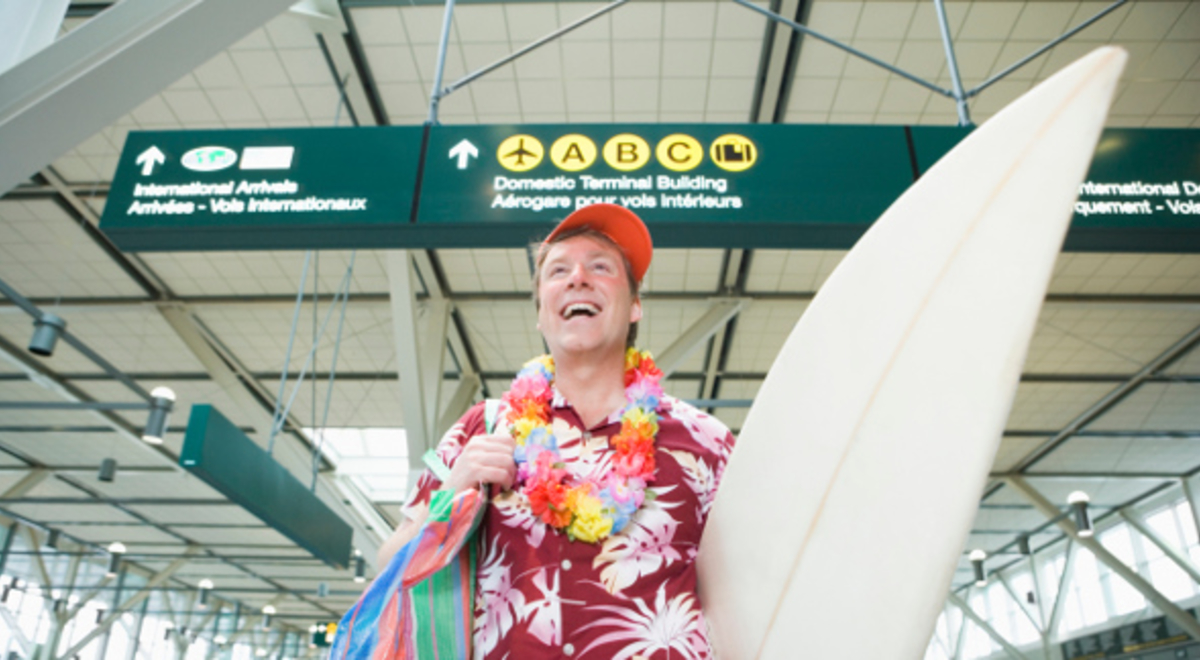 If you're taking off for a domestic holiday this Easter and you plan to pack your favourite golf clubs, surfboard, bike or fishing rod, you are in with a sporting chance of success - as long as you play by the airlines' rules.
The major domestic carriers - Qantas, Virgin Australia, Jetstar and Tigerair - will generally allow you to take your sporting necessities with you on holiday, as long as there is space within the cargo hold and subject to some conditions.
Naturally, size and weight limits will apply and you will typically need to play ball with the airline's packing policy to avoid hefty charges or the disappointment of holidaying without your much-loved surfboard, bike, fishing rod or golf clubs.
You will also need to read up on your luggage allowance in advance as your sports equipment will typically be regarded as an item of checked luggage, meaning you may need to pay extra if you also plan to check-in a suitcase.
Golfers shouldn't encounter too many traps when flying domestically this Easter, but anglers could easily get snagged by policies relating to rod storage and transportation, in the same way that surfers could get wiped out by policies relating to surfboard size limits.
And, while travelling with a bike is relatively straight forward, cyclists need to take various steps to prepare their bikes for travel before arriving at the airport.
Flight Centre has scoured the fine print to check-out what items can be checked-in this Easter.
Qantas
Qantas will include sports equipment within your checked baggage allowance, subject to some conditions.
For example, no checked item can weigh more than 32 kilograms and items must be properly and securely packed.
This means packing bikes in bike boxes, which are available from Qantas, with:
The tyres deflated
The pedals removed
The handle bars fixed parallel to the frame; and
The front wheel removed and fixed beside the rear wheel, inside the bike box, if the bike's length exceeds 140 centimetres
If you're planning on packing a surfboard or ski, it all comes down to size - you will need to send it as freight if it's longer than 277 centimetres, but you can check it in if it's shorter.
Simply remove the fins (if possible) and either tape them to the board or store them in an enclosed compartment within a surfboard bag/case. Paddles must also be taped to the board or ski.
Fishing rods less than 277 centimetres in length can be checked-in. Qantas advises anglers to pack roads and other gear in a PVC cylinder with screw ends, which can be obtained from  fishing stores, or in PVC plumbing or electrical tubing.
It's important to remember that each item checked-in represents one piece of luggage, which means you are considered to have two items if you're travelling with golf clubs or other sports equipment and a suitcase.
And if you're going to exceed your allowance, Qantas recommends that you consider buying ad additional baggage allowance in advance to avoid paying higher excess baggage rates at the airport.
Jetstar
If you're flying Jetstar, you can include sporting goods and other bulky items as part of any checked baggage allowance that is included in your fare, subject to some conditions.
Size restrictions apply and will vary, depending on the type of aircraft you are flying on.
For domestic and short-haul international flights on Jetstar's A320 or A321 aircraft, the size limit is 1.9 metres including packaging and no single item can weigh more than 32 kilograms.
If you're travelling with a bike that meets Jetstar's requirements:
Pre-pack it in a bike bag or bike box
Deflate the tyres
Detach the pedals
Fix the handlebars parallel to the frame; and
Detach the front wheel if the bike is longer than 180 centimetres and fix it inside the pack alongside the rear wheel
Surfboards, skis and snowboards must be packed in a bag designed for that equipment.
Surfboards, including the surfboard bag, must not exceed 1.9 metres in length and must have the fins removed (where possible) and stored in an enclosed compartment in the bag or taped to the board.
Fishing rods must be stored in a PVC cylinder with screw ends (available from fishing stores), PVC plumbing or electrical tubing and cannot be strapped to other checked bags.
Don't forget insurance: 10 Things You Need To Know About Travel Insurance
And your manners: Basic Flight Etiquette For Anyone Who Has Forgotten
Virgin Australia
Virgin Australia (VA) also reminds its passengers that each item of sporting equipment represents one piece of checked baggage allowance, provided that it does not exceed the maximum size and weight limits.
The airline also asks passengers travelling with bikes to check-in at least an hour prior to departure, with the bike packed in a hard or soft, manufactured bike box.
When packing bikes, cyclists are asked to:
Turn the bike's handle bars sideways and secure them to the frame
Remove pedals
Lower or remove the seat post
Remove any accessories' and
Deflate the bike's tyres
Boxes can be bought at the airport check-in counter for $15, but VA recommends that travellers pre-purchase boxes and pack bikes at least 24 hours in advance.
Surfboards must be packaged in a protective covering, with padded protection around the fin area. VA recommends surfboard fins be removed where possible and placed in an enclosed compartment.
Boards up to three metres in length are accepted on VA's Embraer A330 and B737 aircraft.
VA also accepts fishing gear and, if your trip is a success, you may be able to bring your catch home with you. Seafood can be accepted as checked baggage provided it's packed securely and appropriately.
And if you land a muddie or crayfish you can bring it home alive, but it will be considered freight, rather than checked luggage.
Tigerair
If you're flying with Tigerair, sports equipment will also be considered part of your check-in baggage allowance.
Some items can also be carried on to the plane, providing they:
Do not exceed dimensions of 105cm x 38cm x 23cm
Do not weigh more than seven kilograms (or 12 kilograms if cabin+ has been purchased)
Do not have sharp edges; and
Cannot be used as a weapon. Tiger lists golf clubs, hockey sticks and cricket bats as items that aren't suitable to be carried on
Size and weight restrictions apply.
In short, surfboards and other items cannot exceed 190cm x 60cm x 80cm and cannot weigh more than 30 kilograms.
Bikes must be carried in a protective box or bag and:
The tyres must be deflated
The handle bars must be parallel with the frame
The pedals must be detached or aligned with the frame; and
The gears must be wrapped with a protective layer
Golf equipment is to be packed in a protective case, as is the case for fishing rods and reels. Fishing boots, tackle box and landing nets can be packed in a protective bag.
Surfboards, plus  snowboards and skis, must be packed in a protective bag. If possible, fins should be removed from boards.
---
Flight Centre acknowledges the Traditional Custodians of Country throughout Australia.