Fun In The Air: The Best Business Class Amenities For Kids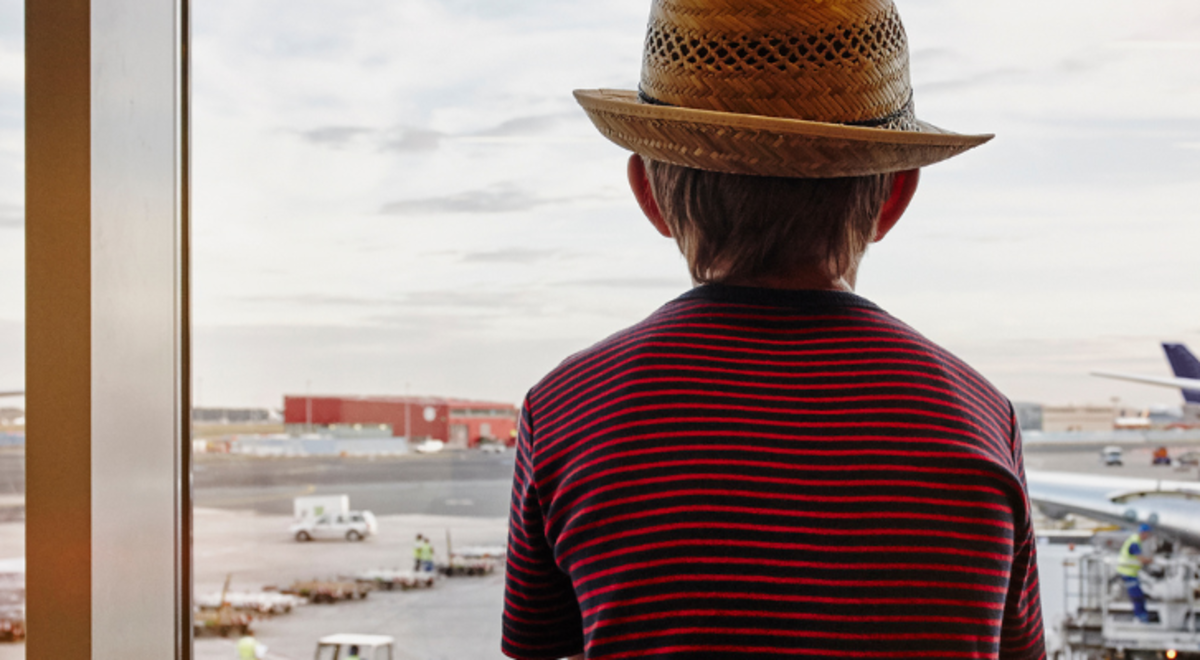 ---
---
Words by Renae Spinks
The thought of flying with the kids can conjure images akin to Snakes On A Plane – but travelling business class can take the horror out of the trip. There's more room, more attentive service, priority everything, flat beds for a good night's sleep and some special touches just for the little ones.
And the benefits start before you board, with chauffeur services and dedicated lounges (including showers and playrooms) among the best parts of flying business class with children. While opinions differ over whether children even belong in business class, for parents it's a top-flight choice. Here are some of the best business class amenities for kids.
Etihad
Abu Dhabi-based Etihad welcomes children with open arms, even going so far as to employ a 'flying nanny' on long-haul trips. The qualified carers will greet you at the gate, and provide an extra pair of hands to keep the children entertained and get them settled for bed. Inside their bag of tricks are games and activities such as arts, crafts and origami, hand puppets, drawing competitions, face-painting and magic tricks.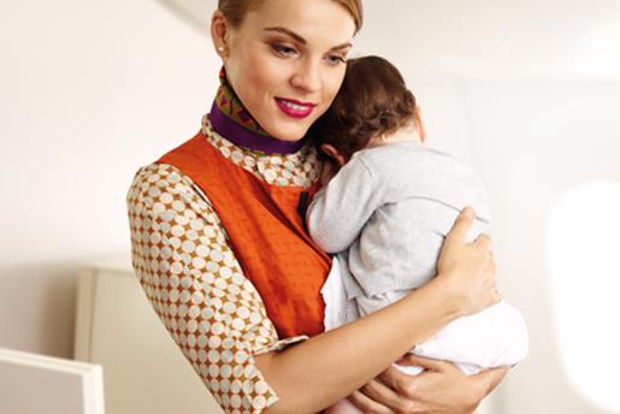 Picture: Etihad
The inflight entertainment system includes animated characters Zoe the bee, Jamool the camel, Kundai the lion and Boo the panda, along with a kids' club for children under 12, with interactive games, TV and movies. Teenagers have access to music, Disney films and Hollywood titles and there's a parental lock feature to block unsuitable content. Every child over three receives their own children's pack of games, activity books and stickers.
Other kid-friendly touches include lounges in most major airports with dedicated family rooms full of all sorts of fun entertainment. In Abu Dhabi, families have access to a free chauffeur, are greeted kerbside by a porter and taken to a dedicated premium check-in reception. And they're called first for pre-boarding.
For the parents: The turn-down service includes a mattress, luxury loungewear and slippers, and you can drift off reading your Etihad Airways LUXE City Guide.
Emirates
Dubai-based Emirates also pays attention to the littlest travellers, and it has the most business class seats in the skies. There's a kit for infants containing nappies, bibs and wipes, changing tables in the toilets, and a blanket buddy from the Fly With Me animals toy collection, which features Enrico the monkey, Peek U the panda, Lewis the lion, and Leila the camel.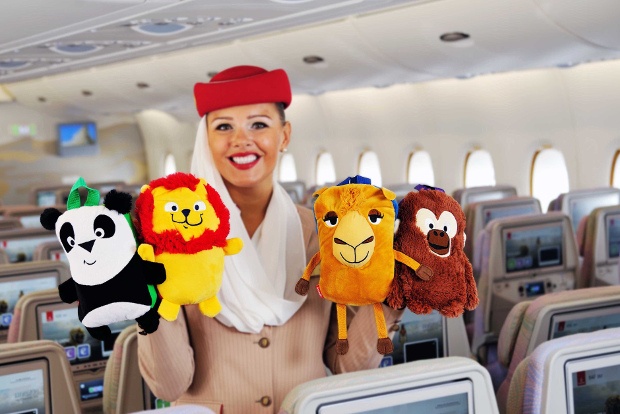 Picture: Emirates
There's also a Fly With Me animals magazine, full of puzzles and coloured pencils for the littlies; and a pack for older kids developed with Lonely Planet, with a travel-themed bag or lunch cooler filled with educational books, world facts, creative crafts and more.
The dedicated children's in-flight entertainment starts with brightly coloured headphones, and finishes with 50 Disney favourites, TV shows, cartoons, 100 games and YouTube hits. They can have their picture taken with the onboard camera and take home a framed photo, or thrill to take-off and landing from the pilot's view with the external cameras on the Airshow channel.
There's a chauffeur service to the airport, and dedicated family check-in desks when you get there, along with priority boarding, complimentary strollers at Dubai International Airport, mother and baby rooms in the lounge, and video games in the play areas.
For the parents: Enjoy some drinks in the on-board bar while the kids are watching movies.
Qatar Airways
The ultra-stylish Qatar Airways Al Mourjan Business Lounge in Doha is all kitted out for families, complete with private family areas with wide-screen TVs and leather couches, a children's nursery, and a games room that includes a Formula 1 simulator.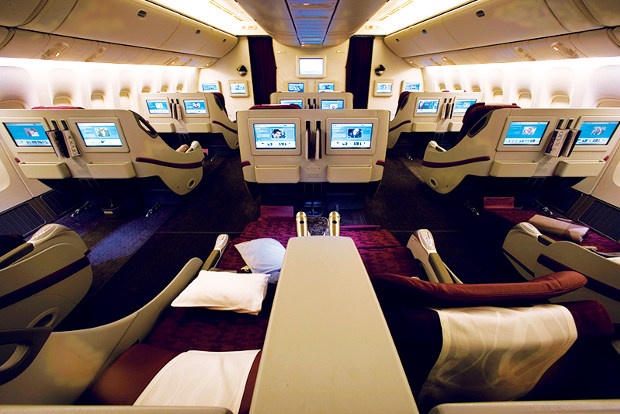 Picture: Qatar Airways
On board, there is a baby TV channel, kids' movies, music, video games, educational programs and a dual-screen interface so kids can, for example, play a game while watching a movie. There's a kit for babies, including nappies, baby food jars, a bottle and a Mr Potato Head soft toy and a plush book.
Older kids have kits filled with crayons, stickers, activity/puzzle books and colouring pages, and a Mr Potato Head or Monopoly lunch box filled with fresh and tasty food, fruit juice and sweet treats, which they can keep.
For the parents: You'll be blown away by the marble and Arabic calligraphy in the business lounge; and the amenity kit is Armani, darling.
---
The luxe life: 5-Star Family Holidays
Travelling with kids: Tips & Tricks For Any Trip
---
ANA All Nippon Airways
The cutest thing about Japan's ANA All Nippon Airways is its kids' meal selection, practising the art of Decoben, or decorative bento. These lunchboxes are filled with colourful arrangements – think rice creations in the shape of a flower, buns imprinted with stars, food in the shape of love hearts and musical notes, and tiny toys.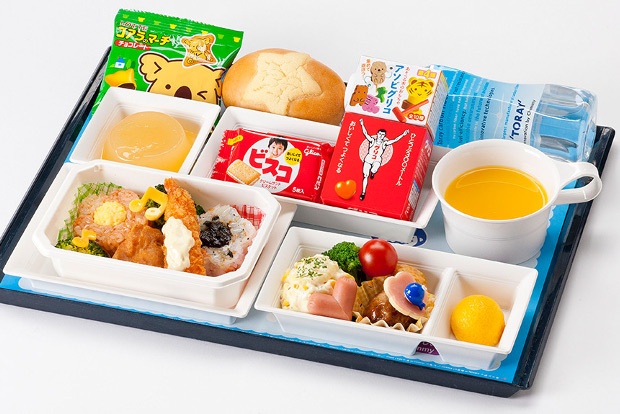 Picture: ANA All Nippon Airways
They've been prepared by a team of 'mom and pop chefs'  to inspire kids to enjoy their meals and provide nutrition. There are also pureed food and soup for babies, kid-friendly soft drinks, baby bottles, aprons, forks and spoons. Powdered milk and paper nappies are available for infants.
Kids can also try their hand at origami, play with their own plane-shaped balloon or get their game on with the Pokemon pair cards.
For the parents: Chill out with the 'Relax' or 'Refresh' aroma cards.
EVA Air
OK, so it might not be everyone's cup of tea, but for Hello Kitty fans young and old (you know who you are), Taiwanese airline Eva Air's Hello Kitty-themed jets are the cat's pyjamas. On the outside, they are decorated with characters such as Little Twin Stars Kiki and Lala, Hello Kitty and My Melody, and on the inside, more than 100 items have received the Hello Kitty treatment.
In Royal Laurel class – EVA Air's luxurious new-generation business cabin – Hello Kitty's face appears in the food, on the mixed nuts, on the aprons, on the cutlery, on the baby bottles, on the napkins, on the toothpicks, on the dental floss, on the toilet paper, and even on the sick bags. Then there are the napkins, wet wipes, coasters, headrest covers, playing cards ...
For the parents: Lie back in your complimentary pyjamas, in your fully-flat bed, close your eyes and try not to see any more super-cute characters.
Qantas
Australia's Qantas has family zones in its Qantas Club lounges in Sydney, Brisbane, Cairns, Adelaide, Canberra, the Gold Coast and Melbourne, as well as in the International Business Lounges in Sydney and Melbourne. Here you'll find dedicated iMac computers, Sony PlayStations, children's furniture, toys and books.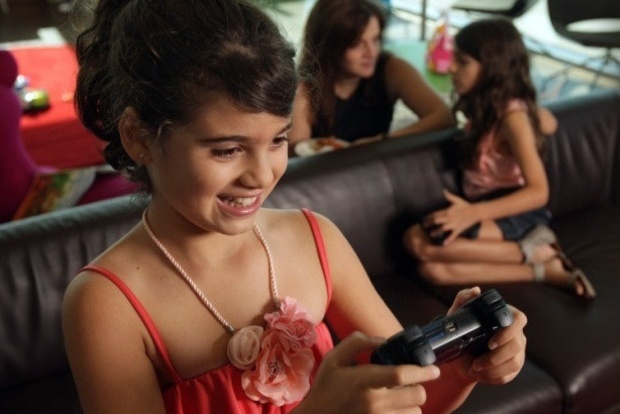 Picture: Qantas
The Qantas Joey Club provides young travellers with a novelty passport for new Australian-based Frequent Flyer members (ages three to 10), where they can record details of their flight. Also part of the Joey Club are special kids' menus in domestic lounges, including made-to-order sandwiches in animal shapes; a children's movie channel; and dedicated TV channel.
For the parents: Kick back in your Peter Morrissey PJs – keep an eye out for a new special-edition design from Melbourne-born, Paris-based Martin Grant on some flights. 
---
Flight Centre acknowledges the Traditional Custodians of Country throughout Australia.