Bangers To Thrash: Catherine Britt's Fav Road Trip Songs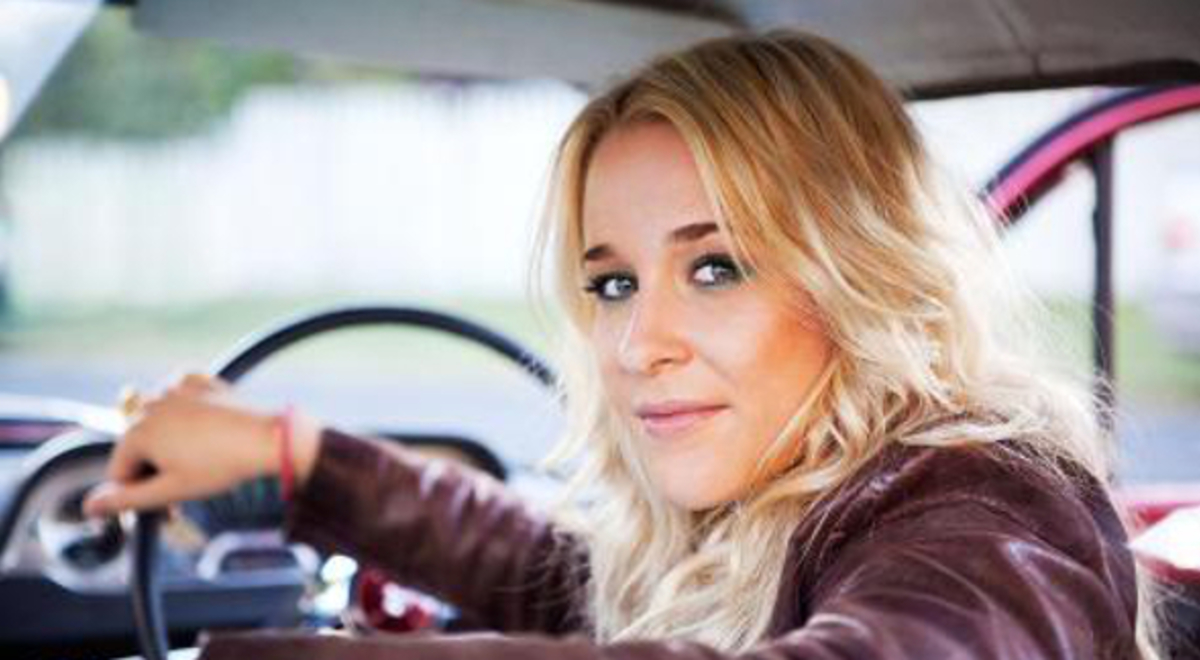 ---
---
The long road looms ahead and the white lines all start to shift into one as the boredom and sleepy eyes set in on a long drive. Ever wondered what the perfect road trip playlist is to take yourself through the winding roads wherever you may be? Well I have just the playlist for you to get you through.
Inspired by my own choice of music while driving for the 15 or so years I have been on the road as a travelling musician. I usually have to wrestle the iPod off a band member or two to get my favourite playlist pumping, but when I'm driving the tour van, it's what the driver says goes!
This playlist is inspired by a mixture of two things, one is of a road trip I once took with my dad through the deep south of America, driving through all the little forgotten towns where blues and soul once spread it's wings not that long ago. Where Robert Johnson lies in his last long slumber, the origins of Kermit the Frog lurks in the muddy swamps and where the belt is so tight on the Bible it's bursting with southern pride and hospitality.
My dad put together a "road trip" playlist full of soothing and also educating songs to get us around his mapped out journey of the south of the US. The second inspiration comes from the wonderful Cameron Crowe film Elizabethtown with its wonderful road trip playlist packed full of awesome music.
So here it is… The perfect playlist for driving country roads!
Emmylou Harris's voice will put you in an immediate trance of happiness while she sings at the top of her vocal game her version of this wonderful Rodney Crowell track…
1. Leavin' Louisiana In The Broad Daylight – Emmylou Harris
[embed]http://www.youtube.com/watch?v=ir8RPb7_3Lo[/embed]
This is the title track to not only the greatest Lucinda Williams albums of all time, but also one of the greatest country albums of all time. If this one doesn't get you bopping on the gravel roads, I don't know what will.
2. Car Wheels On A Gravel Road – Lucinda Williams
[embed]http://www.youtube.com/watch?v=ainIBDO6a8E[/embed]
Patty Griffin would have to be one of the greatest long drive artists to pop into the CD player and just sing along to at the top of your lungs but I have chosen not one of her own penned tracks but this wonderful version of a Bruce Springsteen classic to get you through a few kilometres!
3. Patty Griffin – Long Ride Home
[embed]http://www.youtube.com/watch?v=p6hpwl9rTL0[/embed]
I mean, this had to be on a country road trip playlist didn't it? There are a few in the playlist like this one, that if I didn't include them, I would be very bad at my job! Blast this track and feel like royalty rolling down the blacktop.
4. Roger Miller – King Of The Road
[embed]http://www.youtube.com/watch?v=WrhAC0dFis0[/embed]
I got to spend some time recently with the wonderful Steve Earle learning all the ins and outs of his song writing brilliance and it was wonderful seeing how his brain works to write songs such as this one big hit that is now a jukebox standard in any pub. Pop this one on when you hit the frog and toad!
5. Steve Earle – Copperhead Road
[embed]http://www.youtube.com/watch?v=xvaEJzoaYZk[/embed]
Here is another, I HAD to have this on the playlist, song. Willie Nelson is a classic country favourite but if this song doesn't put a smile on your face while your bopping down the freeway, nothing will!
6. Willie Nelson – On The Road Again
[embed]http://www.youtube.com/watch?v=1TD_pSeNelU[/embed]
Dolly Parton went bluegrass for a few albums and recorded several newly written Dolly songs as well as a few covers of some classics like this next song choice. She does it complete justice and makes it sound like a Dolly standard.
7. Dolly Parton – Seven Bridges Road
[embed]http://www.youtube.com/watch?v=lFokKcXNwOE[/embed]
I love this classic Australiana country song sung by the king of Australian country music, the man himself, Slim Dusty.
Written by his wonderful wife Joy, who wrote some of the best classic Australian country songs of all time.
Turn this one up while watching the trucks coming over the horizon!
8. Slim Dusty – Lights On The Hill
[embed]http://www.youtube.com/watch?v=hdu7krSkCLY[/embed]
No one does outlaw quite like Merle Haggard. He really had the voice, looks and the niche covered when he was reigning the country scene. He released many great outlaw tracks like this one that are perfect for your getaway car.
9. Merle Haggard – I'm A Lonesome Fugitive
[embed]http://www.youtube.com/watch?v=1qh_b-9gAE0[/embed]
Lyle Lovett has made many good decisions in his life, marrying Julia Roberts was one of them and pursuing music was another. While he has since divorced Julia he still continues to make fabulous country songs sound so unique that you would never mistake a Lyle Lovett track. This one will make the white lines divide for a while.
10. Lyle Lovett – The Truck Song
[embed]http://www.youtube.com/watch?v=SKQVy0dNjc4[/embed]
Johnny Cash did some fantastic recording towards the end of his career and life with Rick Rubin in the American Recordings sessions. He re-recorded old songs of his own, new songs of songwriters he respected and did it all pretty much just with him and his guitar only. This is a great version of his song Drive On - enjoy on the winding roads.
11. Johnny Cash – Drive On
[embed]http://www.youtube.com/watch?v=iAbgmXVaOc8[/embed]
There are many great versions of this old Townes song, but I had to go with the original for my favourite road trip playlist, as there is a subtle beauty to the way Townes executed his own songs that no one ever quite mastered since.
12. Townes Van Zandt – White Freightliner Blues
[embed]http://www.youtube.com/watch?v=sSWjOoXS-Pk[/embed]
This is a song I heard almost every middle aged cowboy singing at the top of their lungs with all their heart and soul when I was starting out in the Country Music clubs around Newcastle NSW. It takes me back to all the long drives we had to do in between festivals, jam nights and talent quests. Hopefully you won't have to be on the tar for this long!
13. Dave Dudley – Six Days On The Road
[embed]http://www.youtube.com/watch?v=ClnFbpbpUOA[/embed]
There's nothing better than finding that backcountry road that feels so familiar you may have been on it before and ending up at an old drive in playing a classic Jimmy Stewart film. Find your little road trip break stop and enjoy this song trying to find it.
14. Fred Eaglesmith – Drive-In-Movie
[embed]http://www.youtube.com/watch?v=2nL6IJaJKKs[/embed]
This will keep the eyes lids up and the blood pumping as soon as you hear this voice blast out of your car stereo you'll feel like you just shot ten coffees. John Hiatt is a brilliant singer and songwriter and has a rocking voice to boot. Enjoy this one while pushing the speed limit to 10kms over.
15. John Hiatt – The Open Road
[embed]http://www.youtube.com/watch?v=jBKym_rTZ28[/embed]
This is a great version of a song sung by every man and his dog, a huge hit for Lucky Starr and a wonderful version on this classic driving song. Maybe even start counting the towns you drive through while trying to auctioneer sing your way through this one!
16. Lucky Starr – I've Been Everywhere
[embed]http://www.youtube.com/watch?v=-UAh7ogwAYQ[/embed]
Maybe your not heading east bound and down like this song suggests but who cares when a great song like this is pumping out the speakers! Have a little dance with your steering wheel with this track.
17. Jerry Reed – East Bound And Down
[embed]http://www.youtube.com/watch?v=_HpmlIDIXPs[/embed]
What a super group this was and I wonder if there will ever be another quite like it again. Willie Nelson, Johnny Cash, Kris Kristofferson and Waylon Jennings join together to form the Highwaymen and make you feel like one of them while listening to their theme song.
18. The Highwaymen - Highwayman
[embed]http://www.youtube.com/watch?v=aFkcAH-m9W0[/embed]
I saw these guys perform in Seattle Washington recently on my own little American road trip and just love the way these young college formed band can make old music sound so fresh and cool again. This is a song they wrote with Bob Dylan and has been a huge success for the band so I guarantee you will like it while cruising.
19. Old Crow Medicine Show – Wagon Wheel
[embed]http://www.youtube.com/watch?v=1gX1EP6mG-E[/embed]
If it's his cowboy hat covered eyes that don't get ya the tight pants and sexy dance moves along with that voice that will. Dwight is a country crooner from way back and will make you feel smooth even if you are a thousand miles from nowhere.
20. Dwight Yoakham – A Thousand Miles From Nowhere
---
Flight Centre acknowledges the Traditional Custodians of Country throughout Australia.