Travel Tips: How To Decide Which Luggage Is Best For You!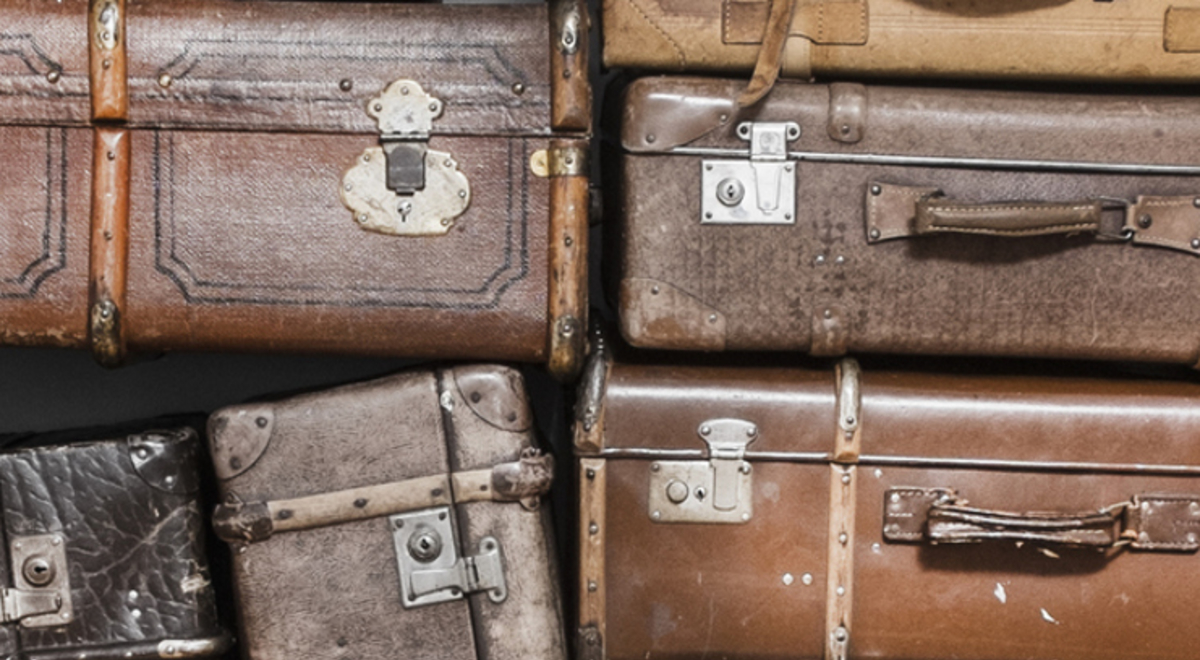 ---
---
Unfortunately the magical Mary Poppins carry-all is only a thing of Disney movies.  Us mere mortals need to adhere to capacity and weight restrictions when packing for a trip which can often be one of the most stressful elements of planning.  Throw in design elements, functionality and aesthetics and finding the right luggage can be a bit of a headache.  
Whether it be for business, personal, or perhaps a bit of both, when you nail the brief, a solid piece or range of luggage will quickly become your loyal travel companion.  But how does one make a decision with such overwhelming choices?  Here are a few tips to help narrow down your selection. 
Be Specific
Hard case or soft, roller or spinner, TSA lock inclusion, carryon or something a small child could fit into?  First up, narrow down your priorities and needs before you start sifting through the endless options available. Do you and your OCD ways prefer a myriad of compartments for upmost organisation, or large empty cavities fit for bulk items you just can't travel without. 
Two Wheels Or Four?
A constant debate among the high flyers, is the spinner verse roller wheel discussion. While the four-wheeled spinner variety of suitcase is generally quite flexible, reliably gliding along wherever you direct it, it has its down sides. This style can just as easily roll away while 'stationary', not an ideal situation in busy airports or cities.  The wheels evenly distribute the weight, but when you roll there is often heavy pressure on your arms more than the two-wheel varieties, where the weight is absorbed by the two back wheels and the pressure to move it is reduced.  The four wheels also protrude more so than rollers which are usually built into the structure of the bag, meaning spinners can often get stuck or damage easily. 
Ultimately, it comes down to quality and therefore price in this debate, as you can get some amazing high end spinner cases out there.  If you have the cash to splash, you can invest in a spinner case with quality, well designed wheels.  These generally last the test of time and have great guarantees, just in case.  If you're looking for something sitting more towards the budget end of the scale, rollers will often be the safer option.  They will be less likely to see short term damage than the wheels on a budget spinner case.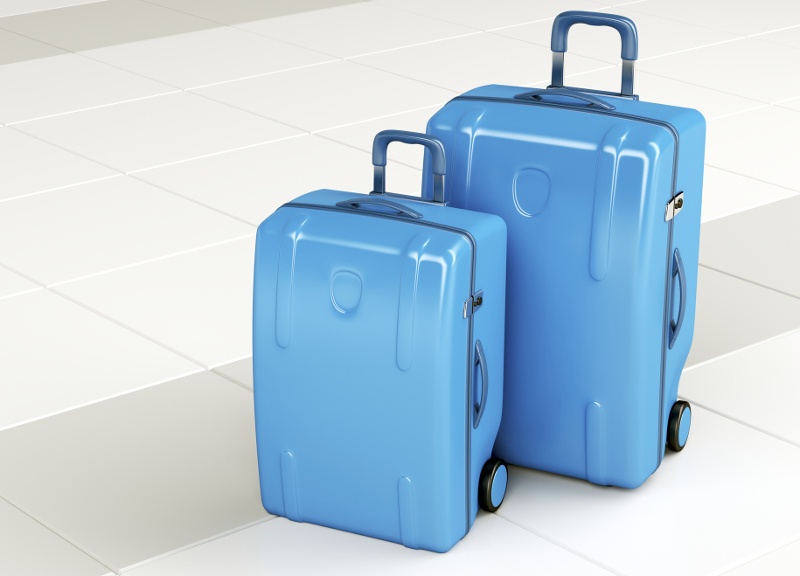 Brightly coloured hard shell cases with roller wheels
Size Does Matter
Sometimes you might want the flexibility and perks of carryon luggage, allowing you to land and make a quick dash for the exit.  It puts less pressure on those time challenged travellers, removing the need to arrive early enough for bag drop and can be a more secure option, removing the risk of any items or even the full case going MIA. All very attractive attributes for the light packers out there, however finding the right case that will provide adequate space yet slip seamlessly into the jammed overhead lockers can be tricky.  There is nothing worse than arriving for a conference or that crucial meeting, to find a suit jacket crushed or a burst tube of toothpaste decorating your belongings. 
So if it's a longer trip, or simply a longer list of necessities, sometimes carry on only just won't cut it.  The perfect check in piece offers more than just increased space and less weight restrictions, you also reap the rewards of packing and remembering one larger item, rather than several smaller pieces.  You can throw in that gym gear, encouraging yourself to use it since you've carried it all that way, bring a warmer item in case the weather throws a curve ball (Melbourne trips take warning!) or add a dressier outfit, just in case something pops up.  You can also roll and layer work-ready items, avoiding the dishevelled look.
For the females out there, checking luggage not only offers a myriad of wardrobe options, but the avoidance of surprise losses at security i.e. confiscated nail scissors, body lotions and hair potions. You also afford yourself the luxury of bringing your own hair dryer if that's important to you and another pair of shoes, because you can never be too prepared!
Hard Shell Or Soft (Suitcase Exterior, Not Tacos)
Hard shell cases are currently very popular and for many good reasons.  They offer increased security (can't be easily ripped or cut open), durability and solid protection - particularly handy if you tend to pack fragile items.  Most of the time they are fairly waterproof, lightweight, and you can enjoy a range of flashy metallic finishes.  You will also benefit from maximum packing space, as most don't take up interior space with folds of fabric and lining. 
As always, there are two sides to every story.  As swanky as they look, they aren't very malleable.  So if you've been on a shopping binge your extended wardrobe might not do too well in making it home.  Similarly, if you're aiming for carryon only, it will be difficult to squash, squeeze and compress enough to convince the flight attendants that it is in fact hand luggage.  They aren't known for their flexibility, and you may end up having to check it.  Soft cases are much better for this type of situation, and are going to be completely adequate for protecting and transporting clothing and softer items.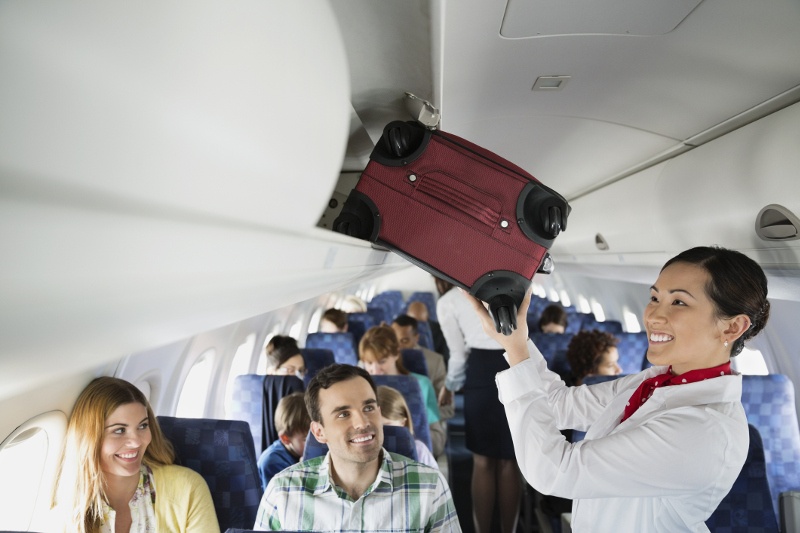 The dreaded move.. attempting to squash your over-sized piece into the locker
If you're flying long haul with delicates, or packing for a longer period and can check bags, hard cases are likely to be more suitable for your needs.  If you're looking to both fly and drive, or use hand luggage only, soft cases are easier to squeeze into overhead lockers and car boots.  Again budget will come into the picture, with cheaper hard shell cases likely to crack if flimsy plastic has been used.  If you've got the budget, invest in a durable hard shell that offers solid craftsmanship, or soft shell cases made from polycarbonate which is both strong and lightweight.  Also make sure you check zippers and seams for taped reinforcement, and retracting handles complete with solid screws.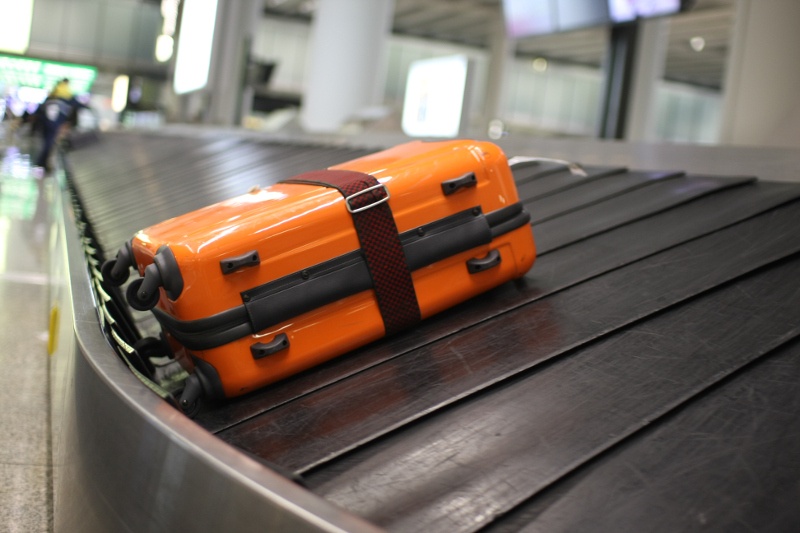 Try to choose a design you will quickly recognize on the airport carousel
Overall, the type of piece you select will likely vary based on the purpose, duration and style of the trip, as well as personal preferences.  Select something you will love, as these items aren't for hiding, will recognise easily on carousels, and using the above tips, will make your travel smoother and as stress free as possible.  Most importantly, make sure you add your contact details securely onto all luggage.  Safe travels!  
---
Flight Centre acknowledges the Traditional Custodians of Country throughout Australia.