Your Complete Guide To Kings Canyon: What To See And Do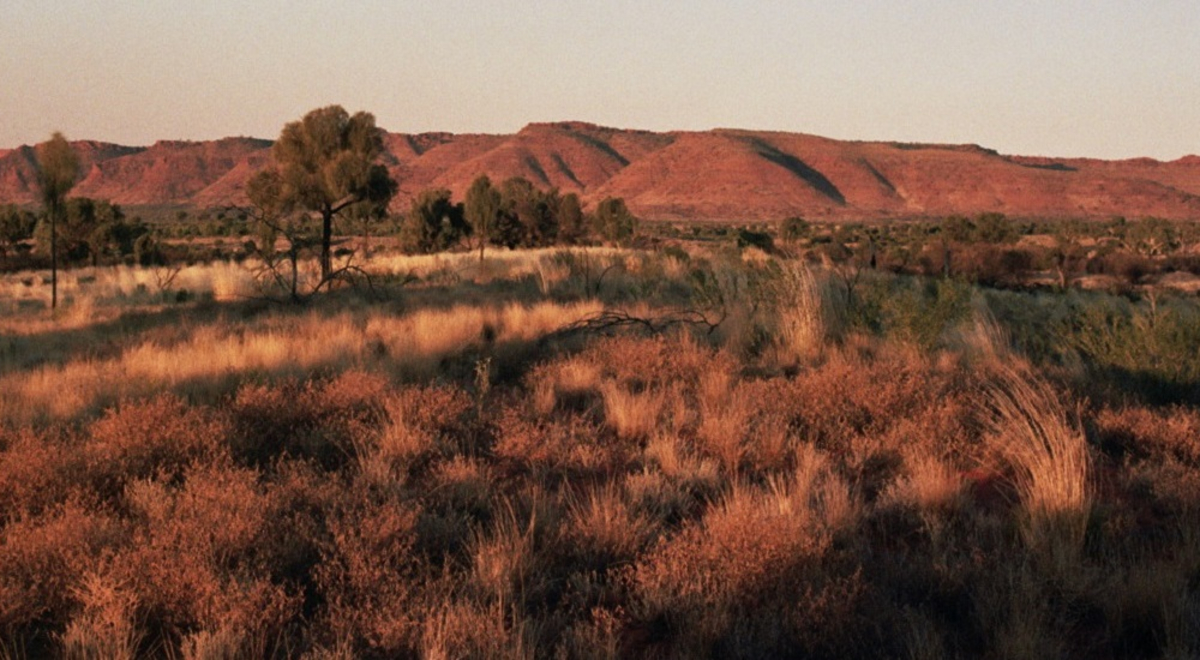 ---
---
Kings Canyon's namesake mountainous rock formations cast a bewitching shadow over the deep gorge below. 440 million years in the creating, Kings Canyon rises 270 metres above sea level and is at the heart of Australia's Red Centre.
This is a place where you can truly explore with all of your senses and immerse yourself in the untamed never never with the blessing of the original landowners. Kings Canyon is about a three-hour drive along the sealed Stuart and Lasseter Highways from both Ayers Rock (306 kilometres) and Alice Springs (450 kilometres).
There's so much to discover around this stunning canyon which was created through layers of sandstone and hard shale. These different varieties of rock are what give the canyon its dome and plateau shapes that spill on down to otherworldly natural pools, revealing an abundance of more than 600 species of native flora and fauna.
I recently spent two weeks on a road trip with a friend from Melbourne up to the red centre and back down to Adelaide and it was one of the best travel experiences I've ever had.
Every Australian should aim to do some sort of outback trip at least once in their life and a spending a few days in Kings Canyon is an absolute must-do bucket list stop.
It's here that you will truly reveal the many layers of the outback on an unforgettable adventure, lost in its ancient beauty and awe. Let the journey begin….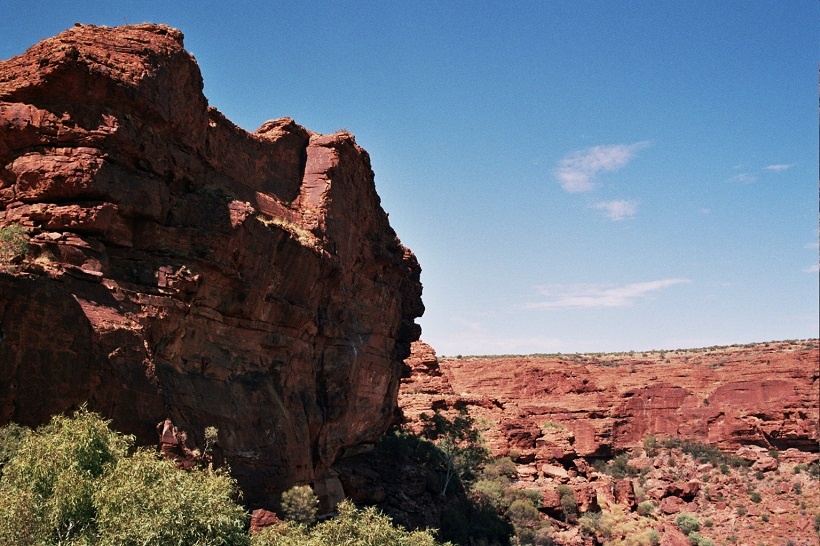 The stunning red rock at Kings Canyon looks like something you would find on Mars. Photo: Sam Aldenton.
Do: King's Canyon Rim Walk
There are a number of different options for how to tackle the King's Canyon Rim Walk whether you're after an easy 2.6 kilometre stroll (take the Kings Creek hike) or a more challenging 4 hour hike which is what I opted for (and I what I'd recommend if you're after the full hiking experience), strapping on my sneakers and putting my recent Akubra purchase to the test.
During the warmer months, it's advised that you don't start the hike after 9 am as the temperature rises quickly and by midday can reach dangerous temperatures for hiking, even when the weather is a bit cooler it's an experience like no other to get up early and catch the sunrise over the cliffs.
The challenging Kings Canyon Rim Walk is a 6km loop, with an unparalleled view of the gorge below as you transcend into the Garden of Eden and the faded orange cliffs that look in some parts like they've been sliced out of a giant marbled cake.
I chose a self guided walk wanting to have the flexibility of moving more quickly however if I were to do the walk again I'd certainly opt for (and recommend to others) a guided walk with an Aboriginal elder so that I could not only feast my eyes but my mind too and learn more about the significance of the area to the traditional owners, the Luritja Aboriginal people who have watched over the 71,000 hectares of Watarrka National Park for over 20,000 years.
Kings Canyon Resort which is located just down the road offers guided tours, and AAT Kings runs a day tour out of Ayers Rock Resort. It's also worth pointing out that experienced hikers would probably enjoy the challenge of the self-guided 22 kilometre Giles Track that heads from Kings Canyon to Kathleen Springs.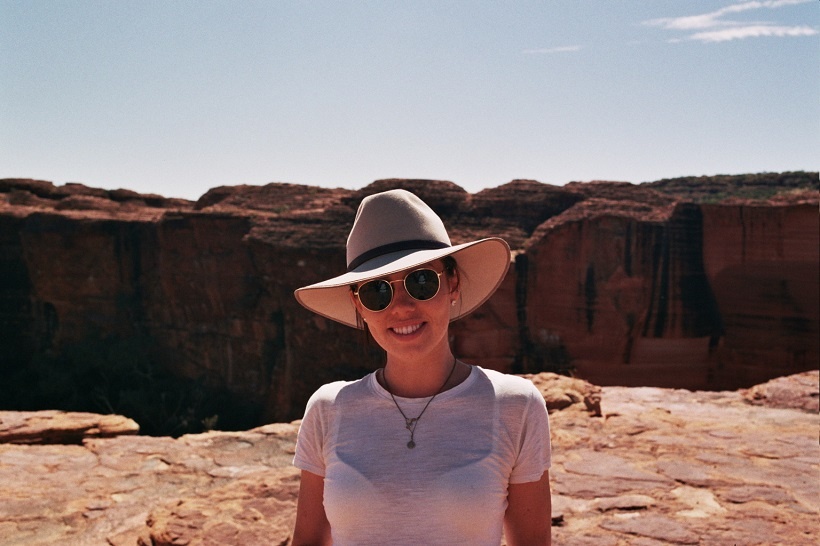 I obviously didn't want to get too close to the edge, the sheer drop is something to to be in total awe of. Photo: Sam Aldenton.
Stay: King's Canyon Resort
There are two main options for accommodation at Kings Canyon, Kings Canyon Resort and Kings Creek Station, I opted for the former's deluxe spa room which had to have one of the best views from any tub in Australia.
Located between Ayers Rock and Alice Springs, Kings Canyon Resort is just 6.4 kilometres away from Watarrka National Park which is where the stunning Kings Canyon Rim Walk is enjoyed. The resort, however, has two restaurants, two gorgeous watering holes aka swimming pools, a gas station, tennis court, general store, shop, tour desk and it even has a postal service should you desire to send a cheeky crocodile postcard to grandma back home.
The resort does have standard rooms as well as caravan and campsites in a holiday park if you choose to forgo the luxe spa room but if you've come all this way, I'd say it's time to 'treat yo self'. Complete with Sukin skincare and bath products, the spa bath is the ultimate in luxury, perched in an expansive window you can look out on the desert landscape and watch it change 50 shades of red with the setting afternoon sun - champagne in hand of course. The only other way, as far as I'm concerned, to enjoy an outback sunset is the Uluru Sounds of Silence dinner - champagne in hand in front of Uluru, though you couldn't possibly compare the two and will have to try them both yourself.
Then again you can't go past the resort's sunset viewing platform where after a morning's hike you can sit back in the afternoon and watch as the sun ducks behind Carmichael's Crag and the George Gill Range turns from red to purple in the setting sun. To top it off, grab a cold one from the pop-up bar that rolls on over in the afternoon.
For some, what might top a champagne in the tub or the changing shades of the canyon is how once the sun has set, dinner devoured and you're all tucked into bed, all you have to do is glance to the side and shining through that huge spa window is the most beautiful blanket of twinkling stars you will ever see. Now that's living Barry.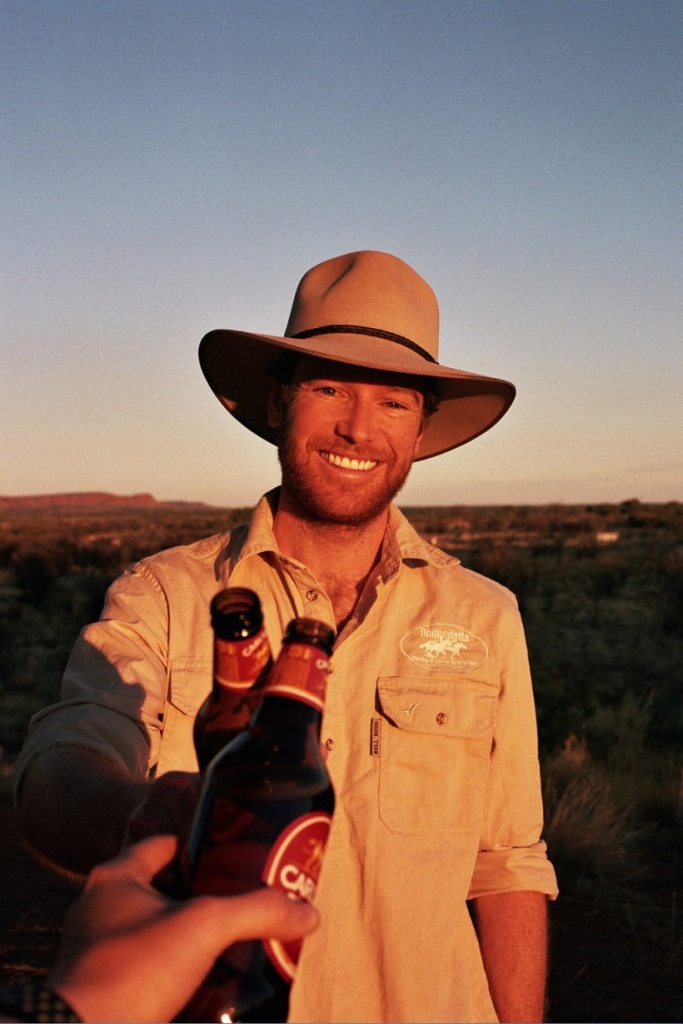 Enjoying a brewski with my mate Nic at the Kings Canyon Resort viewing platform during sunset. Photo: Sam Aldenton.
Eat: Under A Desert Moon
A table for two in the outback wilderness is an absolute, must not miss, bucket list experience. If nothing else you see or do in the Outback has you planning your next trip back, this private 6-course campfire gourmet dining experience will certainly entice you in once more.
The enchanting evening starts off with canapés and a glass of sparkling wine on the green lawn in front of Carmichael's Restaurant. From there you're led on a short journey down the rabbit hole or rather a fire lit winding pathway to a hidden location where your white linen topped table is set up under a canopy of stars for the most glorious light show there is, a desert moon and the sky full of juicy twinkling stars.
A fire flickers in the middle of the hidden round clearing as you dine on seasonal, locally sourced produce from delicious ## to mouth-watering free-range emu koftas. Some produce and native herbs you may be familiar with like spicy wattle seed dukha and others may surprise and delight such as the aniseed myrtle infused feta. To enhance your dinner an optional wine pairing is available and most certainly recommend if for nothing but the wonderful Seppelt Sparkling Shiraz paired with seared kangaroo loin, wild mushrooms, riberry and plum preserve and scallop potatoes on jus de pepper leaf. 
Experience an outback dining delight only found at Kings Canyon Resort. Under A Desert Moon is available Monday, Wednesday, Friday and Saturday from April to October.
Drive: The Red Centre
One of the best areas to road trip through in Australia, the Northern Territory is a popular self-drive destination with some beautiful and well planned out routes. To drive through Alice Springs, Uluru and Kings Canyon, I'd recommend taking at least five days to truly experience the culture and magic of the red centre.
Some of the spots you'll want to make sure you tick off will be spotting rock wallabies at Simpsons Gap in the West MacDonnell Ranges, taking a dip in the Glen Helen Gorge, look out across the city of Alice Springs from the top of Anzac Hill and of course see the sun transform the colours of Uluru as it sets.
---
Flight Centre acknowledges the Traditional Custodians of Country throughout Australia.