Crosstown Doughnuts: A Story Of Sweet Success In London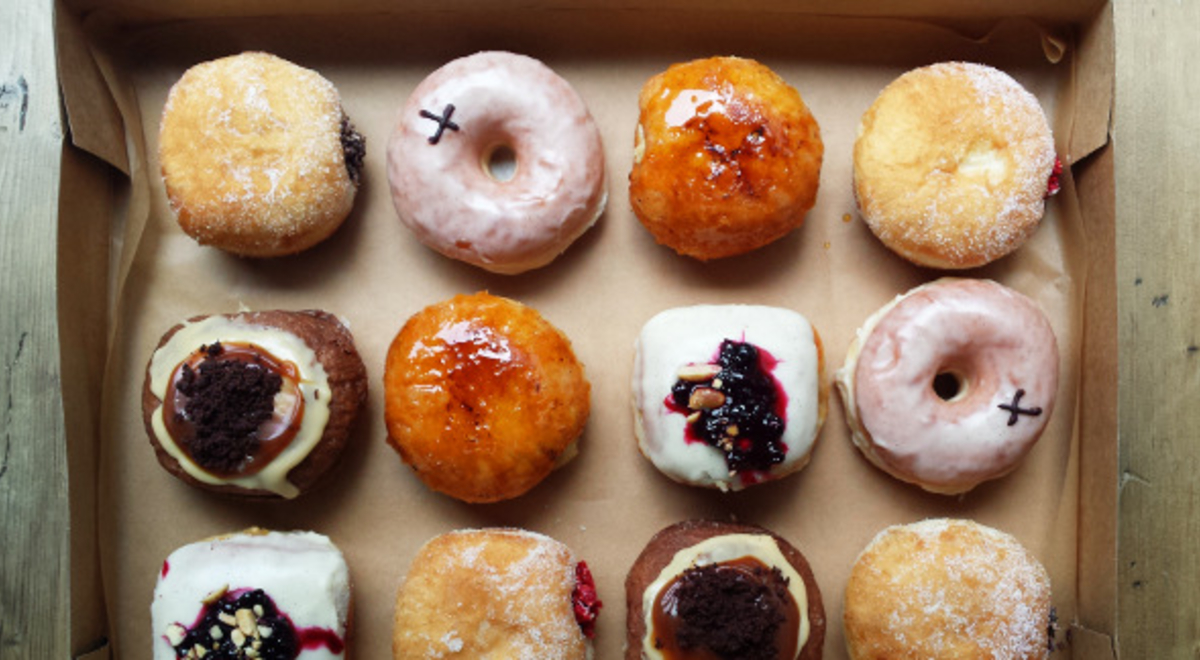 ---
---
There's a doughnut renaissance happening in London right now, and Crosstown have been caught jam-handed as the culprits behind the sudden sugar rush.
From humble market stall beginnings to the food halls of Selfridges and Wholefoods, Crosstown's team of artisan bakers are being put through their paces, hand-filling thousands of doughnuts every day for the good people of London town, who rival Homer Simpson in their love of the oval pastry.
Earlier this month Crosstown Doughnuts reached new heights, striking up a partnership with Air New Zealand thanks to Kiwi chef and business partner Peter Gordon. Premium Economy and Business Class guests on Air New Zealand flights from London to Los Angeles can now enjoy Crosstown's oozy delights in-flight.
Did we mention this has all happened in the space of seven months? We sat down with Crosstown Doughnuts co-founder, a rather sleep-deprived JP Then, to talk flavour profiles, doughnut-hunting holidays and Crosstown's shiny new Piccadilly Circus shopfront, which officially opens for business today.
I think Brisbane is pretty chuffed to claim you as their own. Tell me about your relationship with the city.
It's quite gloomy all the time in London right now – not like in Brisbane! I was born in Edinburgh and moved over with my family to Brisbane when I was 12, so basically did high school, uni and started my career in Brissy. Then there was a move back to the UK about five years ago.
My sister is still in Brisbane so I try to get back when I can, but it's such a long trip. The last time I went back, earlier this year for a wedding, I was there for four days. You get there, you're jet-lagged and before you can even do anything, you're away again!
So, how did Crosstown Doughnuts come about?
I've always had a passion for food and particularly coffee. Going back to when I arrived in London, I found there was a bit of a gap in London of people doing coffee like they do in Australia.
I ended up meeting a whole group of people and one of them was a great Kiwi guy by the name of Adam Wills (founder of GBK and co-owner of Kopapa restaurant in London), who is now my business partner alongside a few others.
We talked about what we could do with coffee in London and the concept really evolved quite quickly – we thought "how do we create something that's really unique in the market and push the boundaries of a product?"
There's no gourmet-esque doughnuts going around and it's the perfect partner to coffee!
What is it that sets Crosstown's doughnuts apart?
I guess the fact that they're very - I hate to use the word - "artisan". Everything is handmade. We've come up with our own dough recipe, which is unique to us. We make all our jams from scratch, we make all our compotes, our fillings, our creams, our glazes – everything is done in-house.
Despite it being hugely labour-intensive and quite expensive to do, we've got full control over what we put in and what the product it.
Where some other doughnut operators are more of a manufacturing plant, we've got several bakers on one shift to make doughnuts, rather than a production line of machines.
Has the immediate popularity of Crosstown Doughnuts surprised you?
In some ways, yes. We were always confident that the product was good, but it really hit home when we saw people's reactions after taking their first bite!
Yeah, definitely. We launched in May this year at a market stall - we wanted to get real honest feedback. I think there's no better place to do that than the markets.
Luckily for us, people have taken to the doughnuts and really enjoyed them. It wasn't long before people started approaching us to stock the doughnuts in their own cafes and restaurants. We're also lucky enough to say we stock at Selfridges, which is the number one department store in the world.
We've just launched at Wholefoods and supply Air New Zealand seven days a week for their London to LA flight. It's hard to believe it's only been seven months since our humble market stall!
The Air New Zealand partnership is very exciting! How did that begin?
One of the key people involved with Crosstown is Peter Gordon, who's a very talented Kiwi chef and very well known. He consults for Air New Zealand's menu.
Once they heard he was involved in this new start-up doughnut concept they were like, "well, this is interesting!" and the rest is history. They got us in, sampled some flavours and said "we want to take your doughnuts to the skies!"
Will the doughnuts be served on more Air New Zealand flight routes in the future?
We'll have to wait and see. We've only been doing it for a little over a month but the feedback has been really positive – people love them.
I can't see why that wouldn't be a possibility. People like them on a London to LA route, so I can't see why they wouldn't like them on every other route!
What new flavours are you thinking about for Air New Zealand?
(The current flavours on board the London to LA route are apricot and pistachio, and a raspberry jam with Tongan vanilla icing and freeze-dried raspberries)
We try to use seasonal products. One of the big things about Crosstown is we source locally where possible and pair it up the best international ingredients.
Coming into winter we've got a fruit crumble, which uses spiced apples and pears and has a pecan and maple crumble. Or it might be a quince and cranberry compote with a vanilla bean glaze.
By the time we get the next flavours going for Air New Zealand, they will be coming into spring, so you might be looking at something more exciting like passionfruit.
We use a lot of fruit-based flavour profiles because you can chop and change with the seasons. We're always doing product development so it will be interesting to see what's next. Stay tuned!
This is probably like asking someone to pick a favourite child, but is there a flavour you're a bit partial to?
The crowd-favourite is a sea salt caramel with a banana cream on chocolate sourdough. That's definitely something a bit special. There would have to be something a bit wrong with you if you didn't like that!
The other one that's hard to look past is the raspberry jam ball. It's a classic. I think because we make the jam it's a little bit special, and we definitely put an abundance of it in every doughnut. We put heaps in there!
Did you do a lot of 'doughnut research' around the world to come up with the flavours for Crosstown?
We definitely did a fair bit of travel. Because we felt we were taking doughnuts to a new level, there wasn't really anything comparable in the UK. Adam went off to America and looked at some doughnuts in New York, LA and Washington.
I actually spent a bit of time in Melbourne as well, figuring out what was happening over in Oz. During my four day trip this year I spent one day in Melbourne doughnut-hunting.
My most recent trip was to Italy and I found doughnuts there too. Pretty much every culture has their version of a doughnut. If you boil it down to the nuts and bolts, it's really just a fried piece of bread, which is present in many cultures and countries. It's interesting when you travel and you see all the variations.
You're obviously a bit biased, but are Crosstown Doughnuts worth travelling to the UK for?
Of course they are! 100%. We're lucky enough to say we've had a lot of people seek us out. We've got a bit of a following in New Zealand and Australia, and also starting to get real traction with Middle Eastern customers who seem to have a bit of a sweet tooth!
A lot of people will come to us on their travels and visit the markets just to sample our doughnuts. It's great – all the hard work and effort that goes into creating a brand and product is being well received and people are enjoying them, which is the main thing.
What does your average day look like right now?
I got into my house last night at 430am and I started at 6am, if that gives you an indication! I've done a few 24 hour days recently.
We're opening a shop in Piccadilly Circus underground station on Monday [today], so on top of everything else it's been a crazy few weeks trying to set everything up.
It will be our first stab at a bricks-and mortar-shop rather than just a market stall, and give us an opportunity to pair our doughnuts with our own coffee. We're hoping we'll start to gain a reputation for coffee as well.
It's a very small shop but we've got to start somewhere. I think we can do quite well in a really busy transport hub in London. If we can't raise some eyebrows there, I'd be surprised!
It's obviously still early days, but are they any plans to expand internationally? Maybe back to Brisbane?
We'd love to take the concept to other places but the focus for us for the short term is just to cement our reputation in London as THE doughnut guys.
It's hard to believe it's only been less than a year from market stalls to supplying to an international airline, Selfridges and Wholefoods.
We've got a bit of work to do to really set ourselves up to dominate London and greater London, and we'll see where that takes us. It's early days for us but there's so much we can do.
(Crosstown Doughnuts and JP are featured from 03:00)
The Lowdown on Crosstown
On the other side of the world, Flight Centre UK's Lauren Burvill selflessly road-tested Crosstown Doughnuts. "Wandering the markets in London is one of my favourite things to do (when I'm not on a diet!), and I can't walk passed a Crosstown stall without making a purchase," she says.
"My favourite so far is the sea salt caramel and banana doughnut, which had real banana and you could actually taste the salt on top, which I loved. Next I really want to try the fruit crumble doughnut."
CURRENT CROSSTOWN FLAVOURS: morello cherry, quince and cranberry, autumn fruit crumble, vanilla bean glazed, sea salt caramel and banana, raspberry jam, peanut butter and berry, creme brulee, cinnamon scroll, cinnamon ring, chocolate truffle, choc mousse, chocolate chilli cream.
CROSSTOWN'S LONDON LOCATIONS: Leather Lane Market, Broadway Market Schoolyard, Wapping Market, Tamp Coffee, Ben's Canteen, Ritzy Cinema Goode & Wright, The Providores, Selfridges, Curators Coffee Gallery, Store St Espresso, Kopapa, Southbank Market, Continental Stores, Ask for Janice, Barsmith, Look Mum No Hands!, Ozone Coffee Roasters, De Beauvoir Deli, Hackney Picturehouse, Eat 17 Hackney, One Two FIve Church Street, Wholefoods, Piccadilly Circus, and on Air New Zealand flights from London to LA (premium economy and business class only).
---
Flight Centre acknowledges the Traditional Custodians of Country throughout Australia.