Baby On Board: Long-Haul Tips You Need To Save Your Sanity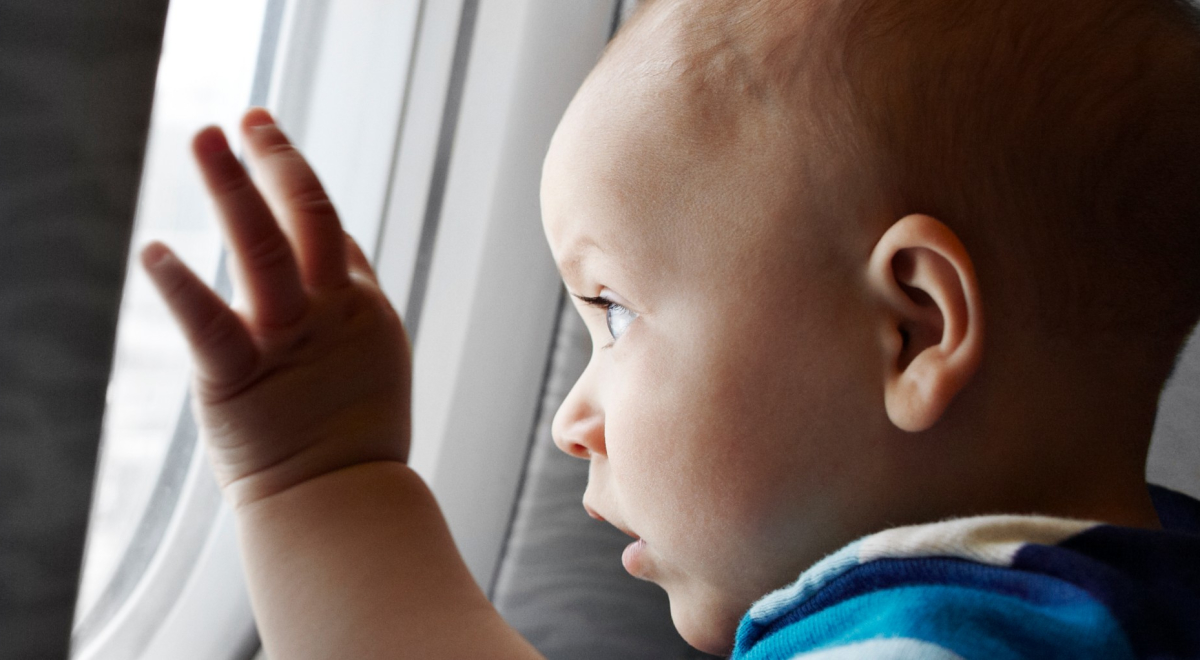 ---
---
Forget snakes on plane, one of the most stressful things about new parenthood, is the prospect of travelling long distance with a baby or toddler. 
But for the adventurous and committed wanderlusters (read: stubborn and crazy travel-obsessed) among us, the only way is up… 36,000 feet with an infant. 
It's never going to be the same as before but that's no reason to avoid travelling with a baby altogether. From planning your route, prepping for the flight and baby-proofing your trip logistics, arm yourself with these handy tips to save your sanity on long-haul flights.   
ErgoBaby on a plane
Regardless of the age and squirminess of your babe, you'll be grateful for the hands-free reprieve afforded by taking a baby carrier on board with you. Strap that little one to you and walk the aisles for a settling strategy or, if you get really desperate, the carrier can help you avoid dead arms at sleep time. You will have to take it off for take-off and landing, though. 
Use a carseat 
Because studies have shown that the safest way for an infant to travel on a plane is by using a car seat or child restraint, most airlines allow for parents to bring one per child onboard the aircraft. There are restrictions for using one, which vary from airline to airline, so the onus is on you to check the details before flying. It also requires paying for a seat for your little one, which isn't necessary until they are over two years old. 
Gate-check the pram
It's common for airlines to include a free checked pram or stroller with an adult fare but did you know that you can also gate-check the pram? Basically it means you can wheel right up to the plane doors, hand it off to ground staff and then find it ready and waiting for you when you disembark. This is a good option if you aren't a fan of rushing through a busy airport while juggling luggage and a squirmy baby. Check rules with your agent or airline to prior to flying. 
Break up the journey 
There are myriad ways you can tailor a journey to suit you and your particular circumstance. Whether its choosing a route/timeline that you're comfortable with or simply turning stopovers into their own little mini-trips, you are the master of your destiny.    
We chose to fly Brisbane>Auckland>San Francisco because I was not willing to spend 16 hours straight trapped in a metal air-borne tube. But that's just me. With the stop over in Auckland, the longest we spent on the plane was 11.5 hours. And though it's still a long time, it goes surprisingly quickly when you're managing a pre-toddler.   
Lower your expectations 
This could really be a rule for life, to be honest. Not to be a defeatist but if you're expectations are already at the bottom, anything above that is just a pleasant surprise, right? Much like childbirth, it's not going to be 'fun' but in this case it's very much about the destination, not the journey.
Feeding time
Whether your little bundle is breast or bottle-fed, timing a feed with take-off will help with the potential pain as the cabin pressurises. The sucking action helps to alleviate ear pain in the same way that 'popping your ears' does for adults.  
Request the bassinet row
The bassinet row is the bulkhead row, with the handy addition of a collapsible bassinet. If your baby is small enough (airline dependent but typically under 11kgs and 71cms) then you can book the bassinet for the duration of your flight. You'll have to forgo moveable armrests because it's the bulkhead row and there's always a risk your bub won't take to the bassinet but at least you'll have extra leg room. 
Arm yourself with clever innovations
The anxiety of flying with a baby is the kind of thing that will have you throwing money at your computer screen just for a few minutes of potential peace of mind. CoziGo, an Australian invention designed to block light and distractions and aid with maintaining your little one's sleep routine while on the go, is definitely worth the dosh. Created by mum and inventor Emma Lovell, the handy sleep cover is UVP50+, 100% breathable, fits snug over bassinets (airline and others) and prams blocking 90% of ambient light, upping the cosiness level no matter where you are. Like most clever innovations, the CoziGo is based on Emma's own experience; after a particularly stressful – and sleepless – flight to London with her five-month-old daughter, Emma turned her desperation into a successful business loved by family travellers the world over. Lightweight and easy to use the CoziGo collapses and pops-up similar to a beach sunshade and will fit easily into your carry on. Though they are approved by most major airlines, cabin crew discretion is standard but also check with your airline prior to travel.  
Never fear the day your precious bundle outgrows the bassinet either, products like Plane Pal and Kooshy Kids are here to fill the void. These inflatable cushions are designed to fit snugly in the foot-well of an airplane seat transforming the space into a mini-bed for sleep time or just a more comfortable chill space for the little tyke.     
Snacks, lots of snacks
If your little person is on solids, snacks will be worth their weight in your carry on. Our little guy, who was just one when we travelled to the US, would happily munch on the proffered snacks, taking his attention from whatever baby business he had planned for at least 5-10 minutes at a time – which in parentland is an eternity.   
Onesies will save you
Pack a selection of all-in-one suits (with zippers) to avoid a session of infant-WWF in the tiny plane toilet that doubles as a parents room. Cute and functional – parenting win. 
Insure yourself
Travel insurance is always a good idea but it's an excellent idea when you're travelling with a baby. Sometimes unfortunate things do happen so it's really good to have the security and peace of mind that a good insurance policy will give you.    
Sort out your finances
As a parent, simplification and minimalism becomes the Holy Grail. Avoid the hassle of currency conversion, carrying enough cash and stressing over money by getting your hands on a Travel Money Oz Currency Pass. Buy online, load up to 10 currencies and then use it everywhere a Mastercard is accepted, including ATMs. Not only super convenient but your exchange rate will be locked in too, so you can feel secure planning your budget in advance.   
Give up the guilt
You have just as much right to be on that plane as any child-free adult. While no one loves the idea of sitting next to a screamer, it's not your responsibility to make everyone else around you comfortable. Leave the guilt behind and focus on the new point of your existence: your child. Forget about the grumpy scowls and the haters – if they don't empathise with you on some level, it's unlikely that they have kids so have no idea of the levels of stress and anxiety you're already experiencing.  
Disclaimer: babies are unpredictable. The above tips are tried and tested but tips will only take you so far and sometimes it's just luck of the draw. Certain babies are screamers and some are not; cross your fingers and hope for the best...
 travel tips babies family-friendly travel family
---
Flight Centre acknowledges the Traditional Custodians of Country throughout Australia.