Experience Magic: How To Do Disneyland Paris In One Day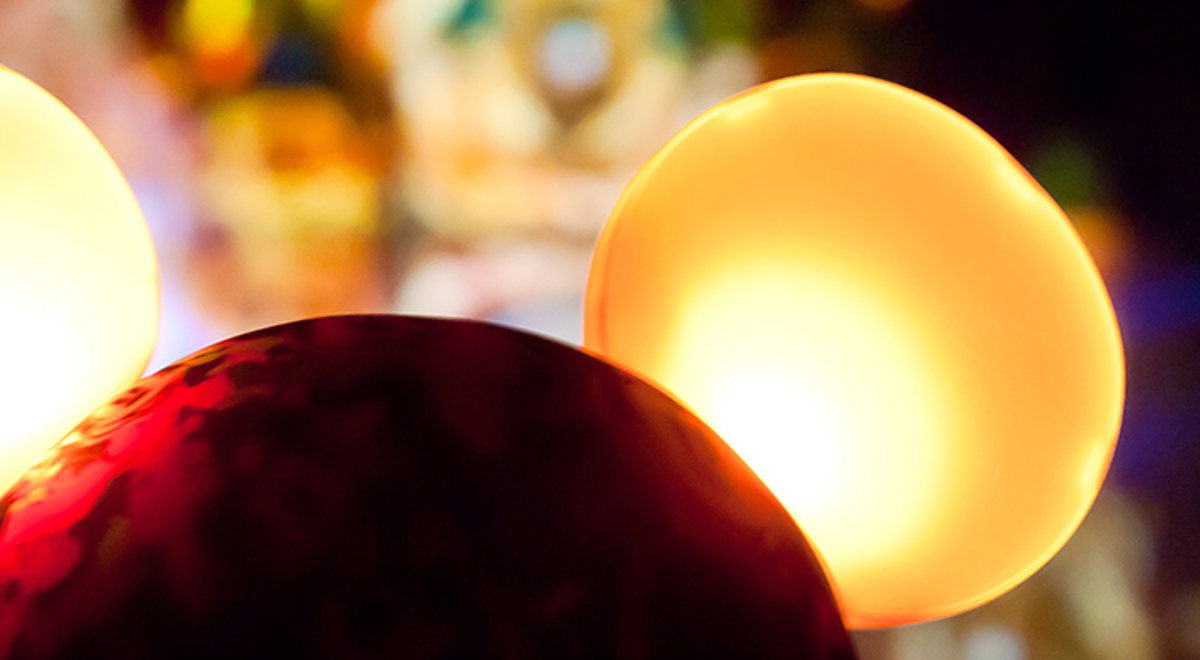 ---
---
For many kids and adults, Disneyland is the holy grail of holiday destinations: a place where dreams come true and memories are made, meeting the iconic figures of both your childhood. Even now, the touch of Disney is probably felt as an adult due to either the accrual of other multi-media franchises such as Marvel and Star Wars or through children playing the soundtrack of Frozen on loop in the car.
On a recent trip to the UK, my girlfriend, Bianca, and I decided to stay in Paris for three nights as neither of us had been to Europe before. Over a viewing of Tangled, one of Bianca's favourite movies, I had the bright idea of visiting Disneyland Paris for a day; so I bought a day pass for both parks, Disneyland Park and Walt Disney Studios, and surprised her on our first day in Paris. It was probably the tightest hug I have ever had from her. I may have cracked a rib.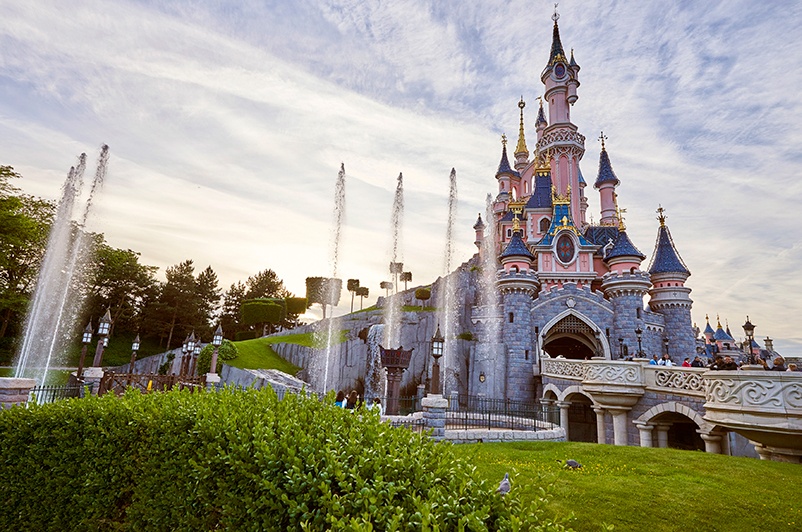 Disneyland Paris brings the Disney magic to Europe.
Here's my tips on how to get the most out of a trip to Disneyland Paris in one day.
Getting there
We stayed at Hotel Waldorf Trocadero between the Arc de Triomphe and the Eiffel Tower, just off the Champs de Elysees, and only had to walk 100m to a subway entrance (I highly recommend this if it's your first time in Paris). We boarded two trains for the 40-minute journey to Disneyland and cost us €16 for two.
Once we arrived, we discovered there is actually a third area to Disneyland Paris called the Disney Village, which is more a shopping precinct and eatery with an attached cinema to watch past and present Disney films. We then had to decide whether to visit Disneyland Park or Walt Disney Studios first.
As the main reason we went to Disneyland was not for rides but to experience the awe of the park and meet our favourite characters, we walked right towards the entrance of the iconic pink Disneyland Hotel, which also acts as the gates to Disneyland Park.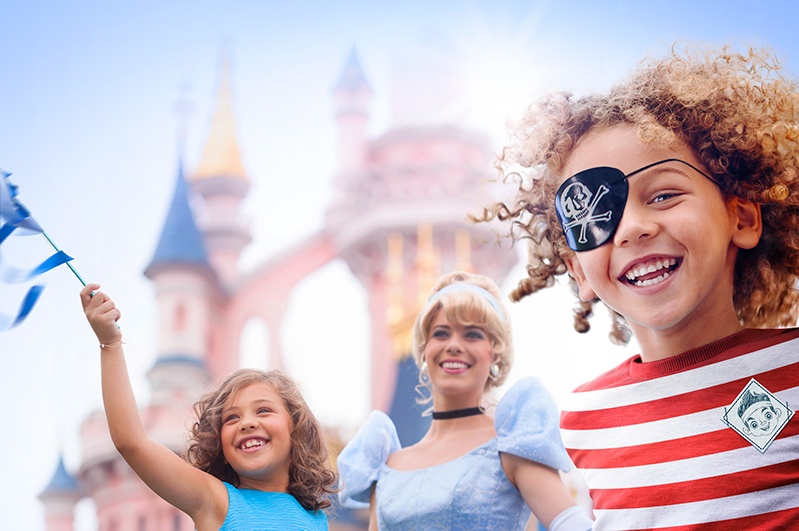 The Festival of Pirates and Princesses is on at Disneyland Paris from 19 January to 17 March, 2019.
Disneyland Park
After a 15-minute wait, we get our tickets and a map of the park, detailing the five lands: Main Street USA, Frontierland, Adventureland, Fantasyland and Discoveryland. Passing through the turnstile we see the ginormous Disneyland LED sign and walk through to Main Street.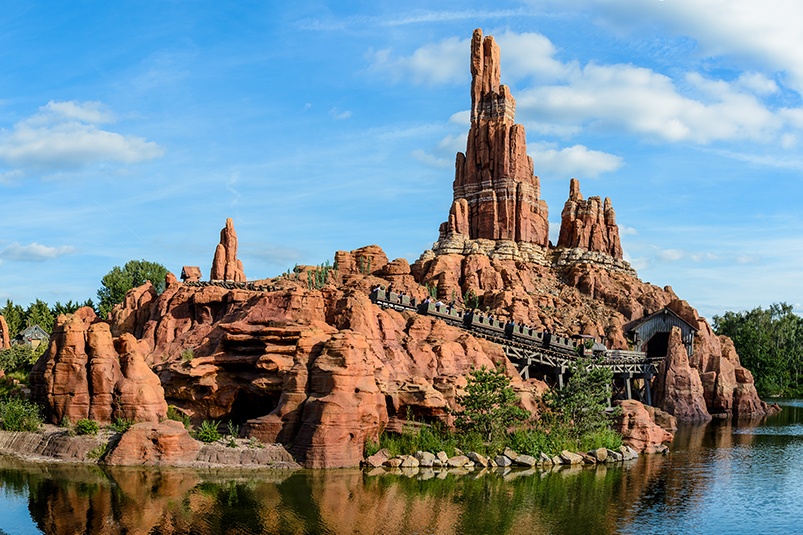 Big Thunder Mountain is one of the most popular rides in Frontierland.
Frontierland
Welcome to the Wild West that is Frontierland, home to Woody and Jessie from Toy Story, the Thunder Mesa Paddleboat cruise and the iconic Big Thunder Mountain ride. I say iconic, because this is the ride with the most queues in the entire park with an estimated minimum wait time of 65 minutes; and that's with a FASTPASS! Due to time restraints (and because the girlfriend hates rollercoasters), we powered on to find Woody and Jessie. Woody was on the opposite side of the queue for Big Thunder and had a relatively short line. We also found Pocahontas' village - a children's play area. After scouting the new Coco Mexican eatery for later, we moved onwards to Adventureland.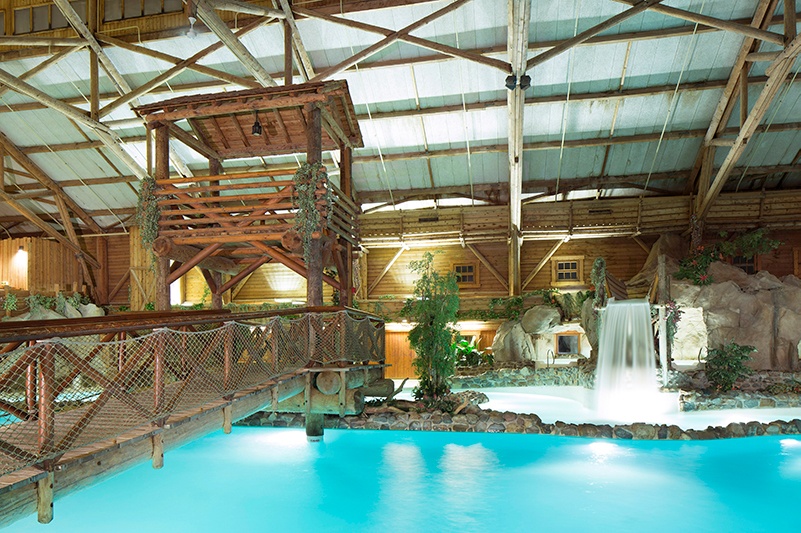 The pool at Disney's Davy Crockett Ranch accommodation.
Adventureland
Contrary to what I expected, Adventureland did not have many rides; only two in fact. The area theme is exploration, the jungle and, of course, adventure. You will find characters from Up, The Jungle Book, The Lion King and Aladdin. There is also the booth to meet and greet Peter Pan, Captain Hook and Tinkerbell and Pluto. The main attraction though is the centrepiece - a giant, climbable treehouse based on the 1960 film, Swiss Family Robinson.

Due to the success of the film franchise based on the original Disneyland ride, there's a huge amount of Pirates of the Caribbean-themed areas, including a dark maze through a skull and one of the two area's rides, which had a not-awful wait time of 40 minutes without a FASTPASS. The second ride caught me completely off guard as it was an Indiana Jones-themed rollercoaster. I was pleasantly surprised, as I forgot the franchise was purchased by Disney; although it didn't excite me as much as Big Thunder and was on a smaller, yet more loop-based scale. After getting lost in a dark maze in the Pirates of the Caribbean zone, we moseyed on to Bianca's favourite zone: Fantasyland.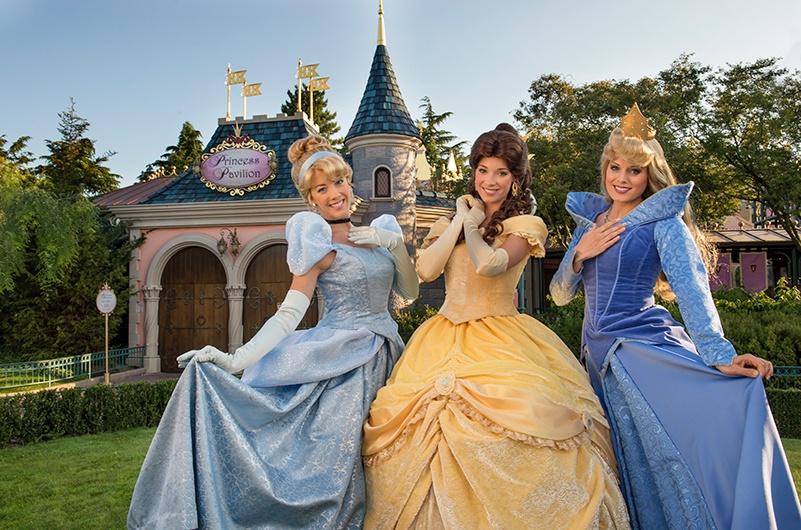 Meet Cinderella, Belle and Aurora plus all the Disney princesses.
Fantasyland
Princesses, princesses, princesses and more princesses... oh, and a certain famous rodent. Yes, everything in this area is a recreation of every little girl's dream fairy treehouse with pretty pink castles, flowers, water fountains and a castle in every corner. It's also the area where we ended up spending the most time, for not only does the park have a couple of rides, there's a lot of walking activities and the main man himself: Mickey Mouse. The queue for Mickey was the only thing we chose to queue longer than 20 minutes with a wait time of 50 minutes. Thankfully, in Mickey's house there are old cartoons to entertain you on loop and it's indoors so you don't get sunburnt or bored. Once we had our photo, we made our way east to the Alice In Wonderland area, which featured a large hedge maze and castle to climb. This was really fun due to all the things you spot along the way, and I highly recommend wearing sturdy footwear. After leaving the maze and, scouting the Mad Hatter's Tea Cups and 'It's a Small World' cruise for later, it was time for lunch.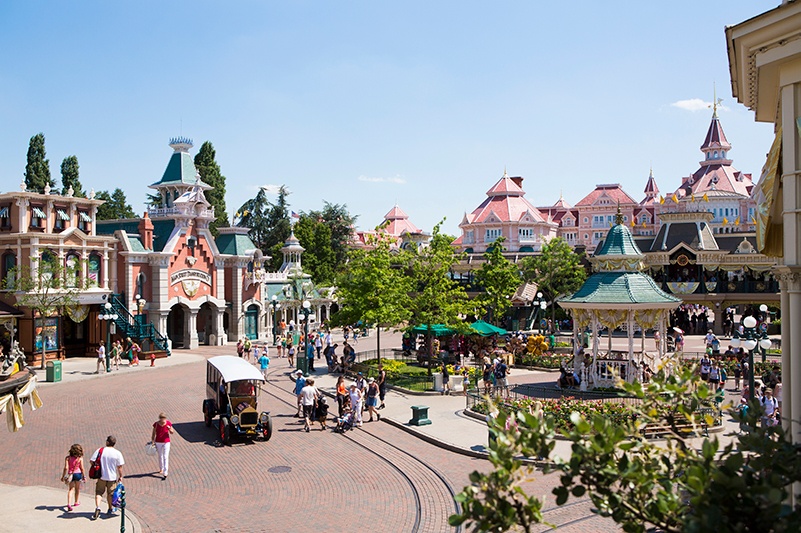 Main Street USA is the spot to grab a bit to eat.
Main Street USA
Main Street is where 80 per cent of the park's eateries are located. Most are advertised as takeaway places only do drinks.
Tip: Many of the food places are cafeterias with limited seating and food options. If you are able to, I highly recommend going across to Walt Disney Studios for wider food options and smaller crowds. If you don't have a pass for both parks, I recommend having an early lunch around 10:30-11am. We had lunch at 2:30pm and the crowds were no better than midday. For the best food places, the Coco Mexican eatery does great burritos and nachos, Toad Hall Restaurant beside Mickey Mouse's house is also good for an English pub meal and, finally, Cafe Hyperion in Discoveryland does easy fast food and features a theatre where you can watch Star Wars-related movies and TV shows. The first episode of Star Wars Rebels happened to be showing when we passed through here later in the day. While the park famously housed the Pizza Planet restaurant, it has since been closed permanently.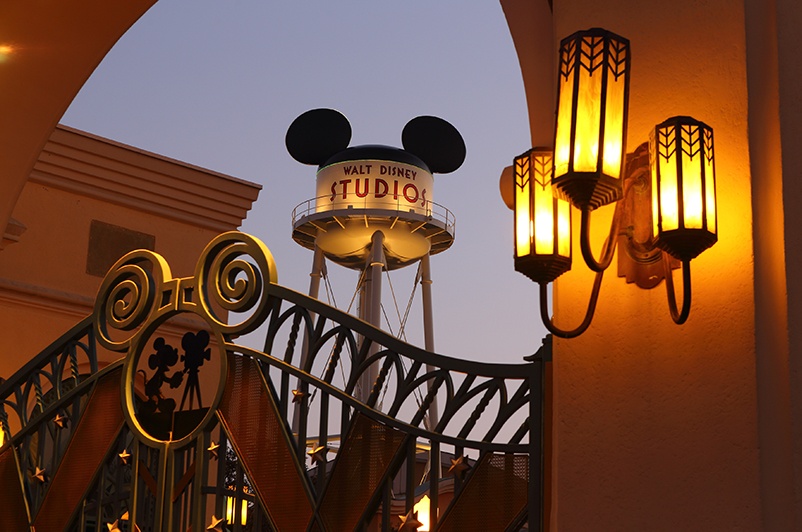 Film buffs won't want to miss Walt Disney Studios.
Walt Disney Studios
Entering Walt Disney Studios was akin to walking onto a Hollywood film set – it's basically a big hangar with eateries and merchandise stores.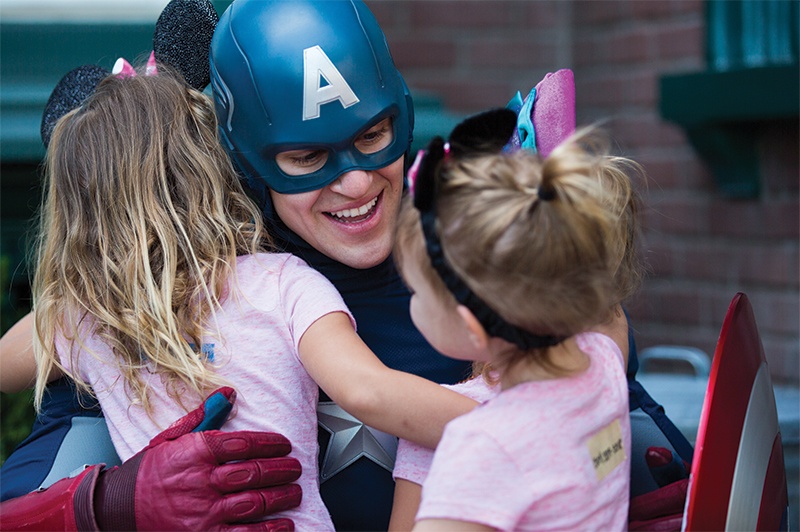 Meet your Marvel heroes at Walt Disney Studios.
Despite the Vegas-esque lights of the hangar, compared to Disneyland Park, we found Walt Disney Studios to be smaller in size and more about rides than other attractions. This is also where you will find the amazing Toy Story zone and all of the Marvel goodies. There are multiple huge Hulk and Iron Man statues around and even some old properties many people don't even know are owned by Disney (Armageddon, anyone?). As we didn't have time for rides, it's easy to explore Walt Disney Studios in under half an hour.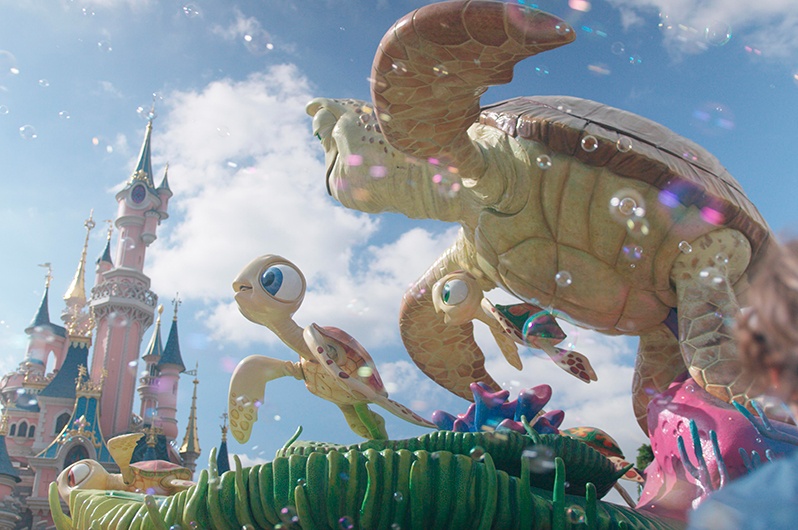 The Disney Pixar Stars on Parade is a show-stopper.
Disneyland Park
Electric Boogaloo
Re-entering the park we were about to make a play for Discoveryland, the park's future zone home to Wall-E, Buzz Lightyear and the newest addition to the Disney family: Star Wars, until we looked at the clock. It was 4:45pm and the daily parade was about to begin at 5:30pm. So we camped along the road along with thousands of spectators for the 20-minute parade of gigantic floats featuring all the famous Disney figures we'd seen in the parks. From Mickey and co. to Frozen, Toy Story and even a street performance from Aladdin, Jasmine, Snow White and Mulan, all the characters were there and it was definitely a highlight.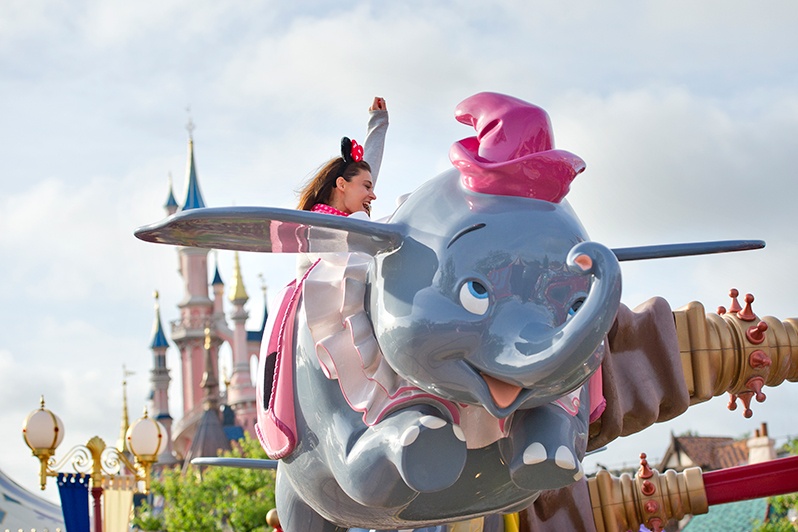 Feel like a kid again at Disneyland Paris.
Discoveryland
This zone was probably the second-largest in the park, due to the on-rail race car course to the east. There are multiple coasters and gravity-defying rides but the big winner for me was a walkthrough of a sunken ship, based on the long-forgotten Disney animated film, 20,000 Leagues Under The Sea. I can't recommend this enough and best of all, there was no queue.
Discoveryland is also home to Disneyland's most infamous ride Space Mountain. The Paris version has been re-branded and updated to reflect the introduction of Star Wars into Disney's lineup and is now known as Star Wars Hyperspace Mountain. Located close to Hyperspace Mountain and Cafe Hyperion is the Star Wars store. To end the day, we headed back to Fantasyland to take it easy by going on the famous 'It's a Small World' cruise and the Mad Hatter's Tea Cups. Finally, we saved the iconic bit for last, climbing the Sleeping Beauty Castle in the centre of the park to overlook Fantasyland and realise we've just spent a day in the most magical place on Earth.
Day well spent. Now, where's my bed?
All images: Disneyland Paris
---
Ready to explore Disneyland Paris? Check out our deals on sale now!
---
---
Flight Centre acknowledges the Traditional Custodians of Country throughout Australia.