Class Act: The Lowdown On Different Aircraft Cabin Classes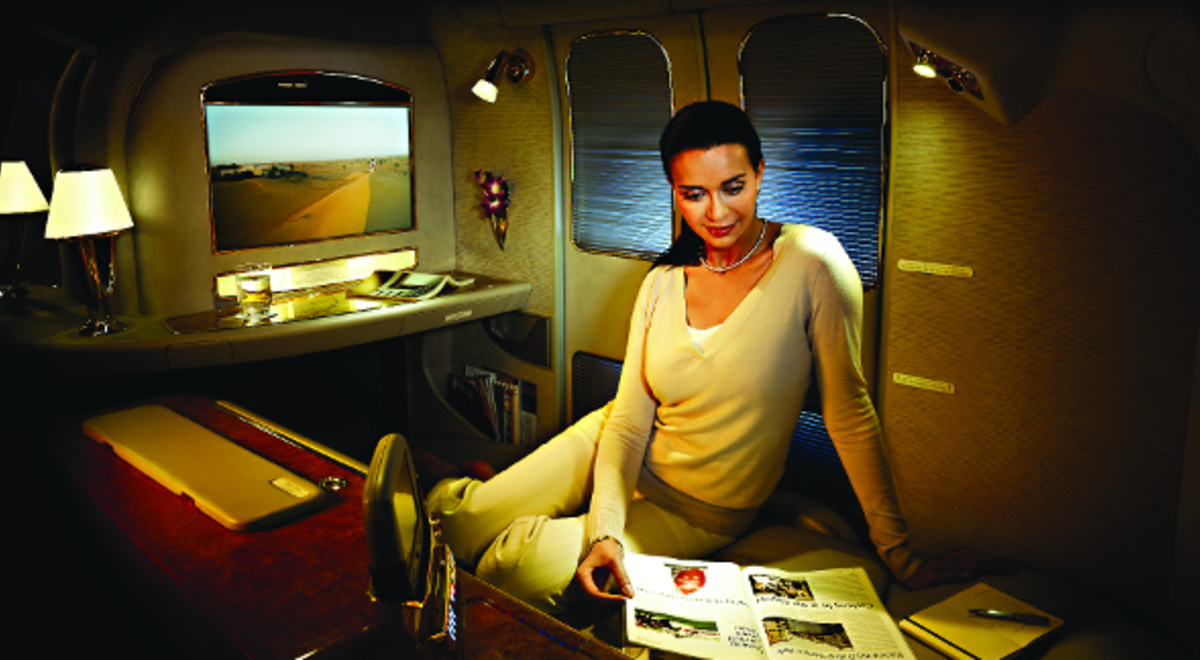 In few aspects of life does the axiom "you get what you pay for" hold more true than in air travel. From the cheapest, most heavily discounted economy ticket to a full price private suite in first class, every part of your experience comes down to the dollar.
In between is the relatively new class of premium economy and of course business class, which was arguably 'invented' by Qantas – in name, at least – in 1979.
Airlines cut every corner to keep down the cost of economy tickets while boosting business class to woo the cashed-up travellers.
So how much do you get for the price of your ticket in each cabin class?
Economy
When you fly in economy, everything is geared down to the price of the ticket. The quality of the seat and the amount of space you get around you, the meals and even the service – the number of staff assigned to the vast economy cabin – are all dictated by how much travellers are prepared to pay.
In some cases the meals are good enough, the seats are okay – but the vast majority of passengers simply look forward to getting off at the other end because that's when the holiday begins.
Thankfully, that's not always how it is. Airlines are starting to upgrade their meals to improve the taste, to include healthier choices, and even to offer larger portions as the main course, with snacks offered later during the journey.
The latest international economy seats from Qantas, Air New Zealand, Etihad, Singapore Airlines and Cathay Pacific offer more comfort than you'd expect.
And there's always the in-flight entertainment system to take your mind off the flight. Settling back to catch up on a few new movies is the best way to get those hours zooming by.
Just be careful about booking super-cheap tickets on budget airlines where in-flight movies, a blanket and even a pillow will cost you extra.
Premium Economy
Premium economy is an increasingly popular 'in-between' category which offers a significant upgrade from the economy experience without the hefty price of a business class ticket.
It makes a play right across the board, from young professionals and the selfemployed flying for business to families, honeymooners, empty-nest couples taking a long-awaited holiday without the kids, and even cashed-up retirees.
Not all airlines offer premium economy. On flights from Australia you'll primarily find it on Virgin Australia, Qantas, Cathay Pacific and British Airways (where it's called 'World Traveller Plus'), with Singapore Airlines joining the club in the second half of 2015.
Premium economy offers an extra few inches of legroom compared with economy – a benefit that's most noticeable at the knees because you can comfortably cross your legs or stretch your legs during the flight. Typically, there is also a padded leg rest or footrest fitted to the seat.
The seats themselves are wider, boast more padding (especially around the lower back) and enjoy a greater degree of recline. There's also more elbow room because airlines don't squeeze too many passengers into the premium economy cabin. An economy cabin might see three seats between the window and the aisle, but in premium economy this space will be occupied by two seats.
But it's not all about the seat. The added perks in premium economy begin on the ground, where you will have priority check-in plus a higher checked luggage allowance so you can take more bags or fill them with shopping from overseas.
Before take-off you are usually offered a glass of champagne – the perfect way to begin any trip – while the meals, drinks and even snacks are of a higher standard than economy. Cathay Pacific goes a step further by offering many of the same meals offered in business class.
Add a larger screen for in-flight entertainment, a pair of noise-cancelling headphones, plus an AC powerpoint to keep your laptop or tablet juiced up, and premium economy's appeal is easy to understand.
However, don't confuse premium economy with the 'economy plus' seats on United Airlines. 'Economy plus' usually involves the same seat, video screen and meal service as economy, with extra legroom the only difference.
Luggage rules for domestic airlines: Airline Rules For Travelling With Sports Equipment
Fun facts. 25 Interesting And Fun Aviation Facts You Never Knew
Business Class
Few words conjure up more jealousy of any trip when you mention it's in business class, and with good reason. Business class is a whole world removed from economy, yet it's by no means restricted to corporate jetsetters.
Business class fares can be found on sale during various off-peak travel periods. They are also a great way to burn up a stack of frequent flyer points – either purchasing the ticket outright with points, using a 'points + pay' combination, or by applying for an upgrade from economy or premium economy.
The business class experience begins at the airport with a separate shorter queue for check-in and a more generous luggage allowance.
At many airports, including those in Australia, you will be handed an Express Pass which also lets you fast-track through customs and security.
Those perks alone can trim a half hour off your 'standing in line' time. What to do with that extra time? Head to the business class lounge where you'll usually find a buffet of hot and cold dishes plus a wide selection of beer, wine and spirits.
The elite treatment continues at the boarding gate, with a separate boarding lane which often whisks you straight into the business class cabin. Here's where you begin to truly appreciate the value of business class for that eight, 12 or 20+ hour flight.
The seats are incredibly comfortable, being both wide and well-padded. There's ample space not only for your legs but your assorted carry-on items. The meals and wine list are close to restaurant quality, with an extensive choice and sometimes a seasonal menu to make the most of the freshest ingredients.
Even dining times can be flexible. You'll also be handed an amenity kit with moisturiser to keep your skin hydrated, lip balm, hand cream, ear plugs, a face mask and other assorted goodies.
The newest business class seat designs ensure that every passenger can step straight into the aisle. Another trend adopted by some airlines – among them Virgin Australia, Emirates and Etihad – is a small bar where business class passengers can escape from their seat and socialise over a drink.
Perhaps the biggest advantage of business class is that the seat converts into a flat bed so you can sleep through much of the flight and arrive rested and ready to go.
Even some low-cost airlines such as Scoot and AirAsia X offer 'business class on a budget'. Scoot's is closer to the premium economy cabin of a regular airline. They represent good value.
First Class
If business class is so good, how much better can first class be? That's one of the challenges facing airlines today as they compete for the rich, famous and/or powerful.
First class is for those who don't even need to think about the price of their ticket – which is just as well when it comes to these luxury seats and suites.
The leading airlines raise the bar over business class with a chauffeur to whisk you to the airport and its dedicated first class lounge, although the same facility is usually also available to "elite" level frequent flyers even if they're booked to fly economy.
A typical, top-end first class lounge will include a dining room offering table service from an a la carte menu, a five-star wine list worthy of the poshest restaurant, and a day spa with free massages, facials, manicures and pedicures. In such lounges you rarely hear passengers moan and groan when a flight is delayed – it's simply the chance for one more glass of Champagne!
When you are flying in the pointy end of the plane, it's easy to think you're in a private jet. The first class cabin is incredibly quiet and intimate, while the attentive flight attendants offer superbly personal service.
The in-flight meals are usually prepared by a master chef hired by the airline, and on some flights there's a mouth-watering 10-course degustation menu with matching wines selected by a panel of experts.
All the same, first class seats can only improve by degrees compared to the best business class seats. They're wider still, and finished in quality materials. But it's the meals and service where first class makes its mark.
The exception is those airlines which have moved from first class seats to private suites – self-contained roomettes with a sliding door between you and the rest of the passengers.
First class suites on flights from Australia can be booked on Singapore Airlines' Airbus A380, Emirates and Etihad. You can stay snugly ensconced in your cabin throughout the flight and even share meals with a companion, as long as they're also travelling in first class.
But innovation in first class isn't stopping at single-room suites. Etihad's A380 superjumbo – which will begin flying between Sydney and Abu Dhabi in June 2015 – has a three-room suite called The Residence.
It's a penthouse in the sky with its own living room, a bathroom with shower, and a bedroom with a double-bed and wardrobe.
To top it off, there's a Savoy-trained butler for that Downton Abbey feel.
Visit your local Flight Centre store or call 131 600 for more travel advice and the latest travel deals.
---
Flight Centre acknowledges the Traditional Custodians of Country throughout Australia.