Tropical Paradise: Why Okinawa Is Japan's Best-Kept Secret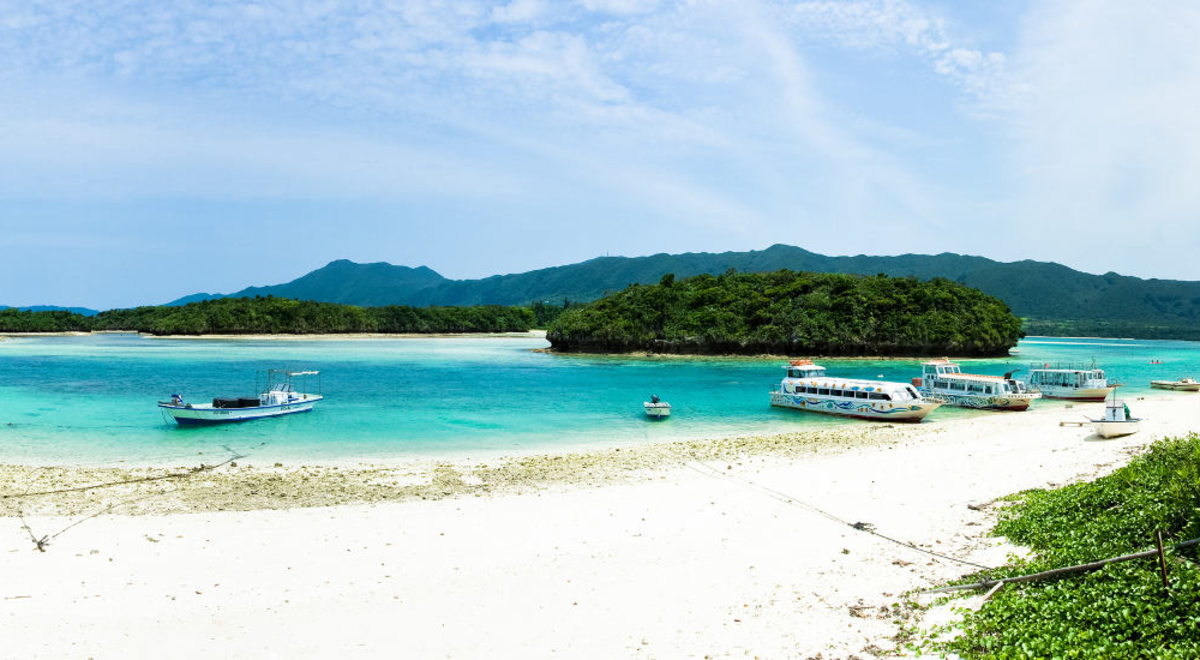 ---
---
When travellers think of Japan, islands and tropical climates don't always come to mind – but Okinawa is Japan's Hawaii, a slice of paradise ideal for those seeking authentic cultural experiences and a seriously off-the-map adventure. This string of 160 islands (only 49 are inhabited) in the East China Sea is closer to Taipei than Tokyo, so its food, music, art and architecture have broad Asian and Chinese influences. Part of the completely independent Ryukyu Kingdom from the 15th to 19th centuries, Okinawa officially became part of Japan 137 years ago and with their own language and customs, Okinawans regard themselves as different from the mainland Japanese.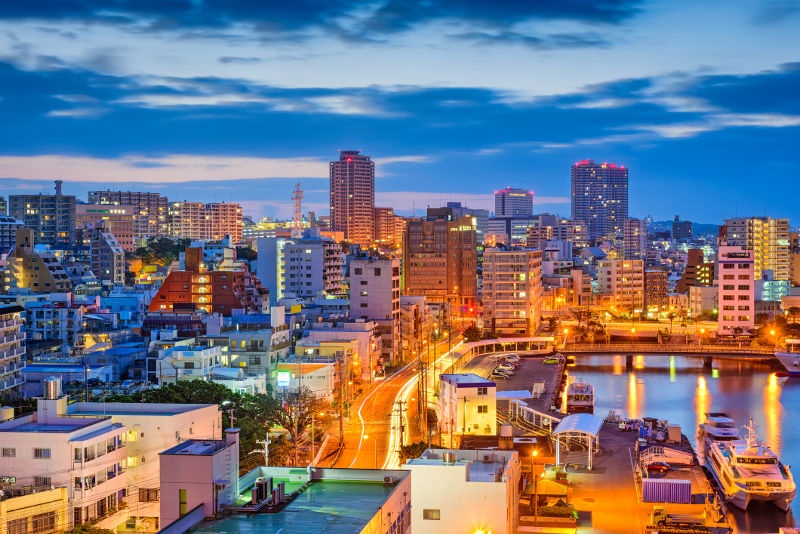 Okinawa's capital, Naha, is filled with bustling restaurants and bars, shops and markets. Image: Getty
The gateway to the islands is Naha, the capital of Okinawa; if Okinawa is Japan's Hawaii, Naha is its Honolulu. A wander along the palm-lined Kokusai Street reveals bustling restaurants, bars, shops and market stalls, and a surprising amount of 'kariyushi' shirts (Okinawa's version of Hawaiian shirts), the preferred dress of the locals.
Wartime Memories
History buffs will know Okinawa as the site of one of the bloodiest battles of World War II. Moving memorials, including the Okinawa Prefectural Peace Memorial Museum and the Himeyuri Monument, tell the poignant story of the chaos that ravaged this idyllic landscape.
Several American military bases remain on Okinawa, resulting in a curious mix of Japanese-American culture. The best example is the Kadena Air Base, the largest US Air Force installation in Asia, near Mihama American Village in Okinawa City. It's as if a slice of the United States' west coast has picked up and moved here, with everything from bowling alleys to diners offering hamburgers and hot dogs, and even an embroidery shop that makes patches for NASA.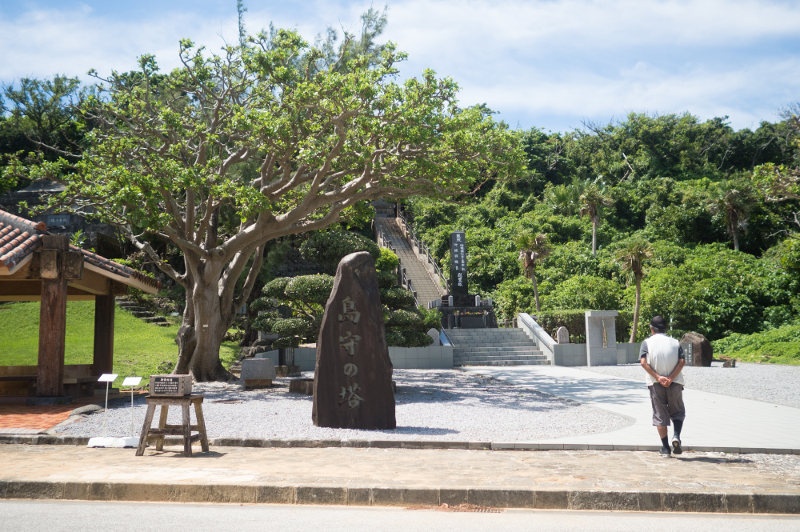 The Okinawa peace memorial park is a moving reminder of World War II. Image: Getty
After World War II, resourceful Okinawans started cutting down old Coke bottles left behind by US troops, to make glasses and vases. Ryukyu glass (thick glass in rainbow colours) is now a trademark of the prefecture, along with lacquerware, pottery and weaving. At the Ryukyu Glass Village in Itoman, you can see the craftsmen at work and even try your hand at making the beautiful creations.
The war eliminated most traces of the old kingdom, but at the World Heritage-listed Shuri Castle, rebuilt in 1992, you can get a glimpse of the lost empire. Other signs from the old days are the shisa (guardian lion-dogs) found on most houses. They're always in pairs – one with its mouth open to catch good fortune, the other with its mouth closed to keep the fortune in.
Secrets of a Long Life
Okinawa is equally famous for its citizens who live for a really long time. More people here live to 100 years or more than anywhere else in the world, and they live longest in Ogimi, a seaside village in the north of Okinawa.
The secret to this longevity is said to be the local diet and attitude towards eating and life. Hara hachi bu is based on a Confucian teaching that reminds them to stop eating when they are 'eight parts full', while ishoku dogen literally translates to 'food is medicine'. Okinawans eat a low-calorie diet of mostly tofu, fresh vegetables and very small amounts of meat and fish. Local staples include seaweed, goya (a bitter melon found in everything from stir-fries to beer) and beni-imo (purple sweet potato, used everywhere – even in ice-creams and chocolate Kit Kats).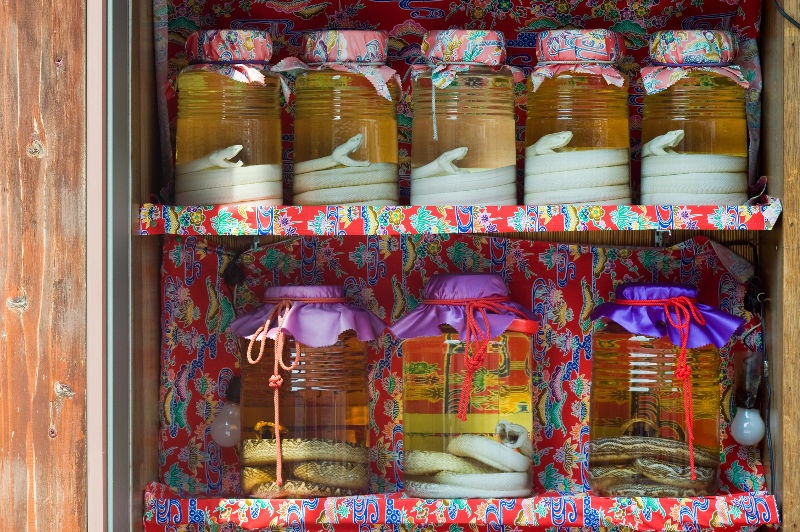 The potent liquor awamori is often bottled with snakes. Image: Getty
Funnily enough, however, not everything in the local cuisine seems an obvious recipe for good health. Okinawans proudly claim to use every part of the pig except the squeal and pork features prominently on menus. And in an odd nod to American culture, Spam is now used in many dishes. The local brew of choice is the notoriously strong awamori, Okinawa's version of shochu (Japanese traditional hard liquor). You'll often see it bottled with snakes (it's believed snakes increase libido), and distilleries around Naha offer tours and tastings.
Even the tea is different in Okinawa. The traditional buku buku cha (tea) is made from roasted rice lathered into rich bubbles, then added to green tea alongside various herbs, and garnished with crushed peanuts. Only water from Naha or other southern parts of Okinawa makes the mixture foam.
Another vital part of staying healthy is to keep moving; Okinawans keep fit with martial arts, gardening and dancing. Fans will know Mr Miyagi in The Karate Kid franchise came from Okinawa, which is the birthplace of the martial art and is still the best place to learn authentic karate.
Tropical Paradise
But one of the main reasons both Japanese and international travellers head to Okinawa is for its powder-white beaches, crystal-clear waters and subtropical climate. While in winter many areas of mainland Japan teeter on the freezing point, temperatures in Okinawa rarely dip below 16C; the island group sits in the same latitude zone as Hawaii, Florida and the Bahamas.
The archipelago is known as one of the world's best diving destinations, with warm water, high visibility and marine life galore. Diving has long traditions here, as well as Australian connections – Broome's legendary Japanese pearl divers hailed from Okinawa.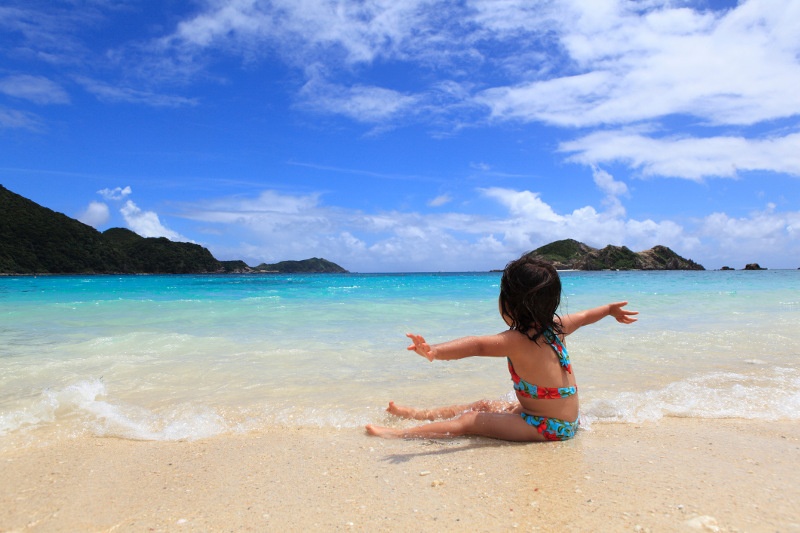 The beaches in Okinawa - such as this one in the Kerama Islands - are things of beauty. Image: Getty
Many of the islands are accessible by plane or ferry but as they are spread across large distances, you'll need to do some planning. While the Okinawa main island has some great beaches and diving, the emerald-green waters of the Kerama Islands, easily visited on a day trip, are regarded as some of the greatest diving spots on earth.
Meanwhile, Miyako Island, about 300 kilometres from Okinawa's main island, is home to arguably the best beaches in Japan. Miyako is connected to two of its smaller islands – Ikema and Kurima – by long bridges, which can be walked across.
A further 100 kilometres southwest, the Yaeyama Islands are about as far away as you can get and still be in Japan. The hub of this island group is Ishigaki, the launching point for surrounding sights, including the reefs and forests of untamed Iriomote Island and the villages and beaches of star-shaped sand (which, depending on who you ask, is either the tiny exoskeletons of marine creatures or the children of stars) on Taketomi Island.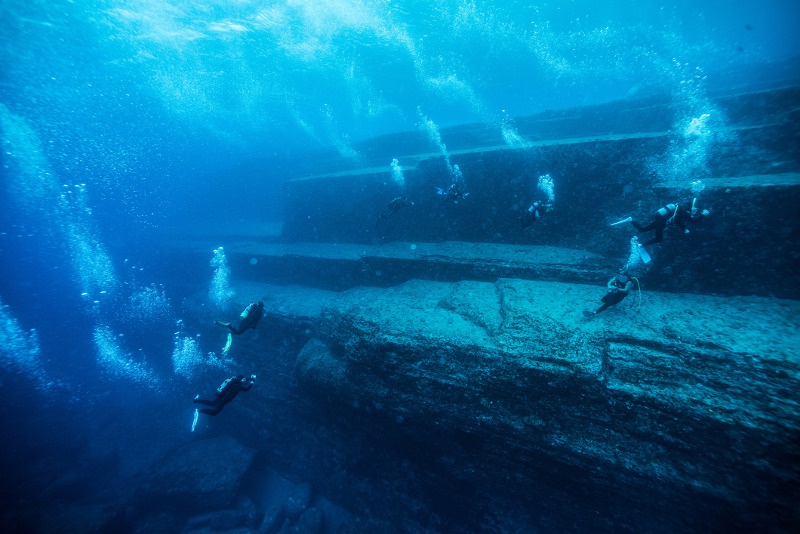 Divers explore an underwater pyramid at Yonaguni Island. Image: Getty
Divers are attracted to Iriomote Island for the Manta Scramble, where manta rays can be seen almost year-round, while Yonaguni Island is home to underwater ruins dubbed Japanese Atlantis and believed to be the remnants of a 10,000-year-old civilisation.
Above ground you can escape to another world, too. Take a water-buffalo taxi between Iriomote and Yubu islands while being serenaded by the driver strumming a sanshin (a banjo-like instrument covered in snakeskin) and you'll feel like you've stepped back several centuries.
Festive Occasions
Okinawan festivals also have a different feel than those in the rest of Japan. Eisa drum dances occur between July and September. In autumn, the Shuri Castle Festival recreates ancient Ryukyu times and sees thousands of participants parade down Naha's main street in colourful costumes.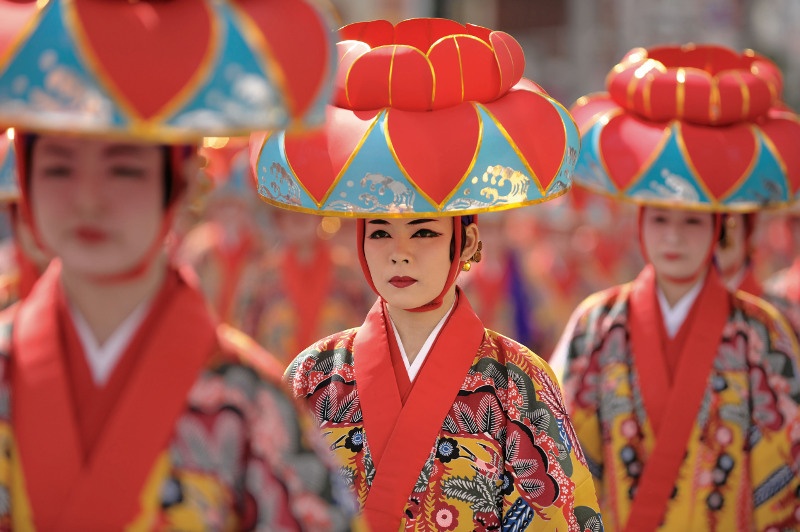 A woman wears a traditional bingata kimono and lotus-flower headpiece for a festival. Image: Getty
Then there's the Naha Great Tug-of-War festival in October, which set a Guinness World Record in 1997 for the largest rope made from natural materials. Everyone is invited to join in, and afterwards you can take home a piece of the rope for good luck.
With charming people, nourishing food and intriguing culture, enchanting Okinawa is a destination unlike any other in the Land of the Rising Sun – and it's worlds apart from the skyscrapers of Tokyo and the kimonos of Kyoto.
* This article first appeared in Travel ideas WOW List 2017. 
---
Visit your local Flight Centre store or call 131 600 for more advice and the latest deals on travelling to Japan.

---
---
Flight Centre acknowledges the Traditional Custodians of Country throughout Australia.