Our Ultimate Holiday Guide For Travelling With The Family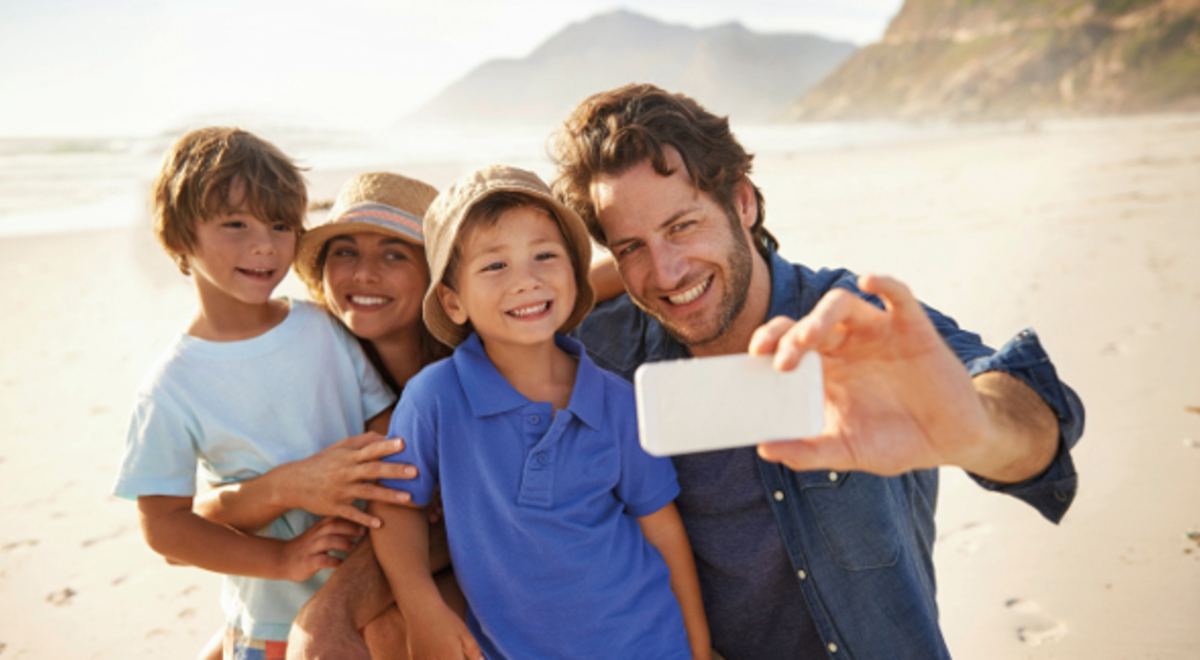 ---
---
Family holidays are one of life's greatest joys. They provide memories of long family road trips, weeks spent by the beach, or our first plane ride. Exploring new destinations as a family is one of the best ways to create memories that will last a lifetime.
Travelling with kids is a whole new experience, but we're here to share our knowledge on family travel so you can get set for an amazing adventure.
From unravelling the mystery of child airfares to our recommendations on what to look for when it comes to hiring a car or choosing accommodation, we can help your next family holiday go off without a hitch.
1. Airfares Explained
When it comes to airfares, infants are commonly defined as children under 24 months on the day of travel. When flying domestically, infants who are nursed on your lap can often fly free, depending on the airline policy. However, international flights may charge a percentage of the adult ticket price, plus any relevant fees or taxes, for an infant passenger.
Some international flights may allow infants to travel in a separate seat as long as they are secured in an approved child restraint device – however, they will not be eligible for the same-priced fare as infants travelling on the lap of the parent. Remember, even little ones will need their own passport, regardless of their age.
Generally, a child is considered to be between ages two and 11 years, inclusive, on the day of travel. Children who fall into this age category are required to have their own ticket and occupy their own seat. More often than not, there is no difference between an adult fare and a child fare for domestic flights.
On international flights, child airfares may be discounted, depending on the airline, route and the class of travel. All airlines are different, so remember to do your research with your travel agent beforehand.
When considering an airline, it's worth checking with Qantas, Virgin Australia, Air New Zealand, Etihad and Emirates first. These airlines include the fuel surcharge in the base fare and not in the taxes. So when applying a child discount, the discount provides greater value when applied to the base fare. Also be aware of your child's age on the return leg of your trip. If they have a birthday along the way, it may push them into the next category, so you need to ensure their ticket will still be valid for the return journey.
When making a booking, consider the airline's family services. For example, Etihad Airways has an onboard nanny service.
TOTS: Children under two can usually fly for free (domestic) when seated on an accompanying adult's lap.
TWEENS: Children aged two to 11 years can sometimes take advantage of child fares on long-haul flights.
TEENS: Teenagers aged 12 and over on the day of travel are classed as adults and will be charged an adult fare. From time to time, some airlines – including Air New Zealand and Virgin Australia – offer 'Teens at Tweens' pricing, extending the standard child discount for children aged up to 17. Keep an eye out for these deals.
2. Baggage
If you are travelling with an infant who will be sitting on your lap during the flight, they will be listed on your ticket and often will only receive a 10-kilogram baggage allowance, or none if travelling without purchasing a ticket. This varies between airlines.
Children with their own ticket and seat are generally subject to the same baggage allowances as adults. Baggage limits vary according to each airline and the route you are travelling, so be sure to double check your baggage allowance for each flight. Prams and car seats are usually included as complimentary as part of your checked baggage allowance and are not considered in the weight. If baggage is not included in your ticket, it's a good idea to pre-book your baggage as this is generally cheaper than paying at the airport.
Strollers need to be checked in prior to boarding. Some airlines offer complimentary strollers that can be used right up until boarding at the gate. Often you can take your own stroller to the gate where it's checked in upon boarding – it's important to ask where you will collect the stroller as some airlines will have it waiting for you at the gate but others will make you collect it from the baggage claim area where it often ends up in the oversized area.
If you would like to use a car seat on board, you may need to receive pre-approval from your airline prior to departure. Also keep in mind that most long-haul flights will have bassinets on board but these are limited, so be sure to request one when booking your flights.  Not all airlines confirm these prior to departure and babies over 11 kilograms or taller then 71 centimetres will generally not fit in the bassinet. Most bulky items, such as sporting equipment, will also need to be checked in and may attract an extra baggage fee.
TOTS: Children under two, travelling without their own seat, may not get a baggage allowance.
TWEENS: Child airfares are generally allowed the same baggage limits as adults'.
TEENS: As 12 years and over are considered adults, they will be entitled to the standard adult-fare baggage allowance.
3. On A Plane
Once you have boarded your flight, it's time to sit back and enjoy the journey. Thankfully, most flights now feature in-seat entertainment systems, many of which have a dedicated children's section filled with fantastic movies, television shows and games.
You can also bring your own electronic device and pre-load it with your child's favourite movies on loop, plus books, games and apps.
Stash a few healthy snacks in your carry-on to hand out throughout the flight, but try to avoid anything sugary. Natural snacks such as muesli bars are ideal. Remember on international flights, liquids over 100 millilitres can only be carried on board in limited quantity – most security checkpoints have a special screening station in place to screen these items.
To make your child feel more comfortable, pack their favourite toy or blanket in your carry-on luggage.
Remember the flight attendants are there to help and can assist you throughout the flight. Ask if they have any activity kits or colouring books for the little ones, or pack your own.
It's also important to pre-book your child or baby meal before your flight or to notify your airline of any dietary requirements in the family at least 72 hours prior to departure. If your baby is fussy, it's important to bring along their favourite foods. Passengers travelling with an infant or toddler are also permitted to carry a reasonable amount of food products, at the airline's discretion.
This may include baby milk, juice and baby food. The 100-millilitre restriction does not generally apply to such liquids.
TOTS: Bring your child's favourite toy, plenty of dummies (they vanish!) and don't forget to pre-order your baby or children's meals. Bring at least two changes of clothes and plenty of nappies and wipes as accidents will happen on board.  Children's pain killers are also an essential item in case your bub becomes sick.  Babies' ears are most sensitive during take-off and landing, so try to hold off feeding your baby until the plane starts taking off. If your baby is crying, their ears may be hurting, and drinking fluids can help relieve some of the pressure.
TWEENS: Pack a few small gifts for your child that they can unwrap along the way to help the time go faster. Some lollies can help during take-off and landing to equalise their ears during pressure changes, but avoid too much sugar.
TEENS: Charge your teenager's favourite devices and pre-load them with entertainment, apps and games. A new set of games often goes a long way.
---
Looking for more family-friendly travel ideas?
The Family-Friendly Guide To Las Vegas
The Muggle's Guide To The Wizarding World(s) Of Harry Potter
---
4. Hire Car
Hiring a car is a great option for families as you have the freedom to travel at your own pace, stopping whenever you need.
There are many different vehicles to choose from, depending on the size of your family – four-wheel-drive vehicles or mini vans are a popular choice.
Don't forget to allocate plenty of room for your luggage! If you need a car seat, flag this with your hire car provider at the time of booking. Alternatively, you could bring your own but you will still need to notify the hire car company and ensure it complies with the regulations of your destination.
Book a GPS device or bring your own so you don't have to fiddle around with a map or use all the data on your mobile device. Some car rental companies also offer portable Wi-Fi devices to stay connected without the huge data roaming charges.
Generally you will have to pay a premium if anyone under 25 is going to drive the hire car, so perhaps don't give your teenager the keys.
Also, don't forget to bring a few items to entertain the kids while driving, from iPads and tablets (don't forget the charger/s) to a pack of cards or other portable games.
TOTS: If possible, bring along your own car seat to save yourself the hassle, otherwise you can book one with your hire car provider.
TWEENS: A small portable DVD player and your child's favourite shows will  help to keep them entertained in the back seat.
TEENS: Pack a separate bag with swimmers and a towel for an impromptu swim so you don't have to open your luggage.
5. Hotels
Accommodation comes in a range of shapes and sizes. Whether you are looking for a hotel room, beach villa or an apartment, you are sure to find the right fit for your family.
When travelling with kids, it's a great idea to look for interconnecting rooms, which will usually feature a common door between bedrooms.
Self-service apartments are also fantastic for larger families as most are equipped with separate bedroom and living areas, as well as kitchen and laundry facilities.
Save money by eating breakfast in every morning, and with a washing machine on hand, you can also pack lighter.
Another option is booking a room with a pull-out sofa or organising with your hotel to provide a rollaway bed.
This is particularly handy if you have an odd number of people travelling in your clan.
When booking your accommodation, also keep in mind the child facilities. Many hotels and resorts offer kids clubs complete with supervised activities and entertainment.
Babysitting services may also be available to you – perfect for when mum and dad would like to enjoy a dinner for two. If you're heading to a warm climate, double check that your hotel has a swimming pool for the kids.
TOTS: Look out for accommodation options that include babysitting services.
TWEENS: Kids clubs are a great way to keep the kids entertained while making new friends – try and pick a resort where this is complimentary as the costs of child minding can add up.
TEENS: Choose a hotel or resort with a swimming pool to keep the older kids entertained.
6. What To Travel With
When travelling with kids, there are a few extra items that need to make their way into your luggage.
First, don't forget the hand sanitiser and disposable wipes for those sticky situations. For babies, make sure you pick up some antibacterial tablets for sterilising bottles, toys and dummies on the go – this is especially important when travelling to destinations where sterilising using the traditional method is unavailable.
Prepare a first-aid kit with pain relief, wound care and common medication so you can avoid any late-night pharmacy runs. This will also provide peace of mind if you are travelling to an unfamiliar destination with a language barrier.
Bring your own electronic devices and don't forget the chargers. You may also need to buy a plug adapter.
A stash of plastic bags or zip-lock bags comes in handy, for anything from dirty laundry to on-the-go rubbish. Pack an umbrella, just in case, and don't forget hats and sunscreen if you are heading to the beach.
Visiting a foreign destination? Pack familiar food items, such as your child's favourite snacks or breakfast foods that they can't live without.
If you have laundry facilities available to you, pack some laundry powder and a portable washing line.
TOTS: Bring your little one's favourite toys or books to help keep them settled.
TWEENS: Pack your child's favourite snacks if you have a picky eater.
TEENS: Take a power-hub battery device to charge electronics, and a spare pair of headphones.

 family holidays family-friendly family-friendly travel
---
Flight Centre acknowledges the Traditional Custodians of Country throughout Australia.