Papua New Guinea: A Lesser Known Port Of Call To Explore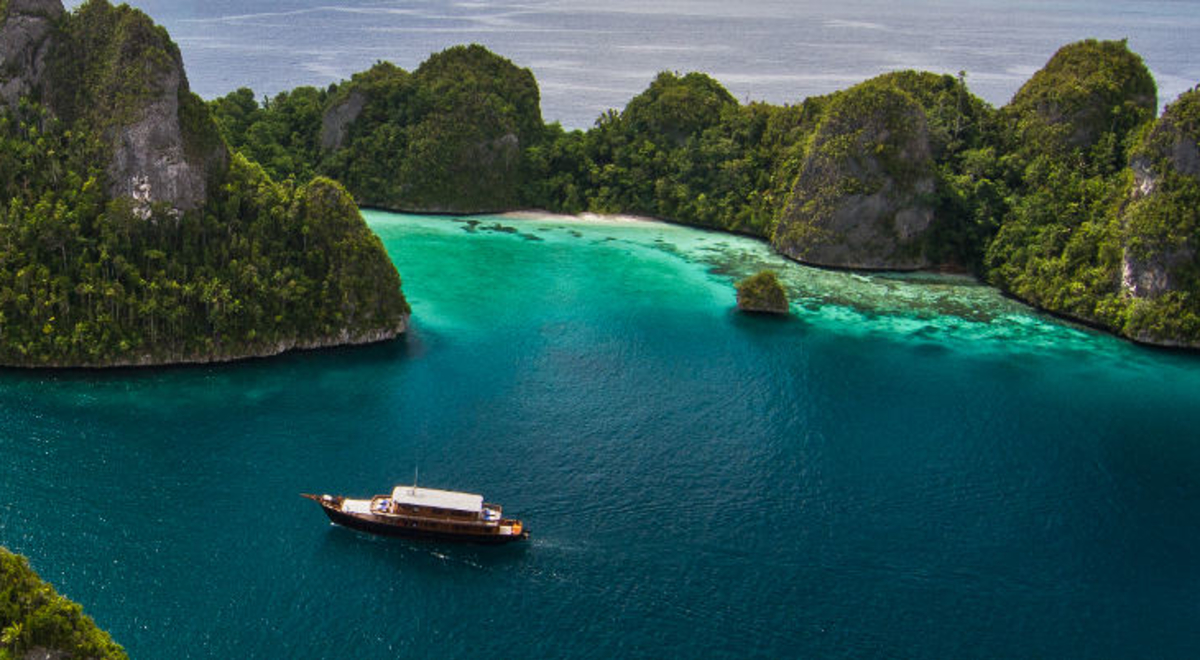 Papua New Guinea offers a culturally rich and visually stunning little-known cruising destination for families.
I didn't think cruising around Papua New Guinea would be an adrenaline packed holiday, but there is never a dull moment when shore excursions involve bamboo rafts with rakish young captains who love to race. Despite a heart-thumping introduction to exploring this emerging travel destination, our family quickly fell for the charms of Papua New Guinea.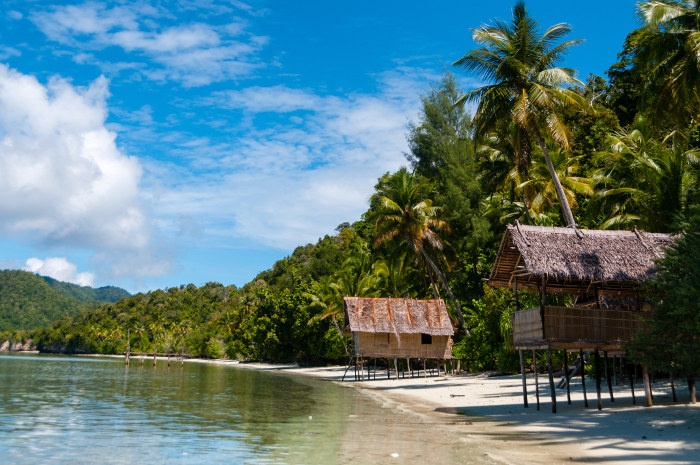 When the beaches look like this, it's easy to fall for Papua New Guinea.
Cruising is an ideal way to experience this part of the South Pacific. Despite being one of Australia's closest neighbours, Papua New Guinea remains largely undiscovered, and offers families the chance to rekindle their spirit of adventure in a unique and friendly environment. On a cruise ship, everything you need for a fun holiday is within easy reach, and the itinerary for a Papua New Guinea cruise puts you in the heart of the action, travelling to some of the region's most stunning islands.
Being first-time visitors to Papua New Guinea, we decided on a modest seven night round-trip cruise from Cairns on P&O Cruises' Pacific Eden. We agreed this would be long enough to get a feel for the destination, but not too long if we didn't like it. P&O Cruises launched its first Papua New Guinea itinerary in late 2013, and the region's growing popularity has seen departures become available from Brisbane and Cairns, with itineraries of up to 14 nights on offer.
Our route would take us to four ports in the Milne Bay Province, including the area's capital, Alotau, and three visually stunning and culturally rich islands. It takes one day to reach Papua New Guinea from Cairns, which gives us time to explore the ship. Our son challenges us to the rock-climbing wall on the top deck at P&O Edge Adventure Park, an outdoor activities area with 14 options to scare yourself silly (or just have fun), such as walking the plank, ropes courses, climbing the ship's funnel and abseiling.
In the afternoon we fly through the air on a zip-line high above the pool deck, waving at passengers sipping tropical cocktails far below, go for a swim and join a game of trivia. Dinner is at Dragon Lady, one of two (free) specialty restaurants, where waitstaff hand over menus folded up like origami and tempt us with Pan-Asian dishes such as Thai chicken soup, fish curry and spicy peanut and vegetable noodles. Family-friendly games and activities, delicious dining venues, hilarious PG-rated comedians, and first-class musical entertainment, keep us entertained from early morning until long after the sun goes down.
We awake the next day at Alotau, which played a pivotal role in the Battle of Milne Bay in 1942. My husband has booked a half-day war history tour (which he has been looking forward to for months), but the 12-year-old and I don't share his enthusiasm and agree a lively cultural excursion is more our style.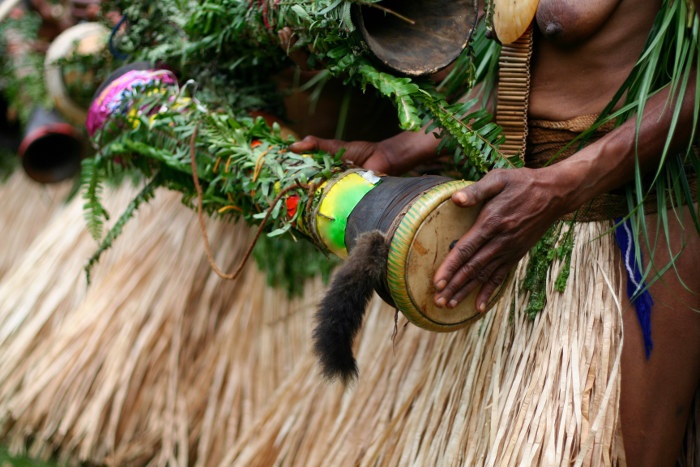 Cruising to Papua New Guinea offers culturally rich experiences with the local tribes.
After a short bus ride to the tour site, we are treated to a rotating series of dancing displays, from an army of shouting, spear-wielding warriors to graceful women wearing grass skirts and beaming smiles. Our son plucks up the courage to have his photo taken with one of the 'fearsome warriors', after he realises the guys are high-school students, just like him, and not fearsome at all.
Later, at the tiny island of Kitava, located just off the larger Trobriand Island of Kiriwina, bare-chested villagers greet us with flower leis and shy smiles. There are no organised ship tours or group excursions here. Instead, rows of elaborately decorated bamboo outrigger rafts line the shore, ready to transfer passengers to a pristine sandy atoll that resembles a picture-perfect postcard.
Our outrigger captain slips our three five-kina notes (A$2.50 each) into a pouch around his neck and helps us clamber onto his handmade bamboo raft. My husband, son and I are the only passengers and wave at his young male crew, all of whom are holding a rustic wooden paddle. Our helmsman says something to one of the other raft captains, then shouts "Go!" and our crew begin paddling like they are trying to escape a sea monster. We hang on tight as the raft gathers speed, laughing as we realise we have stumbled into the middle of a race. Our crew whoop and holler and paddle even harder, determined to beat the other raft, which has an advantage with only two passengers. Our win is heralded with a conch shell fanfare and we spend the morning snorkelling over pristine coral and admiring the beauty of our surroundings.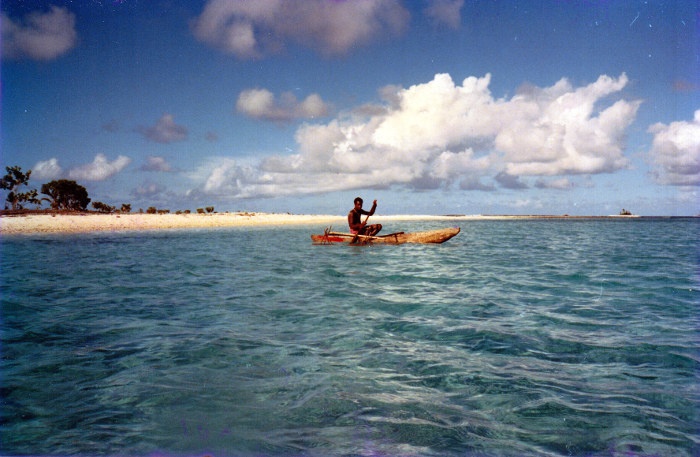 Hitching a ride with the locals.
Our next stop is Kiriwina Island, the largest in the Trobriands, which is home to over 12,000 islanders, yet similarly undeveloped. We gaze out over the rugged coastline, shallow coral reef, white-sand beaches and secluded coves, wondering what the day has in store. Low tide makes it impossible to snorkel, so we cool down in the shallows while our son chats to kids who canoe alongside us. Back on shore, school children wearing elaborate hand-woven lap-laps and cheeky grins perform traditional dances, and woven mats form a makeshift marketplace selling exquisite woodcarvings inlaid with mother-of-pearl. Kiriwina is famous for its carving and many passengers return to the ship with beautiful souvenirs.
Our last port is the Conflict Islands, a privately owned archipelago of 21 untouched islands surrounded by a cerulean blue lagoon with one of the most biodiverse coral reefs in the world. This is our family's most anticipated stop of the cruise and we are up early with our snorkel gear packed, ready to board the first available tender boat. However, it is not to be.
An onshore wind makes tender operations impossible and the captain informs us the ship will remain here until late morning in the hope the wind eventually dies down. Passengers line the top deck, some with their fingers literally crossed, as a crew-only tender attempts the crossing again before lunch. Its rocking, roiling, spray-drenched passage tells us all we need to know. After a sincere apology from the captain, the ship departs for the journey back to Cairns.
Our son is disappointed yet philosophical, pointing out it is still a beautiful day and the pool looks perfect for a dip before lunch. "We will just have to come back and try again next year," he says. With plenty of onboard and onshore adventures still to be had, his dad and I couldn't agree more.
---
Tempted to cruise Papua New Guinea? Check out P&O on sale now.
---
---
Flight Centre acknowledges the Traditional Custodians of Country throughout Australia.