Experience The Top End With Outback Wrangler Matt Wright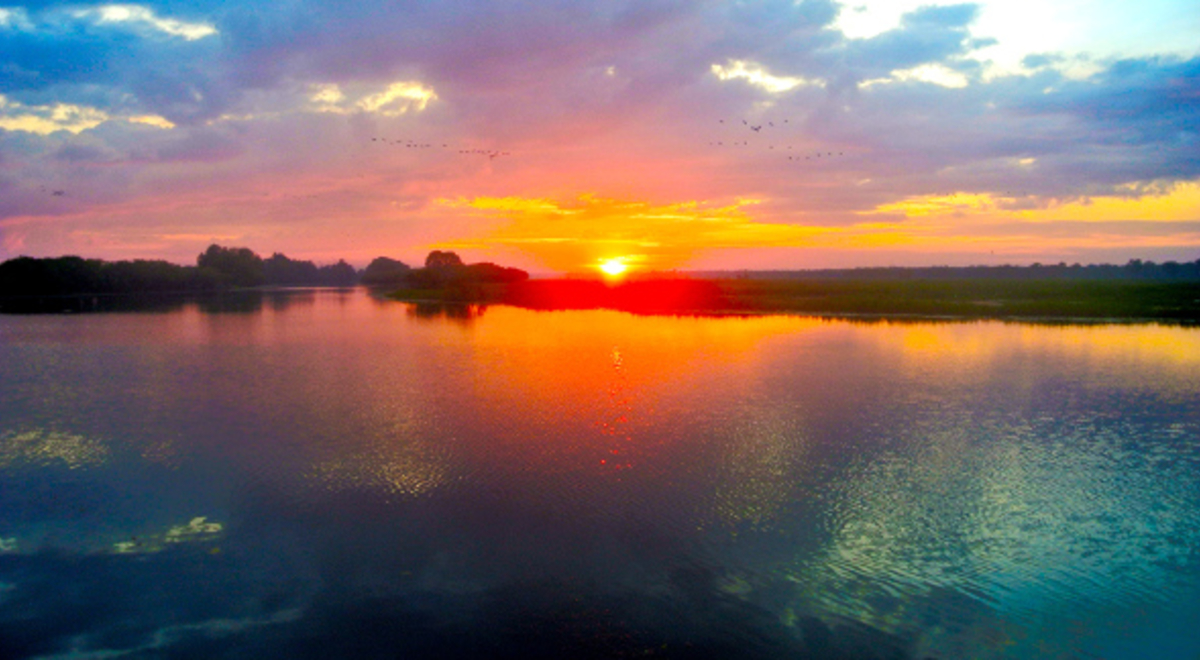 ---
---
A hoard of 'Flighties' (Flight Centre employees) were recently let loose on the Northern Territory to explore the wonders of our sunburnt land. One of the unanimous highlights for many was spending half a day at Matt Wright's Outback Floatplane Adventures.
You might recognise Matt from his Nat Geo Wild TV series Outback Wrangler. When he's not saving endangered wildlife or tracking down dangerous animals, he's running epic James Bond-style tours of his Top End backyard.
Matt's life-long love has always been the great outdoors – you could call him Australia's very own Bear Grylls! His affinity for adventure has previously seen him work as an outback musterer, oil rig worker, Australian army soldier, professional chopper pilot and crocodile egg collector – which, you'll find out below, is particularly risky business.
We caught up with Matt for a yarn and talked croc encounters, the perfect day in the Top End, spirit animals and what you can expect from a half day Outback Floatplane Adventure Tour.
When and why did you decide to launch Outback Float Planes?
About two years ago I came up with the idea, off the back of the TV show (Outback Wrangler). I wanted to make an adventure where people could experience the Outback in a totally different way and access areas they'd never ventured to before.
To see things the way I see them when I'm working. That was the idea - to bring the audience into the field where I work, on a tour.
How did you get into the TV business as the 'Outback Wrangler' with National Geographic?
A few years ago I started doing a bit of filming when I was a mustering pilot in 2005. It didn't really kick off until 2009 when I was over working in Canada, but I came back to Australia to help catch some crocodiles.
I caught one of Australia's biggest crocs and it ended up on Sunday night Channel 7. Once that went live, it went viral and every other national network around the world wanted to do something, and National Geographic came together with the right storyline.
And how big was the croc?
Around 18.3 foot.
Have you had anyone terrified of Crocodiles on your tours?
Yes, quite a few. Some will come out saying 'a dead croc is a good croc', but you show them around a crocodile and they soon learn to respect and not hate. We get a lot of people who are scared at the start, but then start to realise that you stay in your own zone and let a crocodile stay in its comfort zone and they're not dangerous at all (unless you go swimming).
So, no horror stories then?
Oh, I've got a few myself. But with the guests on board – no. As far as my other work goes, we've had some pretty interesting moments.
Tell us about your horror stories; have you ever had a near-death experience?
I dunno about near-death, but I nearly got my arm chewed off earlier this year (laughs). Collecting croc eggs is the most dangerous job on the planet. Early this year I was approaching a nest, it was one of the last nests of the year, on the last day of the year and the last trip of the year. I was tired and a little bit blasé, you know - you get quite confident in the work that you do, and this particular area wasn't a dangerous area; she (the croc) caught me off guard.
She came over the top of the nest; I grabbed her on the head and pushed myself off her, but ended up in the water. Luckily I had my stick, but she came over on top of me in the water. I had the stick in her mouth, and things got a bit aggressive there.
She kept pushing me back, deeper and deeper into the water and I was like "this sucks!" I wasn't so worried about her - she was only about 8ft - I was more worried about a possible big male further in the water. I tired her out and she tired me out, and I got the upper hand eventually and got on top of her and scared her off. We got the chopper back in and got me out of there.
Did you have a bit of a holiday after that?
Yep, I took a bit of time out! When I got back to the base camp all covered in mud and dirt the boys said "What happened to you?" I was like, "Ahh, don't worry about! Just another day!" We all have close ones, as long as you keep calm and focus on your job; you should come out of it reasonably unscathed.
I guess it's something that's hard to be taught? Croc egg hunting is not the kind of job you can go to university and learn – it must come from experience and instinct I would imagine?
That's right. It's always experience and even when we're teaching new guys we don't let them loose on a nest until they've done three or four seasons with us, and it's only the guys who really have their heads screwed on and have their wits about 'em that we'll let loose to collect the nest by themselves.
Have you done much travel?
I've been to a few places. I worked in Canada for about four years. I did a lot of dangerous and endangered animal capturing over there and some fire fighting for a while. Also, the Congo – I went up to the Congo catching crocodiles a few years ago. And Malaysia - I went over there rounding up elephants and crocs.
Where is your favourite place in the world?
You can't ever beat home, can 'ya! I like travelling, I like seeing new places, but I always love coming home.
And Darwin's home for you?
Yeah, Darwin and the Sunshine Coast. I do enjoy the Sunny Coast. At the moment I don't get time to get down there as much. And also Cairns. Those three places really.
Darwin's always work, always a lot of excitement and fun to be had up here, whereas the Sunny Coast it's a bit more laid back, where I can have a surf and take time out. I also do a bit of helicopter instructing down there. And Cairns, it's nice to go up there and visit mates and do a bit of diving.
Speaking of the Sunny Coast, you probably get this question all the time, but did you ever meet Steve Irwin?
No, I never did. Bit of a shame, I would have liked to have met him but never did. We were both working in different parts of Australia – he was always in Queensland and I did most of my work over here in the Territory.
What's your spirit animal?
That's a good question! A leopard or a puma, if not one of those, then a white eagle!
Have you had any terrifying moments on the waters of the Outback Float Plane Adventures?
Not with guests. Behind the scenes it can be a different story when you've got to make stuff happen and move equipment around, but we play it very safe and we're very cautious.
Why do you think your tours are so popular? They're voted #1 Darwin attraction on TripAdvisor.
I think it's a new, fresh outlook on the Territory. It's like a James Bond experience, you fly in on the float plane, jump on the air boat, you hook into the helicopter, you get up close and personal with crocodiles.
You get all that in such a short amount of time – in a half day tour! People are coming away from these tours saying, "Holy hell, I never knew you could jam so much in half a day!" Seeing the Territory the way they see it with us is the ultimate way to do it, without having to drive three hours or spend hours in a bus.
How do Aussies perceive the tour? Is it just as big with the locals as international tourists?
We get a lot of locals. Towards the end of last year, a majority of our clients were locals. They loved it. Some of them have been here 10, 20 years and never seen any of the Territory like this.
That's why we're doing what we're doing, to open it up and show you guys a part of the Territory that you could never get to.
What does your ideal day in the Top End look like?
Kicking back with a cold XXXX, catching a couple of fish out in the ocean! A long way out of phone service, just a nice calm day catching a few bloody fish out off the coast!
---
Flight Centre acknowledges the Traditional Custodians of Country throughout Australia.