Scouring NZ's Slopes: Three Epic South Island Ski Adventures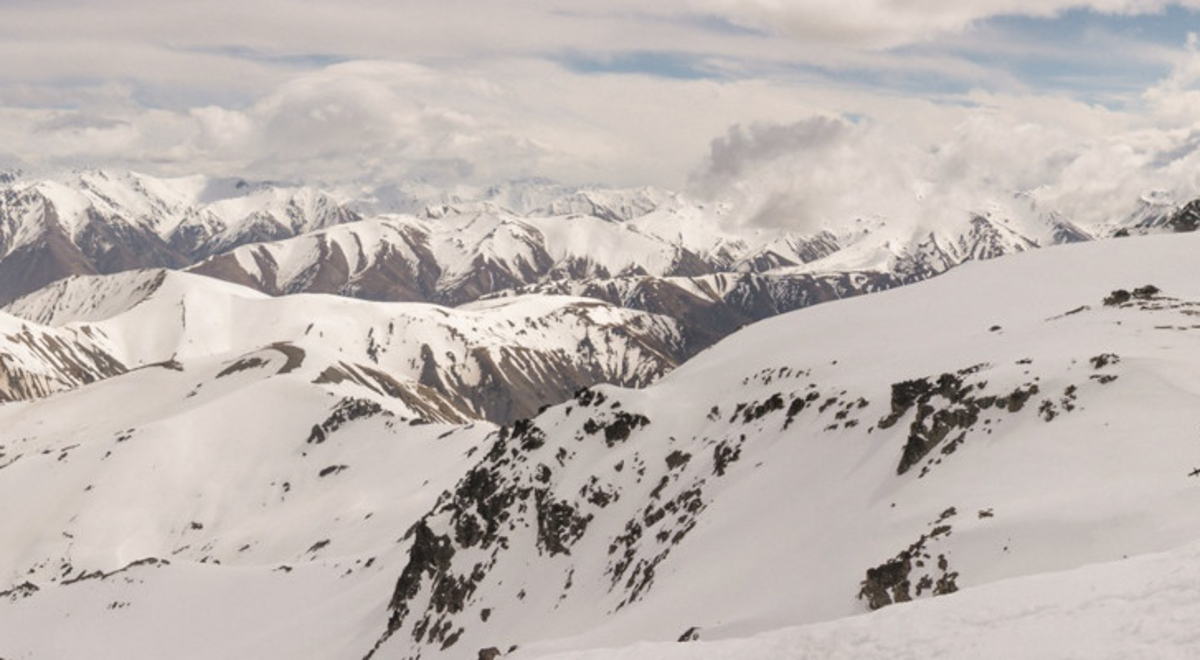 ---
---
The South Island of New Zealand is a skier's paradise, where you have not one but three incredible ski regions to choose from – the Christchurch and Canterbury region, Queenstown and Wanaka fields, and the Mount Cook Mackenzie ski slopes. Apart from all that world-class ski action, New Zealand's south island also serves up some pretty fine things to do après ski, from top notch restaurants to day spas – even wineries. Is New Zealand the ultimate ski holiday? Here's why we think so...
For majestic ski inspiration, just look up: Aoraki, Mount Cook National Park. Image: Rob Suisted/Tourism New Zealand
Christchurch – Canterbury
This ski region stretches from the ocean to the Alps, taking in terrain that includes sweeping plains and mountain peaks.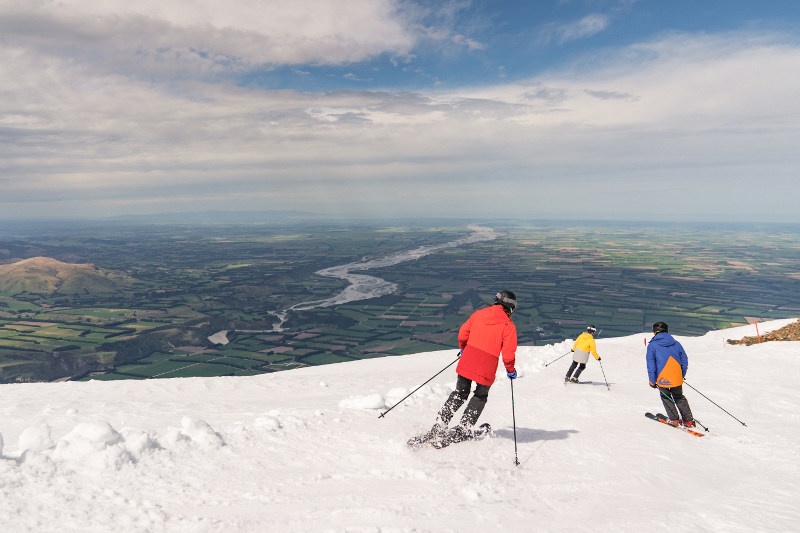 The views from Mt Hutt include the meandering Rakaia River. Image: Julian Apse/Tourism New Zealand
Mt Hutt
Most notable of those peaks is the spectacular Mount Hutt, promising the longest ski season in New Zealand and named winner of New Zealand's Best Ski Resort for the third year running in 2017. Looking for a family-friendly ski holiday? Mount Hutt is your place, where kids aged 10 and under ski for free. Mt Hutt also offers supervised kids' programmes and an Early Learning Centre for children aged 3 months and up.
If you base yourself in the ski town of Methven, you'll also find a family-friendly attitude with many of the resorts offering packages which include free meals for kids, etc.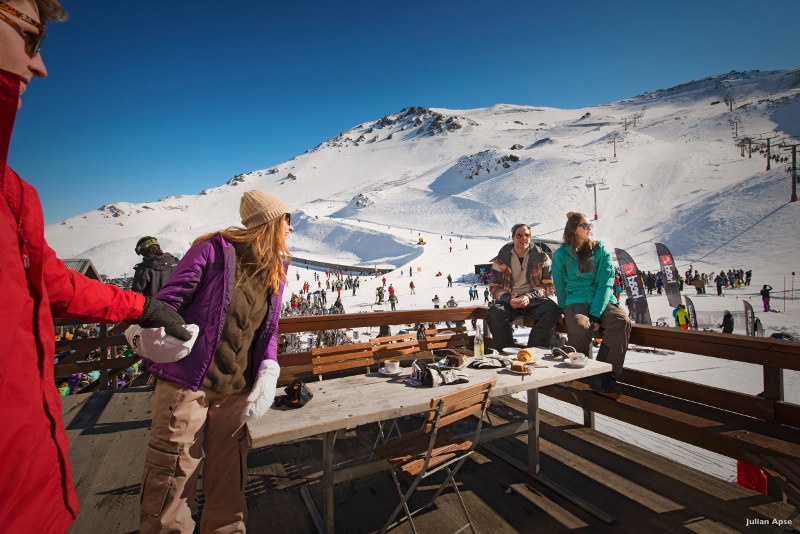 Need a good espresso? Mt Hutt offers cafe fare and a more intimate dining restaurant too. Image: Julian Apse/Tourism New Zealand
Mt Potts
Push out further west from Methven and you've got the Mount Potts ski area. If the scenery looks familiar, it's because some scenes from The Lord of the Rings Trilogy were filmed here. Mt Potts is actually a working cattle farm, restaurant and lodge, which doubles as a heliski base in the winter. That's right, it's remote. Set amongst high peaks near the Rangitata Gorge in Cantebury, Mt Potts backcountry ski field offers excellent skiing and snowboarding on virgin powder slopes that you can only access by helicopter or snow cat. So European.
Porters ski area
The thing about Porters ski area is that it's easy. It's the closest ski area to Christchurch, easy to get to, with fantastic learner slopes and a mountain of terrain for more accomplished skiers. It's the best field in Canterbury to learn to ski, with superb beginner-to-intermediate transition.
Craigieburn Valley ski area
Here's the thing about Craigieburn Valley ski area: there are no chairlifts, gondolas, grooming, snow-making, day spas or fine dining. If you're an advanced or expert rider then Craigieburn feels like home. It's more like a fully serviced backcountry experience, with steep narrow chutes, wide open powder bowls, un-crowded runs and plenty of space to just take it easy if that's what you want to do.
Mt Olympus
Set in a high, south-facing basin within the Craigieburn range lies the popular ski spot of Mt Olympus. What makes this mountain a hit with big-mountain, back country, freeski and snowboarding enthusiasts is the fact that it manages to pull off that perfect balance between sheltered terrain and the ability to capture dry powder – courtesy of the southerly storms from Antarctica. That's right, brrr.
Within the Christchurch – Canterbury area, more accomplished skiers might like to try the ski clubs of Mt Cheeseman, Broken River and Temple Basin.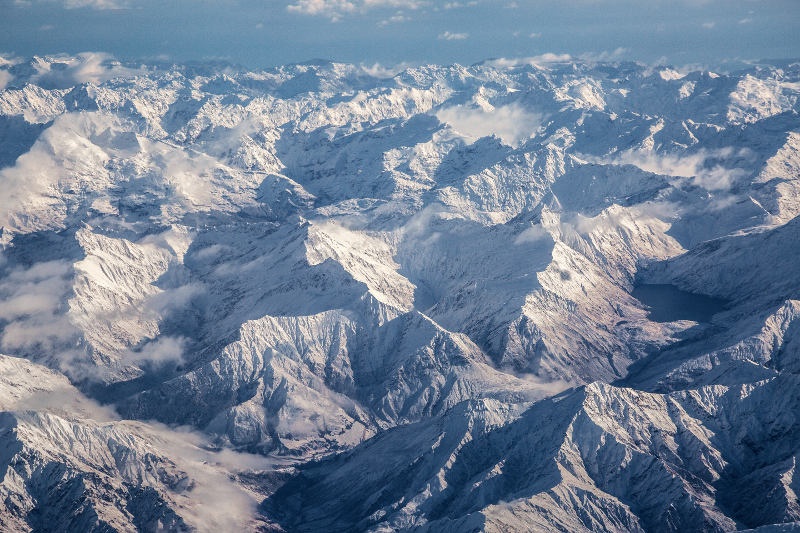 Flying out of Queenstown is an impressive farewell for ski lovers. Image: Getty
Queenstown and Wanaka
Snow lovers have four different options within the Queenstown and Wanaka ski slopes: The Remarkables, Coronet Peak, Cardrona and Treble Cone. And, after an epic day out on the slopes, you then have the myriad delights of Queenstown to enjoy, from the rejuvenating Queenstown Onsen Hot Pools Retreat & Day Spa, to the incredible array of world class restaurants and cosy bars.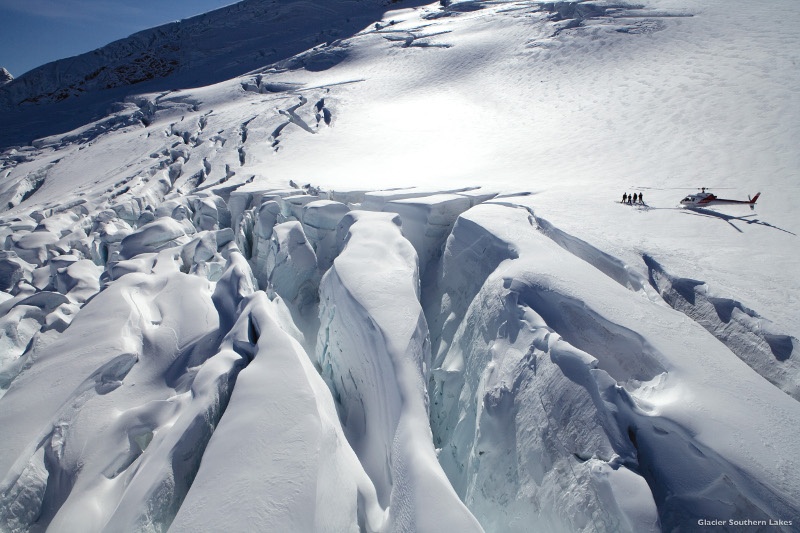 Fancy an alpine, snow or glacier landing? Jump on a flight with Glacier Southern Lakes Helicopters Queenstown. Image: Glacier Southern Lakes Helicopters Queenstown/Tourism New Zealand
The Remarkables
The Remarkables are – of course – remarkable. The ski field itself is an easy 37 minute drive from downtown Queenstown and offers a true alpine mountain experience that suits everyone from first timers to seasoned, expert skiers and snowboarders. It's known for its high altitude and sunny, north-facing slopes. There's plenty of space for beginners, dedicated freestyle areas, incredible big-mountain options and the Southern Hemisphere's only Stash – a Burton signature terrain park. (New to the Stash? Traditionally it's a go-to spot that holds snow, even on the most desperate days. In this case, Burton the Stash is a park concept invented by Jake Burton and snowboarding legend Craig Kelly. The obstacles in the Stash Park are partly concealed and can almost always be ridden in a variety of ways.)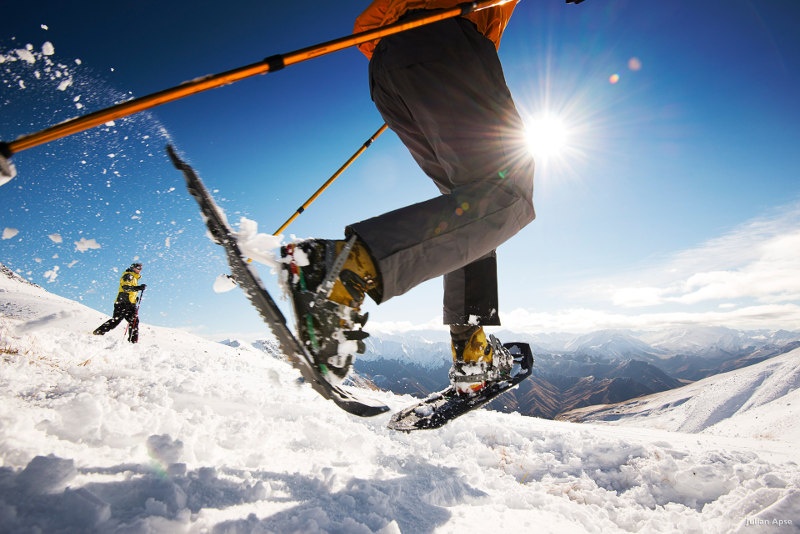 Cecil Peak action with a view of Lake Wakatipu. Image: Julian Apse/Tourism New Zealand
Coronet Peak
Only 25 minutes away, Coronet Peak is the closest mountain to Queenstown. It also stands out as the New Zealand resort with the longest opening hours, offering Night Skiing and First Tracks. Stunning high points and rolling trails offer seasoned skiers and riders a substantial ski experience, while dedicated learner and novice areas also make it super easy to find your snow feet.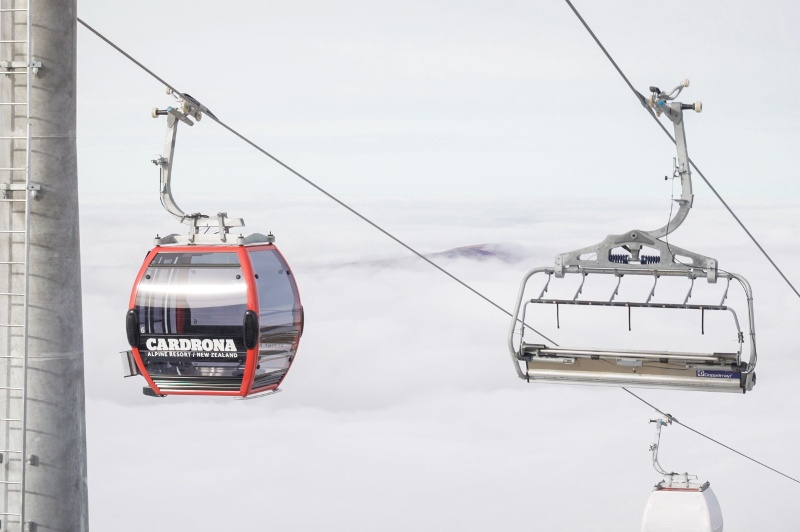 McDougall's Express Chondola at Cardrona carries 40 chairs and 10 cabins on one lift line alone. Image: Cardrona/Danny Warley
Cardrona
Cardrona Alpine Resort is where you'll find New Zealand's only cabin-style ski lift, 'The McDougall's Express Chondola' with ten 8-seater gondola cabins and 40 6-seater chairs. This super popular ski resort is located in the Crown Range, only an hour's drive from Queenstown and offers skiers consistently good weather, reliable snow conditions and excellent wide terrain across three major basins. Families come here, beginners come here, as do Olympic and X Games athletes. Cardrona's visitor numbers in 2017 were the highest to date, and 2018 looks set to be another huge year.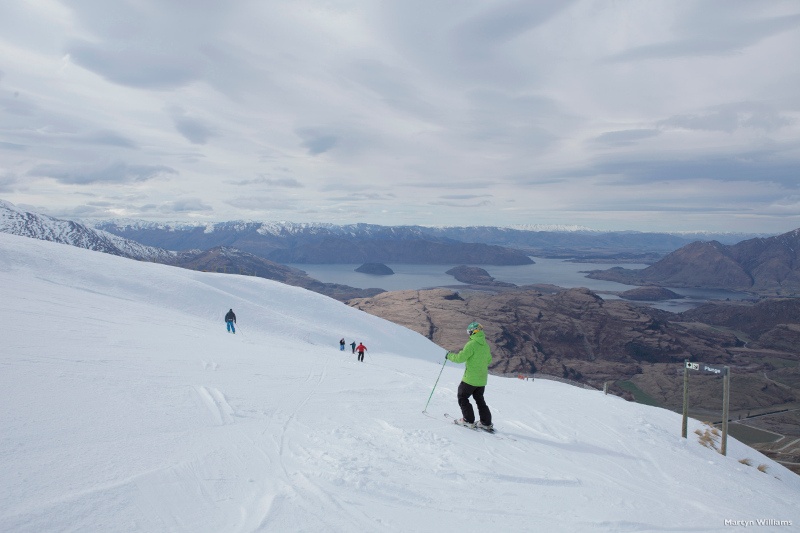 Try not to be distracted by the incredible views of Lake Wanaka as you ski Treble Cone. Image: Martyn Williams/Tourism New Zealand
Treble Cone
What makes Treble Cone different? It is the largest ski field in the Queenstown Southern Lakes District, known for its long runs and uncrowded piste and off-piste trails. It also gives skiers and boarders unrivalled views over stunning Lake Wanaka and the Southern Alps. Beginners will feel right at home here, with 'Nice'n'Easy' surface lifts, and intermediate skiers and snowboarders will love some of New Zealand's longest groomed trails including the 4km High Street / Easy Rider leg burner. If you fancy yourself as a more adventurous skier, head down Saddle Back for a taste of Treble Cone's awesome off-piste terrain.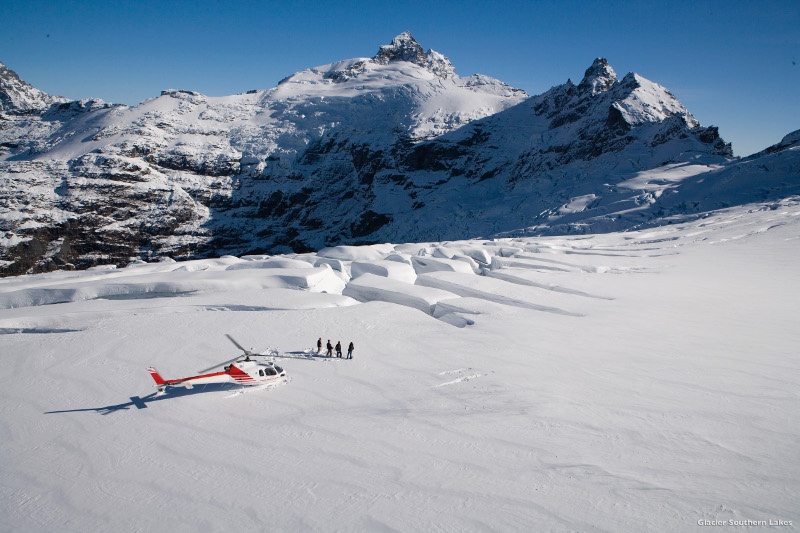 Only in New Zealand is this kind of amazing experience totally doable. Image: Glacier Southern Lakes Helicopters Queenstown/Tourism New Zealand
Mount Cook Mackenzie
Rising out of the spectacular scenery of this region is the mighty Aoraki, also known as Mount Cook. This is the country's tallest peak and the surrounding Mackenzie country is home to – yes – even more ski fields. Here you'll find the boutique ski destinations of Roundhill, Mt Dobson and Ohau.
Roundhill
What's Australasia's biggest vertical drop all about? Find out at Roundhill. The world's longest and steepest tow rope can take you up to this epic drop of 783 metres. That's at one end of the spectrum, and at the other is Roundhill's huge beginner's area with a gentle gradient and plenty of space. It's also where you can soak up some of the best views of Aoraki Mt Cook, the Southern Alps and pristine Lake Tekapo.
Mt Dobson
If you're new to this ski or snowboard game, Mt Dobson is a great place to start. It's the largest learner and intermediate field in New Zealand, with a massive natural halfpipe and wide, uncrowded runs – 14 in total. The Mt Dobson resort is family owned and operated, which is part of the reason it's also known for having such a friendly kiwi atmosphere.
Ohau Snow Fields
You'll find Ohau Snow Fields nestled deep in the majestic Mackenzie High Country. It's a smaller yet busy little ski and snowboard area, known for its incredible service. It's an all-abilities field and so beginners should feel just as welcome as the more adventurous types who can bypass the well groomed trails and hike up to the top of the fields to access incredible powder snow and amazing view across the Mackenzie region.
Feature image: Julian Apse/Tourism New Zealand
---
---
---
Flight Centre acknowledges the Traditional Custodians of Country throughout Australia.