Snowboarding: When Rentals Are Better Than Your Own Gear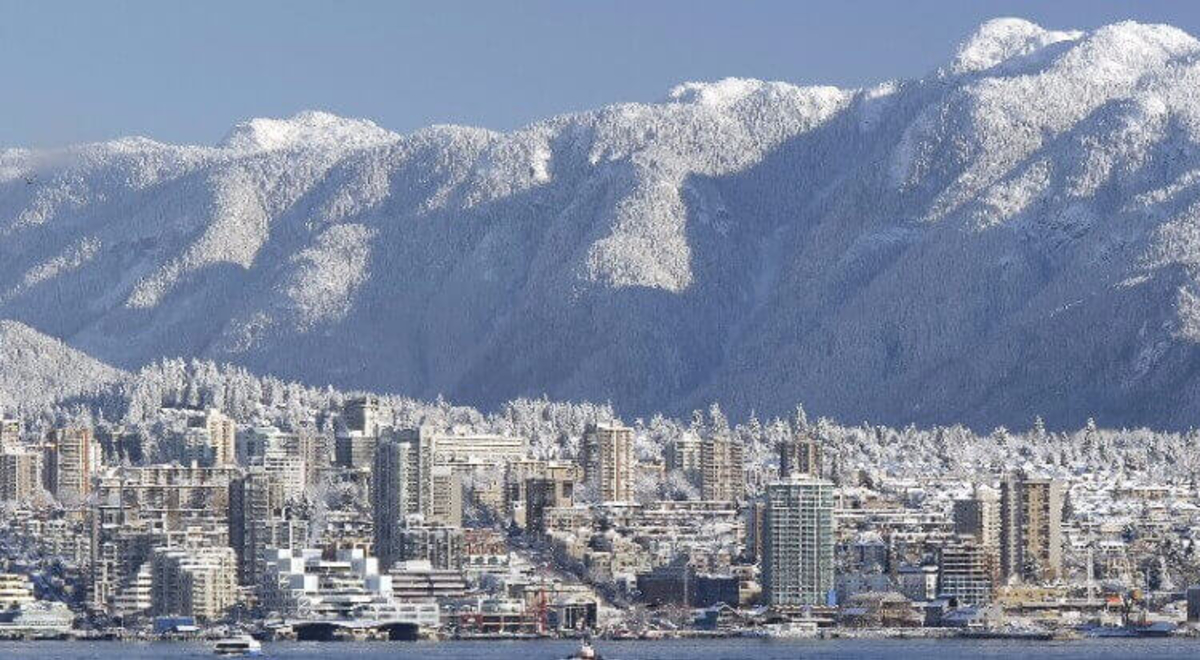 ---
---
I am very attached to my snowboard; her name is Spaghetti, and I know how she is going to ride in every condition. She's a Burton Feelgood Flying V, and we've ridden together in Whitefish, Park City, and on numerous occasions in Niseko.
On a recent trip to Canada I had to leave her behind for logistical reasons, and I was not happy about it. Rentals as I remember them are basic planks with none of the features that I've come to count on to help me look good on the slopes.
I was working myself into a tizzy before Marty, my Sno'n'Ski expert, assured me that 'Performance Rentals' were available at all of the resorts I was visiting. I assumed this posh term meant I'd be paying through the nose, but shredding on top-of-the-line boards cost me only $10CAD extra a day.
I decided to test Marty's avowal that the rental technicians really know their stuff. At each resort he recommended, I took whatever set up the staff recommended the most! Little did I know the adventure I was strapping in for.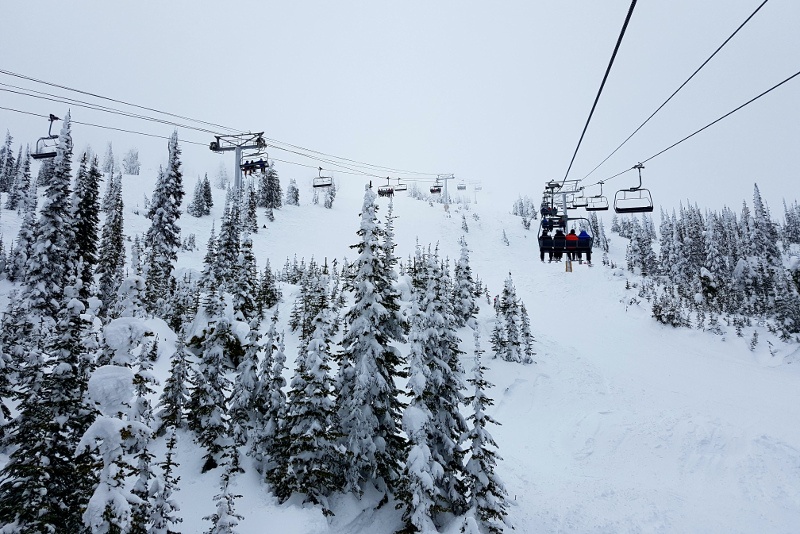 Snow for days! Big White still turning it on in mid-March
Big White Ski Resort
The Rental Experience
My Big White rental technician was Nick from Sydney, and props to him for answering my thousands of questions. Big White carries a huge fleet of Bataleon, Never Summer and Salomon boards, as well as Dinosaurs Will Die, Rome and Step Child. You can browse the performance fleet online and choose your board in advance, and all resorts let you swap out your rental gear as many times as you like.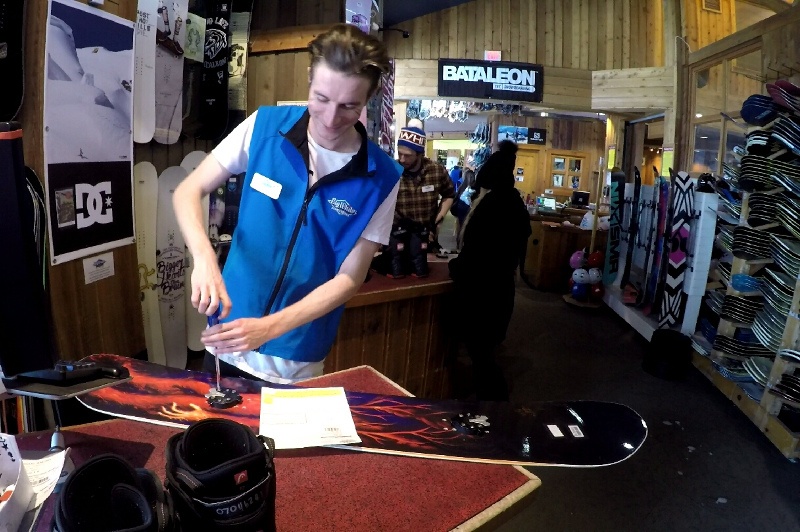 On the job - Big White rental technician Nick
The Set Up
Nick gave me a Salomon Wonder 146 with some mid-flex Flux bindings – he said all the girls on his team rave about it but I had some reservations: a. Salomon is primarily a ski brand, b. The regular camber/ rocker tip design was miles away from the shape I'm accustomed to riding and c. 146 is shorter than Spaghetti; - but I strapped in for the sake of science.
The Ride
Big White is a fabulous resort– snow for days, plenty of sneaky side cuts to play on, and a nice, friendly line of small jumps and boxes in the park.
From my first turn it was clear that I'd become lazy on my rocker shaped board. I actually enjoyed thinking about the mechanics of snowboarding for the run or two that it took me to get used to the Wonder, which I ended up loving for its all-over mellow experience.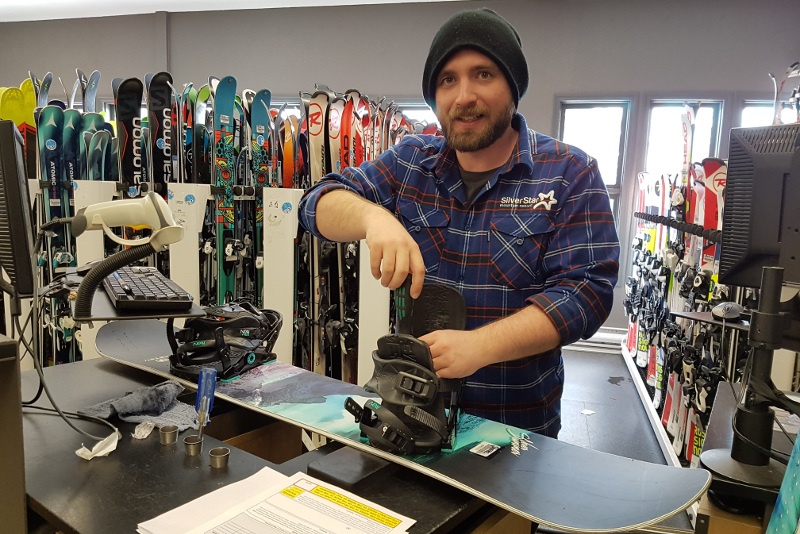 Don't be fooled by Tom's innocent look - he's setting me up a gnarly ride
Silver Star Mountain Resort
The Rental Experience
Marty from Sno'n'Ski is a ninja – when I got to Silver Star rentals, they already knew my height, boot size and weight (eek). It's an intimate rental set up and I was thrilled to see YES, Never Summer, Burton and Gnu boards in the rental lineup.
The Set Up
I had a good chat to Tom, who claims to be from NZ but has a suspiciously English accent. He set me up a Never Summer Infinity 145 with John Jackson Flux bindings, until we realized the bindings were too big for my boots. Tom sold me on the Now bindings with Skate-tech – a slight pivot that lifts the binding slightly as you lean forward or back, resulting in a more efficient transfer of energy.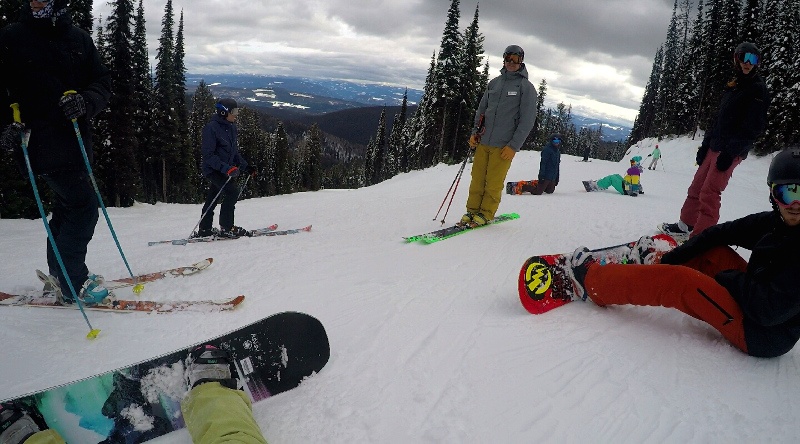 Local legend Guy Paulsen showing us around SilverStar - note the Infinity in bottom left corner!
The Ride
The Infinity was the opposite shape to the board I rode at Big White, with more rocker between the feet. This combined with the Skate-Tech ensured I got thrown onto my bum a couple of times, but it was a pow day so it didn't matter! I'd love the chance to ride this rig for a bit longer, and it was useful being able to turn so decisively with all my weight on my back leg. SilverStar is a stunning resort – there's SO much mountain, and the trees are riddled with mountain bike trails that could keep you happy all day.
Sun Peaks Resort
The Rental Experience
There are several rental options in Sun Peaks, and I was stoked that Marty had picked Elevation Rentals, a shop with Jones, Arbour, Never Summer and Niche boards in the rental fleet.  Niche is a lesser-known, eco-friendly snowboard shaper from Salt Lake City.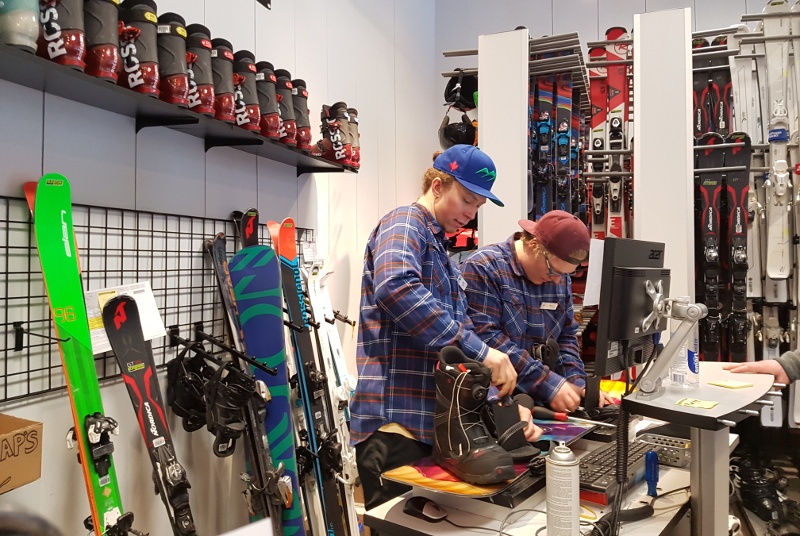 Dylan and Mario from Elevation Rentals - it takes four hands to give a Jeremy Jones board the love it deserves
The Set Up
Mario and Dylan cheerfully answered my many questions while moving my Flux bindings a little bit wider at my request. They had prepared a Jeremy Jones Twin Sister 146, and I was pumped to ride a board I'd heard so many people rave about.
The Ride
This board just goads you to charge! I was grateful for the magne-traction edges on the Twin Sister when things got icy, although on the flats it hooked a little. One of my favourite things about Sun Peaks was Five Mile, a wide, sweet run that offers the perfect way for all levels to cruise back to base. There is so much enticing terrain to explore at Sun Peaks - I think I'm going to need another holiday.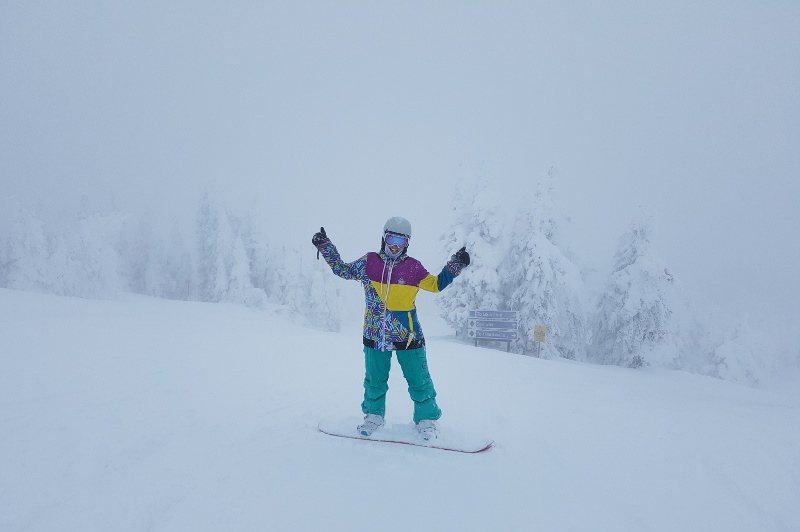 My riding buddy Loz, geared up and ready to ride at Sun Peaks
Whistler Blackcomb
The Rental Experience
Sno'n'Ski set me up with Showcase, a retail and rental shop that houses the Burton Test Ride Centre. I talked to rental tech and snowboard guru Jay for hours. He patiently and comprehensively talked me through every board, boot and binding option, and also threw in some excellent tips on where to eat.
The Set Up
I walked away with a Burton Lipstick 145 and Burton Lexa Bindings. The Lipstick has had a recent reinvention, and now has a flat base with rocker under the contact points. I wouldn't normally go for a flat board, but I trusted Jay's recommendation.
Jay from the Burton Test Ride Centre in Showcase, Whistler. What a legend.
The Ride
100% loved it and want to go out and buy it immediately. Some fancy carbon technology in the core means that the Lipstick can still pop despite its flat base, and it's such an easy ride that I adjusted immediately. Add this to the fact that I got to ride it on the vast, heavenly, and varied terrain of legendary Whistler Blackcomb, and we have ourselves a winner.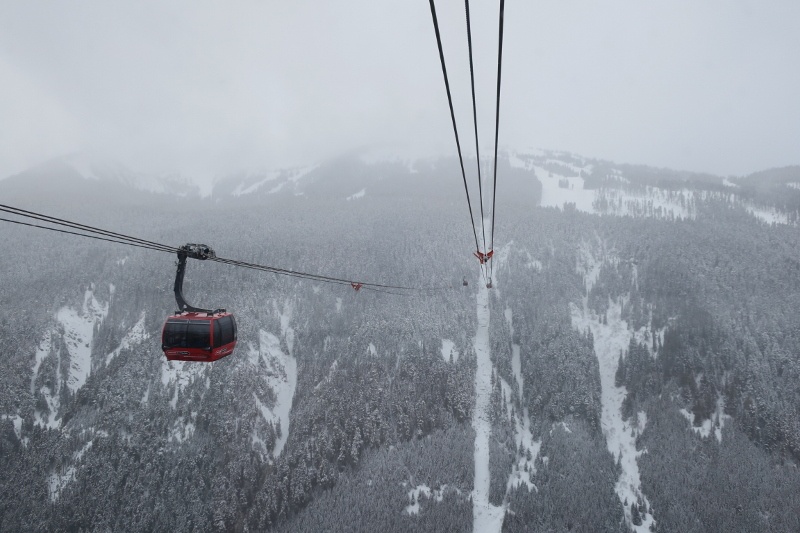 The Peak to Peak Gondola at Whistler Blackcomb - it never gets old
Conclusion
Marty was right – the rental staff had more knowledge than I would have ever given them credit for. The performance fleets were top of the line, up to date and much better maintained than my gear.
I didn't realise what a challenge it would be to change up my board so much, and while it was an awesome experiment, next time I will choose one shape and stick to it. Maybe two. I've decided that magne-traction is not for me, although the jury is still out on Skate-tech, and the biggest revelation of all was that I have been riding a board that is too long for me.
If the logistics of your trip make renting a necessity, I say grab that opportunity with both hands and strap it to your feet. Ski resorts all over the world have cottoned on to the fact that we want to enjoy their slopes on gear that does it justice, and you won't be disappointed. 
*Photos: Emma Lee
---
Visit your local Flight Centre store or call 131 600 for more advice and the latest deals on skiing and snowboarding in Canada
---
canada ski ski slopes whistler snowboarding snow sno'n'ski big white sun peaks silver star
---
Flight Centre acknowledges the Traditional Custodians of Country throughout Australia.