Surf Breaks You've Never Heard Of To Ride Around The World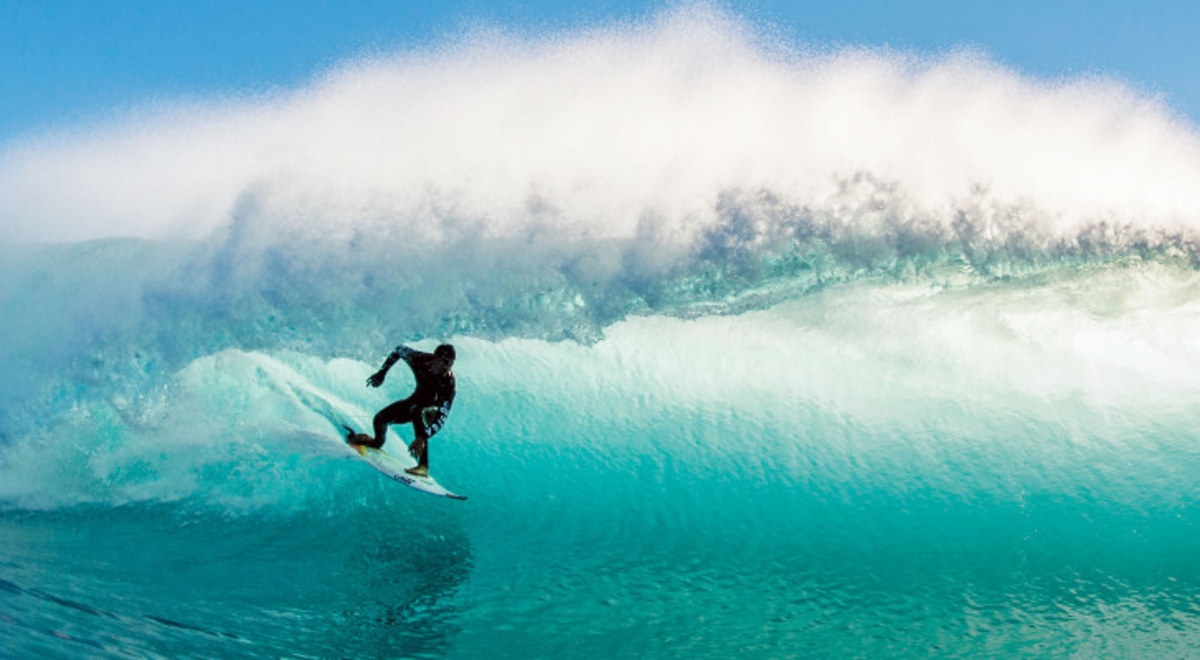 ---
---
Seeking saltwater and perfect sets in a lesser-known locale has become something of a global movement. Adventure seekers of the aquatic kind are turning travel into wave-riding missions everywhere from beneath the Northern Lights in Iceland to the southernmost tip of Africa and Australia. There's never been a better time to catch the surfing bug and set off for hidden breaks with the promise of a perfect pipe. Here are three new breaks we're frothing over from around the world.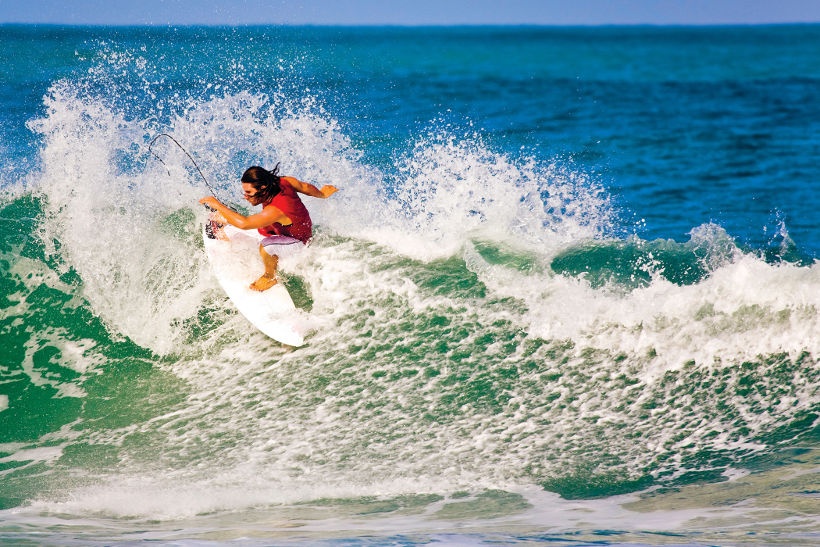 Is Taiwan the next global surf mecca?
Tubular Taitung
Words: Carla Grossetti, travel writer
When my son Fin and I first meet 34-year-old A-Hsun (pronounced 'Ashoon') Chen in the township of Taitung, on the east coast of Taiwan, he's wearing a pair of boardies and lopsided grin, and flashing the shaka sign. Apart from the sun that has leathered his skin bronze and bleached his shoulder-length locks, the internationally recognised hand gesture directed at my 14-year-old tells us A-Hsun is part of the local surf scene. As well as working at the local Taitung Surf Shop, A-Hsun and his girlfriend, Tsai Tsai 'Chucky' Tsai, 36, run Yeah Surf House, a local hostel aiming to capitalise on the country's status as an up-and-coming surf destination.
The Taiwan Open of Surfing has been held in nearby Jinzun Harbour in November every year since 2011 and is now a World Surf League (WSL) Qualifying Series (QS) event. As well as hiring out boards, Taitung Surf Shop offers lessons to travellers and also sponsors young villagers, who A-Hsun hopes will one day become stars of the local surfing community. Although A-Hsun's English skills are limited, he helps us understand key phrases: "lng tsin tua" ("the wave is huge"); "ing bo-lai" ("the wave does not come"); and "hao e" ("I'm hungry"), a useful phrase when travelling with a teenager.
A-Hsun was inducted into surfing culture in his mid 20s when he lived in Kenting in the southernmost point of Taiwan, but he moved to the Taitung area because the "waves are better". As A-Hsun tells it, while Taiwan is one of the newest countries on the Australasian Surfing Circuit, the waves in the pre-monsoon season on the east coast are gaining global attention.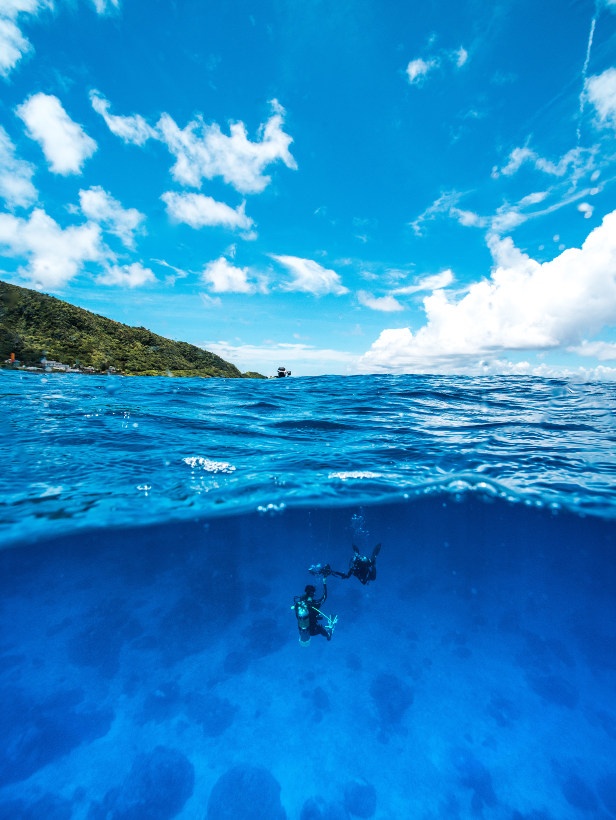 Taitung isn't just known for surfing, it's also a hotspot for divers from around the world.
After piling into A-Hsun's van, he takes us rocketing up and down dirt tracks where the morning sun has painted over the pocked surfaces. "Bo ing [no wave]," says A-Hsun, as he points to the Donghe Rivermouth in Taitung. Australian pro surfer Perth Standlick was crowned Taiwan Open of Surfing champion in 2015 and the 27-year-old agrees Jinzun is a top destination for a family surf trip as the beaches suit sun-seekers as well as surfers of mixed ability. "I love Taiwan. The wave in Jinzun is very fun and forgiving, and it would have to be one of the most mellow places in the world to learn to surf. It's definitely one of the newest countries to embrace surfing and everyone is just happy to be out there," says Standlick, who competed in the 2017 Taiwan Open of Surfing in November.
"I've been there four times and the surf scene is getting bigger each time. I've had amazing waves there. The locals are so stoked to watch you surf and show you around and are psyched to show you their culture," he says. As interest in the region's untouched beaches and rideable waves begins to grow, Standlick says it feels like the community has opened its eyes to new opportunities in Taiwan.  
That vibrant surf culture is evident as A-Hsun and Fin paddle out into a lineup made up of surfers from Japan, Hong Kong and Belgium. "Yeeewww," squeals A-Hsun as Fin takes off on a set wave. Again, the surf term for 'awesome' is universal. Yew, indeed.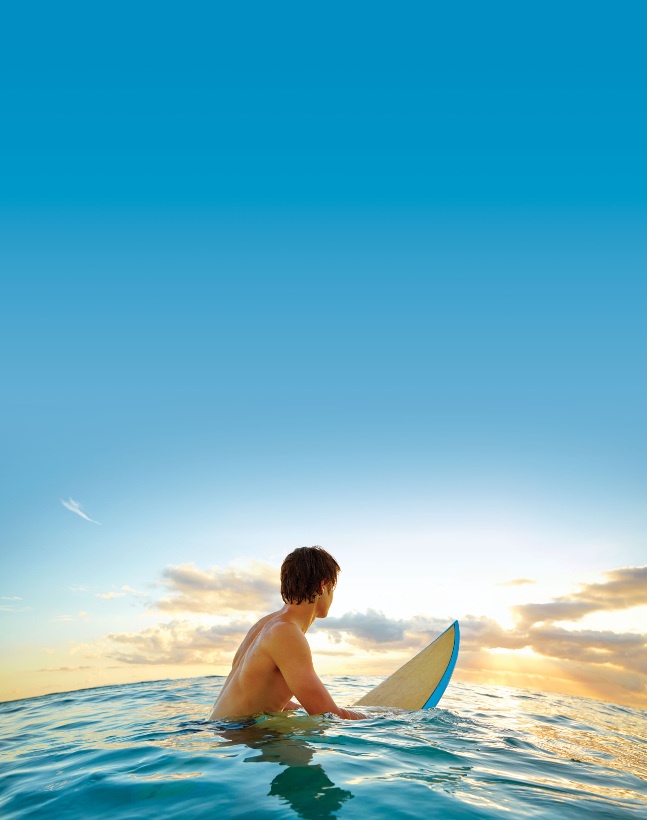 In Montanita it's not uncommon to be surfing with dolphins, whales and other beautiful wildlife.
Mighty Montanita
Words: José Bishop, traveller and surfer
Ecuador is a little known and explored part of the world that has had a large impact on my life. The country's unmistakeable beauty makes it one of the most memorable destinations I've visited – having great waves is a plus as well. Ecuador is now an emerging surf destination and travellers are excitedly starting to notice the untouched nature of Ecuador's coastline and the powerful beach and point breaks it has to offer.
My journey to Ecuador was purely accidental. I grew up travelling with Cirque Du Soleil for 10 years, and on a three-week tour break between cities in South America, my family noticed all flights transitted through Guayaquil, Ecuador's largest city and a gateway port to the Galapagos Islands and Pacific beaches. A little research revealed that November to March was peak swell season, so we jumped on the opportunity to get some empty lineups and tick off another country.
From Australia, there are no direct flights to Ecuador, so the best way to get there is to fly with Qantas or LATAM via Auckland to Santiago, Chile, or adding Ecuador as a stop to a South American
Air Pass to make the most of your holiday.
For our family of six, we needed a spot that would be safe, comfortable and appeal to non-surfers, too. We stumbled upon the little surfing town of Montanita, a two-hour drive south from Guayaquil International Airport. There are plenty of places to stop along the highway too, with local ceviche to try and balsa surfboard shapers. On Ecuador's Ruta del Sol, Montanita is a popular spot with a number of surf schools, camps, hotels and rental homes and a vibrant nightlife. The waves here are powerful and varied. I was blown away by the steamrolling righthand at Montanita and the miles of empty beach breaks along the coast, which offer plenty of whitewater waves for beginners and smaller waves on the inside.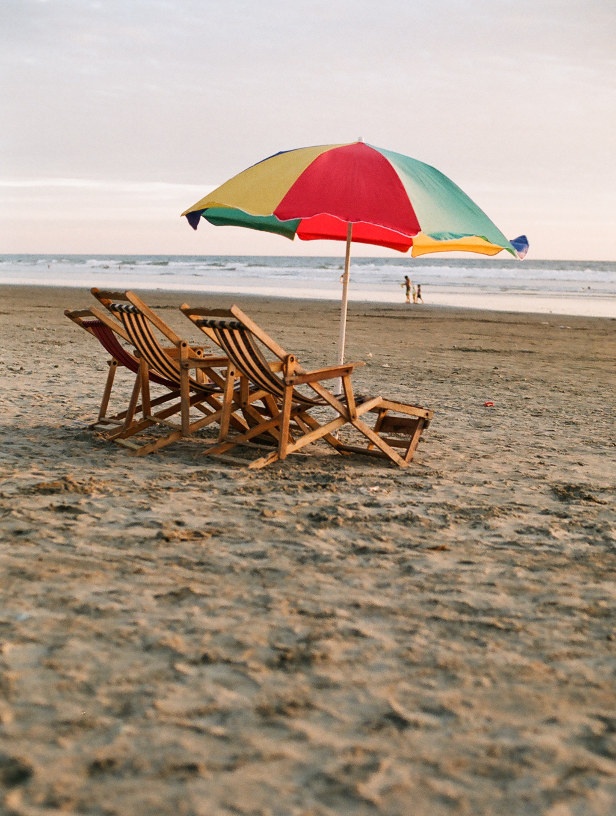 There's nothing better than kicking back on the beach after a big surf session.
A remarkable thing about Montanita is the wide variety of waves in such a condensed space, but once you paddle out the back, you really feel you are, as the locals say: "A guest visiting the ocean". Before long, you'll be surfing with dolphins, humpback whales, turtles, manta rays and hundreds of different types of fish. The righthand point break has an intense takeoff zone, leading to a more forgiving beach break. It's the most popular in the area, so go early when the partygoers are still sleeping from the night before.
Just several minutes north, Curia and San Alon are open beach breaks with lots of peaks that you'll share with a few friendly locals, while 30 minutes' drive north from Montanita, Ayampe is a smooth rolling
giant – it's the best wave to learn on with plenty of space to practise.
Still, one of my favourite aspects of surfing in Ecuador is the pace of life, which is simple, relaxed and taught me to enjoy 'what is enough'. For the locals, it was their crops, fishing, crafts and surfing. For me, sitting at
a beach bar after a six-hour surf with a cocktail and barbecue meal for less than AU$9 as the sun set, that was definitely enough.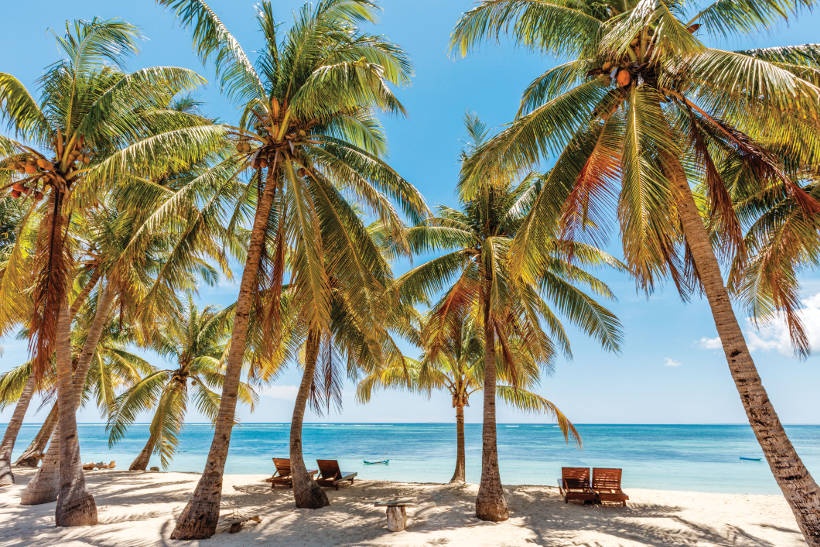 Rote offers more than great surf breaks - it's somewhere to kick back completely off the grid.
Relaxed Rote
Words: Jodie Cooper, commentator and former pro surfer
I first heard about Rote from a few of my surfer sources. It's popular with Aussie expats, but this Indonesian island is as far away from Bali as you can imagine – perhaps even the Bali of 10 years ago. Peaceful and rural, Rote (pronounced 'Roti') is a speck amid the Indonesian archipelago, lying just off the West Timor coast and around 500km north of Broome. From Bali, Garuda Indonesia flies to Kupang in Timor (a two-hour flight), and then it's another half-hour plane ride to Rote. Alternatively, you can take the fast ferry from Kupang's local port for the two-hour trip to the island. At the airport, we hail a taxi for the approximately hour-long trip to Nemberala Bay on the southwest coast.
Our base for the next three weeks is a friend's newly built house, however, the relatively underdeveloped Rote also has resorts, mostly single-level affairs that cater for surfers on a budget through to slick setups with pools and yoga. A few shops sell everything from phone and internet credit to ice-cold beer and basic supplies, and there's also a food market that's a big weekly event. There's no ATMs here, so be sure to bring cash as a money transfer may take a couple of days.
Nemberala is pretty much a one-road affair and most people get around on scooters. Free-range chickens, pigs, goats, monkeys and even small children share the road – a real eye-opener – but there's a safe, community-minded feel to this sleepy little village that steals my heart. While unassuming, Nemberala is home to a variety of world-class breaks. The area caters for a range of skill levels – there are a couple of learner spots on given days – but it's mostly geared for the intermediate to experienced surfer. The vibe here is extremely friendly – both in and out of the water. It can be crowded at times (some days I counted 25 people in the water), but still much more relaxed than other Indonesian surf spots.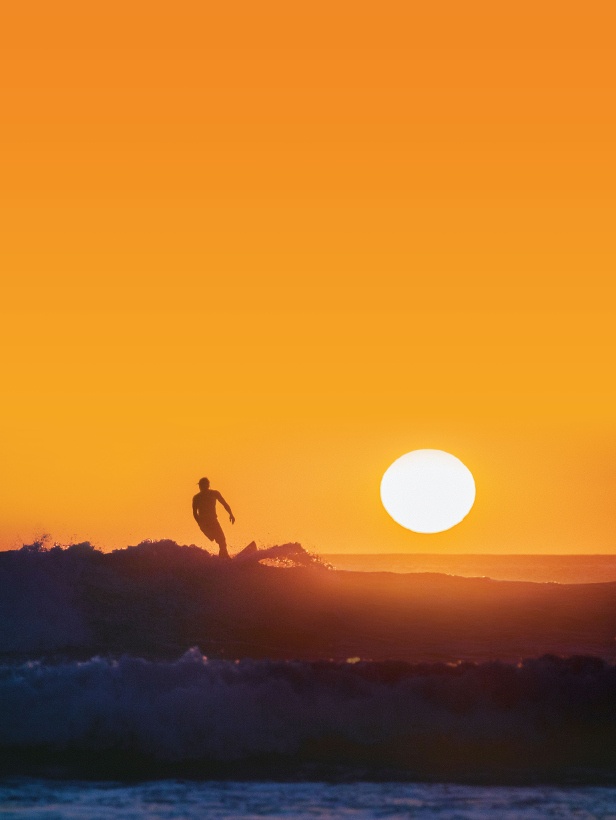 Nemerala Bay is home to a variety of world-class breaks.
Nemberala directly fronts a world-class break called T-Land, a long, cruisy left at up to six feet (1.8m) but it becomes a very different beast at seven feet (2m). Definitely one for the experienced surfer!  The swells are thick past six feet and I would have killed to have a Hawaiian-style 7-footer with me to get into the waves. I recommend taking a range of surfboards – your everyday short board will do but it's also a good idea to bring a longer board,
or hire one at a resort.
The wave can be particularly long at T-Land and the different takeoff sections spread out the crowd. I catch waves so long that I couldn't possibly do more than one more turn and kick out of the wave in hysterical happiness at just how much fun this spot was. While I paddle out, I'm amazed at the abundance of vibrantly hued marine life. The coastline is fringed by hectares of coloured coral reefs and sandy beaches, and the diving and snorkelling around Rote is truly exceptional due to the large numbers of manta rays and dugongs.
Out of the water, Nemberala is just as stunning. White-sand beaches lined with swaying coconut palms lead to crystal-clear blue water. Hammocks strung up between palm trees offer the ideal vantage point to drink in the spectacular sunsets and paradisiacal panoramas. Outside of the surf community, Rote is still under the radar but it's certainly not a secret – word is slowly getting out about this laidback Indonesian island. 
This article was originally published in Travel Ideas WOW 2018 edition. Get your hard copy here. 
---
---

---
Flight Centre acknowledges the Traditional Custodians of Country throughout Australia.