Visiting Vanuatu: The South Pacific's Dreamy All-Rounder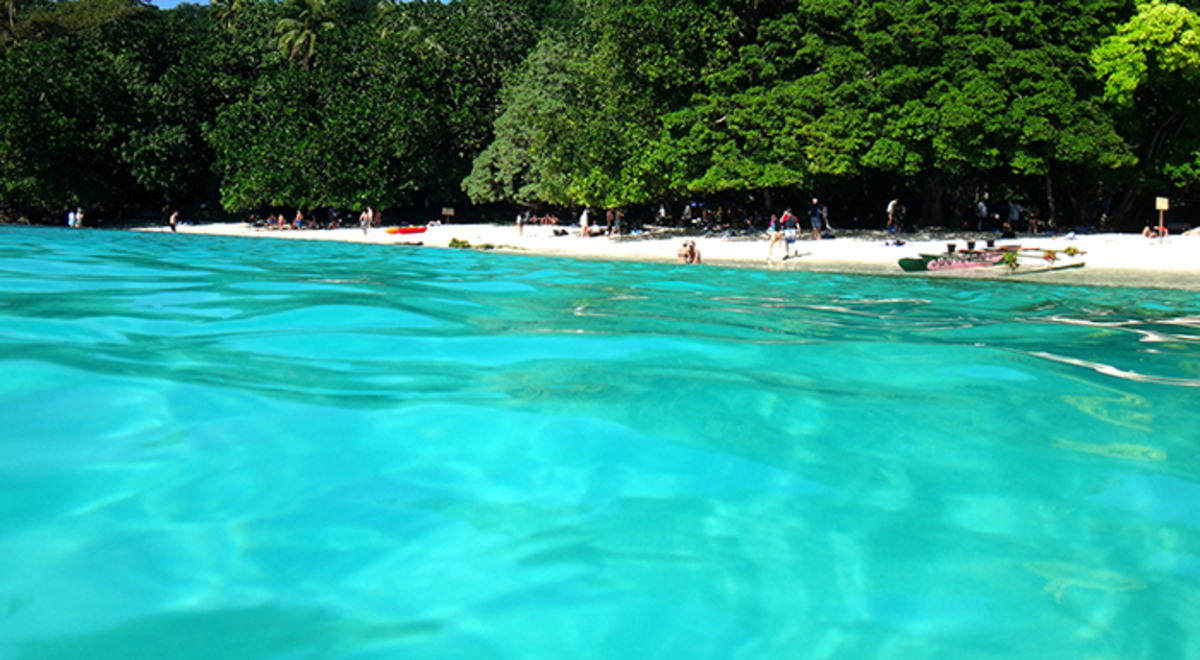 ---
---
---
Things you need to do in Vanuatu:
Swim in one of Santo's famous Blue Holes

Scuba dive at Million Dollar Point, on Santo

Visit beautiful Champagne Beach on Santo

Dine at one of the many beachfront eateries on Efate

Get an adrenaline rush at Vanuatu Jungle Zipline on Efate

Post mail at the world's first underwater post office on Efate

Swim into the Blue Cave on Tanna

Experience life in a traditional village on Tanna

Visit Mount Yasur, Tanna's active volcano
---
Vanuatu is an archipelago nation of
 83 islands where a vibrant culture thrives as vividly as the country's spectacular reefs. Espiritu Santo is the largest island, and it's graced with Vanuatu's famous 'blue holes'. The main island of Efate is home to the busy capital Port Vila, while further south lies Tanna, where visitors can perch on the side of a live volcano. In Vanuatu, you can chase adventure and experience an enchantingly rich culture – plus, it's only a few hours' flight from Sydney or Brisbane. As a couple and as a family, we've travelled to Vanuatu four times, and every trip has been an experience filled with exciting adventures. Here are some of our favourites.
Spirited Away In Santo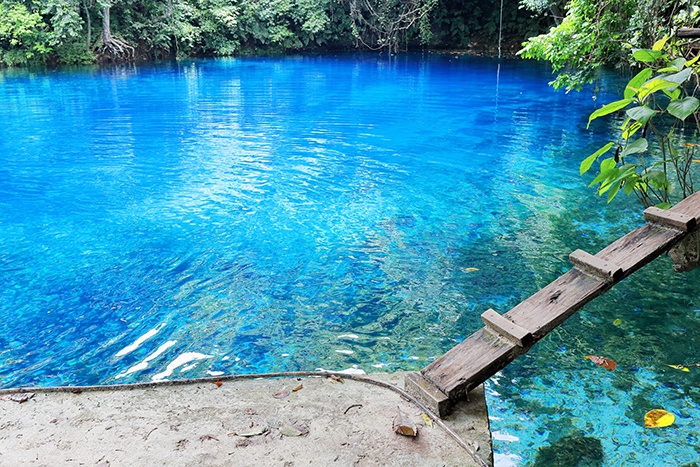 Espiritu Santo, aka Santo, is famous for its stunning 'blue holes' – deep swimming holes that flirtatiously flit between a range of remarkable shades of blue.
On our first trip to visit these remarkable hidden enclaves, my partner and I climbed aboard a local's outrigger canoe on Riri River, and were whisked through a dense jungle passage to the Riri Blue Hole, where there's a thatched-roof hut on stilts above the water, walking paths and quaint seating areas. In the centre of the Blue Hole, which is surrounded on all sides by thick, towering jungle, is a wooden platform to jump from and, to one side, a wooden ladder leading to a platform from which we could Tarzan- swing from a rope into the startling blue, fish-filled depths.
Not far away is the Nanda Blue Hole and, despite being widely considered the most beautiful blue hole in Vanuatu, it's only A$12 to experience the magic.
Here we learnt that in nature, water appears blue because blue light isn't as easily absorbed as other colours. The blue light is scattered, making the water appear blue; the deeper and more pure the water, the more brilliant the colour. The water
in Vanuatu's blue holes is also filtered through limestone, so it becomes close to pure and, because the holes are so deep, a luminous colour is created. As we explored, thousands of fish swam in and out of the limestone walls unperturbed. To add more magic to the surreal experience, parts of the blue hole's floor are covered in soft-as-silk seagrass, so you can drift above shimmering green carpets of wavering grass.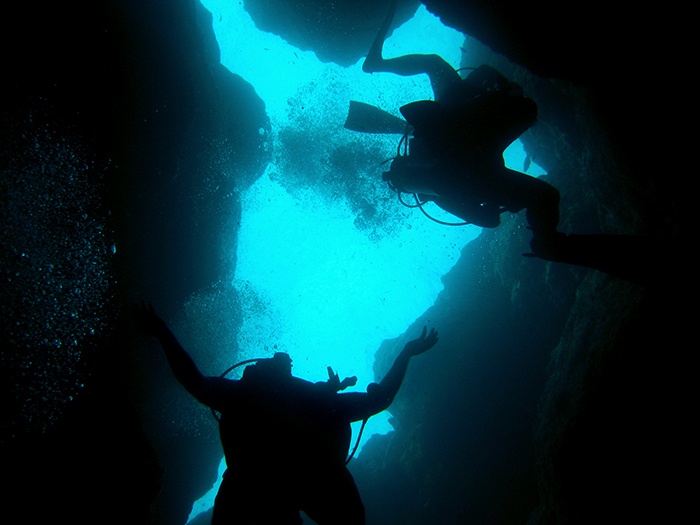 For those into wreck-diving and World War II history, it doesn't get much better than Million Dollar Point, where hundreds of tonnes of US military equipment was dumped because it was cheaper to abandon it after the war, rather than transport it back home. Today, it's a diver's coral-encrusted dream – an artificial reef of machinery and gear with a fascinating makeover.
An hour's drive along the coast took
us to another diving spot called Champagne Beach, due to its old-fashioned champagne-glass shape, and the bubbles created by the water moving over the volcanic-rock sea floor. We snorkelled for hours, dumbstruck by the abundance of sea life so close to a deserted shore.
A further 25 minutes' drive took us to Port Olry – a francophone fishing village with a curve of white-sand beach, and shallow turquoise waters that trick you into thinking that you're wearing tinted sunglasses. On the beach, strewn with hammocks, is a sand-floored shack, devoid of walls (who needs them?) called Harbour Beach Restaurant. We ordered lobster mornay and were presented with one of the most enormous, delicious lobsters we'd ever eaten, straight from the waters before us. Heaven on Santo.
Enchanted In Efate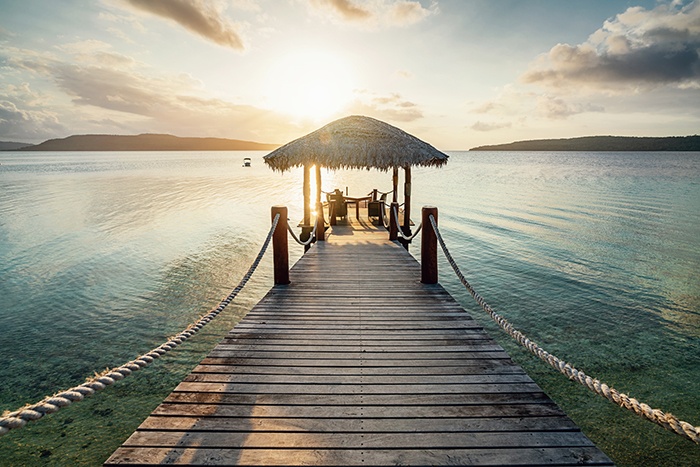 Flying into Vanuatu, you could see fiery volcanic cones surrounded by plains of ash, farmlands fanning out onto jungle-enclosed rivers, cliffs cascading into turquoise oceans, or expanses of beach with sand so white it makes your eyes hurt. Or, you could see all of the above, woven into jaw-dropping vistas that trigger plane-loads of sighs, daily.
On our first trip to Vanuatu, we flew into Port Vila. On first sight, it's a mix of French- colonial, English and Asian influences fused with Melanesian charm. At times it may
not seem to be the most organised Pacific Island nation, but that's part of its appeal; it's not over-commercialised. If you're the type of traveller who likes things in a more natural state, then you'll likely realise her beauty shortly after touchdown.
If not, when you're settled in at your resort, the big smiles and open arms of the locals are sure to win you over, and you'll quickly discover that the local produce is delicious. Pesticides aren't used much at all, so 'organic' and 'paddock-to plate' aren't just buzzwords – they're an everyday reality.
From Port Vila airport we took a half- hour taxi south to Tamanu on the Beach resort. The roads on Efate twist into and around villages, traverse fields and skim dense jungle. All this is only 15 minutes out of the bustling capital, where cruise ships dock, business is done, and the markets are frenetic portraits of typical local life.
Tamanu on the Beach was closed for
a year to carry out extensive renovations. Before its revamp, it was already one of the jewels of Vanuatu's accommodation, with a rustic beach-shack feel. Today, it still exudes a lovely laidback charm, but the 15 cabins sport chic Caribbean styling. The boutique resort has an open-air restaurant overlooking the ocean, and is an ideal place to breathe in the fresh air while experiencing lovingly- created organic dishes, often using locally- caught seafood or beef produced nearby.
Up north in Port Havannah is Francesca's Beach Club Bar and Restaurant. On a clifftop, with jungle behind it and the Pacific Ocean before it, this outrigger canoe-shaped venue offers Italian cuisine with spectacular views of Lelepa and Moso islands.
Lelepa is a 10-minute boat ride from Efate's coast, and is 65ha of unspoilt tropical rainforest with palm-fringed beaches and a diving site that is mind- blowingly good – no one in our group wanted to leave the water.
For an adrenaline rush, the Vanuatu Jungle Zipline is one of the most popular activities in Port Vila. You can explore the dense jungle like a bird, zipping through the upper forest canopy, traversing canyons, and taking in breathtaking views of Mele Bay and beyond. Families can also hop aboard sturdy off-road segways and cruise down jungle tracks, through lush tropical gardens, and a sandalwood plantation on a three- hour round trip.
Touched By Magic In Tanna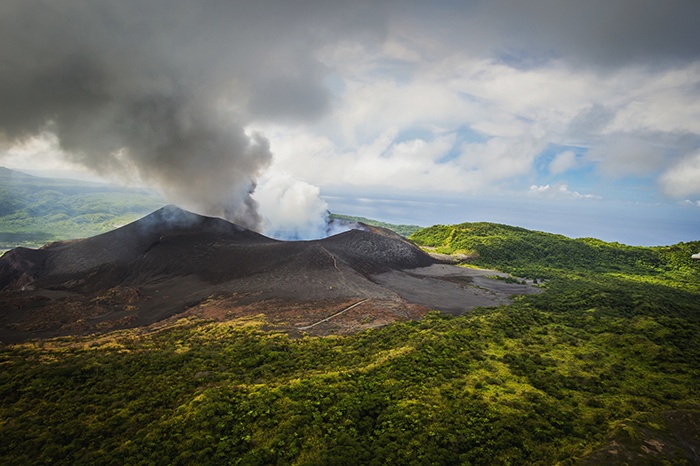 Our first experience on Tanna island was visiting Blue Cave. After a duck-dive and a few strokes, we found ourselves in
an enormous cave, removed from the outside world, the water around us shimmering vividly, the arched ceiling rising majestically in its raggedy rock beauty. Seeing sun rays streaming through a hole in the cave's roof and piercing the bright blue waters was enough to understand why the locals consider Tanna to be magical.
The Black Magic cultural show stole our hearts for many reasons – traditional costumes and dancing, knowledge shared about ancient rituals, and a kava ceremony – but it was the children and babies getting in on the action that had us swooning. From the tree branches of their banyan tree castles they made scary faces, howling like banshees and grinning like only kids can.
Tanna's crowning glory is Mount Yasur – an eye-popping live volcano where we watched magma from the core of the Earth deeply burble, shooting sparks, fire, ash and lava into the sky. A crackling fire is mesmerising, but Yasur takes it to an entirely different level. We couldn't drag ourselves away, and so we sat on Yasur's mighty ash- and lava-coated edge until the sun went down and the inky night sky ramped up the theatre – guttural grumbling and lava explosions punctuating an awe-inspiring silence
Playtime For The Little Ones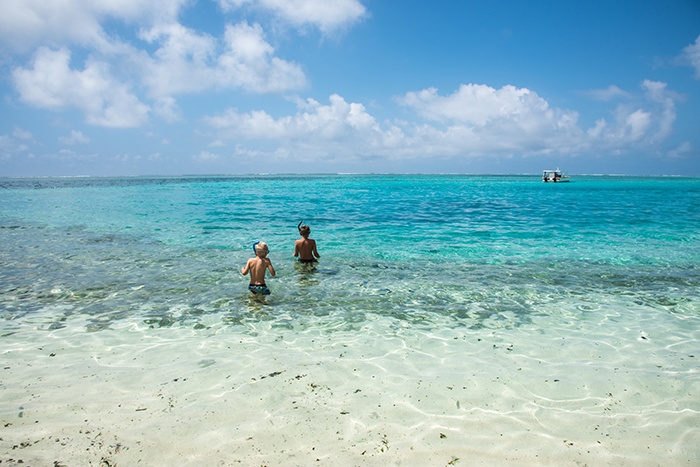 The people of Vanuatu are caring and entertaining, so parents quickly learn that the kids clubs at most resorts are awesome fun for little ones. And the care is so affordable that they can go out, have dinner, and come back later to pick up their happy yet weary adventurers.
Swimming, snorkelling, kayaking and fishing are some of the more obvious activities for the kids, and Port Vila has a more varied array of cuisine options than the capitals of most Pacific Islands – with most restaurants, cafes and bars welcoming children.
However, for something more unusual, Hideaway Island on Efate has the world's first underwater post office, where kids can snorkel a short distance to post a special waterproof postcard. Or, back on Tanna, at Mount Yasur, kids can send mail from the Volcano Post Box located on the ashy slopes.
When night falls and the parents want some downtime, children's films are regularly aired at the Nambawan Cafe in downtown
Port Vila. For some history entwined with adventure in 1.5ha of gardens, there's a reconstructed tribal chief's zone and a cannibal's house to explore in The Secret Garden. Kids can also get up close and personal with the nippers of a 4kg coconut crab. Now there's something for show-and-tell.
---
---

---
Flight Centre acknowledges the Traditional Custodians of Country throughout Australia.