The Best Dives Sites In Australia That Are Making A Splash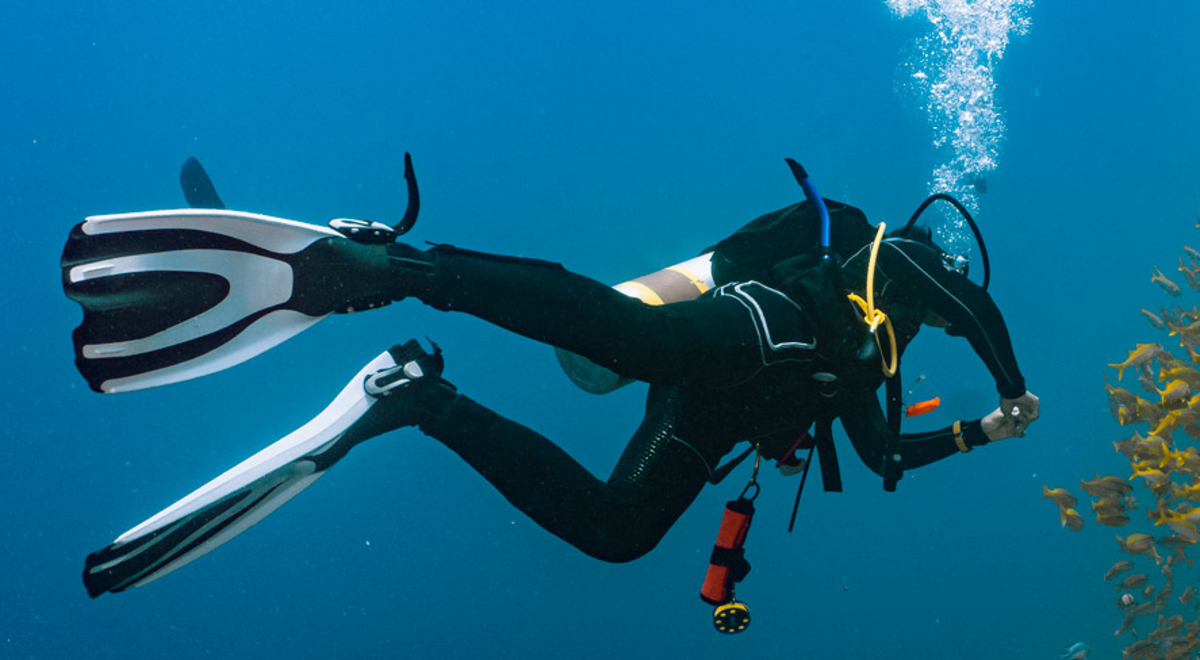 ---
---
Australian waters are home to some of the most beautiful and ecologically diverse underwater environments on earth. From shipwrecks and caves, to living coral reefs teeming with brilliantly coloured sea life, discover what makes our diving so unique. Here's my list of the top seven scuba diving spots in Australia.
Fish Rock Cave
South West Rocks, NSW
Fish Rock Cave is located two kilometres off Smoky Cape at South West Rocks on the New South Wales coast and is a regular on the must-do diving menu. Home to a critically endangered species, this dive site boasts a 125-metre cave – the only true ocean cave in Australia.
This site is a crucial habitat for the grey nurse shark, of which there is an estimated population of only 1000-1500 left in Eastern Australia. They gather in their hundreds at Fish Rock Cave to feed, mate and give birth. Watching these gentle giants swim gracefully in their natural environment is a privilege for any diver.
As you enter the cave, the water becomes warmer and clearer than the surrounding ocean and you are met by the silhouettes of hundreds of fish surrounding the cave's mouth.
South West Rocks is a charming town with plenty of attractions for non-divers including walking tracks, the Trial Bay Gaol and one of the oldest lighthouses in New South Wales: Smoky Cape Lighthouse.
Pro Tip: Visit from April to November when the ocean becomes home to migrating Humpback whales and their calves.
The Wreck Of The SS Yongala
Ayr, Queensland
The wreck of the SS Yongala is a bucket-list wreck dive for almost every diver that I have met in my ten years of suiting up. The sea life that gathers here is the definition of supersized and there's a fascinating and somewhat ghostly history to be discovered underwater.
The Yongala sank 89 kilometres offshore of Townsville in 1911, taking the lives of all 122 souls aboard and remaining undiscovered on the ocean floor for more than 50 years. Now a heritage site, the wreck is also an incredible artificial reef, home to sea life of such density, variety and size that it rivals many of the outer, more difficult to access parts of Queensland's reefs.
Pro Tip: The surface current can be quite strong, so some diving experience and fitness is recommended.
Rye Pier
Rye, Victoria
Located 80 kilometres south of Melbourne's CBD, Rye Pier is well suited to new and experienced divers alike, due to its shallow depth and plethora of temperate marine life.
Once a year in Autumn, thousands of spider crabs gather at Rye Pier, while the pylons beneath the pier are home to pot-bellied seahorse, beautiful soft sponges and a colourful array of nudibranchs.
However, the hidden treasures of Rye Pier come out at night when old discarded tyres covering the sea floor reveal more fascinating  permanent residents. You can see blue-ringed octopuses and witness dumpling and calamari squid communicate via changes in body colour that reflect brilliantly off your torchlight.
Pro Tip: It can be cold in-water during winter, so thicker (five to seven millimetre) wetsuits or drysuits are sometimes needed.
---
---
Osprey Reef
Great Barrier Reef, Queensland
The Great Barrier Reef (GBR) is where I completed my first open water dive and is responsible for the scuba diving obsession that followed.
A volcanic atoll lying beneath the ocean's surface, Osprey Reef is best accessed by one of several live-aboard dive boats departing from Cairns. It's a 220-kilometre overnight journey from the mainland.
Although there are extra costs involved compared to other dive sites, you are rewarded with arguably the best diving on offer at the GBR. Why? Three main reasons: large schools of pelagic fish, startling 40-metre-plus visibility and no shortage of shark action, of course.
There really is nothing quite like waking up to a GBR sunrise and finishing your first dive before breakfast. Whilst underwater, keep your eye out for giant potato cod, dogtooth tuna and schooling hammerhead sharks (if you're lucky).
Pro Tip: Night dives on the reef offer a unique opportunity to see parrotfish asleep in their tailor-made mucous sleeping bags, masking their scent from would-be predators.
Kangaroo Island
South Australia
Just over 100 kilometres southwest of Adelaide lies Kangaroo Island. It boasts the largest population of leafy seadragons on earth and is one one of the few locations where you can find both Australian sea lions and New Zealand fur seals.
Sea lions are amongst some of the most entertaining characters you will meet in the underwater world. If you encounter one, you'll quickly realise why these playful and curious creatures are often called the 'puppies of the sea'.
However, the real attraction for divers is the leafy seadragon, a relative of the seahorse. These intriguing creatures are only found in Australia's southern waters. They are notoriously shy and particularly well camouflaged, but you can employ the services of the local dive guides who are experts at finding them.
Pro Tip: Leafy seadragons may become stressed if you get too close, so I recommend hanging back and observing them from a moderate distance.
Piccaninnie & Ewens Ponds
Mt Gambier, South Australia
Mt Gambier is a cave diving mecca to the world-wide diving community with some of the most beautiful, unexplored and unique underwater cave systems imaginable. And you don't even have to be a certified cave diver to experience it!
Piccaninnie Ponds and the other cave systems were formed over thousands of years from the chemical interaction between acidified rainwater and underground limestone. This reaction formed complex and delicate features in the rock. One of the most notable formations at Mt Gambier is the 'Cathedral'.
Parts of Piccaninnie and Ewens ponds are accessible to both divers and snorkelers. Snorkelers have a great vantage point, watching the divers disappear into the cavern below, before investigating shallow reed beds near entry holes.
Once divers enter the cave system, limestone-filtered water provides astounding blue-tinged underwater visibility, often greater than 40 metres. The white limestone walls are covered in bright green algae and are home to a variety of animals and plants including large crayfish, mussels and shrimp.
Pro Tip: Book the first session of the day to ensure you experience the clearest water conditions. Special permits are required to dive and snorkel.
Ex-HMAS Brisbane
Mooloolooba, Queensland
An ex-Navy Destroyer, the ex-HMAS Brisbane was sunk in 2005 to create an artificial reef structure nine kilometres northwest of Mooloolaba, Queensland. One of the reasons it's on this list is the 1000-plus species of recorded marine life that have accumulated during its ten years at the bottom of the ocean.
The wreck has some 'stay-at-home' species: soft and hard corals, echinoderms (sea stars) and the beautiful nudibranch and flatworm families. Larger creatures such as sea snakes, turtles and small shark species are frequent visitors. Octopus, moray eels and the huge Queensland groper round out the site's more impressive residents.
Access to the site is via local dive operators who specialise in guiding divers through the wreck and pointing out some of its most impressive features.
Pro Tip: This dive site is suitable for both Open Water and Advanced Open Water certifications – wreck diving experience is optional.
(Lead image: Matthew Krumins - Deeper Than Diving Underwater Photography)
---
---
---
Flight Centre acknowledges the Traditional Custodians of Country throughout Australia.