Cairns Airport Fast Facts
Distance from CBD: 7 kilometres
Airport code: CNS
Number of airlines: 14
Destinations served: 22 (12 domestic, 10 international)
Terminals: 1
Runways: 1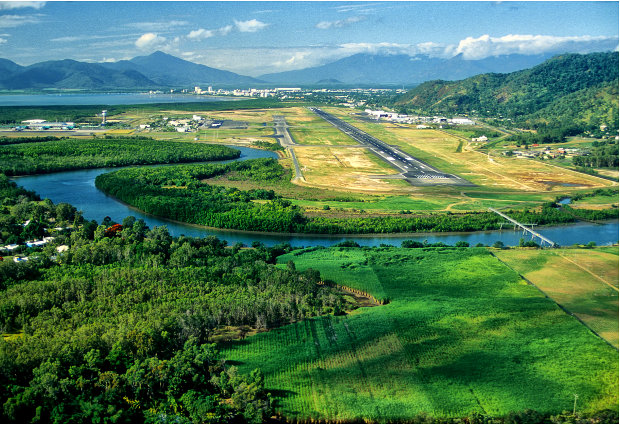 What Facilities Are At Cairns Airport?
Cairns Airport consists of two terminals: T1 International Terminal and T2 Domestic Terminal. The terminals are connected by a covered walkway, and it only takes a few minutes to walk between the terminals. From baby change rooms and showers to check-in and airline lounges, Cairns Airport offers travellers a range of facilities and services.
Check-in
Check-in zones are located just beyond the entrance on the Departures Level of both the Domestic and International terminals. When it comes to check-in times, please confirm with your airline. These will vary depending on which airline you're flying with and whether you're flying domestically or internationally.
Baggage
Because each airline has different requirements regarding baggage weight, size and quantity, what's relevant to you will depend on what kind of ticket you've purchased. It's always a good idea to check your luggage requirements with your chosen airline, before you head to the airport.
Is there a currency exchange?
Yes, you can change your money at Cairns Airport. There is a Travelex currency exchange in both the international and domestic terminals, and each Travelex shop is open for all flights. Another option is to pop into Travel Money Oz and pick up your foreign currency before you fly.
What are the other services and facilities?
Airport Ambassadors
ATMs
Baggage trolleys
Baggage storage
Car Parking
Disabled Access
Disabled Parking
Foreign Exchange
Group porterage service
Parent's Room
Showers
Smoking areas
Telephones
Toilets
Tourist Refund Scheme (TRS)
Free Wi-Fi
Internet Kiosks
What restaurants and bars are at Cairns Airport?
Cairns Airport has a range of food outlets, bars and cafes to choose from if you're after a coffee, drink, or something more substantial before your flight.
Restaurants and bars at Cairns Airport include:
Great Northern Bar & Eatery
Hudsons Coffee
Urban Food Market
Hero Sushi
Hungry Jack's
Skybury
The Coffee Club
The Crafty Cassowary Kitchen & Bar
Shopping At Cairns Airport?
With Cairns such a popular holiday destination – especially for international visitors – you know you're going to find a good choice of Australian gifts and mementos as well as all the travel essentials.
Shops at Cairns Airport include:
Aelia Duty Free
Australian Made
Australian Produce Store
Discover Dreamtime
Discover Tropical North Queensland
Eye Love Cairns
Galerie Tropical
Health & Beauty Express
Link
MAC
Purely Merino
Relay
Smiggle
Surf Dive'n'Ski
Tech2Go
The Travel Store
Travelex
Victoria's Secret
World of Chocolate
Optus
What's the best way to get to and from Cairns Airport?
There are plenty of transport options to and from Cairns Airport, and with the airport only located about 7 kilometres from the town centre, it's an easy journey to make.
Car hire: You can hire your car through Flight Centre and have it all arranged before you arrive, or simply visit the car rental desks at Cairns Airport, located in the Arrivals Hall of both T1 and T2.
Picking up and dropping off: Cairns Airport has convenient pick-up and drop-off zones located directly outside the T1 and T2 terminals. There is also an option for 10 minutes of free parking, available in both the T1 and T2 uncovered car parks.
Taxis: Cairns Taxis can take you into the heart of Cairns, as far north as the Ellis Beach coastal area and south to Wrights Creek, Edmonton.
Rideshare: You can choose to ride to your Cairns accommodation in an Uber. Simply download the app and look for the rideshare pick up areas. T1 international: at the eastern end of the terminal, just to the right of the bus pick-up area. T2 domestic: at the northern end of the public pick-up lane.
Shuttle Bus: Sun Palm Transport Group looks after shuttle trips to all accommodation in the town centre, as well as the Northern Beaches and Port Douglas. You'll find pick-up points outside the arrivals hall at both terminals, and you can pre-book or buy your ticket from the counter when you arrive. Sun Palm Transport Group also offers the Airport Connect service, which provides shuttle buses from the airport to the Translink public transport network.
Chauffeurs and limousines: There are many bus and limousine services in the Cairns region and these must be pre-booked before your arrival at the airport.
Public Transport: Air Connect bus service can take you from Cairns Airport to the Translink public transport network. From the airport, go to the Sun Palm Transport desk in Arrivals, and they will direct you to the bus. To catch Air Connect to the airport, you will need to pre-book.
Parking: Cairns Airport has three different car parks to choose from.
T1 Budget – Located at T1 (international terminal), this is an uncovered car park right outside the terminal, offering the first 10 minutes of parking free for farewelling family or friends.
T2 Covered – This carpark is the closest to domestic T2 arrivals, being just a 1-2 minute walk away.
T2 Uncovered – The best-value option is right outside the T2 departures entrance, also offering the first 10 minutes of parking free as you drop off loved ones.

Book your parking at Cairns Airport in advance via the Cairns Airport website and you'll receive a lower rate than if you arrange your parking when you arrive.
How do I transfer between terminals?
Very easily! T1 (International) and T2 (Domestic) are connected by a covered walkway and it only takes about five minutes to walk between the terminals. Just follow the Blue line from T1 Arrivals to T2 Departures, and follow the Green line from T2 Arrivals to T1 Departures.
What hotels are near Cairns Airport?
Cairns Airport is without traditional 'airport hotels' for a very good reason: it's located only 7.3km north of Cairns town centre, which is about a 14-minute drive away. There are numerous hotels in Cairns, with something for every budget, from economical to lavish. Your Flight Centre Travel Expert will be able to help you choose the Cairns hotel that's right for you. Or, you may like to do your own searching and browse through all of our Cairns hotel deals right now.