Melbourne Airport Fast Facts
Distance from CBD: 23 kilometres
Airport code: MEL
Number of airlines: 42
Destinations served: 74 (43 domestic; 31 international)
Terminals: 4
Runways: 2
What Facilities Are At Melbourne Domestic Airport?
You'll find a great range of facilities at Melbourne's domestic airport terminals, with plenty to keep you occupied before your flight.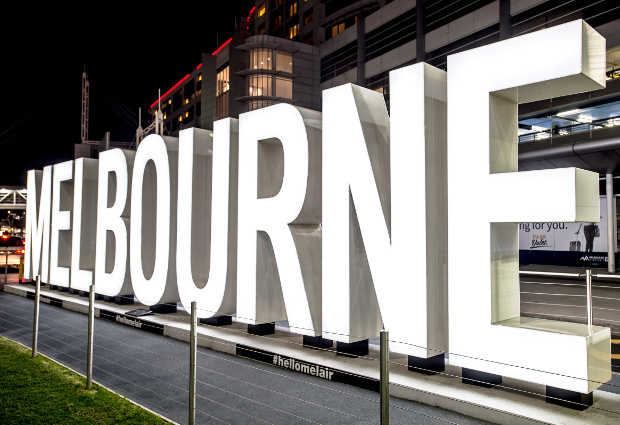 Check-in
For domestic flights, Melbourne Airport recommends arriving at least one hour before departure. Whether you're flying from T1, T3 or T4, check-in is located on Level 1, a short escalator ride from each terminal's bus stop on the ground floor.
If you're being dropped off or arriving by taxi to T1 or T3, simply walk through the main entrance to check-in for your flight. But for T4 departures, drop off is located on level 1 of the car park. You'll need to follow the signs and walk 5 minutes to the check-in counters.
Baggage
Baggage allowances vary depending on airline, class of travel, and departure. It's always best to confirm your particular flight's luggage requirements with your airline or Flight Centre Travel Expert, especially for checked-in items.
Tullamarine also has a number of luggage services available. The aptly named  'Protect-a-bag' is the airport's luggage wrapping facility. Domestic travellers should note that this service is located near the check-in desks at the international terminal (T2), directly across from Flight Centre. Although housed under the same roof, it's wise to leave extra travel time if you need to walk between terminals.
If you're venturing into the city between flights, or simply need a place to hold your bags, the airport offers Smartcarte storage services. Travellers can find Smartcarte at ground level of T2 and at the T4 car park.
Is there a currency exchange?
If you're transferring to an international flight, you will find many Travelex Worldwide Money service desks throughout T1 and T2 terminals. Alternatively, you can pre-purchase a travel money card or foreign currency at your local Travel Money Oz store.
What are the other services and facilities?
ATMs
Baby change facilities
Disabled access
Foreign Exchange
Lost property
Massage chairs
Medical centre
Mobile phone charging stations
Myki machines for travel card top up
Hanrob Pet Hotel, close to the airport
Prayer Room
Postal services
Telephones
Toilets
Travellers Aid
Water fountains
Free Wi-Fi
WeChat, a channel for Chinese passenger interaction
What lounges are at Melbourne Airport's Domestic Terminals?
Qantas Domestic Business Lounge (T1)
Opened in 2018, the Qantas Domestic Business Lounge at Melbourne Airport is a sleek and stylish space to relax in, prior to your flight. One of the key features of the lounge is the central bar, adding to the 'supper club' atmosphere and offering guests beer, wine and spirits, fresh barista-made coffee and a cocktail hour between 5pm and 6pm. Also notable is the Spice Bar, a dining option unique to the Melbourne Qantas Business Lounge which serves up freshly-made noodles and Asian street food. AC and USB sockets are in abundance, and the floor-to-ceiling windows create a light and airy space.
The Qantas Club (T1)
Fresh from a makeover in 2018, the Qantas Club at Melbourne Domestic Airport gives you a warm, relaxed and inviting space within which to take it easy or get a little work done before your flight. As soon as you pass reception, you can pick up a grab-and-go coffee and pastry at the small cafe. There is plenty of comfortable seating as well as an expansive, tended bar. Island seating and raised workbenches are accompanied by handy AC and USB outlets. The Qantas Club is open to Gold Qantas Frequent Flyers and Qantas Club members.
Virgin Australia Domestic Lounge (T3)
Located on the mezzanine level of T3, the Virgin Australia domestic lounge at Melbourne Airport welcomes Virgin Australia Business Class passengers, Virgin Australia lounge members, Velocity Gold and Platinum flyers, and more. For the full rundown on exactly which travellers are eligible to access the Virgin Australia lounge, talk to your Flight Centre Travel Expert. Inside the Virgin Lounge you'll find plenty of spaces for work or relaxation, with a secluded business zone, espresso and wine bar, plus Premium Exit – two dedicated screening lanes for anyone departing from Gates 1 to 10.
The REX Lounge (T4)
The Regional Express (Rex) lounge at Melbourne Airport's Terminal 4 is no longer only open to those flying with the airline. Now a part of the Priority Pass program, the Rex lounge welcomes guests travelling on any airline, departing from any terminal. It's particularly convenient for Virgin Australia passengers who find the Virgin lounge too busy, because the Rex lounge is located a short 5-minute walk away, and generally quieter. All food and beverage here is self-service and no hot meals are available, however from 3pm to 7pm daily, the alcohol in the fridge is complimentary. Note that if you're enjoying the tranquility of the Rex lounge, keep an eye on the time because boarding calls for other airlines aren't made here and you'll need a few extra minutes to return to your gate.
What restaurants and bars are at Melbourne Airport's Domestic Terminals?
Whether you're after a quick bite, or looking to get into 'holiday mode' with a glass of fine Australian wine, Melbourne's Domestic Airport terminals offer a range of restaurants and bars to choose from.
Restaurants and bars at Melbourne T1 Terminal include:
Billie Chu
Crown Lager Bar
Gian Carlo
Gloria Jean's
Healthy Habits
Hungry Jack's
Krispy Kreme
Noriba
Oporto
Pasta Pomodoro
Pendulum
Two Brews
Villa & Hut
Restaurants and bars at Melbourne T3 Terminal include:
Able Baker Charlie
Boost Juice
Hightide Lounge
Hudsons Coffee
Krispy Kreme
Macchinetta
McDonald's
P.J. O'Brien's
Sushi Sushi
The Fly Bar
Restaurants and bars at Melbourne T4 Terminal include:
Ali Baba
Boost Juice
Brasserie Bread
Brunetti
Chop Salads
Go! Convenience
Icons Victoria
Krispy Kreme
McDonald's
Muffin Break
Oporto
Quikfix
Quickshots Coffee
Salsa's Fresh Mex
Sixpence Pies
Sushi Sushi
Think Asia
Two Johns Taphouse
Velocity
Shopping at Melbourne Airport?
If you have a spare moment before your flight and feel like indulging in a little retail therapy, Melbourne's Domestic Airport terminals give you a good range of browsing options.
Shops at Melbourne's T1 Terminal include:
Amcal Pharmacy
Australian Way
Blue Illusion
Brown Gouge Dry Cleaners
Carry On
Henry Bucks
L'Occitane
Melbourne & Beyond
Metalicus
Mimco
Mr Simple
Newslink
Oxford
Qudos Bank
Seed
Sunglass Hut
Tech2Go
The Chocolate Box
Travelex
Victoria's Secret
Voyage
Watermark Books
Witchery
Shops at Melbourne's T3 Terminal include:
Newslink
Rolling Luggage
Sportsgirl Accessories
Sunglass Hut
Surf Dive'n Ski
Tech2Go
Shops at Melbourne's T4 Terminal include:
Amcal Pharmacy
Amuse beauty studio
Country Road
Icons Victoria
MAC
Mimco
Peter Alexander
Rip Curl
Rolling Luggage
Sunglass Hut
Tech2Go
Victoria's Secret
WHSmith
Witchery
What's the best way to get to and from Melbourne Airport?
Melbourne Airport – or Tullamarine, as it's sometimes known – is located 23 kilometres northwest of the Melbourne city centre in the suburb of (you guessed it) Tullamarine.  Currently there is no direct rail link to the airport from the city, which is a hot topic for Melbournians. That said, there are a number of different ways to travel to and from Melbourne Airport. From modest public bus routes and dedicated shuttle services to private-chauffeurs and rockstar-style helicopter rides, there are plenty of options.
Skybus: For convenience, it's hard to beat Melbourne's Skybus services. Running 24/7, you can travel express between domestic terminals and many locations around Melbourne, including the CBD, Southbank Docklands, St Kilda, and the Peninsula region. All Skybus shuttles depart every 10 minutes with the only exception being the half-hourly services that run between 1am and 4am. Best of all, the 45-minute ride only costs roughly $20.
Taxi: Although pricier than the Skybus, a direct taxi trip home might be what you need post-flight. A ride from the airport to the CBD takes around 30 minutes and costs approximately $60 (assuming you've missed Melbourne's infamous rush-hour traffic). Note that an airport fee and any fees for tolls will be added to your fare.
All three domestic terminals have conveniently located taxi ranks; ranks at T1 and T3 are found outside baggage claim at ground level, whereas T4 passengers will need to head across to Level 1 of the T4 transport hub. Alternatively, you can pre-book your taxi and have it collect you at the 'AT Terminal 123' car park.
Uber and Rideshare: If you're using uber or other rideshare apps such as Ola, Didi or GoCatch, you will be directed to one of two pick-up spots: if you're flying into T1 or T3, you'll be ushered to the first lane of the forecourt, whereas T4 passengers can head to Level 2 of the T4 Ground Transport Hub.
Chauffeur/Door-to-door transfers: Whether you're travelling for business or just want your holiday to last right up until the moment you reach your front door, a private chauffeur is one of the best ways to reach your destination. Although there are no service desks at the airport, you can pre-arrange your door-to-door transfer before you leave. For domestic travellers, your driver will be waiting for you on the ground level of the T1 car park, level one of the T3 car park, or on level two of the T4 carpark.
Public Transport – Buses: One of the cheapest and most popular ways to get to and from Melbourne airport is via the buses operated by Public Transport Victoria. There are a total of four busway timetables that pass through the T4 bus interchange: routes 478, 479 and 482 will take you to Sunbury and Airport West, while the 901 SmartBus connects travellers to Broadmeadows. All four timetables fall under the myki ticketed services system - a pre-loaded, 'tap-on, tap-off' transport card that can be used across most of Melbourne's trams, trains, ferries and buses.
Regional and charter buses: There are many regional bus services to transport you around Victoria. Shuttles have pick-up/drop-off locations at Tullamarine travelling to and from Ballarat, Bendigo, Dandenong, Geelong, Gippsland, Shepparton and the Southern Riverina District. Tickets can be purchased inside airport terminals.
Car rental: Fancy driving down Great Ocean Road? Or perhaps cruising through the rolling, green countryside in Gippsland is more your style? Renting a car from Melbourne airport is a great way to escape the city and embark on the perfect road trip. All major car rental companies, such as Avis, Budget and Hertz, are located on the ground floor of the AT Terminal 123 car park. If you're ever unsure which car hire option is best for you, check in with your local Flight Centre Travel Expert before your trip.
Helicopter shuttle: Not a fan of buses? Or perhaps you just want to feel like a rockstar for a day? Or maybe you just really, really like flying. Whatever your reasons, the Microflite Helicopter services can take you through the skies to various regions in Victoria and Melbourne's CBD. What a way to announce your arrival!
Picking up and dropping off: If you're dropping off friends or family at the airport, you can do so via Departure Drive on Level 2 of the Terminal 1,2,3 forecourt. Melbourne Airport also gives drivers the chance to pick up passengers who are ready and waiting, by collecting them from the 1-minute pick-up zone. If you're picking someone up and you need a little more time, there's also a 10-minute pick-up zone and a 20-minute Wait Zone if you arrive early and your passenger is not ready. This Wait Zone is free for the first 20 minutes, although if your passengers keep you waiting, a small fee is applied for waiting 40 minutes and again for 60 minutes. After 60 minutes, drive-up rates apply.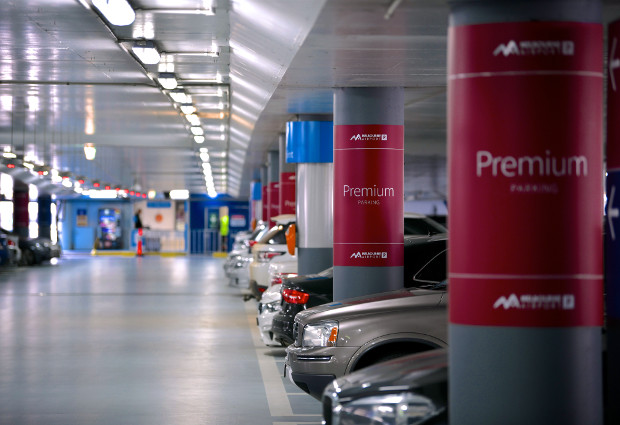 Melbourne Airport parking
Melbourne airport has a lot of choice when it comes to parking, catering to all budgets, baggage requirements and timeframes.
Value car parks: If you'd like to wave to your loved ones from the departure gate, or want to greet your guests without worrying about the car, parking at the airport's Value Short Stay car park is an ideal option. The car park has a $10 flat rate for periods under four hours, making it one of the airport's more budget-friendly car parks. A 24/7 shuttle departs from the car park to terminals every 10 minutes. If you're jetting off on a family holiday, the Value Car Park also offers reduced rates for extended periods during the Victorian School Holidays. Please note, online bookings are not available.
Long Term car park: The aptly named Long Term Car Park is perfect if you're jetting off for a few days or weeks (and even months). Parking rates decrease the longer you're away. There's also a convenient drop-off zone where your family can get out and unload their luggage before you find your park. What's  more, the Long Term car park has a 24/7 shuttle bus that leaves every five minutes. You can drive up to the Long Term car park on the day, or secure a cheaper rate by booking ahead of time.
At Terminal car parks: The At Terminal car park is, of course, right at the airport terminals. Unlike the Long Term or Value Car Parks, you can forget about the shuttle and walk straight to your check-in counter. You can also secure a cheaper rate by booking your spot online. Please note, there are two At Terminal car parks: the At Terminal 123 for Qantas, Virgin Australia and International travellers, and the At Terminal 4 reserved for all other airlines.
Premium parking: Available directly outside each terminal, the premium car park is the quickest self-parking option available at Melbourne airport. Bays are close to walkways, meaning you'll be on your way in no time.
Valet parking: For the ultimate 24/7 parking, take advantage of the valet services located right outside T1, T2 and T3. T4 passengers can also take advantage of this deluxe service, with Terminal 4 just a short stroll from the T3 valet parking. You can book online or drive up on the day - both will guarantee you a spot.
How do I transfer between terminals?
Conveniently, Melbourne's domestic and international airports are located in the same building. With Terminal 1 being a 10-minute walk from Terminal 4, transferring between flights is easy. If you do need assistance, contact any one of the airport staff.
What hotels are near Melbourne Airport?
Flying in late? Or booked a red-eye flight cross-country? Melbourne airport is surrounded by hotels to suit all travellers. Here is an introduction to three of our favourite hotels near Melbourne Airport. If you'd like to book accommodation, find a hotel online or contact your local Flight Centre Travel Expert.
One of the hotels closest to Melbourne International Airport is the Parkroyal Melbourne, just a 1-minute walk across the covered sky bridge from the terminal. The Parkroyal Melbourne Airport offers 276 spacious guest rooms with city skyline, airport or mountain views, and is perfect for late arrivals, early departures, or holding that all-important face-to-face business meeting. SkyBus Express bus service from Melbourne Airport to Melbourne city centre operates every ten minutes, 24 hours a day, 7 days a week.
The Holiday Inn Melbourne Airport is another handy option, just 400 metres from the airport itself and only minutes away by hotel shuttle. Travellers sipping on a pre-flight drink at Vargas Bar in the Lobby will be able to check on the status of their flight at all times, thanks to the live flight status screens displayed in the hotel. Holiday Inn Melbourne Airport also offers hotel rooms for day use only, so if you want somewhere you can relax completely as you wait for a connecting flight, this could be the hotel for you..
Slightly further afield – but only just – is Mantra Tullamarine Hotel.  About a 6-minute drive from Melbourne Airport, Mantra gives you all the amenities you'd expect from a modern business hotel with the addition of a limousine/town car service, express check-in, and a complimentary 24-hour roundtrip airport shuttle. There's also 24-hour room service, and buffet breakfasts are available for a fee.