Singapore Changi Airport Fast Facts
Distance from CBD: 18 kilometres
Airport code: SIN
Number of airlines: 100+
Destinations served: 400
Terminals: 4
Runways: 2
What Facilities Are At Singapore Changi Airport?
At Singapore Changi Airport there is an extensive offering of facilities and services, all designed to make your journey as smooth as possible. As for 'things to do' at Singapore Changi Airport, this is where this bustling hub takes the transit experience to a whole new level.
Check-in
You're encouraged to check-in at least two hours prior to your flight departure time at Singapore Changi Airport. Some airlines will allow you to check in even earlier, so you can make the most of all the great shopping and other things to do, so talk to your Flight Center Travel Expert about whether this applies to you. Once you've checked in, make your way to the Departure Hall to enjoy something to eat or drink, or perhaps some pre-flight shopping. Note that no boarding calls will be made, so be sure to keep an eye on the time.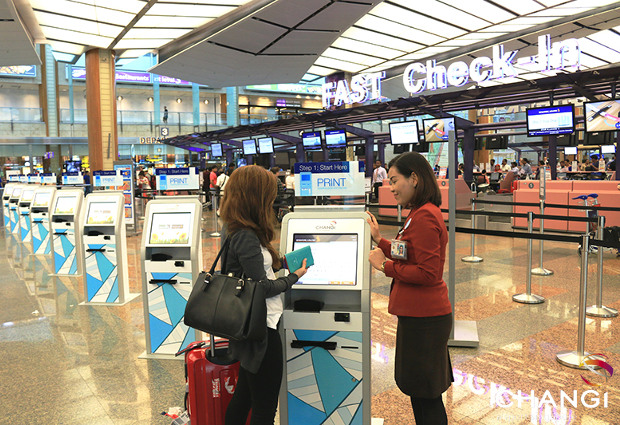 Online check-in: You may be able to check-in online up to 48 hours before your flight – it all depends on your airline.
FAST check-in: Select airlines will offer 'Fast And Seamless Travel' check-in options for departing passengers. This service includes things like collecting your boarding pass and printing your bag tags at the Automated Check-in Kiosks, dropping your bags at the Automated Bag Drop and making your way through the Automated Immigration Gates if your fingerprints are registered with the Immigration and Checkpoints Authority (ICA) of Singapore. Talk to your Flight Centre Travel Expert to find out more.
Baggage
If you're arriving at Singapore Changi Airport, check the information displays to find out which carousel is assigned to your flight. Free luggage trolleys are available so you can manage your checked-in and carry-on luggage easily.
Porter services are also available at all terminals to help you move your baggage when you depart or arrive at Changi Airport. Bookings for porter services need to be made in advance. Also, if you would like to do your shopping baggage-free, you can leave luggage at the "Left Baggage" counters operated by Smarte Carte, for a small fee.
Is there a currency exchange?
You'll find at least three 24-hour money changing facilities at each terminal within Singapore Changi Airport. All major currencies are accepted, exchange rates are competitive and phone cards are also available at these counters. If you're travelling onward to Europe from Australia, you can order and pick up any foreign currency before you leave home, at Travel Money Oz.
Things to do for families?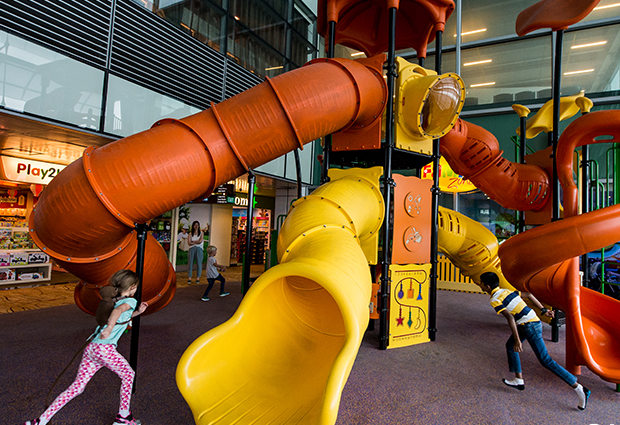 This is one of the best possible airports to stop at if you're travelling with kids. When it comes to the whole family, there are so many free things to do at Changi Airport, you'll have trouble deciding where to start. The convenient high-speed hop-on-hop-off Skytrain monorail connecting the terminals is almost like a ride in itself.
One of the biggest highlights is the Balinese-style outdoor rooftop pool at Terminal 1, where kids can make a splash and spot planes taking off overhead, while you soak up the sun and enjoy a cocktail poolside. The outdoor Cactus Garden is also located in Terminal 1, with a huge range of cacti and succulent plants from Africa and the Americas. Hop aboard the monorail to Terminal 2 to visit the magical, sensory Enchanted Garden on Level 2, along with the pretty rooftop Sunflower Garden overlooking the aircraft parking bays. The kids will also enjoy watching the magnificent fish in the Poi ponds at Terminal Two's Orchid Garden.
Terminal 3 is home to the enchanting Butterfly Garden, where children can wander around the tropical gardens and watch the beautiful butterflies flying around them – more than 1,000 in total. Each terminal at Singapore Changi Airport also features an air-conditioned children's playground where little ones can stretch their legs, socialise with other kids and let off some steam. Terminal 3 also features TheSlide@T3, the world's tallest airport slide at 12 metres high, which is an absolute thrill for kids (of all ages!).
If you have a bit more time up your sleeve at Changi Airport, you could take the kids on a complimentary Singapore Tour and experience some of the city-state's culture and scenery. Choose from the Heritage Tour to take in sights such as the Singapore Flyer, the Colonial District, Little India, The Esplanade and Chinatown, or the City Lights Tour that takes in the city by night, including the famous Raffles Hotel. Registration for the tours can be made at the 'Free Singapore Tours' registration booth on Level 2 in Terminal 2, or Level 2 in Terminal 3.
What are the other services and facilities?
ATMS across all terminals
Arrival Garden
Baby Care Room
Baggage storage
Business Centres
Cactus Garden
Charging Points
Children's play area
Clinics and Pharmacies
Convenience stores
Entertainment Deck
Family Zone
Free-to-use rest areas
Free Wi-Fi
GST Refund
Ground Transport Concierge
Interactive art station
Internet kiosks (550+)
Local SIM card purchase
Lost and found
Money changers
Passenger meeting services
Phone booths
Piazza Garden
Porter service
Post boxes and Post Office
Prayer rooms
Rooftop pool with jacuzzi
Sculptural Tree Garden
Shower and spa services
Smoking areas
Social tree interactive installation
Transit hotels
Viewing mall
Water Lily Garden
Wheelchair rental
What lounges are at Singapore Changi Airport?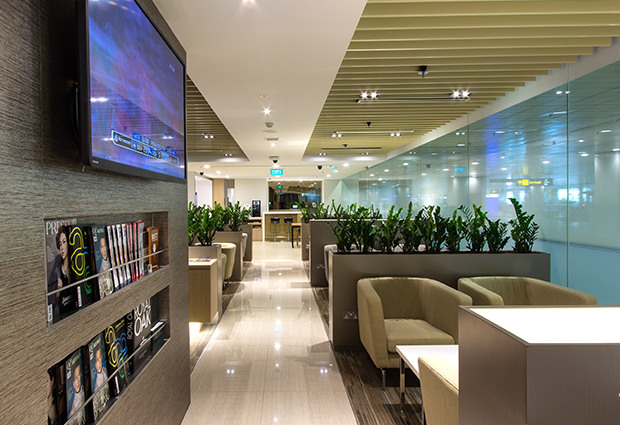 Airline Lounges
Emirates Lounge (Terminal 1)
First and Business Class passengers can enjoy Emirates' relaxing space in Terminal 1, just above Gate C1, just a short walk from the boarding gate. Grab a bite to eat from the generous hot and cold buffet in the roomy dining area, or retire to the comfort of the plush lounge seating area with a drink from the self-serve bar. The dining room is at the far end of the L-shaped space, with large windows on one side overlooking the tarmac. Also, a well-equipped business centre is available if you need to stay on top of work while in transit.
Qantas Singapore Lounge (Terminal 1)
With the decision to reinstate the Qantas A380 service to Singapore, Qantas has also announced a significant expansion to the existing Qantas Business Class Lounge at Singapore Changi Airport as well as the introduction of a new First Class Lounge in 2019. Combined, the two new spaces will have seating for more than 800 guests. Qantas will continue to work with Neil Perry to deliver premium a la carte dining with Asian-inspired menus, as well as all the finer touches that Qantas Business and First Class passengers know and love. Watch this space.
SilverKris Lounge (Terminals 2 & 3)
For exclusive lounge access, eligible Singapore Airlines travellers can visit the SilverKris Lounge or the KrisFlyer Gold Lounge located on Level 3 in both Terminals 2 and 3. Singapore Airlines home lounges offer an exclusive luxurious retreat from the crowds with 24-hour access to Wi-Fi, TV, and snacks and beverages in a luxurious setting. The KrisFlyer Gold Lounge is available to KrisFlyer Elite Gold members flying in Economy Class, while the SilverKris Lounge is accessible for Suites, First or Business Class passengers.
Cathay Pacific (Terminal Terminal 4)
In Terminal 4, just a brief stroll from the T4 departure gates, you'll find Cathay Pacific's spacious business class lounge, which has room for over 200 guests. Just like the newest signature Cathay Pacific lounges, this one has designer furniture and lighting, natural materials and touches of greenery to create a haven away from the hustle and bustle of the busy airport. It also has Cathay's much-loved noodle bar, which frequent travellers will enjoy.
Airport Lounges
No matter which terminal you're departing from or arriving at, or which airline you're flying with, Singapore Changi Airport has a number of pay-per-visit lounges for you to choose from.
Plaza Premium Lounges (Terminal 1)
Located on Level 3 of the Departure Hall, above Gate C1, the Plaza Premium Lounge at Singapore Changi Airport is open 24 hours and is the ideal space to relax and unwind or quietly catch up on some work. On offer for guests is an award-winning range of facilities and services, with a generous selection of complimentary, freshly-made food including a Singapore Laksa and Chicken Rice. There are also private resting suites as well as showers with full amenities.
Ambassador Transit Lounge (Terminals 2 & 3)
The Ambassador Transit Lounge in Terminal 2 is located on Level 3, above the Orchid Garden, and in Terminal 3, also on Level 3, next to the Movie Theatre. The lounge offers a spacious yet cosy place to unwind and wait for your flight, with complimentary beer, wine, whisky, vodka and gin included in the access fee. There is a Business Centre, as well as meeting rooms, showers, nap suites and a gym.
The Haven by JetQuay (Terminal 3)
Located on Level 1 of the Arrival Meeting Hall South, The Haven is a 24-hour is a tranquil place for you to get away from the buzz and rest up before or after your flight. The lounge has 18 nap rooms as well as 13 shower rooms each fitted with a raindrop shower head. Lounge access includes a range of complimentary beverages, snacks and a light meal as well as free Wi-Fi and a range of entertainment options.
What restaurants and bars are at Singapore Changi Airport?
With more than 90 dining options at Changi Airport, you could easily keep yourself busy in transit with your very own food festival. Options range from tasty and budget-friendly quick bites, to elaborate offerings in upscale restaurants. Here are just a few of the favourites.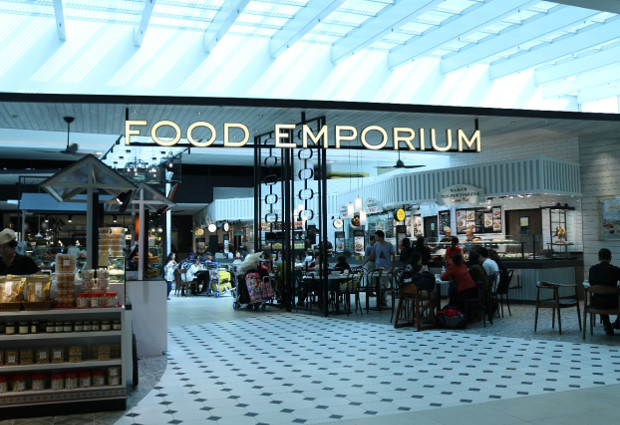 Saboken Tonkatsu is a popular Japanese restaurant famous for its deep-fried breaded pork cutlet, and offers a two-page breakfast menu, which is is great if you're departing on an early flight.
Crystal Jade La Mian Xiao Long Bao is another favourite, known for its authentic and wholesome Chinese dishes, including crisp pork belly and roast duck.
Paradise Dynasty, offering Northern and Southern Chinese cuisine, is worth a visit for its range of Xiao Long Bao (Chinese steamed bun) which include innovative flavours such as foie gras and black truffle.
Restaurants and bars at Singapore Changi Airport include:
4 Fingers Crispy Chicken
A-One Signature claypot-cooked cuisine
Andes by Astons
Bakery Cuisine
Beard Papa's
Bikanervala
Boost Juice Bars
Bowl Thai
Burger King
Central Thai
Chutney Mary
Coffee Toast Express
Collin's
Crave
Crystal Jade
Curry Times
Encik Tan
Fish & Co
Food Emporium
Food Gallery Menu of Colors
Harry's Bar and Dining
Heavenly Wang
Hello KItty Orchid Garden
Hokkaido Baked Cheese Tart
Hong Kong Sheng Kee Dessert
Hops Bar
Hudson's Coffee
I Love Taimei
International Food Hall
Ippudo Express
Japan Gourmet Hall Sora
Jewel Coffee
Jollibean
KOI Express
Kaffe and Toast
Kaveri Vegetarian Cuisine
Kedai Killiney Kopi
Killiney Kopitiam
Kopitiam
Krispy Kreme
LeNu Chef Wai's Noodle Bar
Li HO
Llaollao
London Fat Duck
Ma Mum To Go
Ma Mum
Manhattan Fish Market
McDonald's
Nando's Niigata Bento
O'Coffee Club
O'Coffee Express
O'Leary's Sports Restaurant
O'Leary's Sportsbar & Grill
Old Chang Kee
Old Street Bak Kut Teh
Old Town White Coffee
Orchid Cafe & Bar
PAUL bakery
PappaMia
Paradise Dynasty
Paris Baguette
Peach Garden Chinese Dining
Penang Culture
Pezzo
Pho Street
Pret A Manger
Rustichelli & Mangione
Subway
Saboten
Simple Eats
Singapore Food Street
So Pho
Soup Restaurant Heritage
Starbucks Coffee
Straits Food Village
Stuff'd
Sushi Goshin
Swensen's
Teahouse by Soup Restaurant
TGM
TP Tea
Tanuki Raw Express
Texas Chicken
The Coffee Bean & Tea Leaf
The Kitchen by Wolfgang Puck
The World Is Flat by Tanuki Raw
Tiger Den
Tip Top
Treasures Yi Dian Xin by Imperial Treasure
Tunglok Tea House
Xin Wang Hong Kong Cafe
Ya Kun Family Cafe
Ya Kun Kaya Toast
Yole
Shopping at Singapore Changi Airport?
Shopping is one of the highlights at Changi Airport, with over 150 retail outlets covering beauty and wellness; books, gifts and souvenirs; children's clothing and toys; electronics and lifestyle stores; as well as a dizzying range of luxury fashion stores, the likes of Hermes and Prada.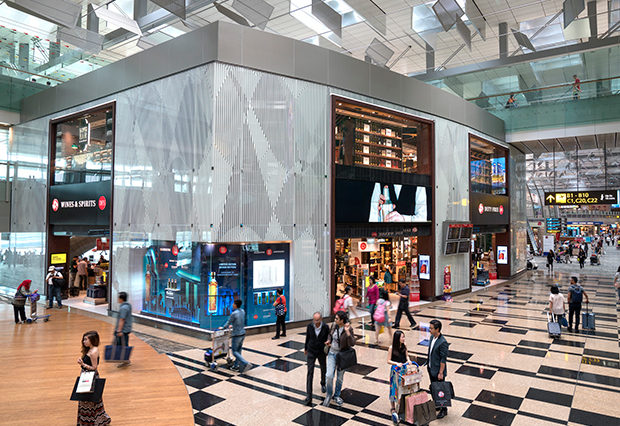 You can even get started on your retail therapy early, with the airport's online Duty Free Shopping service: iShopChangi. This is where you can do all you duty free shopping online up to 30 days in advance and up to 18 hours before your flight, then simply collect your purchases at the airport or have them delivered to your hotel if you're staying in Singapore.
What's the best way to get to and from Singapore Changi Airport?
Singapore is a small city state, and Singapore Changi Airport is located around 18 kilometres to the east of the city centre. If you're staying in Singapore, look for the Ground Transport Desk once you arrive at the airport, which you'll find in the Arrivals Hall of each terminal. Open 24-hours, the staff are on-hand to deal with all customer transportation requirements into the city and will help you make your travel arrangements. As a guide, we've pulled together a round-up of the various transport options to and from the airport.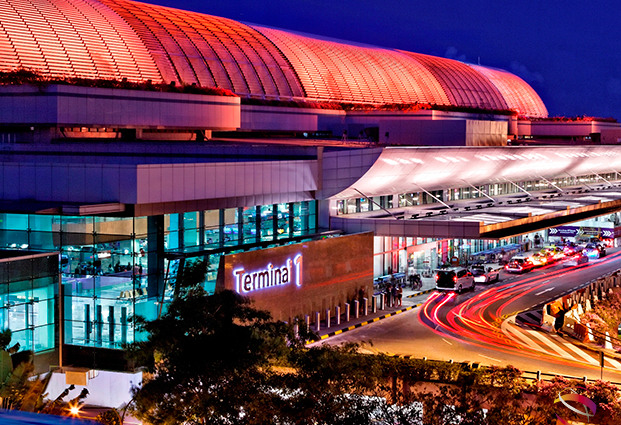 Shuttle services: Singapore Changi Airport offers very efficient shuttle services, with a City Shuttle, Changi Business Park Shuttle and shuttle bus to Tanah Merah Ferry Terminal (TMFT) all available. The TMFT is the gateway to the nearby Indonesian islands of Batam and Bintan.
The City Shuttle is possibly the easiest option, and will take you to most downtown hotels for around S$10. It runs every 15 minutes in peak periods and every 30 minutes at other times. Journey time is around 25 minutes.
Public Transport: You can easily catch the train from the airport to Tanah Merah station, where you can transfer on to city services. A single ticket can be purchased at the train station, or you can buy an EZ-Link smart card and load it up for multiple journeys. Public bus is another option, and again this requires either exact change or the EZ-link card. Bus stops are located at the basement bus bays of Terminals 1, 2 and 3. For Terminal 4, the bus stop is located next to Car Park 4B and near the SATS Inflight Catering Centre 1.
Taxi: If you wish to take a taxi from Singapore Changi Airport to the city, you'll find the taxi stands at the Arrival levels of each Terminal. A ride to the city takes around 30 minutes and will cost between S$20 and S$40. Note that there's an additional Airport surcharge for all trips originating from the Airport. If you're travelling with a group, the Ground Transport Concierges at the Arrival Halls can help you arrange to book a larger taxi or limousine.
Private pick-up points: If you're being picked up at the airport by friends or family, simply make your way to the well-signed "Arrival Pick-up" points in each terminal, after collecting your baggage.
Car rental: Car rental is another option, with Avis, Budget, Hertz and Thrifty all operating out of Singapore Changi Airport.
Coach to Johor Bahru (Malaysia): If you're travelling up to Malaysia from the airport, the easiest option is to take the Transtar Cross Border Service (TS1) operated by Transtar Travel. The service starts at Terminal 2 and ends at Johor Bahru CIQ (Customs, Immigration and Quarantine Complex), with a one-way ticket around S$10 for adults and S$5 for children.
Parking
Short Stay: All of Singapore Changi Airport's five car parks allow a complimentary 10-minute period if you're just parking to do a quick drop off or pick up. The car parks at Terminals 1, 2 and 3 all charge at a rate of S$0.04 per minute, capped at $S57.60 per 24 hours.
Long Stay: The South Car Park is a more affordable option for longer stays, with parking charges of S$0.35 per minute capped at S$35 per 24-hours.
How do I transfer between terminals?
Connecting between terminals is easy at Singapore Changi Airport.
Skytrain connects Terminals 1, 2 and 3, operates from 5am to 2.30am and has a journey time of about 4 minutes between terminals.
During the hours in between, you can transfer on foot between the terminals via the inter-terminal travellators located throughout the Departure Transit Hall. (You guessed it: it's not far.)
The B-E Shuttle Bus is another option, connecting T2 (Gates E) and T3 (Gates B). The B-E Shuttle Bus also operates from 5am to 2.30am.
There's currently also a shuttle bus to transfer passengers to T4, which operates 24 hours, departing every 10 minutes from 5.30am to 12.00am and every 20 minutes from 12.00am to 5.30am. Once you clear immigration, board the bus at Door 1 of T2 Arrival Hall in the Public Area. Due to T4 being new, make sure you talk to your local Flight Centre Travel Agent to confirm the current procedures for transferring between terminals at Singapore Changi Airport.
What hotels are near Singapore Changi Airport?
If you're looking for a stopover hotel near the airport where you can get a decent sleep, stretch your legs and freshen up between flights, you won't have to look far. There are are handful of hotels close to Singapore Changi Airport that deliver all of the above, and more. Talk to a Flight Centre Travel Expert about which Singapore Airport hotel might be right for you, or browse all Singapore Changi Airport accommodation options and book your hotel right now.
One of the most popular choices is the Ambassador Transit Hotel, located airside in all three terminals of the airport. Providing comfortable, quiet rooms with private bathrooms, the Ambassador Transit Hotel is the perfect choice for a short rest in between flights.
Another airport hotel at Singapore Changi Airport is the luxurious Crowne Plaza Changi Hotel, which is located at Terminal 3 and seamlessly connected to all terminals via the Skytrain or link bridge. The hotel has all the business facilities you could want and if you're not working, you may like to recharge in the spa, take a dip in the pool or dine in either of the hotel's two inviting restaurants.
Aerotel Transit Hotel Changi Airport
Designed by travellers for travellers, Aerotel gives you convenience as well as flexible hourly booking and different room sizes so you can book exactly what you need. It is located at Terminal 1 of the airport, on Level 3.