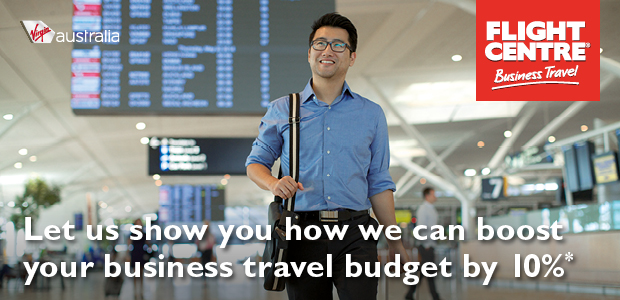 Book your return Virgin Australia airfare with Flight Centre Business Travel by 16 June 2016 and your company will earn a 10% credit to use on your next Virgin Australia airfare.
For example: for every $1000 booked you will receive $100 credit to use on your next flight.
Now that has to be a great way to boost your business travel budget!
At Flight Centre Business Travel we recognise the pressures that are placed on business people every day. When you work with us you can take off with the confidence that you've got a dedicated Travel Manager working behind the scenes to get you access to the most extensive range of travel options in the market.
To find out more speak to one of our Business Travel experts by completing the below enquiry form or by calling 1300 797 826.
*NEW Clients will receive a 10% credit on any return Virgin Australia airfare booked between 26 April and 16 June 2016. Travel must be on Virgin Australia Marketed and Operated flights or Virgin Australia Marketed Delta Airlines, Air New Zealand or Etihad Airways operated flights. To qualify, companies must become a client of Flight Centre Business Travel within the promotion period and book and pay for qualifying Virgin Australia flights before 16 June 2016. 10% credit will be issued at the end of the campaign period for the total value of Virgin Australia flights booked and paid for during promotional period. For example, new clients who book and pay for $1990 worth of flights (could be 3 x individual flight bookings) will receive a 10% credit of $199 to use on future Virgin Australia flights. The Client has until 31 December 2016 to use this credit. A maximum of $1000 credit will be issued to a single new client during the promotion period which translates to a $10,000 spend on Virgin Australia flights. New Clients must agree to a minimum of $50,000 in annual travel spend. Discount is not redeemable for cash or foreign exchange. This promotion is not to be used in conjunction with any other offer. Flight Centre Business Travel has the right to change or cancel this promotion at any time without notice. Flight Centre Travel Group Limited (ABN 25 003 377 188) trading as Flight Centre. ATAS Accreditation No. A10412