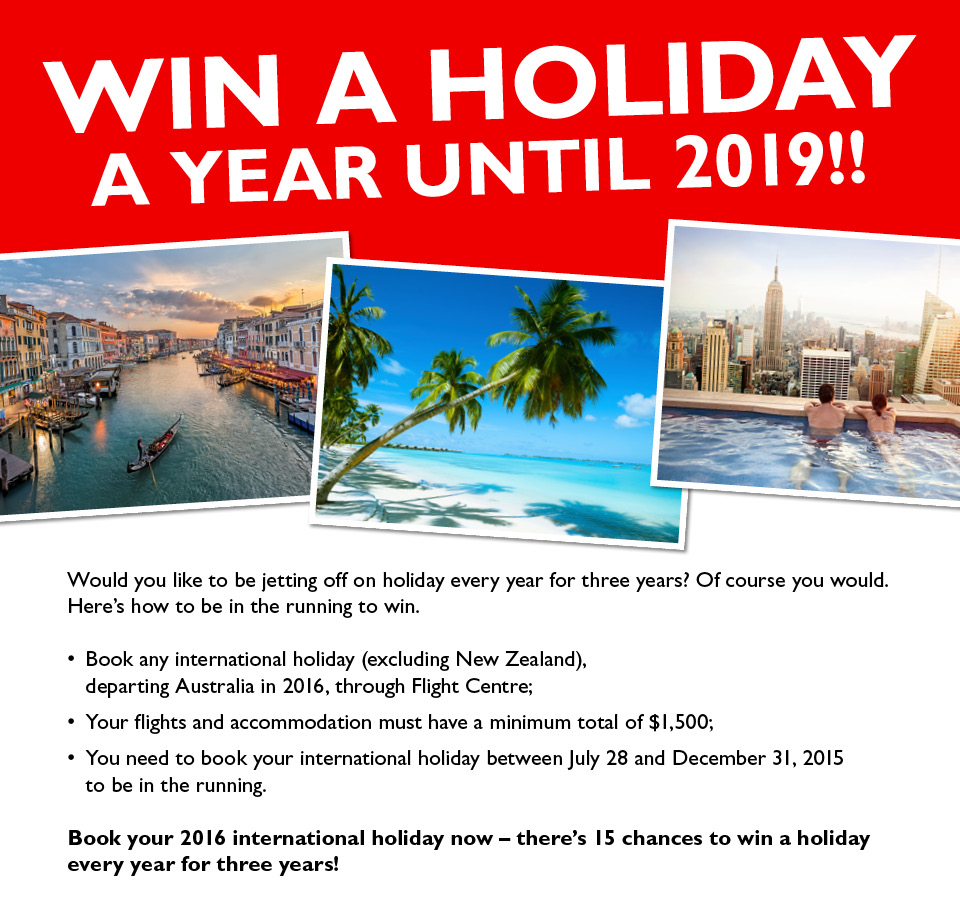 Terms & Conditions
Conditions of Entry
1. Information about prizes and how to enter form part of these conditions of entry. Entry into this promotion is assumed acceptance of these terms and conditions of entry by each entrant.
2. The promoter is Flight Centre Travel Group Limited, ABN 25 003 377 188 of level 2, 545 Queen Street, Brisbane, Queensland 4000 ("Promoter").
3. Entry is open to residents of Australia aged 18 years or older who enter the promotion in the required manner as stated in these terms and conditions ("Eligible Entrants").
4. Employees of Flight Centre Travel Group Limited, their immediate families and employees of affiliated partners are not permitted to enter.
Duration of Promotional Period
5. The competition commences at 08:00am (AEST) on Tuesday 28 July 2015 and closes at 23:59pm (AEDST) on Thursday 31 December 2015 ("Promotion Period").
How to Enter
6.Eligible Entrants enter the Promotion by booking any 2016 international holiday (excluding New Zealand) departing Australia through Flight Centre during the Promotion Period including flights and accommodation with a minimum spend of $1,500.
7. Each new holiday booking is eligible to enter this competition.
Prize Details
8.There will be fifteen (15) prize winners nationally: 3 winners from Queensland, 3 winners from New South Wales/Australian Capital Territory, 3 winners from Victoria/Tasmania, 3 winners from South Australia/Northern Territory and 3 winners from Western Australia.
9. There will be one (1) draw during the Promotion Period where fifteen (15) winners will be chosen randomly by computer generated method from all Eligible Entrants per region.
10. Winners will receive 1 x AU$3,000 Flight Centre voucher each year for three years: 2017, 2018 and 2019. Prize Winners will be responsible for payment of any amount in excess of the voucher.
11. Vouchers will be valid for twelve (12) months and are subject to the Promoter's gift card terms and conditions.
12. The draw will take place at 11:00am at the Flight Centre Travel Group Ltd Head Office: Level 2, 545 Queen Street, Brisbane, Queensland 4000 on Friday 8 January 2016.
13. Voucher may not be sold or exchanged for cash, travellers cheques, cash passports or any other form of currency.
14. The total of all random prize pool for this competition is AU$135,000.00.
15. Prize winners must take the prizes as offered. The prizes are non-transferable, non-redeemable and non-refundable and cannot be used in conjunction with any other offer. If a Prize Winner does not accept any element of the Prize, the Promoter is not obliged to provide the Prize Winner with a substitute prize.
Prize Draws
16. Fifteen (15) separate winners will be drawn by a random number generator at 11:00am at Level 2, 545 Queen St, Brisbane, Queensland 4000 on Friday 8 January 2016.
17. The prize winners will have until 05.00pm (AEST) on Tuesday 12 April 2016 to claim the prizes.
18. Subject to any unclaimed prize draw, the prize draw will be final and no correspondence will be entered into regarding the prize draw.
Notification of Winners
19. Winners will be notified by phone and email after the completion of the draw.
20. Prize winners' details will be published on the Promoter's Promotional Winners web page.
No Liability
21. To the extent permitted by law, the Promoter is not responsible or liable for:
a. inaccurate/incorrect transcription of entry information;
b. purported entries that are not received for any reason, including because they are lost, misdirected or stolen, or that are received, but are late, illegible, or sent other than as directed in the entry instructions;
c. any problems or technical failures of any kind, including malfunction of any telephone network or lines, computer online systems or network, servers or providers, computer equipment, or software;
d. unauthorised human intervention in any part of the competition;
e. electronic or human error which may occur in the administration of the competition; or
f. any loss suffered or sustained, to any person or property and including, but not limited to, consequential (including economic) loss arising in connection with the arrangement for supply, or the supply, of any goods or services by any person to a Prize Winner and, where applicable, to any family/persons accompanying a Prize Winner.
22. The Promoter will not be liable for personal injury suffered as a result of prize winnings, except to the extent directly caused by the Promoter's gross negligence. The prize winner(s), and his or her guests (if any), must sign and return any liability release and indemnity provided by the Promoter and/or its contractors as a condition of a prize being awarded. Failure to return the signed releases and indemnities will result in the entitlement to the prize being forfeited and the selection of another winner.
23. These conditions do not affect, and are not intended to affect, any rights a consumer might have, which cannot be excluded under applicable consumer protection laws. To the fullest extent permitted by law, any liability of the Promoter or its servant or agents for breach of any such rights is limited to the payment of the cost of having the prize supplied again.
Unclaimed Prize Draw
24. If a prize winner cannot be notified or if a prize is not claimed within three (3) months of the draw ("the unclaimed prize"), an unclaimed prize draw for the unclaimed prizes will be conducted on Wednesday 13 April 2016 at Flight Centre Travel Group Ltd, Level 2, 545 Queen Street, Brisbane, QLD 4000.
25. Should an unclaimed prize draw be necessary, prize winners of the unclaimed prize draw will be notified by telephone and email approximately 24 hours from the date of the re-draw.
26. If there is an unclaimed prize draw for this Promotion the results will be appear on the Promoter's Promotional Winners web page.
General
27. Prize Winners consent to the use of their names, suburbs of residence and images for the Promoter's promotional and marketing purposes.
28. If there is an event beyond the Promoter's reasonable control which prevents or hinders the conduct of the Promotion or the Promoter's ability to deliver a prize to the winner, then the Promoter, subject to regulatory authority approval, may in its sole discretion cancel the Promotion. Further, the Promoter may in its sole discretion recommence the Promotion under the same conditions.
29. Entry into this Promotion is deemed to be acceptance of these terms and conditions of entry.
30. The Promoter may in its discretion refuse to award any prize to any Eligible Entrant who fails to comply with these conditions of entry.
31. All entries become the property of the Promoter.
Promoter's Details
32. The Promoter is Flight Centre Travel Group Limited (ABN 25 003 377 188) trading as Flight Centre ATAS Accreditation No. A10412 of Level 2, 545 Queen Street, Brisbane QLD 4000.
33. The personal information of entrants will be collected to enable the Promoter to administer and promote this promotion, to contact the Prize Winner (or, if applicable, the winner of an Unclaimed Prize Draw), be provided to others assisting, including prize suppliers and deliverers and to the authorities that regulate this Promotion. Entrants agree that the Promoter may handle their personal information in accordance with the Promoter's privacy policy, which is available at: https://www.flightcentre.com.au/privacy. Entrants agree that the Promoter may use their personal information and entries for marketing purposes. If an entrant does not truthfully provide all requested personal information, the Promoter may determine that they are not eligible to win the Prize.
34. This Promotion is a game of chance authorised under Permit No ACT TP 15/06612, NSW LTPS/15/05459, SA T15/1213.