27 April 2016
Words by Carlie Tucker
Imagine having access to a service that not only provides endless local knowledge of any destination, but can also assist with any special requests to make your business trip that much more memorable. Now imagine that this service is completely free to use and available to all travellers.
Say goodbye to the days of struggling to find a great restaurant, deciphering confusing directions or hailing a cab on a rainy night, and say hello to the hotel concierge. Great business hotels have them and savvy corporate travellers use them.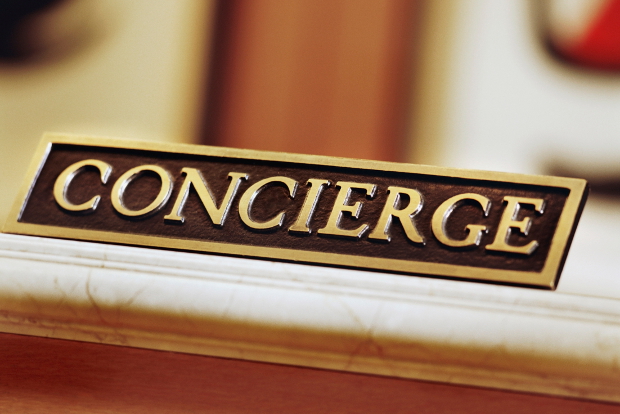 What Is A Concierge?
If you've never paid a visit to the concierge desk, you may be wondering what exactly a concierge is and what do they do? Generally speaking, the concierge is there to make the guest's stay more comfortable and convenient.
Most full service hotels will feature concierge services, which means a sole point of contact that possesses a wealth of firsthand knowledge and experience as well as a seemingly endless list of contacts. They are there to assist hotel guests with a litany of requests that can be as simple as providing directions or as complicated as arranging an exclusive shopping experience after hours in your favourite high-end boutique.
QUICK TIP
Hotel concierges are more effective if your requests are specific. Think along the lines of "Can you recommend a great Italian restaurant?" versus "Where should we go out to eat?".
---
Find out what makes a great business hotel? 9 Features Of A Great Business Hotel
Or a hotel with a few extras? ... And Where Will You Be Staying?
---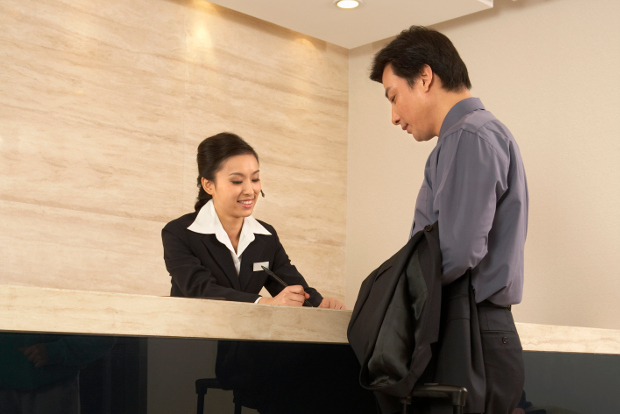 What Can The Concierge Do For Me?
Concierges can often provide a surprisingly high level of assistance. They are trained to know everything there is to possibly know about their local area. They also spend their careers developing contacts across a number of businesses, giving them access that others simply don't have.
Don't feel like this service is limited to an elite level of travellers that stay in luxury hotels around the world. Concierges work in hotels at most levels and are available to all guests. They are especially useful to business travellers juggling busy schedules in tight time frames.
Basic services found across all concierge levels:
Restaurant recommendations/reservations
Local sightseeing highlights
Maps and directions
Arranging transportation
Tour recommendations/bookings
Messages and deliveries
Medical, dental and veterinary assistance
As you move up the luxury chain, the concierge's reach and influence expands, which is bolstered by the prestige of their hotel. Those with more experience are identified by a pin on their lapel. Made of two golden keys, this is the symbol of Les Clefs d'Or. Considered the crème de la crème of concierges, you will only find them if you have a big travel budget and penchant for staying in high end hotels.   
There is no request too big or too small for these luxury hotel concierges. They are determined to help guests with anything asked of them (as long as it is legal). Along with the above mentioned services, some of the perks luxury concierges can provide include:
Tables at exclusive restaurants
Tickets to sold out shows/concerts
Assistance in arranging bookings and itineraries
Arranging private cars and jets
Specific room requirements and arrangements for special occasions
(global newspapers, tech set-ups or a bottle of your favourite wine on arrival)
Arranging private experiences such as last minute tours or shopping trips
QUICK TIP
Tipping the concierge can help ensure they will continue to go out of their way to help you with whatever you need. And never underestimate the power of being polite.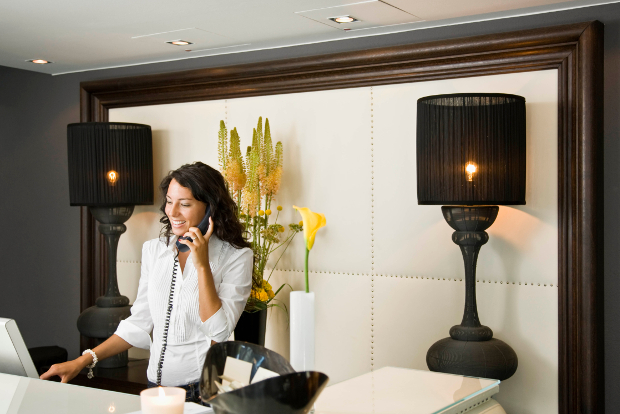 Is The Concierge Worth It?
As with most professions, there are a number of concierge duties that have moved into the digital realm. There are now countless websites and apps that allow you to book a table, sign up for a tour, rent a car or order a taxi. So, it stands to question, is it really worth using a concierge?
When it comes to smaller requests, it can often be easier to do them yourself if you can. If it's going to be quicker, it's worth skipping the middleman (and the tip) to book a taxi on your own. 
Moving beyond those little tasks, though, the concierge can definitely help you out. Gaining a little local insight can really pay off when you're travelling to unfamiliar places. Find out about hidden gems and the best local haunts. If you're faced with a language barrier, concierges can often prove to be very useful. Many speak multiple languages and can help by writing out or giving taxi drivers information you wouldn't be able to. They're also a great source for where to go and where not to go if you're travelling solo.  
It's in handling the bigger requests where enlisting the concierge can really pay off. If you're hoping to score a table at a booked out restaurant to impress your clients, or you're hoping for a last minute tour itinerary planned and booked to fit into your busy schedule, the concierge is definitely the person to do it.
QUICK TIP
Developing a relationship with the concierge at your favourite hotel is a great way to ensure your specific requests are catered to. Just give the concierge a little heads up by calling ahead. The more time they have to help the better. 
Images courtesy of Getty
Other Travel Articles You Might Like...