Brooklyn, Queens, Greenwich Village, Lower Manhattan... choosing your New York City accommodation is as much about where you want to be as it is about what style of hotel in New York you're looking for. Every borough has its own character, and while ticking the must-see attractions off your list is all part of the fun, finding a hotel that makes you feel at home is going to make your time in New York even sweeter.
Here's a guide to finding the right accommodation in New York City.
Compare Cheap New York Hotel Deals
Choose your style of New York City hotel
The range of accommodation in New York City extends from very basic rooms to the dizzying heights of the ultra, ultra top-end hotels. If money is no object, you won't be short on options, although good mid-range hotels are also found all over the city. New York City accommodation includes the big international hotels, like New York Hilton Midtown; 4-star gems such as the perfectly-located Riu Plaza New York Times Square which is an easy walk to Times Square and the theatres of Broadway; boutique hotels such as The 4.5-star Kimpton Muse Hotel; and countless business hotels; apartment-style hotels; B&Bs and for stays of one month or longer, long-terms suites.
Where to stay in New York City
The location of your accommodation in New York City doesn't have to define your holiday experience, although a little research into each of the five boroughs will be time well spent. Brooklyn and Queens are good options if you want to avoid the main tourist areas and settle into some of New York's more authentic neighbourhoods, although you'll have a longer commute to Midtown. The Upper East Side is known as the Paris of New York City, the Meatpacking District is right near the High Line Park and the cobbled streets of SoHo give this area, along with the Lower East Side, their very own neighbourhood feel.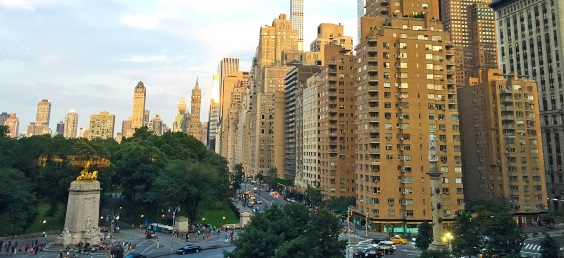 Best time to stay in New York City
Spring and Autumn is the best time to visit New York City, because summers can be very hot and winters bitterly cold. That said, Christmas in New York is on the bucket-list for many people and you really can't beat huddling up in a chic (and cosy) hotel lobby during a Manhattan winter, watching the snowfall on Central Park. During low season between January and March you'll be able to pick up the best room rates, although all year round there are countless cultural events, sporting events, festivals and other exciting reasons to be there.
Getting around New York City
Getting around New York City is easy with its iconic subway and yellow taxis. Taxis are available 24 hours a day, illuminated numbers on top mean they're on duty, and it's customary to tip 15-20 per cent at the end of a trip. The subway is often the cheapest and fastest way around town. Purchasing a MetroCard is the way to get started, which you can buy at any subway station. The MetroCard is also accepted on NYC buses, which also give you a scenic view of the city. Just about all of New York City is bikeable, with bike-sharing system Citi Bike very popular. Walking is also a great way to get around New York City.
Accommodation The Easy Way
What's the easiest way to arrange your accommodation in New York City? Let one of our travel experts do it for you! As well as access to all the latest deals, they have insider hints, tips and a wealth of travel experience to draw on... and they love to create amazing holiday packages.
Talk to a travel expert and personalise your trip