2 September 2013
According to Flight Centre's premium travel expert, Emily Sonley, travellers can enjoy the Business Class airline experience without having to spend top dollar. There are carriers that fly long haul who offer a great Business Class service at a competitive fare.
"While Etihad, British Airways, Qantas or Singapore Airlines all have comfortable business class suites, there are other airlines that offer a similar Business Class experience at a competitive price," said Emily.
"Airlines such as China Southern, Garuda Indonesia, Finnair, China Eastern and Korean Air generally feature fully flat beds or near flat beds, delicious meals and private cocooned spaces that allow passengers to work in peace or enjoy the in-flight entertainment in comfort. Business Class cabins are not only reserved for business travellers. Holiday-makers can take advantage of these lower fares to arrive refreshed and relaxed before starting a fantastic holiday."
Here are the great services that passengers receive when flying Business Class for less.
China Southern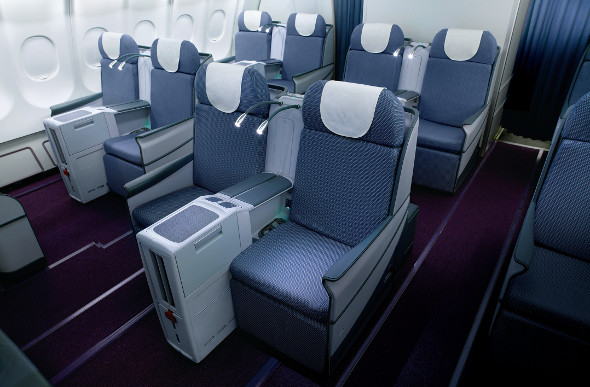 On an A380 China Southern plane, Business Class passengers enjoy aisle access from every seat and an adjustable privacy divider between the two centre adjacent seats. Each seat can be transformed into a fully flat bed and features built-in amenities such as laptop storage, a USB port and a power outlet. On the B787 aircraft, the seats can recline into a 180-degree fully flat bed. Travellers have a choice of both Chinese or Western style cuisine.
Garuda Indonesia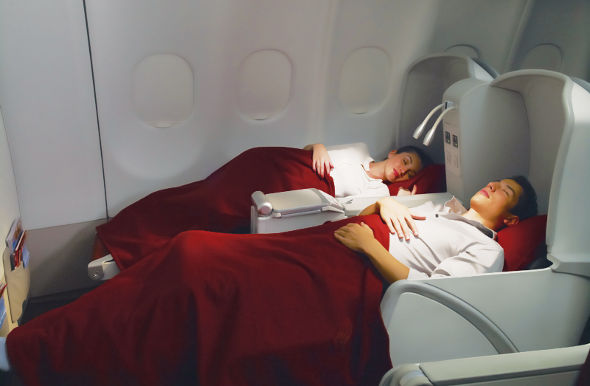 Known as Executive Class, passengers who fly on a Garuda Indonesia A330-200 aircraft enjoy privacy in luxurious cocoon shaped seats that recline fully into a 180-degree flat bed. Measuring 188cm long and with a seat pitch of 74 inches, the 2-2-2 configuration makes the cabin feel spacious and intimate at the same time. To aid your rest, guests are also given a large pillow and comfortable duvet. There's also a self serve mini-bar and all seats feature a power outlet and USB connectivity.
Finnair
Business Class passengers travelling on a Finnair intercontinental flight receive two delicious meals; the main meal features an appetizer, soup, main course (three alternatives), cheese, dessert and fresh fruit. There's also a wide selection of breads available, and the carefully selected beverages and award-winning wines complement the menu perfectly. To pass the time, passengers are given current newspapers free-of-charge. On an Airbus A340-300 and an A330-300 aircraft, the Business Class cabin features either a lie-flat or full-flat seats and a table that's the perfect size for a laptop.
China Eastern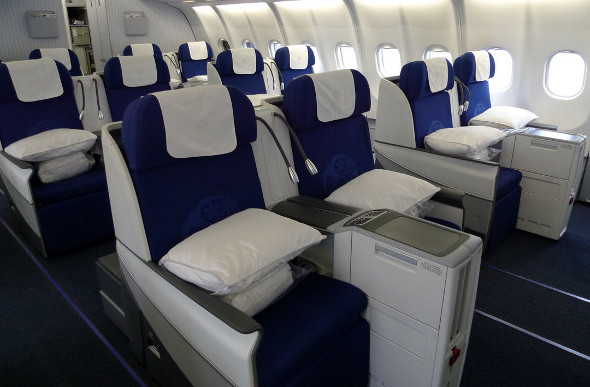 On a China Eastern long haul flight, relax into an Italian-Swiss designed Kingbed that converts into a 20-degree lie-flat bed. Inspired by space-age technology, the Kingbed's unique cushioning conforms to your individual body shape and are fitted with adjustable screen dividers. To make the journey all the more comfortable on flights longer than two hours, Business Class passengers are given warm terry-cloth socks and soothing eyeshades. The in-flight entertainment system, FFS, features more than 150 entertainment options, including feature films, classic movies and popular television programmes
Korean Air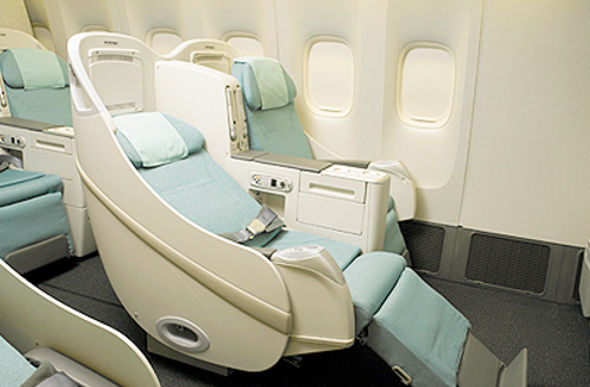 The Korean Air Business Class service is known as Prestige Class, where passengers will either enjoy a Prestige Sleeper Seat or a Prestige Plus Seat depending on the flight route, time and aircraft type. With the back shell, the Prestige Sleeper Seat is the perfect private work space that's easily converted into a 180-degree full flat bed. The 15.4-inch large LCD monitor and Audio & Video on Demand system will keep passengers entertained throughout the flight.
...................................................................................................................................................
To fly Business Class on your next trip, email the Business Class Experts at premiumtravel@flightcentre.com or call the team on 1300 038 785. 
Other Travel Articles You Might Like...