4 May 2016
Words by Carlie Tucker
Anyone that's ever tried to plan a holiday with kids knows the difficulty and pressure of getting everything right. And that's just when it comes to figuring out where you're going to go; never mind all the logistics! With all the stress involved in pulling off a flawless family trip, parents often need all the help they can get, which is why Etihad offers a slew of services aimed at making air travel just a little bit easier for all members of the family.   
Prepare Yourself Before You Fly
When travelling with kids the devil is often in the details. It's those little things that are often overlooked that can turn out to make all the difference. Think along the lines of bassinets on the plane, available strollers in the airport and appropriate meals through your flights.
Etihad offers travelling families the chance to pre-arrange many of these little things to ensure your flights go off without a hitch. All planes are fitted with bassinets, which can be pre-booked before your flight. Parents can also pre-order infant and child meals at the time of booking or 24-hours before departure. Special meal requests are also available, with options that cater to religious, medical and dietary needs.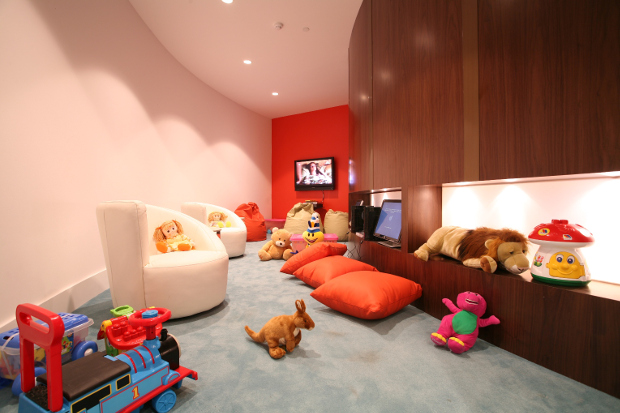 Etihad Family Rooms
Keeping the kiddies entertained at the airport can be a challenge. Let's face it, even the most patient adults have difficulty staving off boredom when faced with waiting it out at the gate before boarding. Etihad's lounges are known to be an oasis among the hustle and bustle of the airport, which applies to passengers young and old. Many Premium Lounges around the world feature family rooms.
These colourful and engaging spaces offer activities to suit children of all ages. Toys, games, cushy chairs and television screens are all available to engage young minds and keep those little hands busy. There are also qualified nannies available to watch over the kids, should you wish to take a relaxing pre-flight break.    
---
Looking for more news about Etihad? Etihad Airways Named Business Airline Of The Year 2016
Or the best in-flight perks for kids? Best Business Class Amenities For Kids
---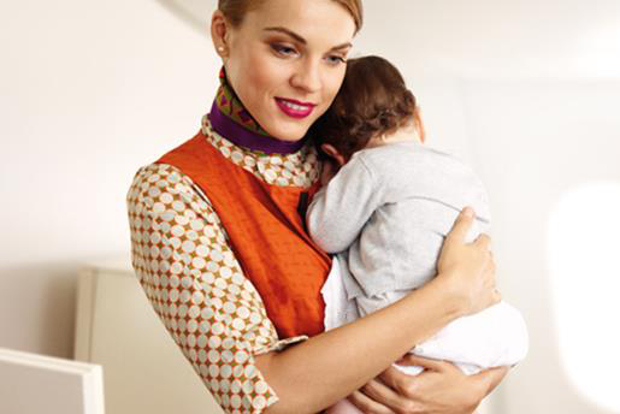 Flying Nanny
When it comes time to take off, those travelling with infants or younger children can rest assured the Flying Nanny is there to lend a hand if needed at any point during the flight. This exclusive service is available on long-haul flights with specially trained nannies that have been approved by the UK's renowned Norland childcare training college.
Offering the benefit of an extra pair of hands throughout your flight, these nannies can assist with getting settled into the flight, bedtime preparations and keeping the little ones entertained. They're also there to provide advice and support to travelling parents to help ease the stress of long haul travel with kids.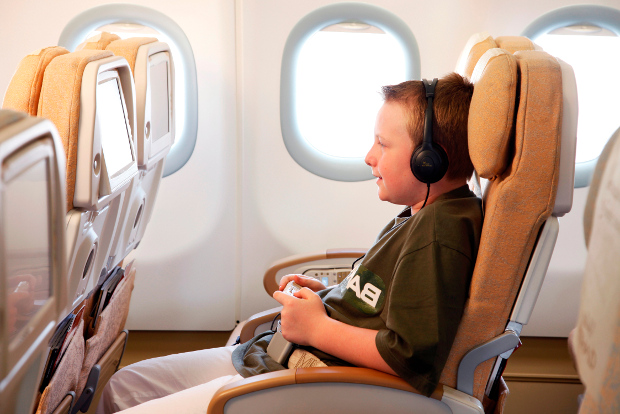 In-Flight Fun Just For The Kids
Etihad's in-flight entertainment was recently named the best in the skies by PAX International, which means a breadth of interactive content to suit children of all ages is only a click away. The kids section (suitable for travellers under 12) features Etihad's animated animal characters to guide curious minds through a sweep of interactive games, television programs and movies. Children and teens older than 12 also have access to an extensive catalogue of popular music and films. Plus, parents need not worry about any unsuitable content with access to a parental lock feature that allows control over what the kids can and can't access.
In addition, every child over the age of three will receive their own children's pack when they board. This includes games, activity books and stickers. And, should you need a little extra help in the entertainment department, the Flying Nannies are equipped with a goody bag of games and activities such as crafts, face-paintings and magic tricks to ward off any signs of boredom. 
Other Travel Articles You Might Like...