7 May 2015
Words by Kim Culyer
Let's face it, no-one likes to travel economy class, and in my opinion the Emirates Business Class product onboard the A380 is worth every penny, or point.
Josephine appears beside me before I'd put my handbag down  "Welcome onboard Miss Culyer.  Is this your first time with us?  Is this your first time in business class?  I will be your attendant for the flight, if there is anything you may need at any time please call me, here let me show you around your seat and how to use the controls."
Ok - I'm already impressed.  Within seconds I've been offered a Veuve Clicquot Champagne, the menu, know where everything is, and am settling into choosing which movie I'm going to watch.
Josephine again, (the doors have just closed) it's time to choose my pre-dinner drink.  The wide-ranging list includes cocktails, single malt whiskeys, cognac, other top shelf spirits, aperitifs, wines and liquors.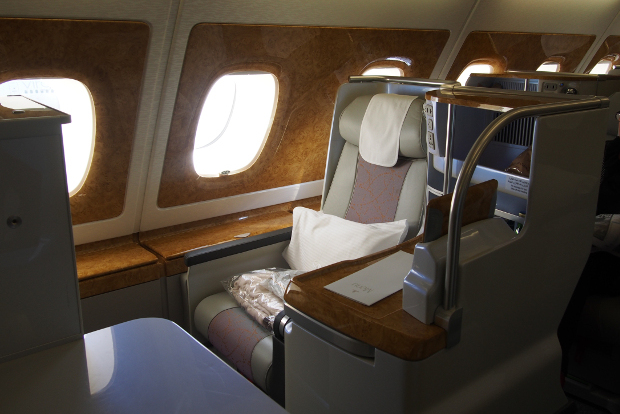 The A380 is up in the air before I know it and the Captain advises the crew can speak over 17 languages (just in case you'd like to practice your high school Spanish) and that the in-flight Wifi is activated, it's now ok to use your mobile phone or surf the net.
I love watching as we take off and climb through the clouds, the three cameras strategically placed on the outer body of the aircraft, give the same perspective the pilot has.
There is 76 business-class flat bed seats in the upper deck and while some complain about long flights, I was looking forward to lying in bed, with a mini-bar beside me, a huge screen in-front of me beaming out Bradley Cooper's latest adventure, and the ever gracious Josephine fussing over me - call me weird?
The business class seat on this flight is more like a cocoon than an aircraft seat.  It is private and each has aisle access.  A clever design which staggers single seats along the windows and provides two in the middle.
There's USB and power outlets, noise cancelling headphones (which do work), eye masks, socks, magazines, newspapers and storage a plenty.   The light is changeable from blue for relaxing to white for reading.
It is 9.30pm, nearly an hour into the flight, why would I be hungry I think, as Josephine is explaining the menu.  It turns out I am after hearing of the delectable delights on offer, and I order Chicken Salad, followed by Rack of Lamb, Chocolate and Caramel Dome, accompanied by a glass of French Alsace Pinot Gris.
Time to check-out the bar.  Yes that's correct, a bar at 10,000m in the air.  The Emirates A380-800 features an onboard lounge area with couch seating for first and business class passengers.  It's perfect for a stretch of the legs, while enjoying a cocktail and canapés.
I am mid Cosmo when Josephine approaches me to let me know my seat is ready and waiting, and dinner will be served when I am ready to return.  I take my time, enjoying the chat with fellow travellers, knowing there is no rush, no trolley I may miss, just Josephine happy to cater to my schedule.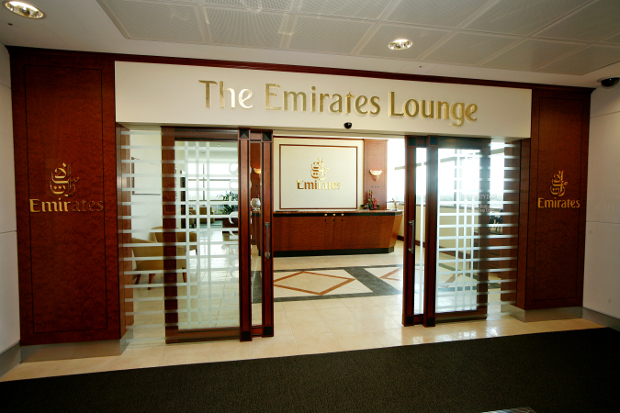 My tray table is set with crisp white linen cloth and napkin.  The silverware is gleaming alongside the white crockery.  There is a bowl of nuts and a fresh bottle of water on my mini-bar.  My seat is hidden under a soft doona-style seat cover and my blanket is unwrapped and looking inviting.
Time for some light entertainment over dinner.  I don't have to spend long getting settled.  The seat controls are simple and easy to use, and the entertainment is accessed by either a hand-held tablet or the screen which is touch enabled.
Emirates provide the ICE entertainment system (information, communication and entertainment). The system is available from boarding until the destination gate and features a mind-boggling array including over 400 movies, 60 TV and 650 audio channels, including podcasts, audio books and health or relaxation.  I could be lulled off to sleep by the underwater sounds of dolphins and whales.
Dinner finished I recline. I'm surprised to find I'm lying as flat as in my own bed, and with two pillows and a blanket, equally as comfy.  The cabin has dimmed and the ceiling is gently sparkling in what looks like a thousand stars...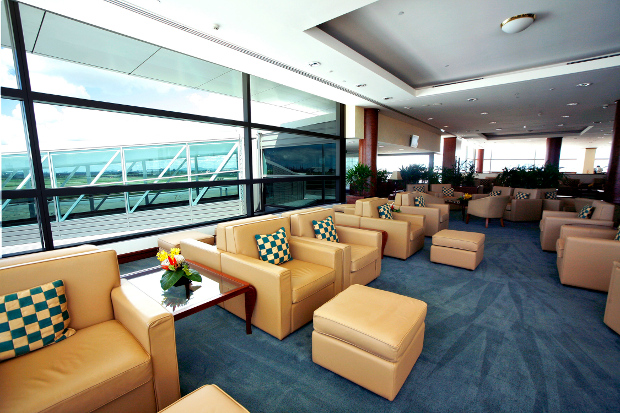 Check-In:
Flying Emirates Business class entitles you to complimentary Chauffeur driven airport transfers (within a set radius depending on your city), 40kg of checked baggage and two pieces of carry on.  The Chauffeur assists with your baggage to the check-in counter.  You can also check in for your flight up to 24-hours in advance - choose your seat and print your boarding pass or get a mobile boarding pass sent to your phone.
Lounge: 
Even though it's a bit of a walk to get to the lounge at Brisbane, it's well worth it.  Located at the end of the terminal above gate 75, you'll find a large, well equipped lounge separated into areas by planter boxes and greenery.  The floor to ceiling windows offer views to the city and runway, the drinks stations are well stocked and the snack and dinner items on offer are extensive.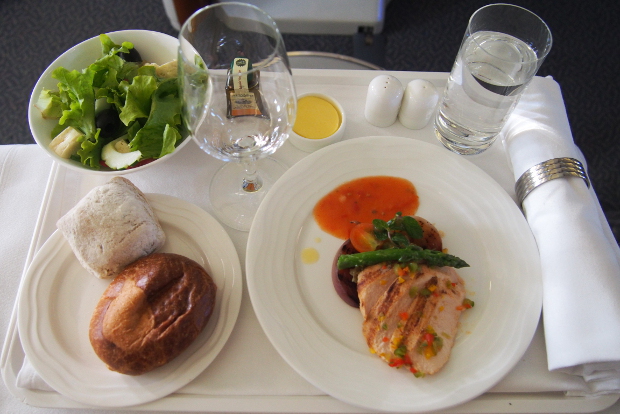 Onboard Catering:
Restaurant quality!  The salad fresh and crisp, the mouth-watering lamb cooked to perfection and words can't describe the desert.  The four-course menu is broad and accompanied by fine French wines, cheese boards, fresh fruit and chocolates.
Amenity Kit:
Both men's and ladies are filled full of delightful Bulgari lotions, creams and colognes.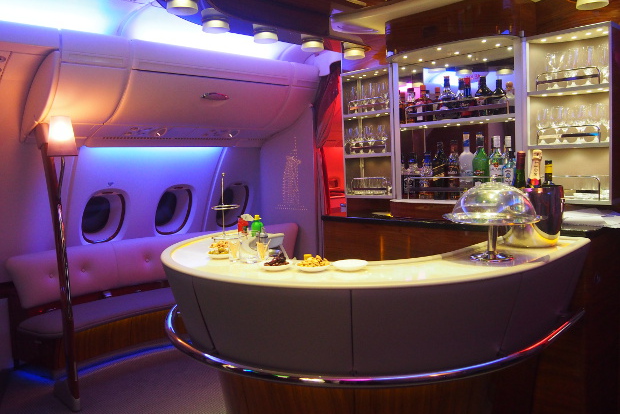 Cabin Service:
A fellow passenger commented, "the crew were the best she'd ever flown with" - I agree.  Each crew member had the time, and the inclination to ensure you didn't want for anything, to accommodate every passengers needs no matter how individual - very refreshing.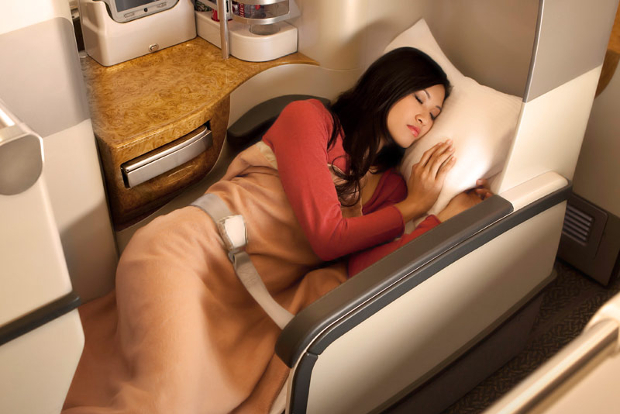 Seating:
Length:  200.6cm   Width:  48cm  Pitch:  121cm
Try the middle seats if you're a couple or taller than average, and seats 7A or 7K, for a little extra space.
I Loved:
Boarding the plane straight from the lounge.
I Didn't Like:
The fact that I couldn't adjust my footrest separately - my feet dangled when I sat upright to dine.
The 10mb of free Wifi wasn't enough to do much surfing.
Other Travel Articles You Might Like...