Dubai Holiday Packages
A mega metropolis built in the heart of an unforgiving desert, Dubai is nothing if not unique.
From riding the seven-second elevator to the top of the world' tallest building, to walking across untouched sand dunes, our range of Dubai holiday packages allow you to explore every eclectic facet of this intriguing city.
The UAE's oasis in the desert
Dubai flashes the epitome of luxury in the self-proclaimed 7-star hotel, the Burj al-Arab. It thrusts the world's tallest building, Burj Khalifa, into its otherworldly skyline; and dusts visitors in icy powder on the 5 runs at the indoor Ski Dubai. It can all be very snow-in-the-desert-look-at-me.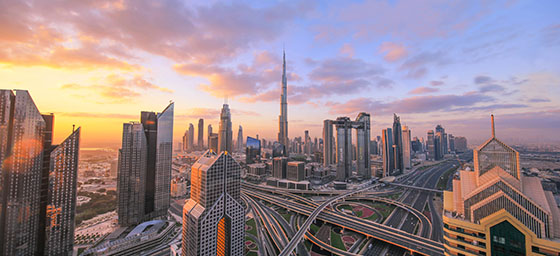 The Promenade
There are literally thousands of shops to while away the hours in air-conditioned comfort but for a look at the 'real Dubai', hop out into the open air. It will be warm but haggling over textiles, gold and spices in the old souks is all part of the allure. Though you could be forgiven for missing it amid the glistening modernity – there's an old town too: for distinctive archways and original homes, explore the Bastakiya district.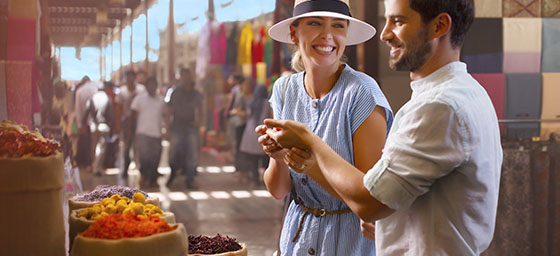 Arabian Palace
The multinational population dishes up any cuisine you wish from Afghani to Vietnamese, so you'll not go hungry, whatever you fancy, on holiday in Dubai. The weekend is Friday and Saturday, and brunching is a favourite local pastime. High season is September to May; booking ahead is a good idea in this playground.
Why book your Dubai holiday with us?