8 June 2016

Words by James Gregory Wilkinson
Air New Zealand's Business Premier cabin on the Boeing 777 is loaded up with restaurant dining, premium wines, Hollywood blockbusters and a sleeper service that's the best of its kind in the sky.
Once you add top Kiwi service into that mix, you have one of the best Business Class offerings on the planet that consistently gets better.
Quick Overview
Route: Sydney to Los Angeles via Auckland
Aircraft: Boeing 777-300ER
Class: Business Premier
Seat Number: 1K (window)
Duration: 17 hours, 45 minutes (including 2h 35m transit in Auckland)
Baggage Allowance: 3 bags at 23kg per bag
Check-in
Air New Zealand has a dedicated check-in area at Sydney Airport, which features kiosks as well as dedicated counters for passengers travelling in Business Premier. From here passengers receive an Express Pass and are able to use the fast-track lanes in immigration and security, before passing through Sydney International Airport's new expansive Heinemann Tax and Duty Free store. When you arrive in Auckland, there is a dedicated security transfer point that takes you to the duty free store in the international terminal.
If you take the opportunity to stop-over in Auckland (something certainly recommended) there is a dedicated Business Class check-in area at the international terminal that has a lift straight to immigration as well as two lanes dedicated to premium passengers. From here, there is also an express lane through security.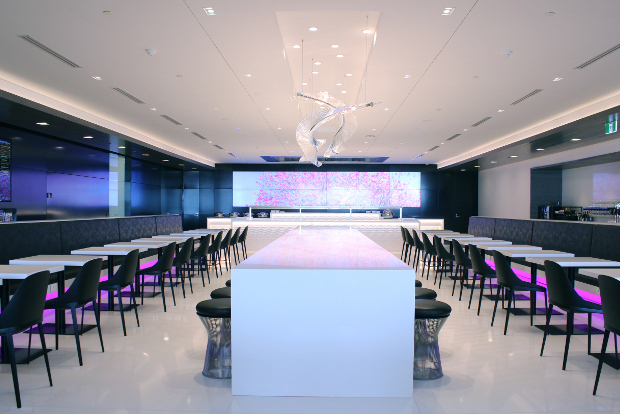 Lounge
Air New Zealand's Sydney and Auckland lounges underwent extensive upgrades during 2015. What is on offer now are some of the best facilities at Sydney International Airport and the leading offering at Auckland International Airport.
At the Sydney lounge, there is space for around 300 guests. It is split into several zones, including a cafe area with seats and tables for dining from the buffet or with a dish prepared by the lounge's resident chef. Choose from the likes of pancakes and omelettes for breakfast, dumplings for lunch and dinner and much more. It is here you will sit below a chandelier comprised of 228 hand blown glass spheres that Air NZ says was inspired by the Australian coast.
There is a self-service bar that includes wines by the glass (generally a selection of top New Zealand wines that are being served on-board flights to Business Class passengers and those on Works Deluxe tickets), beers and coffee and tea making facilities. There is also a bar with a glass wine wall overlooking the runway where you can be served a glass of sparkling wine, beer or coffee. You can order the latter on the Air New Zealand app and be informed when it's ready.
---
Considering business class with another airline?
From The Pointy End Of The Plane: Cathay Pacific Business Class Review
From The Pointy End Of The Plane: Qantas Business Class Review
---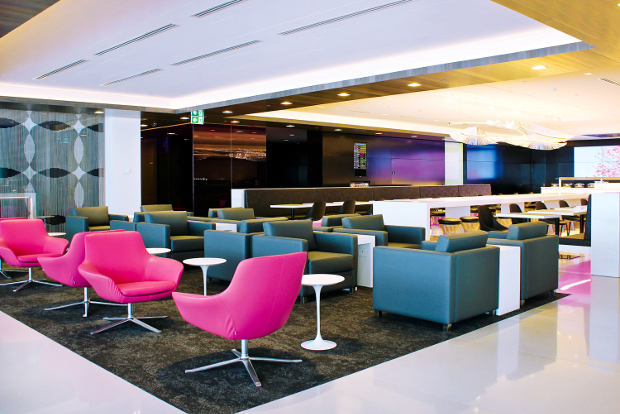 There is a kids' zone stacked with books, interactive games and the latest children's movies to keep the little ones entertained. There is also a dedicated quiet zone for relaxing and a range of business-friendly facilities. This includes a powered table for charging devices, Wi-Fi and printing facilities.
In Auckland, it's a similarly great experience in the new lounge built above the existing terminal. Here passengers can find an ultra-modern design with tailored seating zones. This includes a buffet restaurant, bar, entertainment area (perfect for catching an All Blacks game), kids zone with a huge play area, oversized shower suites, day beds and a terrace with a retractable roof.
The lounge overlooks the runway and features a covered outdoor terrace and fireplace, which is open all year-round even when the Auckland rain settles in. Head to the bar for a glass of Pinot Noir, grab a plate of cheese and then go out to the terrace, score a hanging chair and watch the aircraft take off.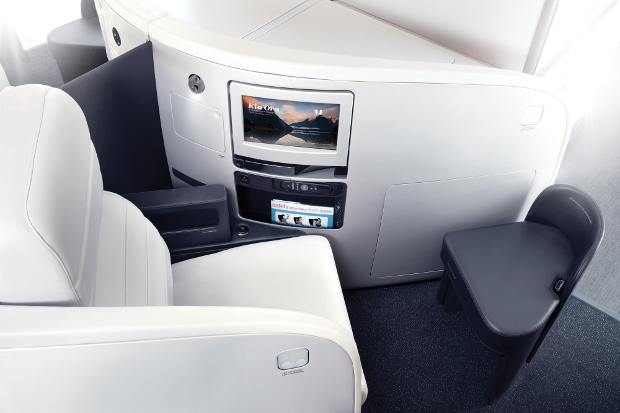 Seat
The seats in Business Premier are more akin to a lounge chair at home that happens to recline into one of the longest beds in the sky. The 22-inch wide white leather seats are comfortable for even the most wide shouldered blokes and they recline to a fully lie flat 79-inch bed that's then converted into what is arguably the most comfortable business class bed in the sky. This is thanks in part to the thick memory foam mattress, fluffy duvet and two full size hotel pillows (you could be forgiven for thinking you're asleep in one of New York's finest hotels).
A fantastic feature of the seat is the fact you can have it slightly reclined for take-off and landing, adding additional comfort to the flying experience. Sleep and comfort aside, there's an in-seat power socket, a USB port, a 12.1-inch widescreen TV and a table that's big enough for two to dine on thanks to the seatbelt on the footrest – ideal when flying with a partner or relative.
Noise cancelling headphones and an amenity kit loaded up with Antipodes skincare (vanilla pod day cream and pawpaw and avocado lip balm) round out the experience. Don't throw away the recycled amenity kit bag though as it has been designed to fit an iPad.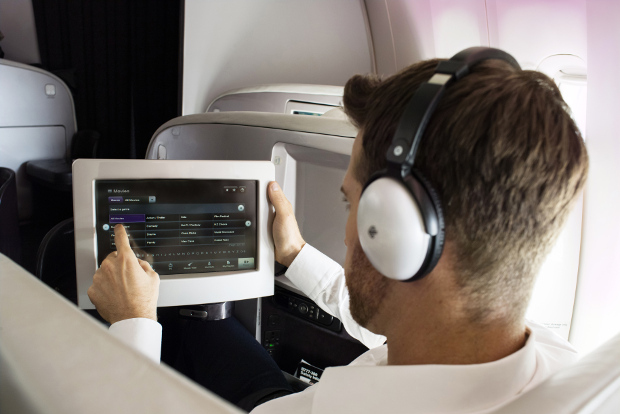 Entertainment
Air New Zealand's Boeing 777s (including all of the retrofitted Boeing 777-200s) are kitted out with the company's latest on-demand entertainment system. In Business Premier this is found in the form of a 12.1-inch widescreen and touchscreen TV that is loaded up with movies, entire series of television shows, hundreds of music albums and games.
On-board at present, find new releases alongside Oscar winners, classic films, family favourites and New Zealand flicks. Of course, there are also classic All Blacks games for the rugby tragics. The experience is enhanced by noise cancelling headphones and you'll enjoy the always entertaining safety video before you take off.
Service
You can have all of the hardware and software you want, from comfortable seats to world-class cuisine, but without great service, an experience can be lost. But this is where Air New Zealand well and truly excels. From the moment you check-in to the time you are farewelled when you leave the aircraft you can expect nothing short of top-notch Kiwi service every time.
I've flown in Business Premier eight times over the last six months and know what to expect in the most premium cabin from this airline. This journey might have been the best from the welcoming glass of Charles Heidsieck Brut Reserve Champagne when I boarded to the turn-down service. I opted to skip the breakfast and was not disturbed until the last possible opportunity. The crew were exceptional across the board.
The seat was well presented, the meal service was akin to a top Auckland restaurant and the staff didn't miss a beat on both sectors.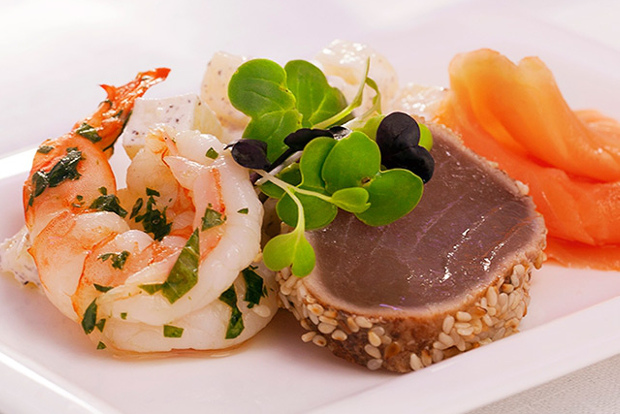 Food and Beverage
Air New Zealand consistently excels when it comes to food on-board, no matter what cabin you are flying in. Top Kiwi chef Peter Gordon (Bellota, Auckland and Kopapa, London) is responsible for the Business Premier menu. The culinary experience starts on the Trans-Tasman flight where you can expect top-quality dishes with local NZ produce such as the slow cooked lamb shank, smoked seafood pie and poached chicken salad.
On the night flight to Los Angeles, dinner is served. You'll find a choice of two entrees, four mains and three desserts. This includes cheese. Plus there is also a midnight snack menu that includes a warm roll or sandwich.
In recent months menu highlights have included a sweet paprika dusted hapuka, gourmet beef burger and roasted tomato and black bean soup, while for dessert a mainstay has been the vanilla bean and spicy apple crumble, which is impossible to skip.
On the beverage front, Air New Zealand's Business Premier service begins with a glass of Champagne prior to take-off (most recently it has been Charles Heidsieck Brut Reserve). After departure expect some of the nation's premier wines spanning Central Otago to Northland. In Business Premier, there seems to be an average of two to three whites and reds as well as a sparkling and a sticky. Recent award-winning wines on board have included the Kemeu River Chardonnay, Ribbonwood Pinot Gris, Urlar Pinot Noir, Abbey Syrah and a Tohu Noble Riesling.
Premium beers – including craft beers from Mac's – are also available alongside top shelf spirits, ports and liqueurs.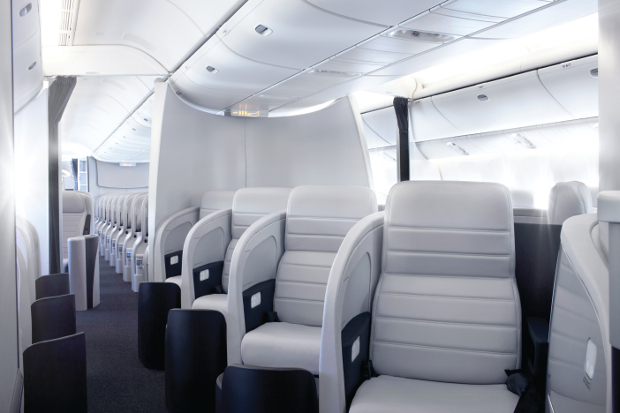 Last Word
It might take a couple additional hours to fly to Los Angeles via Auckland, but with night flights (meaning your body clock will adjust faster as you're landing at LAX in the morning Sydney time), brilliant food and beverage, and such a great sleeper service (why doesn't every airline have two full size hotel pillows and a mattress in Business Class?) the extra time is more than worth it on Air New Zealand.
Definitely take advantage of the stopover in Auckland and enjoy a couple of days in the City of Sails. It's a fantastic way to break-up the trip, or at the very least you'll have an opportunity to stretch your legs before the onward flight to Los Angeles.
---
For Air New Zealand flight deals click here
Other Travel Articles You Might Like...