3 August 2017
Hong Kong is famous for its skyscrapers – it is one of the most densely populated cities in the world – and many of them feature bars or restaurants on their rooftops, giving locals and visitors alike somewhere to relax after a busy day of working or holidaying – and enjoy the spectacular views on offer as well.
The Hong Kong skyline at sunset - not a bad view for a sundowner!
1. Ozone
Possibly the highest bar in the world, Ozone is located on the 188th floor of the Ritz-Carlton hotel in Kowloon and offers spectacular views of the city's skyline and Victoria Harbour, along with an extensive selection of cocktails and drinks complemented by a tapas menu.
2.  Aqua Spirit
Also located in Kowloon, the Aqua Spirit bar is located atop the One Peking building and is a popular place due to its amazing views, creative drinks menu, signature cocktails and a menu featuring a selection of dishes from contemporary Italian and Japanese cuisine.
Aqua Spirit serves contemporary Japanese dishes
3. Azure
Sitting atop the Hotel LKF by Rhombus in the Central district on Hong Kong Island, Azure boasts a 270 degree panoramic view of the city along with a large open-air patio. The views are complemented by a stylish, modern interior and a menu to match.
4. Sevva
Located in Hong Kong's Central district, Sevva is positioned on level 25 of the Prince's Building and is a popular lunch spot for the city's businessmen and women. One of the view highlights is to the iconic and geometrically-shaped HSBC building, while the menu is vibrant and inspired by the city of Hong Kong itself.
The HSBC building which was finished in November 1985. At this time, it was the most expensive building in the world
5. Above
Located in Aberdeen on the southern side of Hong Kong Island, Above has an envious position overlooking Ocean Park and the local football pitch. A modern interior is complemented by a good atmosphere and popular happy hour deals.
6. Sugar
Sited in Quarry Bay on the eastern part of Hong Kong Island, Sugar is located atop the East Hotel and offers stunning harbour views along with a relaxed, modern atmosphere, plenty of space and a signature drinks menu with something to appeal to a variety of tastes, along with a tapas menu.

7. Epure
Not strictly a rooftop bar as much as a restaurant, Epure is on level four of the Harbour City Ocean Centre in waterfront Kowloon and offers a glamorous, French-inspired luxury dining experience alongside an outdoor terrace overlooking Victoria Harbour, complemented by an impressive crafted menu comprising fresh seasonal ingredients from France. 
8. Seafood Room
As the name suggests, the Seafood Room specialises in serving the ocean's bounty. Located in Causeway Bay on Hong Kong Island, it offers more than 50 local and imported seafood dishes along with a 2000sq ft rooftop lounge offering panoramic views of the harbour and city – an excellent place to enjoy a drink or a cocktail especially after the sun has gone down.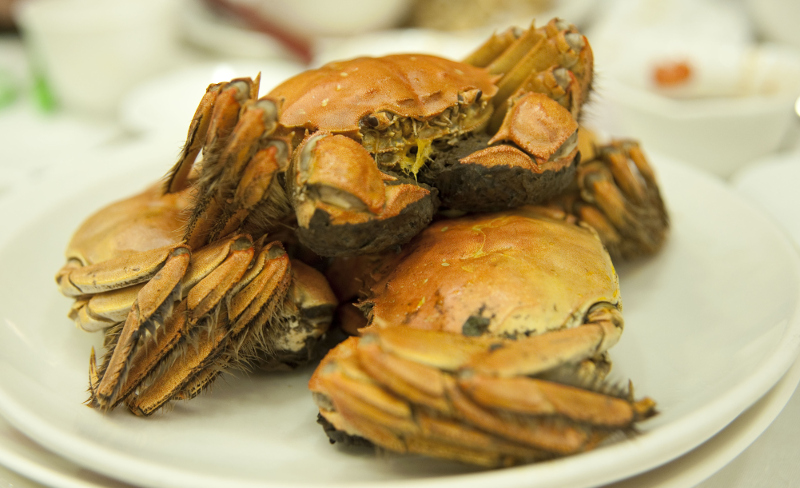 Hong Kong has a well-earned reputation for the quality of its fresh seafood
9. Wooloomooloo Prime 
A steakhouse with scenery, this restaurant and bar has plenty of space, an outdoor terrace and 270 degree views of Kowloon, Victoria Harbour and Hong Kong Island. Located in Kowloon on the 21st floor of The One shopping centre,  the panoramic views, atmosphere and menu add up to a popular upmarket experience.
10. Eye Bar
With a 30th floor location on top of the iSquare shopping mall in Kowloon, Eye Bar has a nautical theme along with skyline views from the outside deck. The views and atmosphere are further enhanced by a drinks list with many exotic cocktails, as well as a range of seafood snacks. There's also a telescope on the terrace, allowing for chance to get an ever better glimpse of the views on offer.
Other Travel Articles You Might Like...