Let It Snow: 10 Reasons You Should Visit Big Sky Ski Resort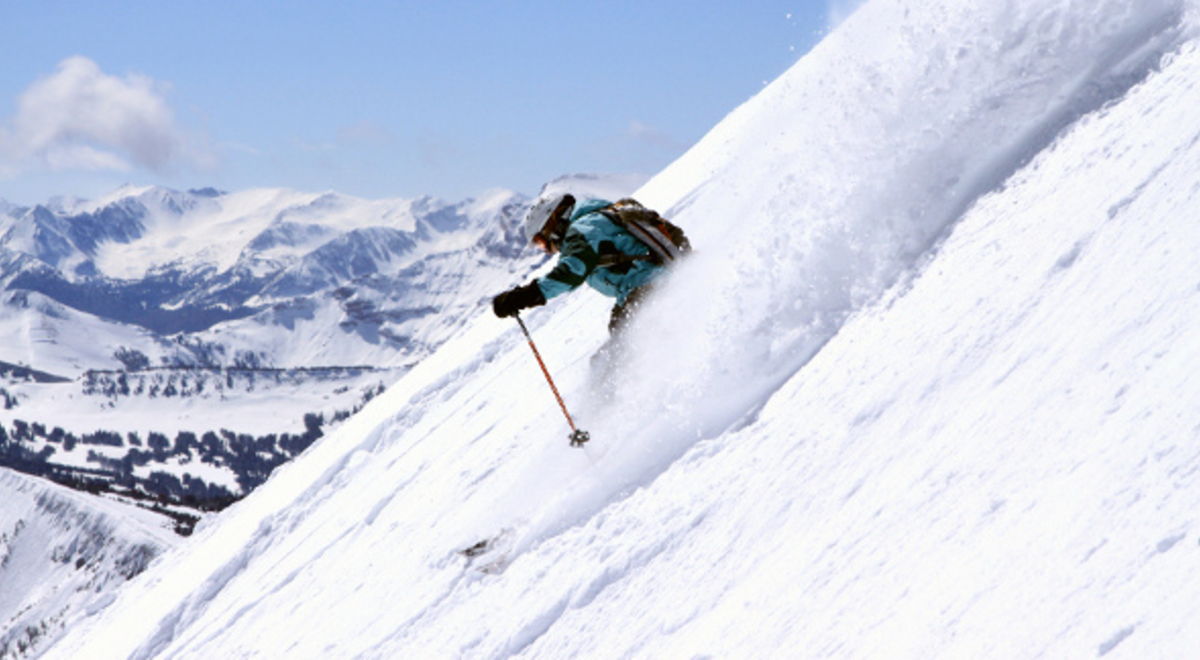 ---
---
Australian skiers are familiar with America's key snowfields, such as Colorado's Vail, Aspen and Telluride, Utah's Snowbird, and Wyoming's Jackson Hole. They're US resorts worth going to, and thousands of us do fly across the Pacific each season to taste star-spangled snow.
There's another resort that should be added to the must-see list: Big Sky. This Montana snowfield in the northern-most reaches of America, near the border of Canada, is relatively unknown to Australians and, geographically, it is sidelined from America's prime skiing state of Colorado.
But it's well worth the visit. After all, it is the biggest snow resort in the US, out-muscling even Vail. Here are 10 big ticks for Big Sky.
---
1. Size
---
Big Sky and adjacent Moonlight Basin merged in 2013 to offer a combined 2,347 hectares of terrain, the biggest in the US, ahead of Vail's 2,140 hectares.
Aspen is right up there, too, with 2,244 hectares. But some argue that Aspen cannot be counted as a single ski area because its terrain is spread over four separate mountains.
Although Big Sky holds the title now, it will be pipped by a project to link Park City and Canyons in Utah. This latest marriage of resorts will create a single ski area of 2,954 hectares.
---
2. Fewer People
---
It's a blue-sky day and the corduroy laid down by Big Sky's snow groomers doesn't have a track in it. It's 10am!
I'm blasting down an intermediate groomer called Crazy Horse and I've been going for such a long time without seeing another track that I stop to ponder my situation. Have I strayed out of bounds or into a closed area? Alas not – finally another skier appears.
This run is wide and undulating, a lot of fun, and is named after the Sioux chief who defeated General Custer at the battle of the Little Bighorn. There is no shortage of cruisers like this one, which takes you straight back to a high-speed quad chairlift so you can do it all over again.
I'm skiing in March and wherever I go on this mountain – on black, blue or green runs – skier numbers are thin. It's not that the resort is suffering from lack of skiers. Business is brisk, but the terrain is so vast that everyone thins out.
---
3. Awesome Terrain
---
One place you will find a crowd on a powder day is at the queue for the Lone Peak Tram. The tram rises to 3,403 metres, where you get an eagle's-eye view into three states – Montana, Wyoming and Idaho. Dr Jeff Strickler, in his book Biggest Skiing in America, says that when the tram went in (1995) it gave Big Sky the status of "one of the greatest ski areas in the world".
From the peak of Lone Mountain, there are certainly some legendary runs that are steep, narrow and rocky. They look like the domain of the hotshots who ski in Warren Miller movies.
Big Couloir is self-explanatory, and there are many other double-black diamond chutes such as Great Falls, Rips and Hellroaring. "Bizarre is a good term for anyone wanting to ski this," Strickler says of another one, called Hell's Half Acre.
If you don't want to tackle a double black, you can always take a scenic trip to the top and step out for some photography and the views before riding the tram back down.
The overall terrain breakdown of Big Sky is 15 per cent beginner, 24 per cent intermediate, 43 per cent advanced, and 18 per cent expert. It's tilted towards accomplished skiers, however when you are out there the intermediate and beginner slopes go on forever.
---
Follow the snow: 7 Unmissable Ski Destinations Around The World
Need to know: Expert Tips For Your Next Snow Holiday
---
---
4. Kim Kardashian Has Stayed
---
Big Sky doesn't have the celebrity cachet of Aspen, but that girl about town, Kim Kardashian, visited on a family trip recently, and to the relief of resort officials she didn't complain about anything. The only drama was when the Kardashian car skidded on black ice and ended up in a ditch.
The Kardashians stayed in a beautiful timber home on the slopes of Big Sky. There is a good selection of these attractive homes and cabins, many of them slope-side. They come with immaculately decked out mountain-style interiors and comforts such as open fires, hot tubs and quirky touches such as Foosball tables.
---
5. A Fondue Type Of Place
---
There's a dog yapping in the next-door room late at night but all the same I love Huntley Lodge. It's a humble abode and not up to the standard of the glorious mountain homes or the Summit Hotel, where US President Barack Obama stayed one summer, but it has a retro-ski vibe where fondue and skin-tight fluoro ski pants would not be that much out of place.
The lodge is named after Chet Huntley, a famous American newscaster who conceived and built Big Sky resort. Unfortunately, he died of lung cancer in 1974, three days before the resort opened.
Three-star Huntley Lodge has prime position in the village. The rooms have fridges, coffee/tea-making facilities, cable TV and free Wi-Fi. There are also restaurants, cafes, bars and lounges.
Big Sky also has a very good selection of modern apartments, with kitchen facilities. They are ideal for skiers, or families, who may want to save money by eating in.
---
6. The Mother Of All Cheese Toasties
---
Everett's 8800 is an elegant and airy timber lodge restaurant with big windows that show off the mountain views. It serves 'American alpine fare'. The French onion soup and the open-faced grilled cheese sandwich shouldn't be missed.
The large cheese toasty ($US18/$A24) is the mother of them all and comes with a blend of Gruyere and Asiago cheese, tomato, grilled apple and fried egg on grilled French bread. Oh, and don't forget the fries
Big Sky has a fair spread of restaurants, from the outstanding Everett's, to on-mountain hot dog huts and Italian bistros, all decent enough but sadly they don't reach the heights of Aspen and Vail's food offering.
---
7. Kid Stuff
---
If you're not skiing, there's plenty to do. Kids will love zip lining, dog sledding, ice skating, sleigh rides and snowshoeing. Children under 10, who are staying in a resort-run property, stay for free.
---
8. Yellowstone National Park
---
This American icon is 75 kilometres from Big Sky and is popular in winter with skiers taking a break to rest tired legs.
Some Yellowstone tour operators do pick-ups from Big Sky and you can explore Yellowstone on a snowmobile or snowcoach tour, as well as cross-country skis and snowshoes. See geysers, bison, elk and wolves if you are lucky.
---
9. Easy Flight Connections
---
From Los Angeles, there are daily flights on several airlines to Bozeman, the gateway city to Big Sky. It means you can fly into LA from Australia and then get a good connection to Bozeman on the likes of United, Delta or Alaska Airlines.
Stay in Bozeman to see its world-class dinosaur museum and an authentic slice of American rural life, or go direct to Big Sky on a one-hour road shuttle through spectacular mountain and river country.
---
10. Other Resorts
---
Although Montana seems far removed from the cluster of star resorts in Colorado, it is close to the great skiing in Utah. It's practical to combine the Utah resorts and Big Sky in one trip. Fly from Los Angeles to Salt Lake City and ski Park City, Snowbird, Canyons and Alta. Then fly onwards to Bozeman and the Big Sky experience.
---
Visit your local Flight Centre or call 131 600 for more advice and the latest deals on travelling to the United States.
---
---
Flight Centre acknowledges the Traditional Custodians of Country throughout Australia.