11 Beach Holidays In Queensland For More Fun In The Sun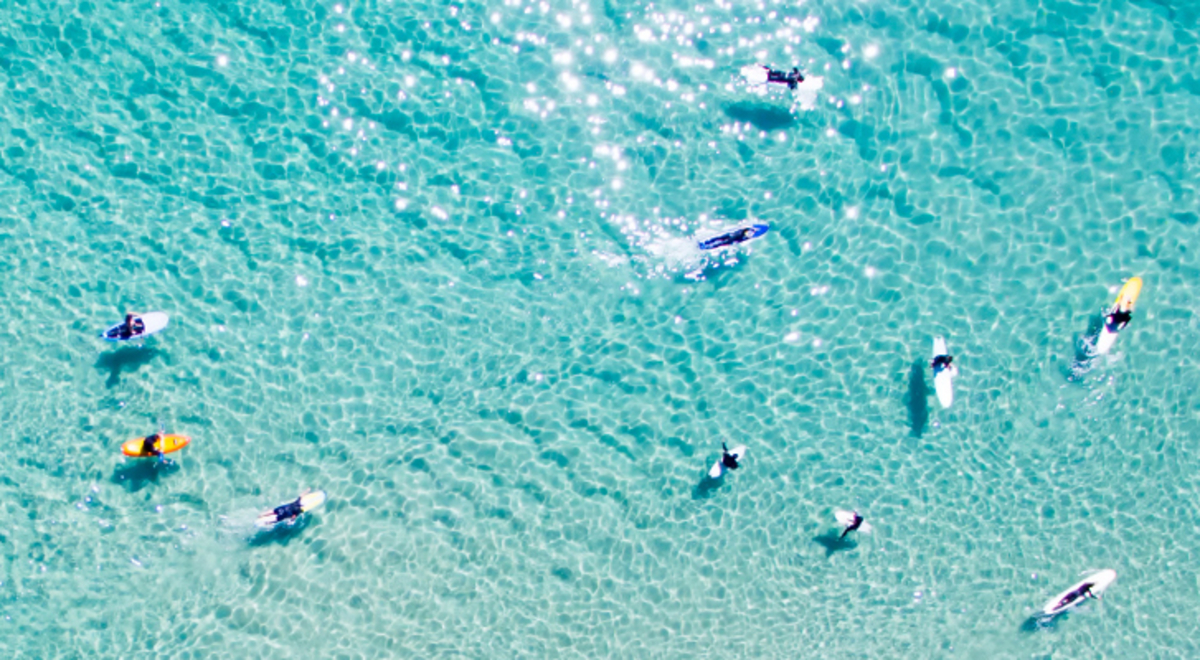 Who cares if the sand gets (yep, literally) everywhere? Beach holidays make the best Queensland holidays.
Sun, sand and all the sunscreen you need to go with it – there's no better reason to dig out that giant beach bag from the back of the cupboard and start filling it with summery essentials.
A Queensland beach holiday ticks so many boxes. You can do it alone, just you and the sun, it's perfect for couples and it's one of the best ideas out there for fun holidays with kids.
You don't have to wait for winter to end either. These sizzling summer hotspots offer a taste of summer (ie. Vitamin D – the 'happy vitamin') all year long.
Surfers Paradise
It's the iconic Queensland beach escape Aussies have come to know and love. And with streets and streets of sky-high Surfers Paradise accommodation options, it flaunts all the mod-cons you could possibly dream of, from rooftop penthouses to ritzy, vintage-themed hotel bars.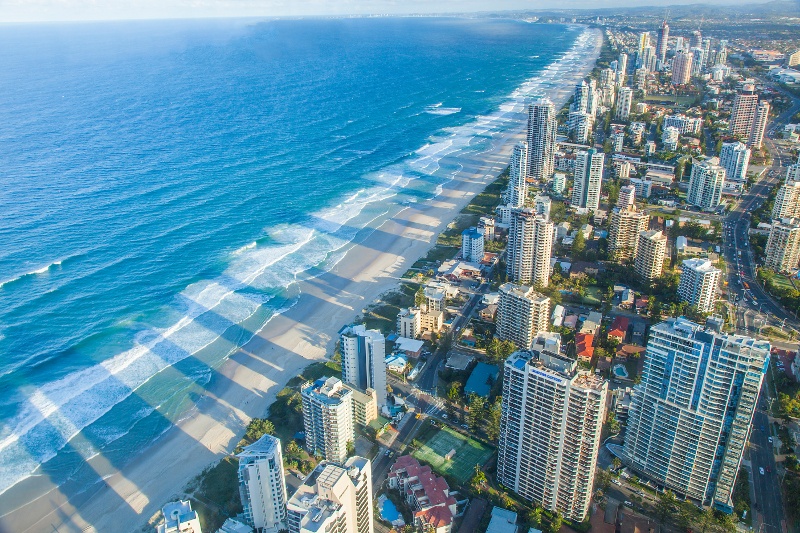 The Gold Coast has it all.
The ribbon of golden sands stretches on and on – around rocky headlands and into quiet inlets – so waves, long walks and sandy picnics are all on the cards. Add to that the flourishing foodie scene, the nightlife potential and the Gold Coast theme parks on its doorstep, and Surfers Paradise still is, and always will be, a stellar choice.
Caloundra
Laid-back and loveable Caloundra is a reliable Sunshine Coast favourite. There are beautiful boardwalks and coastal paths winding along the foreshore, some great restaurants (and gelato joints) never far from the sea and plenty of activities and day trips on its doorstep.
Better yet, there are a number of sultry beaches to stop by. Get sandy at the festive Kings Beach, hop between rock pools at Shelly Beach or opt for the family-friendly and picturesque Dicky Beach and Golden Beach.
Noosa
Noosa is where beach, river, hinterland and national parks entangle in organised, sun-speckled fashion. This is one beach getaway that comes with a hint of class.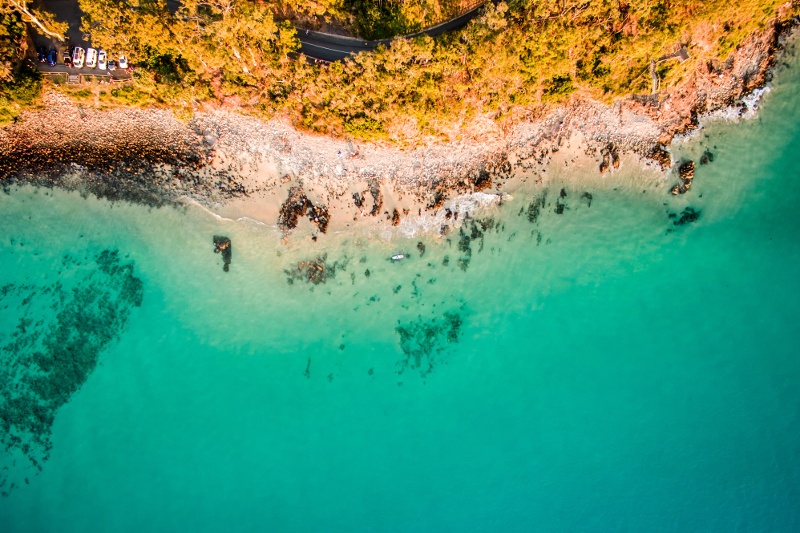 Soak up local beach vibes in Noosa.
Eating at decadent restaurants, sipping lattes at hip coffee joints, rifling through boutique fashions along Hastings Street, paddling along calm waters and tackling a few bush trails round out the list of top things to do in Noosa.
Like it breezy? Go free at Alexandria Bay in Noosa National Park – Queensland's most popular 'unofficial' nudist beach.
Airlie Beach
It's easily one of the best beach holidays in Australia – because, with the Great Barrier Reef and a sprinkling of lust-worthy tropical islands on its sandy doorstep, how could it not be?
As the mainland base for the Whitsundays, Airlie Beach is ground central for organising scuba diving and snorkelling, island-hopping cruises, fishing charters, sailing tours and just about anything from banana boat rides to sky-diving with a beach landing.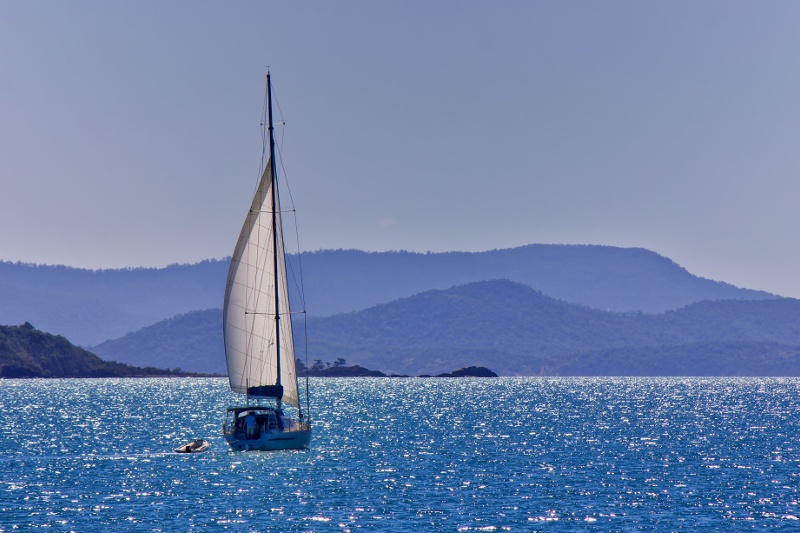 Plus – you could throw in a few days at Hamilton Island, Daydream Island, Long Island or Hayman Island. And don't forget a day trip to the Whitehaven Beach (the sand is so fine it squeaks!).
Downtown Airlie Beach itself is known for offering a good night out, a huge variety of accommodation and unforgettable views while swimming in the beautiful palm-dotted, beachside lagoon.
Considering international travellers flock here from all over the world, this just might also be one of the best beach holidays in the world.
Mackay
While Airlie Beach gets all the hype, its sunny next door neighbour Mackay flaunts its own natural treasures and unassuming local haunts complete with beaches galore, gorgeous coastal breezes and chilled local vibes.
Try Harbour Beach for a few waves post fish'n'chips at Mackay Surf Lifesaving Club, chase soldier crabs once the tide goes out at Bucasia, a sweet and sheltered bay of the Northern Beaches, then top off the days with a drink by the bobbing boats at Mackay Marina or on the scenic balcony of Eimeo Pub.
Mackay is also the launching pad for leafy-centric day trips to the lovely and lush Finch Hatton George and Eungella – both freshwater affairs full of rockpools, waterfalls and trickling streams – or else head north to Cape Hillsborough, where kangaroos are frequently spotted bounding along the beach.
Rainbow Beach
It's idyllic, low-key and while it may be small, Rainbow Beach is big on adventure. Nestled between Fraser Island and Great Sandy National Park, and with Pacific Ocean waters on three sides, you can do as much – or as little – as you like here.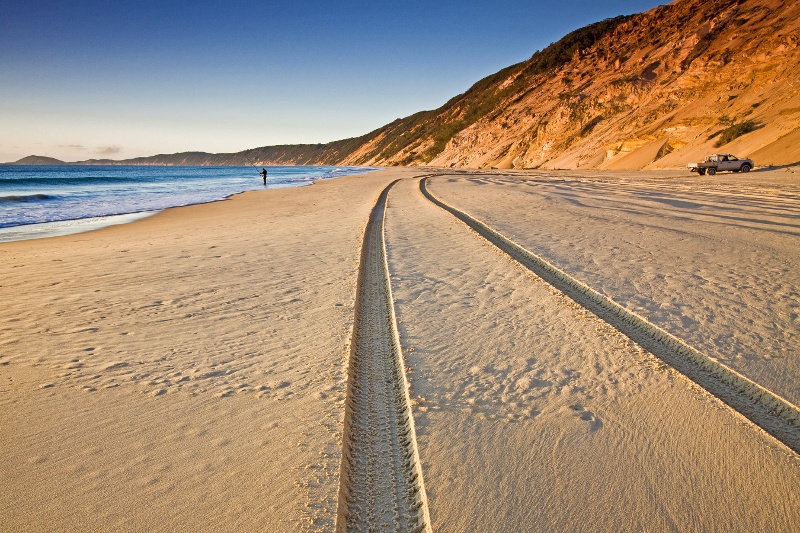 Don't miss the colourful sands of Rainbow Beach.
Explore Double Island Point and cute little Tin Can Bay nearby, or spend your days simply coasting along the tide line with the windows all the way down; Rainbow Beach is renowned for perfect 4WDing conditions.
The colourful sand cliffs and sprawling national park will keep you wowed on natural wonder. Still want more? It's just a 10 minute barge ride from Inskip Point to Fraser Island for more, world-class 4WD territory.
Fraser Island
Just one look at a Fraser Island map and it's clear this is a pocket of all things wild and wonderful. White sandy shores; beautiful freshwater lakes; historic ship wrecks; fabulous fishing; scenic headlands; bushwalking trails; sand dunes; rainforest; iconic Aussie wildlife. It's all here.
It's so special that the entire island is heritage listed. It forms a key part of the Great Sandy National Park and is the world's largest sand island – consistently rated as a top Aussie gem and home to some of the planet's most beautiful beach spots.
If you have a penchant for camping or ecotourism, Fraser Island has to be your next beach holiday. Don't have a 4WD? No worries – the eco-friendly Kingfisher Bay Resort has you covered.
Lady Elliot Island
Get a taste of the coral-encrusted Southern Great Barrier Reef at Lady Elliot Island, 46 nautical miles off the coast of Bundaberg. It's remote, easy on the eye and wildly rewarding.
Known as the 'home of the manta ray', you can swim with these majestic creatures year-round, as well as spot turtles and beautiful corals on snorkelling and scuba diving excursions, on glass bottom boat rides and reef walking tours.
Once sleepy time comes, Lady Elliot Island Eco Resort is it, with unpretentious and sustainable accommodation ranging from beachside suites to glamping tents. Day trips are possible too.
To top it off, getting there is no boring journey! Lady Elliot Island is a short and very scenic flight away from Hervey Bay/Fraser Coast, Bundaberg, Brisbane (Redcliffe) or the Gold Coast (Coolangatta).
Moreton Island
Always wanted to splash about in the shallows with dolphins? Say hello to Moreton Island. Home to 600 friendly and playful bottlenose dolphins, hand-feeding these magical creatures tops the list of highlights – closely followed by snorkelling shipwrecks on the pure beaches.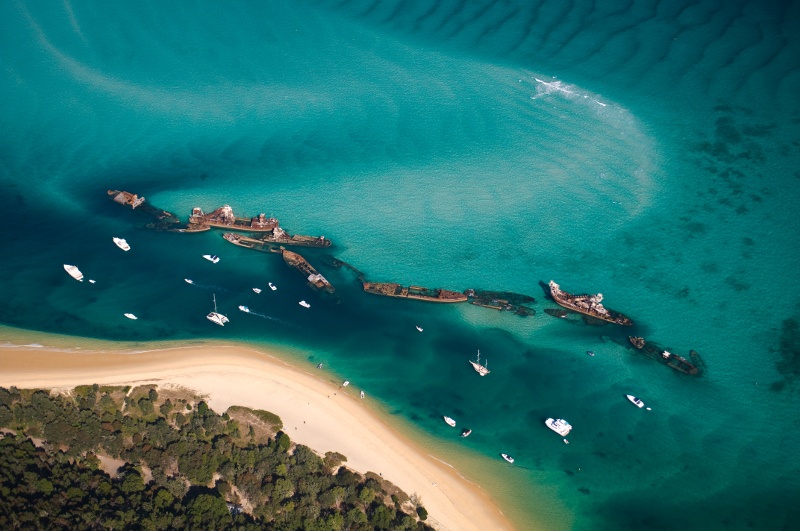 A view over the Tangalooma Wrecks at Moreton Island.
An easy daytrip from Brisbane, you can get to Moreton Island via passenger ferry or jump on the barge with a 4WD; there are a few sandy tracks and miles of shore for the adventurous. Camp or stay the night at the family-friendly Tangalooma Island Resort.
The longer you stay, the more time you'll have to try sand tobogganing, whale-watching, fishing, surfing, bird-watching and voyages in search of historic grave and World War sites.
Cairns
Think 'Tropical North Queensland' and more often than not, Cairns springs to mind. The true beauty of this nearly-always-sunny north Queensland holiday gem? It's the gateway to all the tropical north has to offer.
The vibrant marine life and stunning coral formations of the Great Barrier Reef are just a boat ride away, there are beautiful palm-fringed beaches to the north and south of the city (our pick: Palm Cove), and unique restaurants and five-star resorts (yes, pampering too) ooze relaxed sophistication and warm hospitality.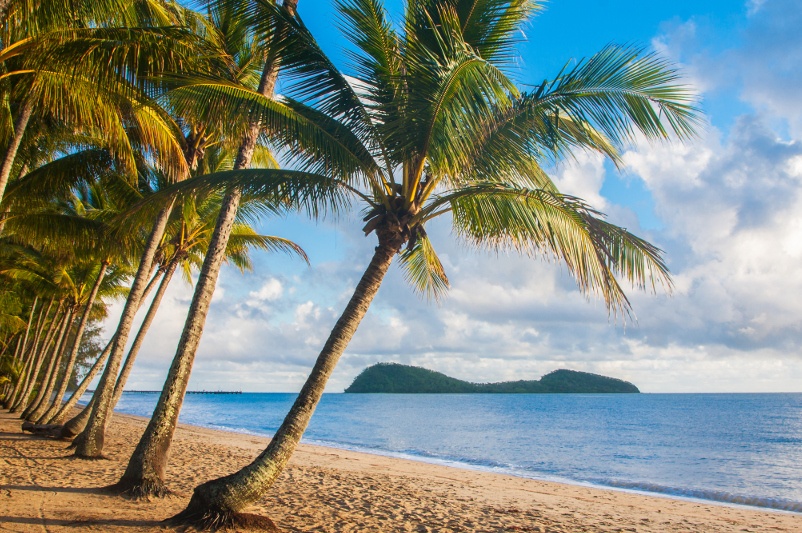 Relax in bliss at Palm Cove.
Investigate the saltwater lagoon, markets and oceanfront eateries in Cairns before exploring further afield; the waterfalls, rainforest drives and road-side stands filled with fresh tropical fruits of the Atherton Tablelands are just around the corner and over the mountain.
Alternatively, head north. Snag a Cairns Airport car hire and cruise northwards Port Douglas in one hour, with ample out-of-the-car-window scenery and potential beach stops along the way.
Port Douglas
Ahhh, Port Douglas. The name is practically synonymous with beach resort heaven and the stunning Daintree National Park, where the rainforest meets the sea. This is the place to live the bikini life in style, with natural beauty at every turn.
Peruse the lovely galleries and boutique shops along Macrossan Street – also home to award-winning restaurants – in between days spent on the waters of the Great Barrier Reef or hitting rounds at the 18-hole championship course at Port Douglas Mirage Country Club.
To see for yourself the beauty of the Daintree, hire a car for a day to roam at your whim around windy, leaf-framed bends and past crystal clear waters cascading over granite boulders in the Mossman River gorge.
Other than that, it's all eat, sleep, sunbake, repeat.
---
Visit your local Flight Centre store or call 131 600 for more advice and the latest deals in travel.
---
queensland surfers paradise caloundra noosa airlie beach mackay rainbow beach fraser island lady elliot island moreton island cairns port douglas
---
Flight Centre acknowledges the Traditional Custodians of Country throughout Australia.