Know Before You Go: Spotlight On Singapore Airlines Service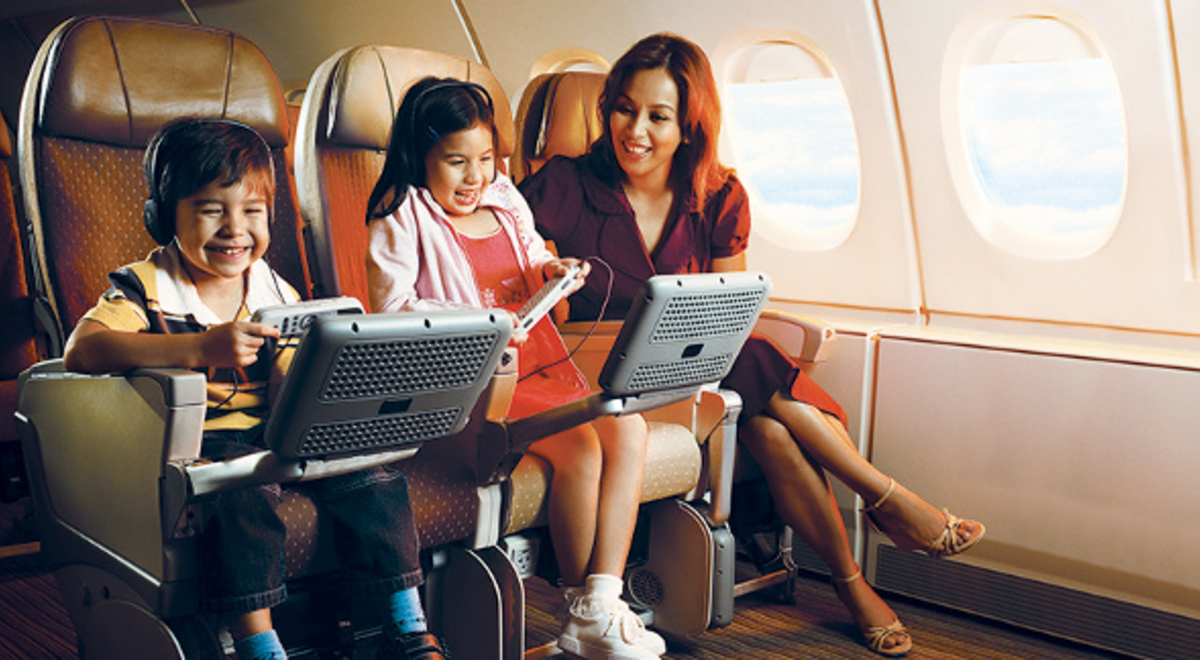 Operating out of the world's most luxurious airport, Changi Airport, Singapore Airlines is the country's flag carrier with a fleet of 100-plus aircraft.
Considered one of the more innovative carriers, Singapore Airlines was the first to start flying Airbus A380s. It has since revamped the in-flight dining experience, allowing passengers to dine on local fare and even publishing a cookbook in 2010.
Singapore Airlines services 62 destinations and is one of the predominant providers throughout Southeast Asia. Passengers also have the option of flying with the airline's low-cost carriers, Scoot and Tigerair.
Cabin Classes
Economy
Singapore Airlines' Economy Class offers an attractive cabin decorated in light earth tones. The latest in slim-line seat technology offers both increased personal space and greater comfort on long international flights.
Adjustable headrests provide additional convenience for a restful journey, and pillows and blankets are made available. A reading light and in-seat power supply allow for reading as well as continuous enjoyment of personal electronic devices.
Entertainment: In Economy Class, each seat is equipped with a personal video screen and handset for games, movies, music and loads of other entertainment options. Singapore's entertainment system, called KrisWorld, features over a thousand programming and game options for continued enjoyment throughout the flight, with headsets included.
Food and Beverage: In-flight menus are distributed before takeoff and economy passengers can choose between Asian and Western dishes. Regional favourites are often featured on the menu according to the flight's origin and destination points. The meal service is complimentary as is the full bar and beverage service. Light snacks are also served between meals on long-haul international flights.
Premium Economy
Singapore Airlines has a Premium Economy cabin on board their Airbus A380 and Boeing 777-300ER aircraft, with routes including Sydney, London and Hong Kong.
Within the new cabin, passengers are able to stretch out on leather seats that recline. Seats also feature padded leg rests for greater comfort. The cabin has a seat layout of 2-4-2, allowing for easier access.
Entertainment: The new Premium Economy service offers entertainment on 13.3-inch HD seat-back screens. Seats also feature personal power sockets and USB plugs in the arm rests, while passengers are given noise-cancelling headphones.
Food and Beverage: Dining in the new Premium Economy cabin is a sumptuous affair with passengers eligible for the 'Book the Cook' service where in-flight meals are ordered in advance. Champagne is also included.
Business
Business Class features a separate cabin, wide leather seats and greater personal space. Seats may vary slightly depending on the aircraft type; however, they all feature roomy, semi-private environments with ample storage space for personal belongings.
Seat controls offer many different seating positions including a lie-flat option, which is perfect for those long overnight flights. Head rest and lumbar support add to the blissful experience. Pillows and blankets are always available.
Entertainment: The KrisWorld in-flight entertainment system combines hundreds of movies, shows, games and music options and makes them available for instant, on-demand entertainment on your personal video screen. Headsets are provided and the endless list of options keeps passengers entertained throughout the flight. Each seat features power outlets for personal electronic devices, allowing continued use of laptops and tablets.
Food and Beverage: Business Class passengers enjoy attentive service, the finest foods and a wide selection of premium wines, beers and spirits. Extensive menus feature Asian and international cuisines all individually plated and served in courses. Table linens, porcelain dishes and glassware create a fine-dining experience.
First
Available on Boeing 777 and Airbus A-380 aircraft only from Sydney and Melbourne, First Class offers exceptional levels of comfort and service in an exclusive cabin.
First Class passengers enjoy an enclosed space with a wide leather seat, surrounded by a wood trim enclosure. The seat turns into one of the largest sky beds in the industry offering unmatched comfort and relaxation. Turn down service is available anytime during the flight and fluffy pillows, comfortable duvets and fresh linens are ready when requested.
Entertainment: Like anything in First Class, the entertainment on offer is extraordinary. Large 23 inch LCD screens are featured at each seat while superior sound comes from state-of-the-art, surround sound, noise-cancelling headsets. The KrisWorld entertainment system offers over 1,000 entertainment options.
Food and Beverage: Pre-order meal options from the extensive menu and have the gourmet selections served at any time during the flight. Each dish is specially prepared with the finest ingredients and served at a table set for elegant dining.
Suites
Singapore Airlines Suites are available exclusively on Airbus A-380 aircraft.
The ultimate in luxury, these suites are completely enclosed with doors that slide shut for privacy. Hand stitched leather arm chairs offer total relaxation and contentment. When passengers are ready to rest or simply wanting to stretch out, a stand-alone bed that is separate from the chair can be made up. With the finest linens, pillows and duvets the flight passes in blissful comfort.
Entertainment: Enjoy hundreds of entertainment selections from a 23-inch LCD screen with noise-cancelling headsets. Power ports are also available for laptops and personal electronic devices.
Food and Beverage: Only the best in food and beverages are served and individually prepared meals can be pre-ordered for delivery at a pre-approved time. Meals can be eaten in private or fellow guest can be invited to dine as well.
---
Read our review on Qantas: Airline Review - Spotlight On Qantas Airlines
Or on Cathay Pacific: Airline Review - Spotlight On Cathay Pacific
---
Singapore Airlines Baggage Allowance
Carry-on
Economy Class passengers are allowed one piece of carry-on luggage no greater than seven kilograms in weight. Passengers flying Business, First and Suite classes are allowed two carry-on bags, each with a maximum weight of seven kilograms. Items allowed over and above this allowance are a ladies handbag, laptop or camera bag, and a coat, walking stick and umbrella.

Always pack medication, car and house keys, money and jewellery in your carry-on bag.

Checked
Singapore Airlines uses the piece system for flights to the U.S. and Brazil and the weight system for all other destinations. Flights to and from Australia go by the weight system. The amount of weight allowed depends on the class flown and frequent flyer status.
The standard allowance for each class is as follows:
Economy – 30 kilograms
Premium Economy - 35kilograms
Business – 40kilograms
First – 50 kilograms
Suites – 50 kilograms
KrisFlyer Elite Gold and Star Alliance Gold frequent flyers are allowed an additional 20 kilograms while Singapore PPS Club members are allowed double the standard allowance.

In many countries no one bag can weigh more than 32 kilograms by itself. This is for work-place health and safety reasons.
Bulky items
Sporting equipment and pets are included in the standard weight allowance. Oversized musical instruments such as guitars and cellos can only be carried on board when travelling in economy class and when a separate seat has been purchased for the instrument.

Some bulky items must be pre-booked or pre-approved before flying. Always check with your airline before the day of departure for any special procedures.

Infant baggage
A small infant bag with food or formula and diapers or nappies is allowed in addition to a passenger's carry-on bag. Infants are also allowed 10 kilograms of checked luggage, while collapsible prams or strollers are checked free of charge.

Not all airlines provide diapers or nappies. Be sure to have an ample supply for the flight and in case of delay.
Restricted or dangerous goods
The following items are not allowed in carry-on or checked bags:
Explosive and fireworks, lithium batteries or pyrotechnics
Flammable gasses, liquids and solids such as matches
Oxidising substances
Pepper sprays or other disabling devices or materials
Poisons, radioactive materials and corrosive materials
Some articles such as guns, knives, handcuffs and certain sporting equipment may be allowed in checked luggage, but are restricted. Be sure to call your airline in advance for carriage procedures and approval.

Always declare items in question to check-in staff at the airport. Check with your airline for specific information on dangerous goods.
---
Check-In
Self check-in
Check in quickly and easily on the Singapore Airlines website; all you need is your reservation number. Boarding passes can be printed in advance up to 48 hours before the flight when departing from Australian ports and most other Singapore Airlines destinations outside the USA. Even when not checking bags, passengers must proceed to the check-in counter at the airport for passport and travel documentation checks.
Airport check-in
Depending on your departure point, most airport check-in counters for Singapore Airlines open between two and four hours before departure. Most check-in points close 40 minutes before departure with Sao Paulo, Copenhagen and Beijing closing one hour prior.
International Check-In Guide
At home
Know what time you need to leave the house to get to the airport
Pack your things, check out our baggage guide
Have your flight itinerary ready
Ensure you have your valid passport ready
Getting there
Be at the airport at least 

120 

minutes prior to scheduled departure time
At the airport
Proceed to check-in counter with passport and itinerary ready
Go through security
Continue through customs
Check the gate number and flight status
Sit down and get comfy!
---
Singapore Airlines Lounge
Singapore Airlines maintains several lounges for various frequent flyer status levels and cabin classes, as outlined below:
SilverKris Lounges – For passengers travelling in Suite, First or Business Class and for PPS Club members travelling on Singapore Airlines flights.
KrisFlyer Gold Lounges – Located at Singapore's Changi Airport, the KrisFlyer Gold Lounge is open to KrisFlyer Elite Gold members and alliance partner elite members travelling in Economy Class.
Star Alliance and affiliated airline partner lounges – Enjoy thousands of lounges around the world. These lounges are open to elite frequent flyer members.
---
KrisFlyer Loyalty Program
Singapore Airlines maintains a frequent flyer program called KrisFlyer. Points can be earned and redeemed on Singapore Airlines, Silk Air, Star Alliance airlines and over 100 other airline and travel related partners.
There are three KrisFlyer tiers: KrisFlyer, KrisFlyer Elite Silver and KrisFlyer Elite Gold. Each tier enjoys valuable promotions and with elite status greater levels of recognition.
---
Visit your local Flight Centre store or call 131 600 for more advice and the latest deals.
---
singapore airlines
---
Flight Centre acknowledges the Traditional Custodians of Country throughout Australia.