Domestic Luxury: A Mini Break In Freycinet National Park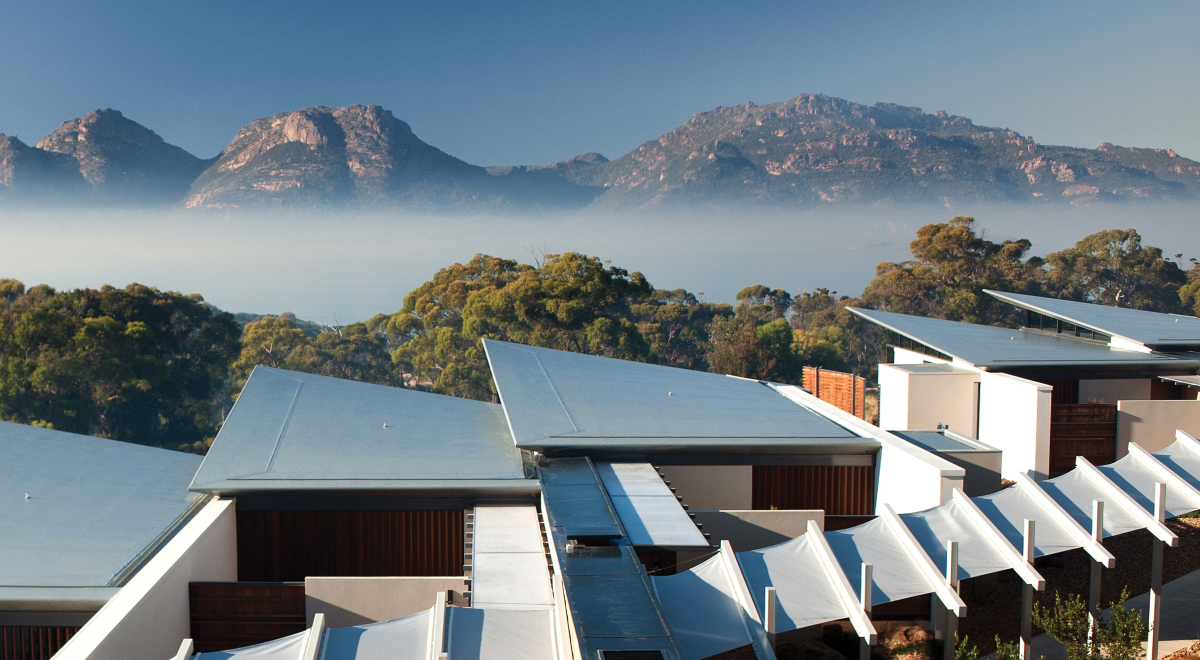 ---
---
Stress-free with no international flights or language barriers to navigate, a backyard break is a great way to recharge the batteries. Whether you're celebrating a milestone event, kid-free weekend, public holiday or making an excuse to get out and explore a new destination, it all starts with an amazing close-to-home location.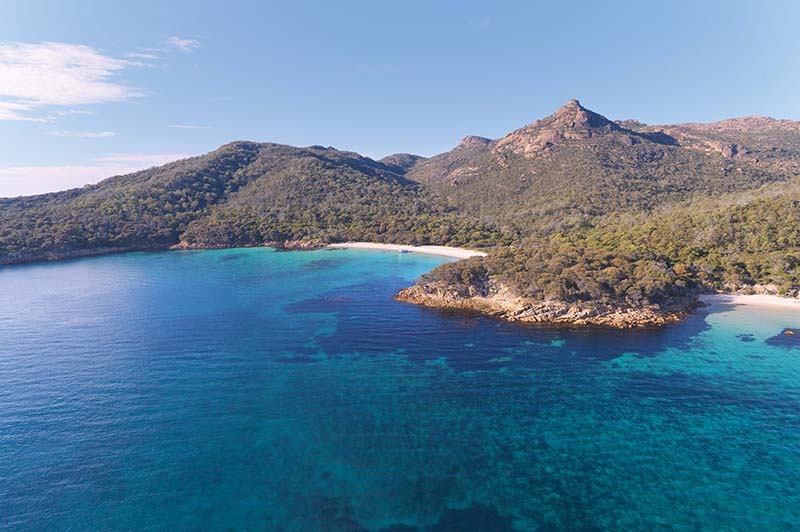 Freycinet National Park in all its glory (image: Saffire Freycinet)
Freycinet National Park on Tassie's east coast ticks all the boxes, especially if you're an adventurer looking to explore more of the great outdoors or a leisure lover seeking relaxing experiences in a beautiful natural setting. With its wild landscapes of towering pink granite mountains, pure white beaches and rocky inlets that roll into azure waters, domestic bliss takes on a whole new meaning in this serene pocket of Tasmania's east coast.
Where To Stay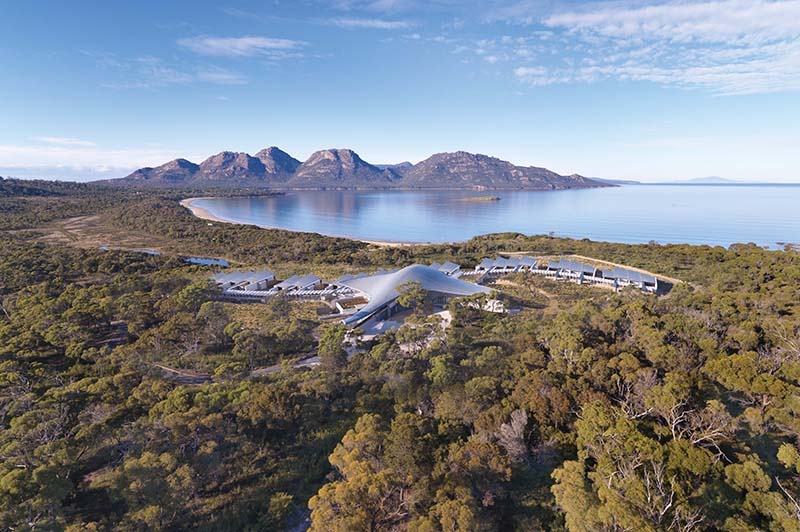 Views abound from the 5-star haven of Saffire Freycinet (image: Saffire Freycinet)
Of course, any restorative break, however short, requires an amazing place to lay your head, and Saffire Freycinet is arguably the most brilliant jewel in Freycinet National Park's glittering crown. Suspended in a spellbinding location overlooking Great Oyster Bay and the fiery Red Hazards, this 5-star all-inclusive stay isn't short on ways to feed your mind, body, soul (and belly).
Saffire Freycinet's signature suites and pavilions are tailored for two. Thoughtfully outfitted in Tasmanian timber, with an all-Australian layout designed to bring the outside in, every room features stunning views of Mother Nature's finest work, as well as the latest mod cons and access to a top-shelf mini bar.
Gourmet meals at Saffire Freycinet showcase the best of the region's produce (image: Saffire Freycinet)
Meal times are an exercise in refinement – albeit one that doesn't take away from the premium Tasmanian ingredients used by executive chef Todd Adams and his team. Gourmet breakfast and lunches offer sustenance for busy days, while dinner is a multi-course affair paired with wine, offering the ultimate reward after a day of exploration.
And if you prefer to make the most of the resort, there's a state-of-the-art gym to maintain fitness routines, yoga mats in each room, as well as a heavenly spa, where skilled therapists will facilitate a restorative spa treatment or pampering all-day journey to suit your wellness needs. 
The Wow Factor
Saffire's range of complimentary activities will add another dimension to your stay, with something to do for every mood and moment. Between one and three hours long, Saffire's included activities offer a unique way to connect with the natural surroundings. You might find yourself learning the art of winemaking at Freycinet Vineyard (complete with tastings of their famous chardonnay and pinot noir) one moment and discovering the behaviours of the Tasmanian Devil in their natural environment the next.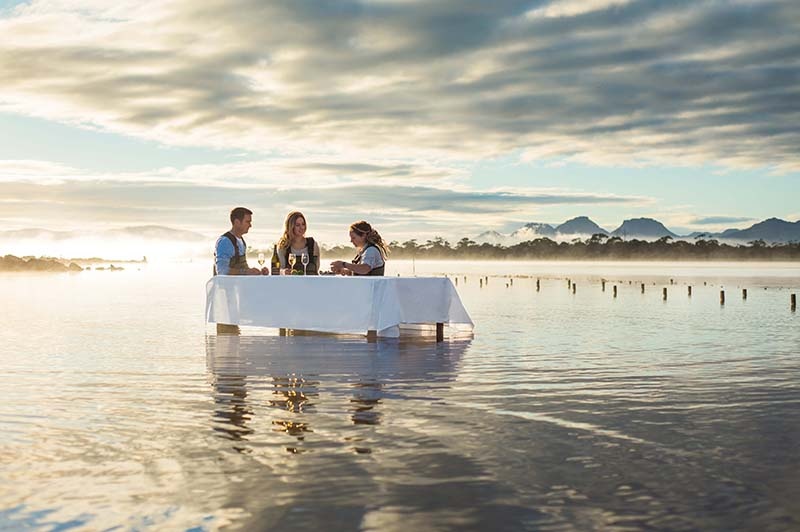 Is this the world's best dining room? (image: Saffire Freycinet)
For something truly indulgent, you can don a pair of waders and sink into the fresh waters of Freycinet Marine Oyster Farm. You'll develop an understanding of the marine ecology while sipping Champagne and savouring oysters shucked straight from this sea around a table set right in the water during this truly memorable experience.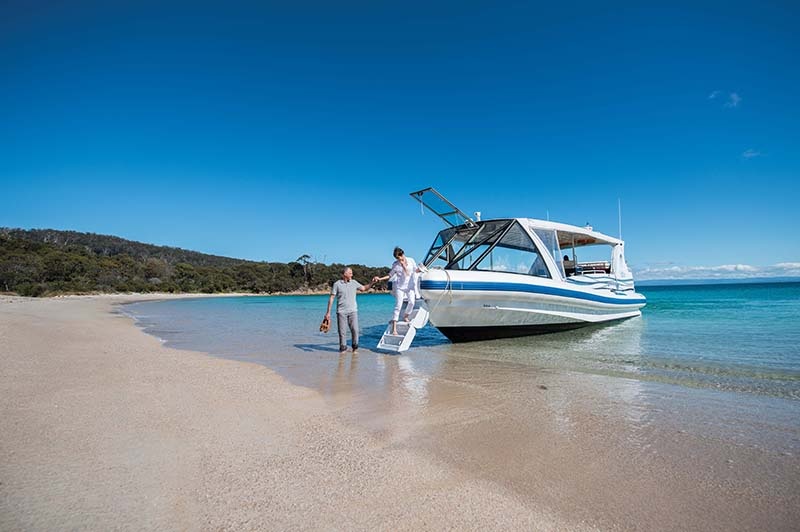 Saffire's Signature Experiences include boating, quad bike excursions and scenic flights (image: Saffire Freycinet)
Saffire Freycinet also offers a number of signature experiences that can be purchased prior to or on arrival. Go clay shotting, take a scenic flight to the shores of Wineglass Bay or hit the trails on a Friendly Beaches quad bike excursion.
---
More Close to Home Inspo from our Domestic Luxe series: Southern Ocean Lodge, Kangaroo Island
---
The Great Outdoors
Days in Freycinet National Park can be as active or relaxed as you like. Naturally, many people start with the basics of hiking, cycling and kayaking, which are all experiences offered by Saffire Freycinet. Some are guided or you could also strike out on your own to explore the rich landscapes.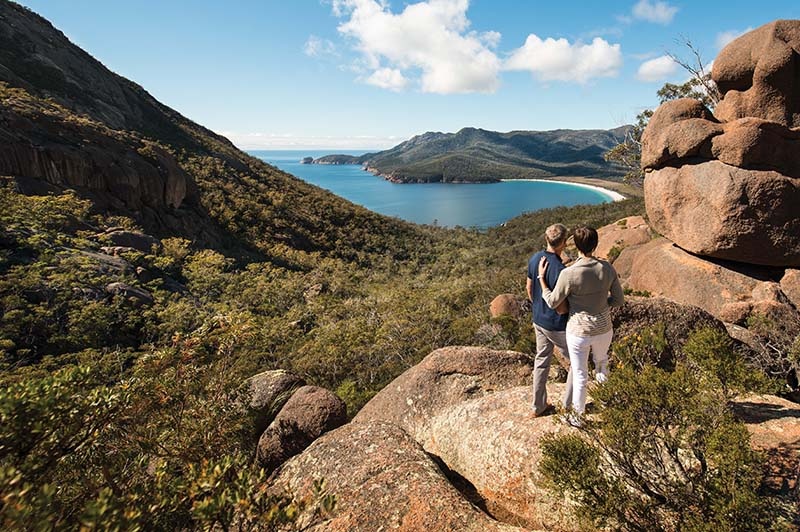 This lookout offers one of Tasmania's most photographed views (image: Saffire Freycinet)
Of course, one of the best places to begin is Wineglass Bay; the curvaceous cove is as beautiful from afar as it is on shore. Take the short trek suitable for most abilities up to the lookout to enjoy one of Tassie's most photographed views, with a similar descent to the beach. For a half-day hike, you can continue on from Wineglass Bay to the Hazards Range for incredible coastline views over to the sleepy seaside village of Swansea.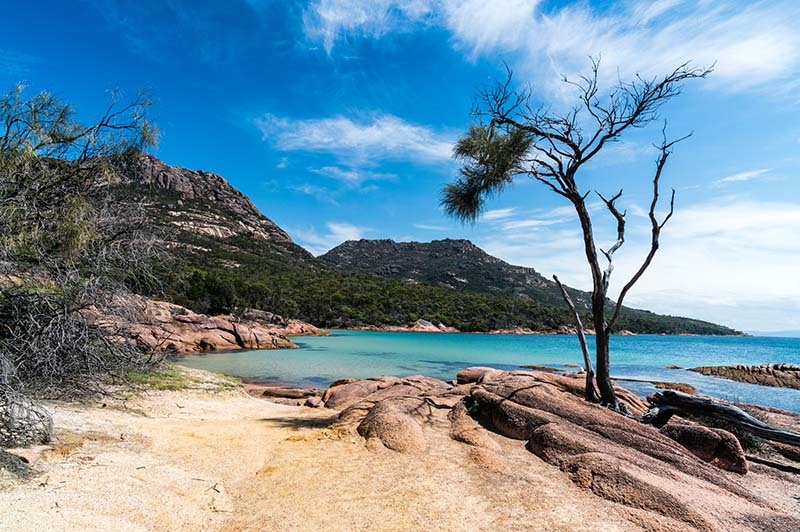 Lay out a picnic rug on the serene shores of Honeymoon Bay (image: Getty)
If you prefer a more sedentary exploration of the area, board a day cruise along the vivid coastline to discover coves and wildlife up close or take a drive through the area, stopping by Coles Bay or packing a picnic spread to enjoy on the serene shores of Honeymoon Bay, known for its crystal clear water and red rocks, which glow the most brilliant hues at sunset.
Food And Drink
What's a long weekend or short break without trying some incredible local flavours? Freycinet has a smorgasbord of temptations to try beyond Saffire Freycinet, including famous scallop pies from Coles Bay and oysters, mussels, abalone and scallops plucked straight from the sea at Freycinet Marine Farm.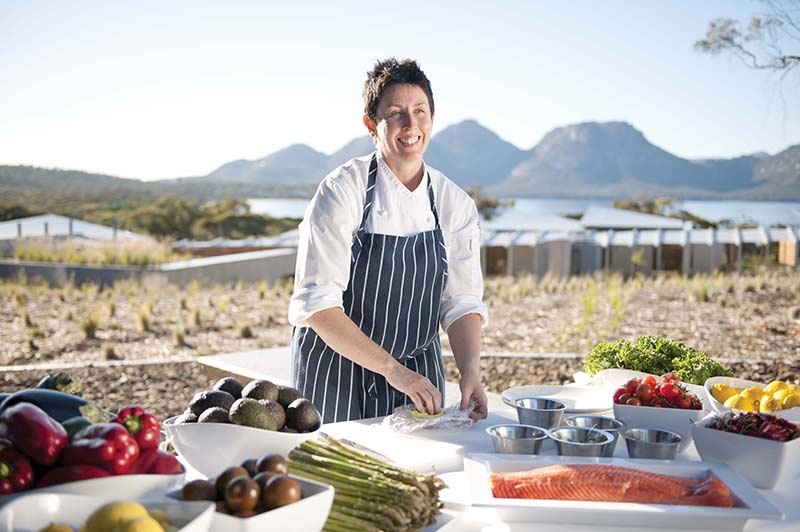 If you don't want to leave the luxury limits of Saffire Freycine in search of flavours, you can indulge in an onsite cooking class (image: Saffire Freycinet)
Once you've savoured the chardonnay and pinot noir from Freycinet Vineyard, you can join a tour of the best cellar doors along the East Coast Wine Region. It's not all about wine, though, as your day will also include a taste of more local delights, from cheese and olive oil to nuts and more seafood. Want to enhance your gastronomic experience even further? Indulge in the ultimate long lunch with a helicopter flight over the rugged Hazards and Wineglass Bay before landing for a luxurious afternoon of wining and dining right on the sand.
Getting There
Getting from Hobart to Freycinet is as simple as a two-hour scenic drive. An experience in itself, pick up a hire car from the airport and wind past inland quaint villages such as Buckland, known for St John the Baptist Church (and its mysterious East Window), through to Swansea, a seaside town with a convict heritage, excellent oysters and views out to Great Oyster Bay. This route forms part of the greater Eastern Drive, which is studded with vineyards between Swansea and Bicheno, such as Milton Vineyard, Spring Vale Wines and Devil's Corner.
Travelling via Launceston? Enjoy a 1.5-hour road trip south through pasturelands around Powranna and Campbell Town before reaching Coles Bay, or take a coastal detour via Scamander and Coles Bay.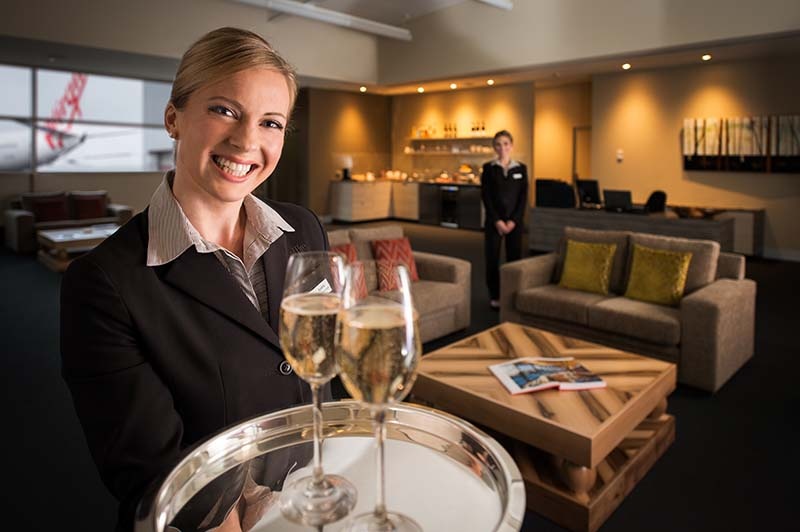 The Saffire spoils begin before you even leave the airport (image: Saffire Freycinet)
Or you could book the airport transfer to Saffire Freycinet, complete with luxurious chauffeur transport, in order to truly kick-start your close-to-home holiday break in style.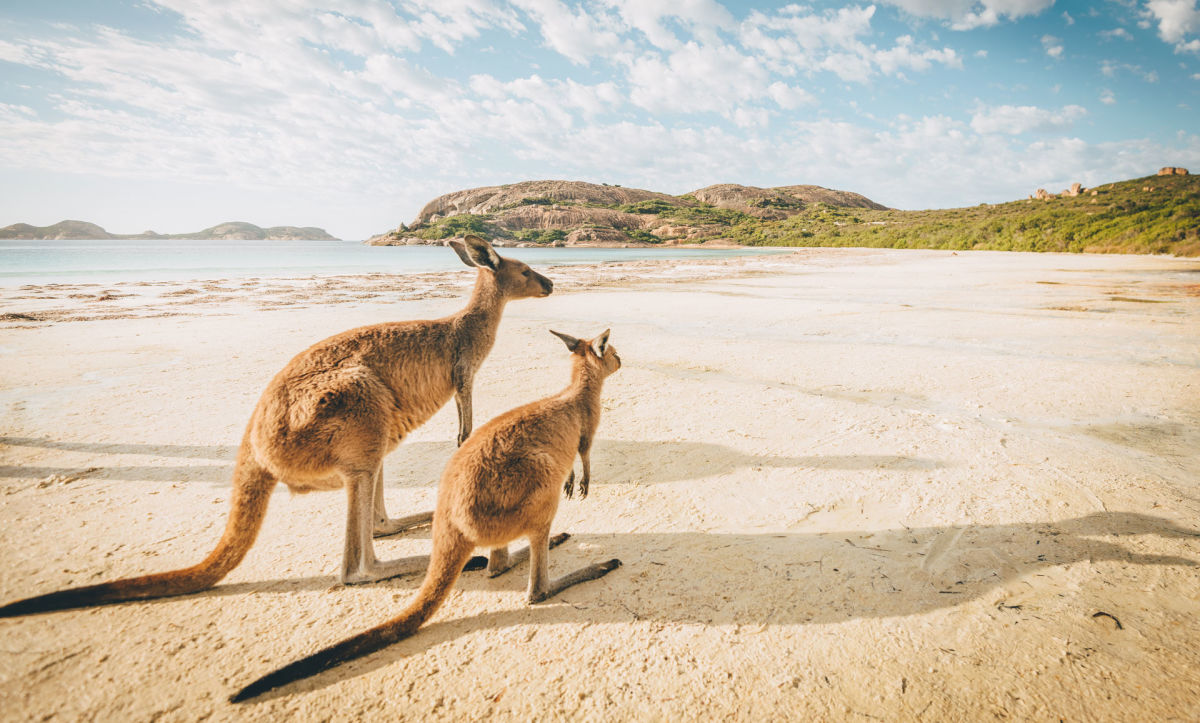 Expert tip
Don't underestimate the size of Australia – it's a big country! If you're planning a road trip, do your research on how long the drive is going to take, and where to find the best pit stops – there are hidden gems everywhere.
---
Flight Centre acknowledges the Traditional Custodians of Country throughout Australia.