Flight Review: We Check Out Etihad Airways Business Class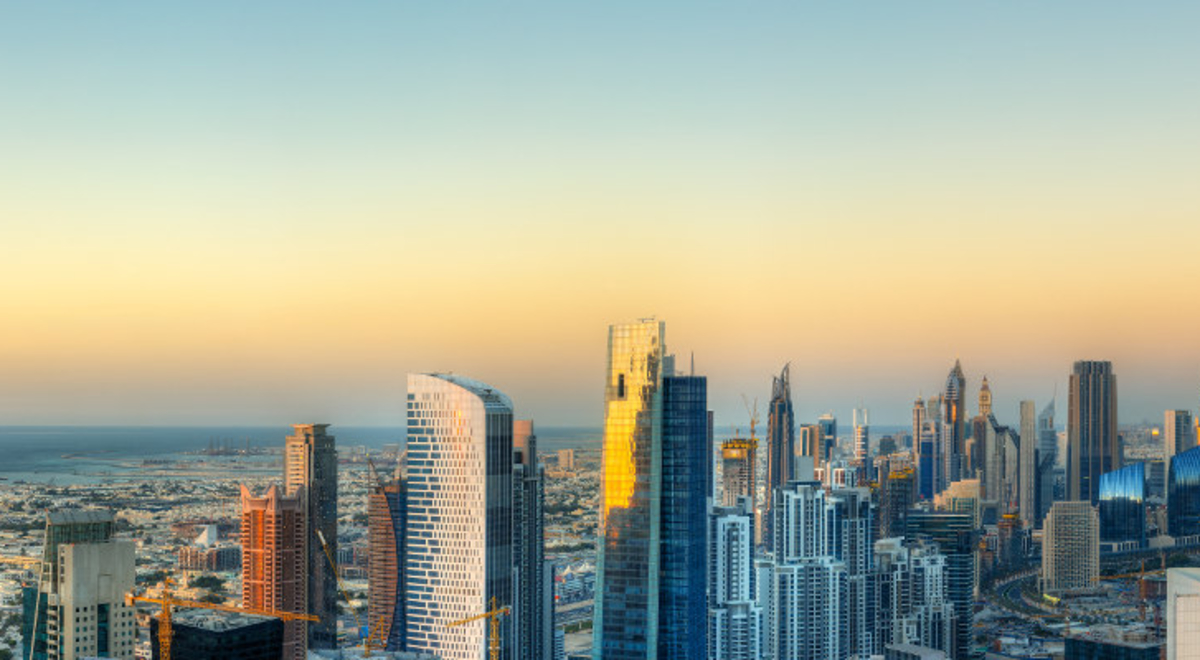 ---
---
Whether you have business in the ever-expanding market of the Middle East or you're en route to an important conference in Europe, business travellers will appreciate all that Abu Dhabi has to offer. Business is big in this fascinating city, and to ensure you arrive in tip-top shape, Etihad Airways Business Class will take you from Australia to Abu Dhabi, and then from Abu Dhabi to… virtually anywhere, in comfort and style.
Quick Overview
Route: Abu Dhabi to London
Aircraft: A380
Flight Duration: 7 hours, 10 minutes
Checked baggage: Two pieces up to 32kg
Class: Business Class
Check-in
I began my Business Class journey with Etihad Airways in Abu Dhabi. Stepping from the sweltering midday heat into the cool, luxurious interior of Business Class check-in was an absolute relief. And I'm not just talking about the sudden drop in temperature. Just inside the door, eight attentive and immaculately-clad porters were lined up and waiting to take my bags. The black, gold and silver decor was seriously sophisticated, and the check-in staff were the same: efficient, professional, but not gushing or over-friendly. Very nice. Check-in was a swift, no-nonsense affair and before I knew it I was through the gates and into the Lounge.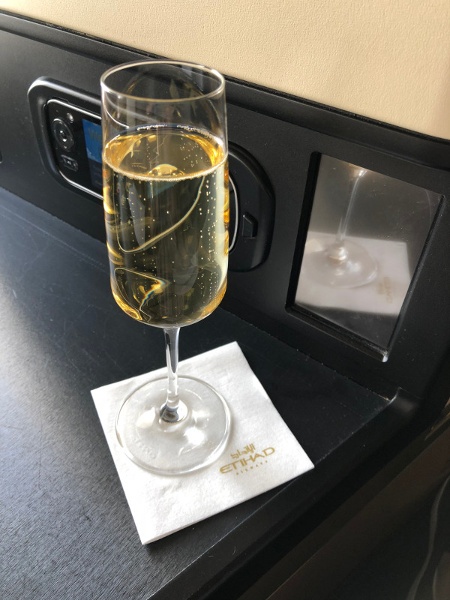 Piper-Heidsieck Cuvee Brut Champagne as soon as you board. Image: EB
Lounge
Etihad Airways Premium Lounge in Abu Dhabi is the perfect way to begin your Business Class experience, and is open 24 hours a day. The space is somehow supremely comfortable, yet businesslike at the same time. I immediately settled into the plush chairs and ordered myself a drink. The food on offer included hot, traditional Middle Eastern dishes as well as pastries and gourmet cheeses.
While waiting for my flight I was lucky enough to be given a brief tour of the Lounge by Etihad Airways staff. The highlight, hands-down, was the Six Senses Spa: the air is so delicious, you'll want to eat it. I couldn't stop taking in huge lungfuls of the stuff – a perfect blend of what seemed like forest freshness, spice and citrus. At this point I made a very clear 'note to self' to book the Six Senses Spa the next time I travel with Etihad Airways. (Six Senses Spa is complimentary for passengers travelling First Class with Etihad Airways, while Business Class passengers must pay a small fee. But oh, I'm sure it's worth it.)
Of course, business travel is not all about pampering (wouldn't that be nice?) When it comes to actually getting some work done, you have two areas within the Premium Lounge to choose from. For comfort, there are the lounge chairs, which come with usb ports and powerpoint terminals within easy reach, but if reclining is not how you do your best work, Etihad Airways offer a bar-like area where you can sit up to a desk.
Within the Etihad Airways Premium Lounge in Abu Dhabi, there's a cosy den with a number of private TV pods for catching up on current affairs, a hot buffet of international foods, coffee stations, shower rooms,  a family room where children can play, a smoking room, a concierge service, a prayer room and a hair salon, at the end of the Lounge.
At Abu Dhabi International Airport there are two Etihad Airways Premium Lounges, in Terminals 1 and 3, with the Business Centre and Six Senses Spa only located in Terminal 3.
Now it's a seat... soon it's a bed. Image: Erin Bennion
Seats
Aboard the Etihad Airways A380 flight from Abu Dhabi to London, Business Class seats (or 'Studios' as Etihad calls them)  were arranged in a one-two-one configuration, giving every passenger access to an aisle with a generous amount of personal space. 
My seat was facing backwards. As a person who has been known to get motion sickness from something as mild as watching jiggly video, you can bet I was a little concerned. Luckily, this didn't prove to be a problem. After the initial takeoff I can honestly say that the direction of my seat made no difference. (Could that be because by this stage I was too busy poring over the menu?  Read on.)
I had two windows to myself, and was able to extend my legs fully into the nook below the TV while seated. By reclining the seat, I was able to extend it all the way up to this nook, to form a snug, fully flat bed. Along the armrest was a privacy screen that could be pulled across, completing that feeling of being ensconced in a cocoon. Shortly after take-off I was offered to make my selection from the drinks menu (Piper-Heidsieck Cuvee Brut Champagne, don't mind if I do) and before long, the automatic 'blinds down' signal told me it was time to settle in for the ride. The deluxe, dark brown quilted blanket – plush on one side – was perfect.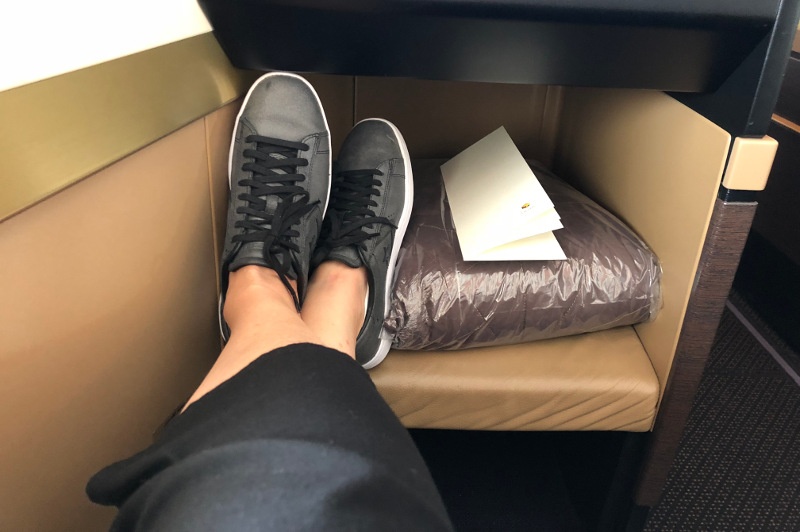 Loads of legroom in what's soon to be a flat bed. Image: Erin Bennion
Entertainment
E-BOX is the name for all the inflight entertainment aboard all Etihad Airways Business Class flights. Just like the traditional box office, there were loads of movies to choose from – over 140 in fact. E-BOX also offered me the choice of TV, Live TV, albums and radio stations to listen to, games to play, news and weather, as well as an eLibrary. Out of curiosity, I flicked through Elle Decor on the eLibrary and it was just about as good as reading the real thing. If you happen to be bringing the family along on your business trip, there's no need to worry about the kids falling short of entertainment options, with Explorers kids' programming. There are also two USB ports as well as power ports available in your Suite so you can keep your personal devices charged during the flight.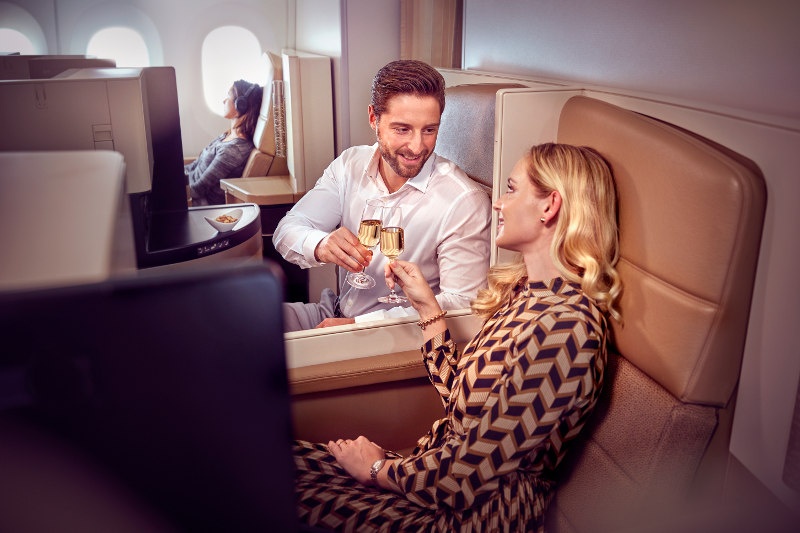 Business Class works whether you're travelling alone, or with a companion. Image: Etihad Airways
Service
The service by Etihad Airways staff is what really lets you know you're in Business Class. From the fast and efficient check-in, I was impressed all the way. Cabin crew were courteous, helpful and friendly during the flight, and expertly managed to come across as available without being intrusive.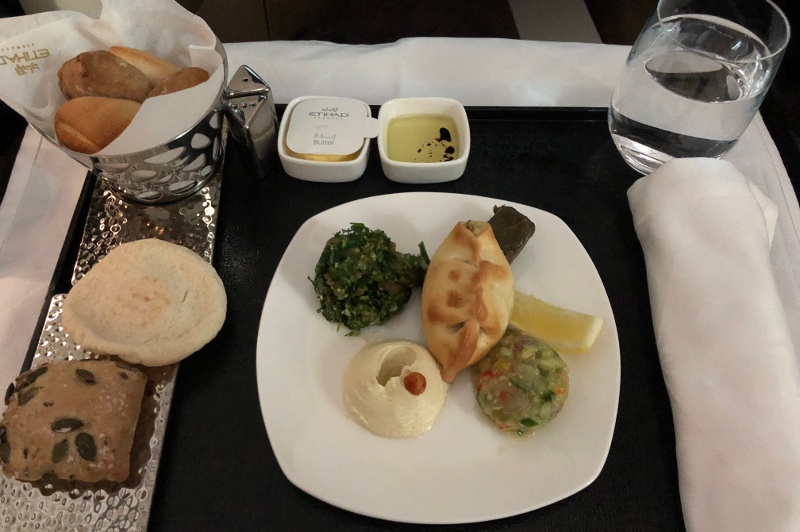 Your choice of Western or Middle Eastern cuisine. Image: Erin Bennion
Food and beverage
After settling in to my seat, I was keen to explore the menu and discover what uniquely middle eastern delights might be on offer. While I was tempted by the traditional beef tenderloin, vegetables and shiitake mushroom sauce, I opted to try something new: Chicken Mansaf – chicken in spiced yoghurt sauce served on markook bread and aromatic rice. It was delicious. For entree, I had the Arabic Mezze, which was also very tasty. When it came to dessert, I threw adventure out the window and opted for the safe-but-decadent vanilla bean ice cream. Everything was served restaurant-style, with china, linen and crystal, and a 24-hour menu of snacks and light meals was also offered.
Aboard the A380, Etihad Airways includes a shared bar area for Upper Deck guests known as The Lobby  – a great place to enjoy some excellent G&Ts prior to the meal.
Last word
With a midday departure, I was awake for most of my Etihad Airways flight to London. This gave me ample opportunity to really enjoy the fine comfort of Business Class. For anyone who wants their flight to leave them rejuvenated and ready to go, I would certainly recommend flying Business Class with Etihad Airways. What's more, anyone who is a Velocity member can accrue points flying with Etihad Airways because of their partnership with Virgin, so that's always a bonus.
etihad airways abu dhabi business travel the 48 hour destination
---
Flight Centre acknowledges the Traditional Custodians of Country throughout Australia.