An Expert's Magical Guide To Visiting Hong Kong Disneyland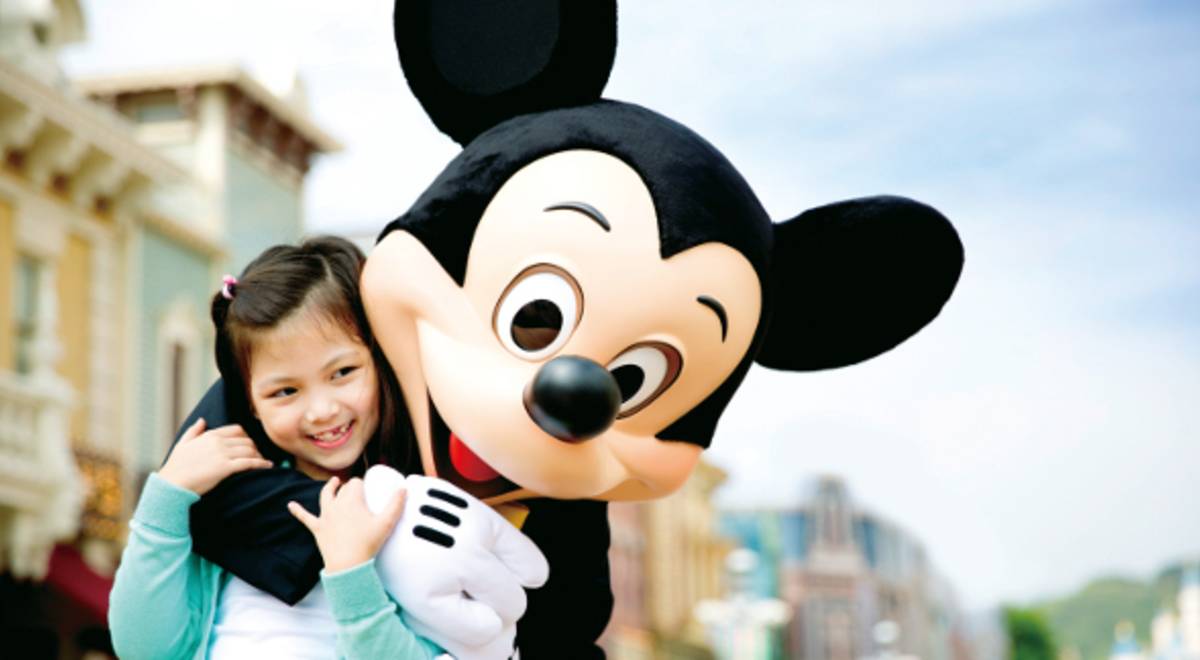 People the world over associate Disney with fun and top-class entertainment. For the hundreds of millions of children and adults who have passed through its resorts on three continents, a visit to Disneyland brings a lifetime of memories and a wealth of stories to tell.
Welcome to Hong Kong Disneyland
A first for China, Hong Kong Disneyland opened with great fanfare on Lantau Island in 2005. The park has since expanded to include Toy Story Land, Grizzly Gulch and Mystic Point, which are among the most popular 'lands' in Disneyland. Other districts include Main Street USA, Fantasyland, Adventureland and Tomorrowland.
Disney resort accommodation makes the perfect base for those families who have a hard time dragging themselves away from the likes of Mickey, Minnie and Goofy – not to mention Anna and Elsa.
The Essentials
Country: Hong Kong Special Administrative Region, China.
Currency: Hong Kong dollar.
Visas: No visa is necessary for Australian travellers staying fewer than 90 days.
Tipping: There is never any obligation to tip at any Disney destination. Tipping is not accepted within Hong Kong Disneyland Resort.
Electricity: Voltage in Hong Kong is 220 Volts AC, 50Hz. Standard Hong Kong power outlets require three-pronged, British-style plugs. Australians will need an adaptor.
Temperature (daily average in C): J 16.1, F 16.3, M 18.9, A 22.5, M 25.8, J 27.9, J 28.7, A 28.4, S 27.6, O 25.3, N 21.4, D 17.8
Rainfall (average in mm): J 24.9, F 52.8, M 71.4, A 188.5, M 329.5, J 388.1, J 374.4, A 444.6, S 287.5, O 151.9, N 35.1, D 34.5
* Statistics from Hong Kong Observatory
Getting There
Hong Kong International Airport (HKIA), on Lantau Island, is one of the world's best airports, with plenty of space and immaculately maintained facilities. HK Disneyland is a 15-minute taxi ride away. Look for the blue taxis, which serve Lantau Island. Flagfall is $HK17 (about $A3) and each piece of large baggage incurs a charge of $HK5.
You can also get there on the Mass Transit Railway (MTR) system. Buy your tickets at the airport MTR station before boarding the train, for the 30-minute trip. Though it is only three stops, a transfer is required at Tsing Yi station and another at Sunny Bay station. Coach services can also take you directly to HK Disneyland.
Flight information
Average flight time to Hong Kong from Sydney is 9h 30m; times vary from other points of departure in Australia.
Airline information
Flights are available from Sydney, Melbourne, Brisbane, Cairns, Adelaide and Perth with Cathay Pacific; from Sydney, Melbourne and Brisbane with Qantas; and from Cairns with Hong Kong Airlines. Cathay Pacific, based at HKIA, offers four nonstop flights a day from Sydney and three a day from Melbourne.
Getting Around
Hong Kong Disneyland is Disney's youngest theme park, and is an ideal size for a one to two-day visit, which makes exploring on foot a breeze. The resort hotels are within walking distance, but there's also a free shuttle service to the park.
Where to Stay
Immerse yourself in the Disneyland experience with a stay in one of the theme park's hotels – the 5-star Hong Kong Disneyland Hotel and the 4.5-star Disney's Hollywood Hotel, both on the waterfront.
Alternatively, the 4-star Novotel Citygate Hong Kong is five minutes from the airport via the hotel's complimentary shuttle bus. It has access via a footbridge to the Tung Chung MRT station, which is two stops from HK Disneyland. It's also close to the Citygate Outlets shopping mall and the Ngong Ping cable car station.
Hong Kong Disneyland Hotel
The premier accommodation option for Disney visitors, the 400-room Hong Kong Disneyland Hotel, modelled on a Victorian palace, has five restaurants and bars and an indoor and outdoor pool. The children will love the Mickey Maze and the nightly Disney's Storytime, while the grown-ups can work off their stress on the tennis court or in the gym.
Disney's Hollywood Hotel
Bringing all the glamour of the cinema to life is the 600-room Disney's Hollywood Hotel, where the piano keys in the lounge are matched by the piano keys in the swimming pool. There are three restaurants and a courtyard featuring vintage cars and famous landmarks.
Character Dining
Breakfast tastes better when Chef Mickey is behind the buffet or when Minnie shares your table for a magic moment. Reservations are strongly recommended.
Chef Mickey – Disney's Hollywood Hotel
Meet the mouse himself every day during breakfast, as well as during lunch and dinner on weekends (times vary). Make sure to recharge the camera battery overnight to be ready in the morning.
Enchanted Garden – Hong Kong Disneyland Hotel
As if the abundant buffet at breakfast and dinner weren't enough, eating in the company of Snow White and Cinderella is the icing on the cake. A similarly lavish lunch buffet is served on Saturdays, Sundays and public holidays.
---
Top 10: My Town Hong Kong
Float in the clouds: Finding Serenity In Hong Kong
Major milestone: Disney Turns 60
---
Where To Eat & Drink
Food is integral to Chinese culture, and the 25 food outlets throughout the park serve Eastern and Western cuisine. Restaurants and cafes in the Disney hotels serve full meals, as well as light snacks.
Clopin's Festival of Foods – Fantasyland
Where better to enjoy Chinese cuisine than Hong Kong, a city renowned for its culinary delights? Celebrating the great flavours of China, Clopin's Festival of Foods serves noodles in different regional styles, wok stir-fried favourites, and barbecued pork, a specialty of Guangdong province.
Tahitian Terrace – Adventureland
The name refers to the decor and ambience, not the food, which is in fact focused on South Asia. Vegetarians will love the Indian meat-free options and the carnivores can enjoy Asian specialties such as beef rendang, chicken curry and laksa soup with rice noodles.
Shopping
Bring a touch of Disney magic home with souvenirs from the many boutiques and shops dotted around the park, including clothes, housewares, toys, watches, cookies and more. Many are open to 8.45pm, and some don't shut up shop until 11pm.
Bibbidi Bobbidi Boutique – Hong Kong Disneyland Hotel
Wildly popular at Disneylands around the world, Bibbidi Bobbidi Boutique gives children up to 12 years of age the chance to be transformed from human to fairytale character, including costumes, hair and make-up. It's best to book – reservations can be made up to 180 days in advance.
Midtown Jewelry, Main Street USA
Adults can have fun perusing elegant, Disney-themed jewellery for men and women, fashioned in gold, diamond and silver, as well as jade, which is highly valued in Chinese culture.
Special Events
Chinese New Year
Join in the lively Chinese New Year festivities in January and February. Feel the beat of the drums and gongs, and marvel at the energetic lion dances as the park is awash in bright lanterns and red envelopes. Savour the special Chinese holiday dishes on offer throughout the park. Date-specific tickets are issued for attendance during this peak period.
Christmas
Christmas comes to HK Disneyland from mid-November to the end of December. There are Christmas parades, Christmas trees, carolers, baubles, bows, fluffy snow and more. Make sure you stay until dusk to see the Christmas illuminations burst to life.
Halloween
Ghostly parades, spooky trees and eerie pumpkin patches are the order of the day when Halloween hits HK Disneyland during October. There's also candy for trick-or-treaters who dare to brave the streets filled with Disney villains.
Top Attractions
Big Grizzly Mountain Runaway Mine Cars
Ride the rollercoaster down into a darkened mine tunnel through a rocky canyon, past rearing grizzly bears, and exploding dynamite. Just when you think you're in the clear, you are sent rocketing backwards to take on a different shaft, hurtling by canyon walls and splashy fountains.
Space Mountain
The famously thrilling space-themed rollercoaster in the dark is also here in Hong Kong. Adventurous cosmonauts can blast off into outer space on a speeding rocket, whizzing past meteors and satellites, and feeling the pull of gravity as they break back through the atmosphere.
Mystic Manor
Showcasing Disney's expertise in special effects, the ride through the comically haunted mansion is popular with visitors of all ages. Pass through eight galleries and see Mt Vesuvius erupt, dodge a man-eating plant, and come face to face with the Mythical Monkey King.
RC Racer
Climb aboard the 20-person vehicle, and get ready for big drops and thrills as you are turned nearly upside down on a 27-metre U-shaped racetrack – the highest point in Toy Story Land.
Animation Academy
Discover the tricks of the cartoon trade and learn how to draw a Disney character with the help of a real Disney artist in the Animation Academy near the entrance. Note that these sessions are presented only in Cantonese.
It's A Small World
This Disney classic is a universal favourite. Ride along in a little boat as a cast of almost 300 papier-mache children in traditional costumes from all over the world sing the famous song. Special inclusions highlighting Hong Kong history and Chinese culture make the Hong Kong version unique in the world.
Insider Secrets
Kingdom Club
Guests staying on the Hong Kong Disneyland Hotel's executive floor can access the Kingdom Club lounge – the perfect spot to watch the nightly Disney In The Stars fireworks display.
Other Hong Kong Destinations
In the unlikely event that you should tire of HK Disneyland, you don't have to go far to find other fascinating attractions in this exciting and cosmopolitan city.
Po Lin Monastery
Set amid the rolling greenery of Lantau Island's Ngong Ping highland, the Po Lin Monastery has long welcomed visitors curious to see the giant Tian Tan Buddha statue, enjoy a vegetarian lunch with the monks, wonder at the architecture of the temple complex, and gain an insight into Buddhism. It's hard to miss the imposing, 34-metre statue crowning the top of Mount Muk Yue. It's visible from many kilometres away and a great view can be had from the Ngong Ping cable car. Best reached by taxi from Disney.
Flagstaff House Museum of Tea Ware
Housed in a British colonial-era mansion that is the oldest European building in Hong Kong, the Flagstaff House Museum of Tea Ware tells the story of tea through beautiful displays and art exhibits, as well as a permanent collection of ceramics. The museum is in Hong Kong Park, one of the city's most beautiful and a favourite for bridal photography. An easy ride on the MTR from Disney to Central or Admiralty station, then a short walk to the park.
Hong Kong Shopping District
Central is home to upscale shopping centres, with designer brands filling fashionable boutiques selling clothing, homewares, and almost everything else – The Landmark is among the best. The shopping district, centred around Des Voeux Rd and Queen's Rd, is a short walk from the Hong Kong Island ferry terminal, connected to Lantau Island by the Discovery Bay ferry service.
---
Visit your local Flight Centre store or call 131 600 for more advice and the latest deals on travelling to Hong Kong Disneyland.
---

---
Flight Centre acknowledges the Traditional Custodians of Country throughout Australia.