A Girlfriends' Getaway: How To Spend 48 Hours In Adelaide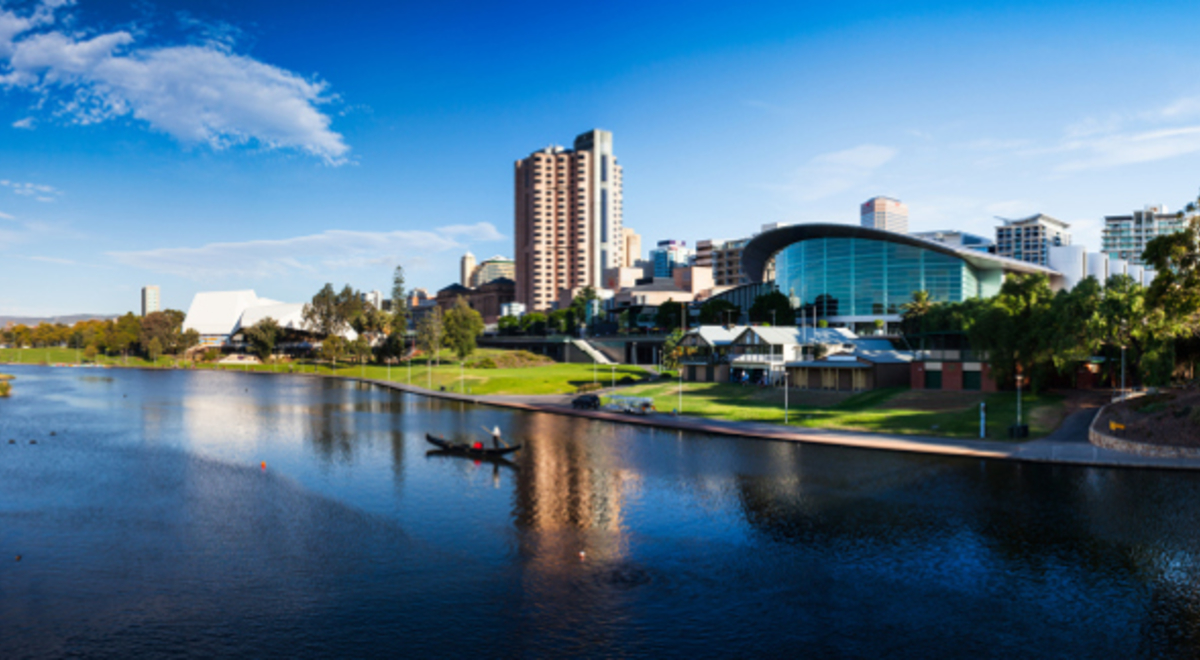 Ask most Australians where they want to travel down under and few will name Adelaide first. However, this homely city is not without its appeals including delicious local cuisine, world-class shopping and fascinating attractions.
As Catie Anderson found out, Adelaide is also a fantastic destination for a girlfriends' getaway.
Saturday
9am: Breakfast at Market Street Deli
This bustling little eatery is a real gem. It is situated just off Gouger Street, a stone's throw from the Central Market. First and foremost it's a cafe, but it's also an artisan bakery and deli, so as you can imagine the produce is super fresh and delicious.
This place is rumoured to sell the best coffee in Adelaide, so we hastily order up the first caffeine shots of the day, in the form of two flat whites, an expresso and one double shot latte with soy (there's always one). The French pastries look amazing and are the perfect accompaniment for coffee.  I have a Pain au Chocolat and wow, is it divine.
This great little cafe has a wonderful European feel to it and an impressive mouth-watering range of cheese, cakes, honey, breads, magazines and other gourmet treats. And the coffee? A definite 10!
11 Market Street, Adelaide. Open Mon to Fri 7am to 4pm; Sat 7am to 3pm. Closed Sun.
10am: Adelaide Central Market
A two-minute walk has us at the Adelaide Central Market, the heart and soul of this cultural city since 1870. It is still one of the most popular tourist destinations and is a hive of activity when we arrive.
It houses 80 stores selling anything and everything including artisan breads, French Pastries, smelly cheese, coffee, tea, organic vegetables, seeds, spices, gourmet cooking oils, deli meats, fish, marinated roasts, poultry, flowers and books. We need at least a couple of hours to wander and absorb the festive atmosphere.
One of my favourite stalls is the Smelly Cheese Shop. It has a huge range on offer from local cheeses to specially imported cheeses from around the world. I easily spend 20 minutes wandering around the shop sampling the heavenly produce.
Dough bread shop has an abundant range of specialised breads, pretzels and pastries, while the The Providore has a crazy range of colourful Easter eggs filled with praline and a chocolate fountain that flows all day.
44-60 Gouger Street, Adelaide. Open Tues 7am-5.30pm; Wed 9am-5.30pm; Thurs 9am-5.30pm; Fri 7am-9pm; Sat 7am-3pm. Closed Sun and Mon. 
1pm: Lucia's Pizza Bar
Three hours later we are still happily browsing through the market and fancy the look of Lucia's Pizza Bar for lunch. This little slice of Italy has been serving South Australians for more than 56 years, when it opened as the first pizza bar in Adelaide. Now it's a thriving cafe within the market and it can be quite challenging to snare a table.
I try Mama Lucia's home-made gnocchi with Napoletana sauce. Delicious!
If you need to wait for one of the elusive tables, you can take a wander through the shop and see all the wonderful imported produce. There is even a fridge full of Mama Lucia's fresh soups, pizzas and pasta sauces to take home – yes I did buy a couple of Mama's sauces.
Shop 3, Adelaide Central Markets, Adelaide. Open Mon-Sat for breakfast and lunch. Open Fri for dinner. 
2.30pm: Haigh's Chocolates factory
A trip to Adelaide isn't the same without a visit to the iconic Haigh's Chocolates factory for a tour. It's a five-minute taxi from the markets to reach paradise. We take a 20-minute tour through the history of the family-run business and the making of their hand-made chocolates, from the roasting of the beans until the decadent finished product. Best of all, there are plenty of tasting to be had along the way.
Haigh's celebrates its 100th birthday this year and is still owned and run by the founder's (Alfred Haigh) great grandsons. Try the chocolate covered apricots – they are my favourite.
154 Greenhill Road, Parkside. Tours are free but book ahead as they often fill up quickly.
4pm: Mayfair Hotel
We pop into Adelaide's flash new hotel, the Mayfair, to rest our feet and try out the basement bar. We snag an elegant spacious booth where we collapse onto soft comfy cushions.
The Mayfair is a chic bar with a touch of elegance. The barman knows his stuff and recommends a local Sauvignon Blanc from the Adelaide Hills. It arrives minutes later, perfectly chilled.  This is a great space to catch up with friends – there is no ear-splitting music so it's easy to chat.
45 King William Street, Adelaide
Want to venture further out? Essential Day Trips From Adelaide
Staying for an extra day? 3 Days in Adelaide
7pm: Chihuahua Bar
A more relaxed attitude to licensing laws for small bars has brought an exciting onslaught of funky new venues to Adelaide. We head to Leigh Street and Peel Street in the heart of the city to sample the best.
We stop off at the Chihuahua Bar for a snappy Mojito and some Mexican sustenance. This bar has a quirky interior with Mexican skulls hanging from the wall. Colourful plastic wash baskets act as light-shades.
Once seated we order up tomatillo salsa and guacamole with corn chips to get us started. Next, it's on to pork and slaw tacos – yum! Beware the smiling barmen if he offers you a taste of Mezcal. It's a top-shelf Mexican liquor that will blow a hole in your stomach.
20 Peel Street, Adelaide
9pm: Cocktails at 2KW's rooftop bar
With rooftop bars being all the rage at the moment we head to Adelaide's 2KW to experience Adelaide from above. This uber-cool space is the crown that sits atop a stunning historical building that wouldn't be out of place in Gotham City.
We take a seat at the marble bar and order up a glass of Merlot while enjoying the city light show. It has a wonderful LA feel to it. Before leaving we take a snoop in the restaurant, which looks fantastic and has a menu of delicious share plates – something to be saved for our next visit.
Level 8, Cnr King William Street and North Terrace, Adelaide.
Sunday
10am: Hey Jupiter French cafe
On the East End of Adelaide sits the quaint cafe of Hey Jupiter. From the outside the cafe/bistro looks modern with a large glass window, stripped awning and a lush green wall garden. But step inside and you will find a low-key French space with pale green walls, ornate gilded mirrors and stark tables and stools – a blend of old-style Paris chic and raw Gaelic appeal.
Daily specials are listed on the numerous mirrors. Fresh pressed juices are on offer and we happily order up a green juice. The menu is appealing with crisp toasted Croques Monsieur, scrambled eggs with sun dried tomatoes, soft boiled eggs with truffle salt and soldiers, bircher muesli, croissants galore and much more.
I order the fluffy scramble eggs, semi dried tomatoes with toasted ciabatta. It hits the right spot.
11 Ebenezer Place, Adelaide. Open for breakfast (7am Mon-Fri; 8am Sat & Sun), brunch and lunch daily and dinner on Fri.
11.30am: Time to walk off our breakfast
We leave Ebenezer Place and make our way north a couple of blocks to North Terrace with its lovely array of heritage buildings. A little further east on North Terrace we find ourselves enjoying a stroll in the lush green space of the Botanic Gardens. Just the treat for a Sunday morning.
12.30pm: Rundle Mall
Now, a girls' weekend shouldn't go without a bit of retail therapy. We troop back to the Rundle Mall feeling very pleased with our morning exercise. We pass one of Adelaide's icons, CIBO Expresso, on the way and can't resist popping in for a quick revival shot of coffee.
The Rundle Mall has all the popular high street fashions on offer. There are more than 700 stores to keep us busy. If you are looking for something a little off-beat or chic, head east to Rundle Street where you can find a cute shopping area with little boutiques, funky bookshops, cafes and restaurants.
Rundle Mall, Adelaide. Open Mon to Thurs 9am-7pm; Fri 9am-9pm; Sat 9am-5pm; Sun 11am-5pm.
4pm: Hotel
Throbbing feet and empty wallets have us heading back to our hotel for a well-earned rest.
7pm: Sean's Kitchen
Feeling revived and a little bit hungry we head off in search of Sean's Kitchen, a relatively new kid on the block in the world of Adelaide dining.
Situated in the Casino precinct just off North Terrace, this large, modern eatery has a French Bistro feel. Stunning flower arrangements down the centre of the room give it a chic greenhouse atmosphere. Timber garden benches and cane/rattan chairs offer comfortable seating and the incredibly high ceiling adds a wonderful spacious feel to the place.
Drink orders taken, we have time to sit and peruse the large menu. I almost pass on the entree until I spot the sweet pea and Parmesan risotto. It is absolutely delicious with just the right amount of Parmesan to add a slight sharpness. I then opt for the eye-fillet steak with peppercorn sauce. Sides are separate, so we order grandma's  carrots, duck fat chips and mac and cheese to share.
My steak is enjoyable, but a little bit under-done and the carrots have a wonderful flavour. Unfortunately, the duck fat chips are over-cooked to the point of lacking taste. The mac and cheese on the other hand is insanely good and leaves me wanting more.
The main focus of the wine list is on Australian wine, in particular drops from South Australia.  We order a bottle of Lobethal Road, Pinot Gris and it hits the spot. Overall the service is good and we enjoy a fun evening.
Station Road, Adelaide. Open Mon to Fri 11am-12am; Sat to Sun 8am-12am.
Would I go back to Adelaide? Definitely, and not just for Sean's Kitchen's mac and cheese.
Visit your local Flight Centre store or call 131 600 for more advice and the latest deals on travelling to Adelaide.
---
Flight Centre acknowledges the Traditional Custodians of Country throughout Australia.