Hole In One: The Grand Tour Of Women's Golf In The Media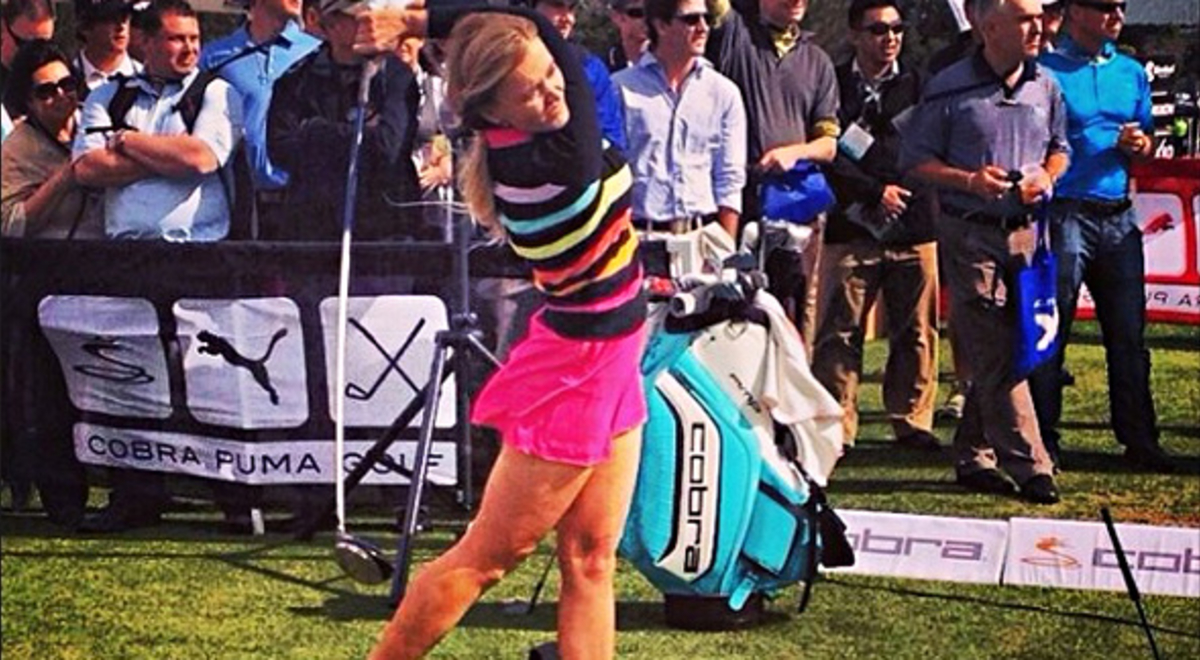 ---
---
If you could book a ticket on a hot-tub time machine and go back to 1983, you'd find the world was a very different place. Bob Hawke was Prime Minister, the internet didn't exist and women's golf was, perish the thought, popular.
Australia's Jan Stephenson, the winner of that year's US Open, was an international sensation that transcended the game and wasn't shy about exploiting her sex appeal to raise the profile of the sport.
"We have to promote sex appeal," said an unapologetic Stephenson in an interview with Golf Magazine in 2003. "It's a fact of life. The people who watch are predominantly male, and they won't keep watching if the girls aren't beautiful."
Stephenson has watched the women's tour she did so much to elevate into the public consciousness back in the 1980s fade into relative obscurity. Only with the emergence of not just supremely gifted but photogenic golfers such Natalie Gulbis and Annika Sörenstam has women's golf piqued the interest of a wider male audience, a sector of the market Stephenson pinpointed as crucial to the sport's long-term commercial viability.
In April 2014 espnW reported a worrying statistic. The Tucker Center for Research on Girls & Women in Sport at the University of Minnesota had "found that even though 40 percent of athletes are female, they account for only four percent of the media coverage. Moreover, it found that they were more likely to be portrayed in a sexually provocative way when they were in the spotlight. Athletes, even female ones, should be covered because of their accomplishments. We have no trouble doing this with men, but with women, ideas of sexuality and attractiveness come barrelling in."
The key word there is should. Making it happen in a male-centric, male-dominated sporting world is another proposition altogether. In 2013, according to the Women's Sport and Fitness Foundation, women's sport in the United Kingdom only accounted for 0.4 per cent of the total value of commercial sponsorship. Less than half of one per cent.
Inbee Who?
The premier women's circuit, the LPGA Tour, has long been saddled with the problem of how to appeal to both male and female sports fans – something that hasn't been so much of an issue with, for example, women's tennis. The current world #1 on the tour is Korean Inbee Park and 22 of her countrywomen are in the world top 50. The problem is this: as good as she is, Inbee's name doesn't register much at all with anyone who doesn't follow golf.
As Stephenson explained in that same fateful interview in 2003: "Everyone wants to skirt it, but it's true. You have Tiger and Phil and Adam Scott and Aaron Baddeley. They are gorgeous. Their clothes are beautiful; everything about them is exciting. So [the LPGA Tour has] to catch up. The women are not the best players – the men are. The women are not the best athletes – the men are. Whether we like it or not, we have to promote sex, because sex sells. I think you have to shock."
It's a provocative argument. As much as Stephenson's views are undoubtedly challenging if somewhat dated, it's an immutable if unpalatable truth: more men will be interested in female sport when there are not only talented women but attractive women involved and being actively promoted. After all sport, just like music, TV and film, is now a branch of the entertainment business. We see talented, attractive women and talented, attractive men promoted in music, TV and film. Why is sport an exception?
What Stephenson herself did for women's golf, Maria Sharapova did for women's tennis and Mia Hamm did for women's soccer: they made more men want to watch it. How many women went to Los Angeles Galaxy exhibition games in Australia just to see David Beckham play and take his shirt off at the final whistle? Sex sells.
Says world No. 22 Angela Stanford: "Sex sells… nobody can argue with that. It's just the way it is. But the LPGA has some attractive women and very fit women, so why not use them?"
But is it likely to happen in 2015? No. Those who have tried before have been targets for sharp criticism from the media.
In 2007 and 2009, to raise money for charity, former Australian Ladies Professional Golf pro Jenny Sevil, wife of former ALPG chief executive Warren Sevil, released a pair of controversial calendars featuring golfers such as Christina Beltran and Danielle Montgomery, the latter recreating Stephenson's famous bathtub-full-of-golf-balls photo from the 1980s. They got publicity worldwide. But the view of former Herald Sun columnist Robyn Riley was typical of the critics: "Sevil said it was [done] to give the girls the publicity they deserved. It is a shame she sold them so cheaply."
Highlighting sex appeal certainly isn't a fix-all and not to everyone's taste but there's no reason for some of the sport's stars not to be promoted, so long as it is non-sexist, respectful and tasteful. Beatriz Recari (@BeatrizRecari), Blair O'Neal (@BLAIRONEAL), Veronica Felibert (@verofelibert), Michelle Wie (@themichellewie) and Germany's Sandra Gal (@TheSandraGal), recently adjudged the world's "hottest golfer" by Golf Digest magazine, are all highly marketable for their looks as well as their golf. Annual "hot" lists are a staple of the American media and aren't about to go away any time soon. They're part of the sports marketing business.
Touring With The Pros
What the LPGA must do is make more hay of the fact that the five women's majors present a tantalising itinerary for anyone – men and women alike – interested in sports travel.
They are ANA INSPIRATION (30 March–5 April, Mission Hills Country Club, Rancho Mirage, California, USA), KPMG Women's PGA Championship (9 June–14 June, Westchester Country Club, Rye, New York, USA), US Women's Open (9 July–12 July, Lancaster Country Club, Lancaster, Pennsylvania, USA), Ricoh Women's British Open (30 July–2 August, Trump Turnberry Resort, Turnberry, Scotland), and The Évian Championship (10 September–13 September, Évian Resort Golf Club, Évian-les-Bains, France). All take in some great courses and magnificent scenery, especially Évian.
Sports tourism is one of the fastest growing sectors of the global travel industry and accounts for about 5 per cent of turnover in the Australian travel industry, "equating to tourism expenditure of about $3 billion per annum", according to an Austrade paper. The Olympics, the FIFA World Cup, the Tour de France, Wimbledon, the English Premier League, the UEFA Champions League, and the British and Irish Lions Tour, to name just a few, are all blockbuster events or competitions that attract large numbers of international visitors.
Visa's Global Travel Intentions Survey in 2011 found that 27 per cent of respondents (12,000 people across 23 countries) who intended to visit the UK were likely to attend a sporting event. The 2013 edition of the same survey found that Australians were the world's second biggest spenders on overseas holidays, only behind the Saudis.
Even the Department of Foreign Affairs and Trade is finding itself stretched with the explosion in sports tourism. Said a recent annual report: "The increasing popularity of adventure tourism also had an impact on our consular caseload, as did the numbers of Australians travelling overseas to attend major events, including sporting events."
The LPGA needs to take a piece of that pie. Golf is a sport that is abundantly advantaged by the fact that it takes place in some of the most beautiful, most manicured places on earth. Anyone who thinks the game is just "a good walk spoiled" hasn't seen it played at the professional level – by men and women.
If the LPGA can also tackle the perennial issue of sex appeal and come to a solution that satisfies both the purists and the sport's marketers, women's golf has a very healthy future.
(Lead Image: @blaironealgolf)
---
Flight Centre acknowledges the Traditional Custodians of Country throughout Australia.