Good News, Las Vegas No Longer A Dining Desert For Foodies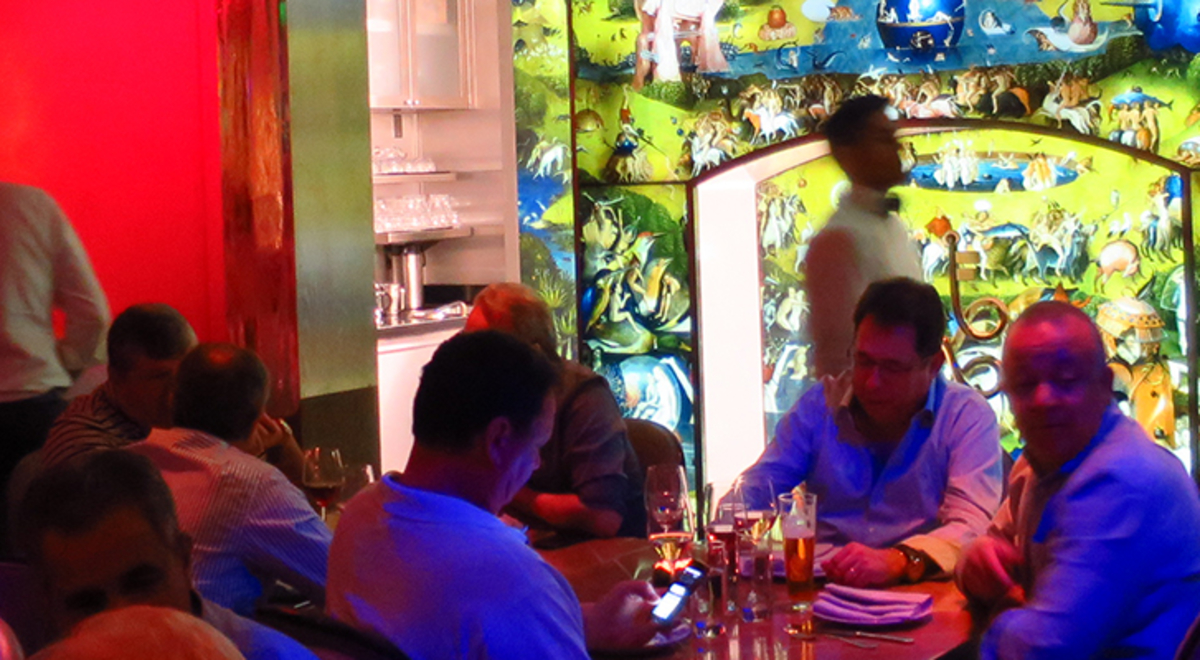 ---
---
Las Vegas is becoming known as much for its amazing dining options as its incredible shows and casinos. Demand for restaurant tables is outpacing that for roulette tables as Vegas expands its appeal, attracting foodies and celebrity chefs alike. These days there's no need to throw the dice at the roulette table or even go inside a casino – just bring your appetite and Las Vegas will do the rest. Whether you want burgers, steak, ice-cream sundaes or fine French dining, Vegas can cater for all tastes and budgets. This desert city is fast earning a reputation as a food capital, thanks to an exciting food scene, new openings monthly and the arrival of a phalanx of big-name chefs.
Celebrity chefs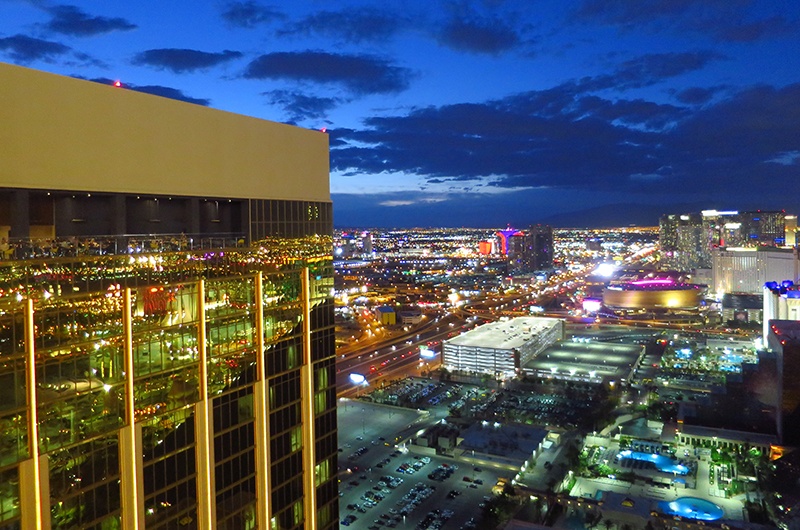 The sparkling view from from 64th floor at Alain Ducasse's Rivea Las Vegas restaurant within the Hotel Delano Las Vegas.
Celebrity chefs are lined up to take their place on the Las Vegas Strip. Already there, Pierre Gagnaire has Twist in the Mandarin Oriental; Joel Rubuchon is at the MGM Grand and Alain Ducasse has Rivea Las Vegas on the rooftop atop the new Hotel Delano Las Vegas.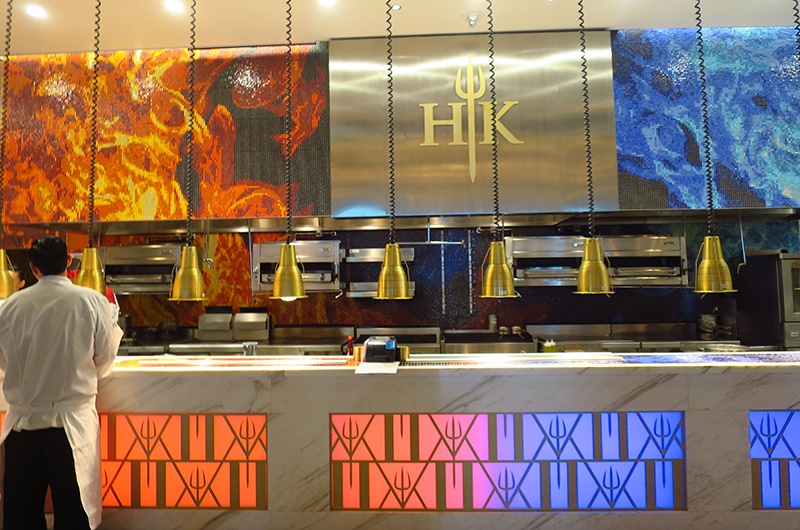 The world's first Hell's Kitchen restaurant from celeb chef Gordon Ramsay is now open at (where else?) Caesars Palace in Las Vegas.
In there too is Robert de Niro and chef Nobuyuki 'Nobu' Matsuhisa with their Nobu restaurant (now a chain) and their first Nobu hotel. Gordon Ramsay's just opened his fifth dining venue in Vegas – the world's first Hells Kitchen. Named after the show that made him famous in America, it's where you'll find his signature dishes of Beef Wellington and Caesar Salad (of course) on the menu.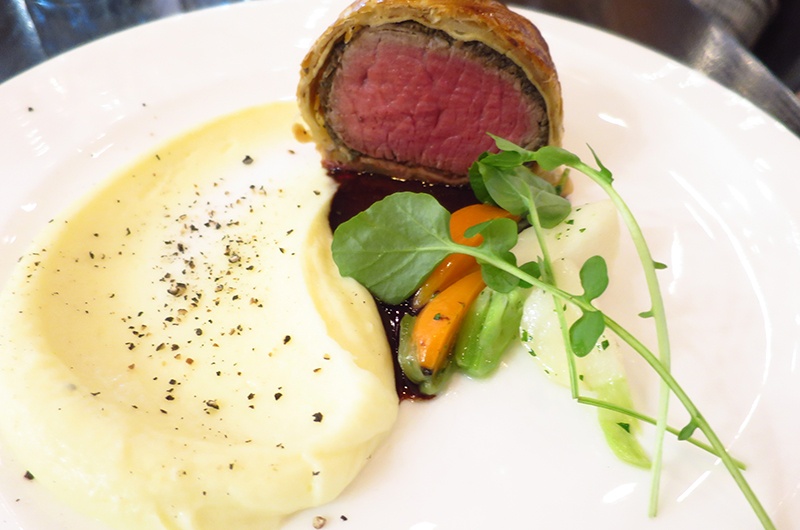 What to order at Gordon Ramsay Hell's Kitchen? The celeb chef's signature Beef Wellington dish, of course.
Apart from the burgeoning food scene everyone seems to want to open their signature restaurant here so Vegas is packed to the rafters with celeb chef restaurants.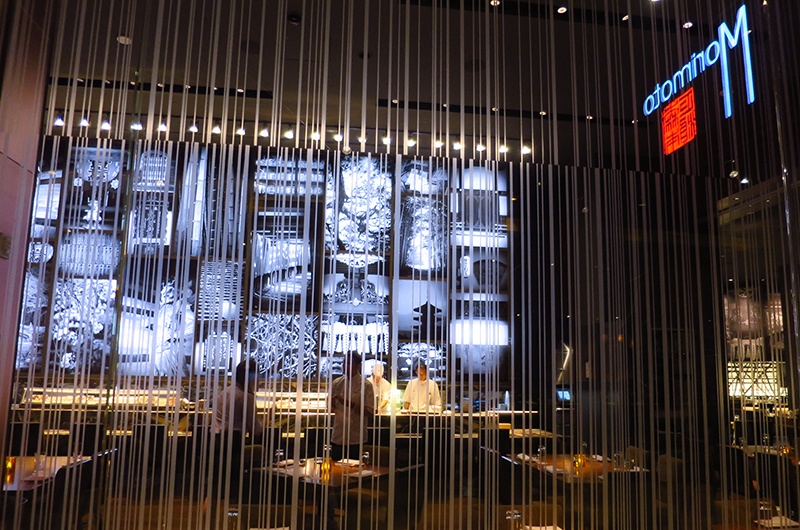 Soak up the star-studded atmosphere at Morimoto Las Vegas at MGM Grand.
Apart from poster boy Gordon Ramsay, Japanese chef Masahura Morimoto of Iron Chef fame, who has 16 modern restaurants around the world, has opened his Morimoto Las Vegas restaurant in the MGM Grand.
Mixing It Up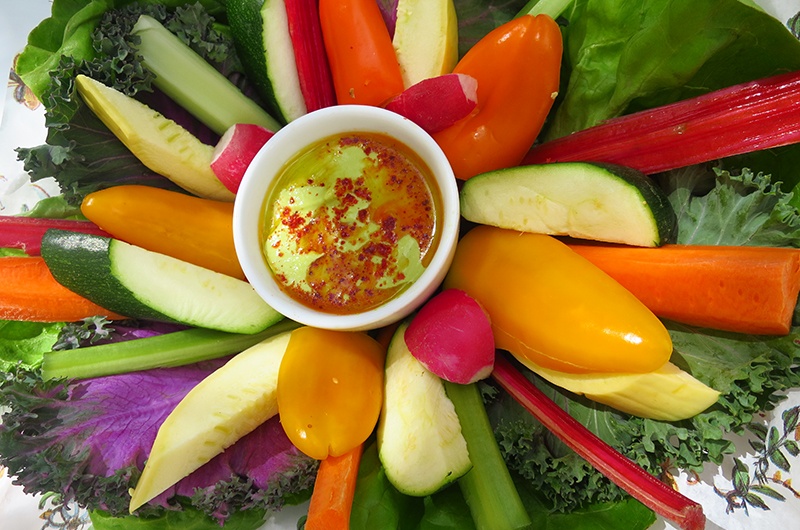 Simple yet elegant, a spring vegetable starter is one of the garden-inspired offerings at Primrose, a "French-ish style" restaurant, at Park MGM Las Vegas.
Of course along with these there is a veritable who's who of American chefs, including the stellar Thomas Keller of French Laundry fame, Michal Mina, Shawn McClain, Julian Serrano, Tom Colicchi, Charlie Palmer and Wolfgang Puck.
Lending a little restraint, Primrose at the newly rebranded Park MGM (Monte Carlo) dishes up a garden menu inspired by the south of France in a French garden setting. And Roy Choi, the Korean chef of LA fame, is also coming soon to the new Park MGM.
Or if South American is more your cup of tequila, Susan Feniger and Mary Sue Milliken of TV's Too Hot Tamales fame have imported their South American touch at Border Grill.
Female chefs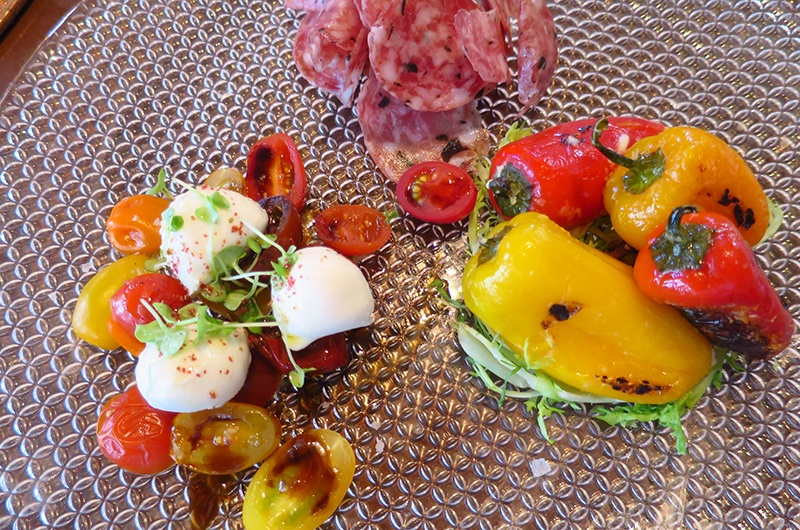 A colourful antipasto tasting plate is on the menu at celeb chef and TV personality Giada De Laurentis' Pronto by Giada restaurant at Caesars Palace.
Adding to the female firepower, celeb TV chef Giada de Laurentis has opened her second restaurant here, Pronto, offering signature Italian dishes in a casual venue at Caesars Palace.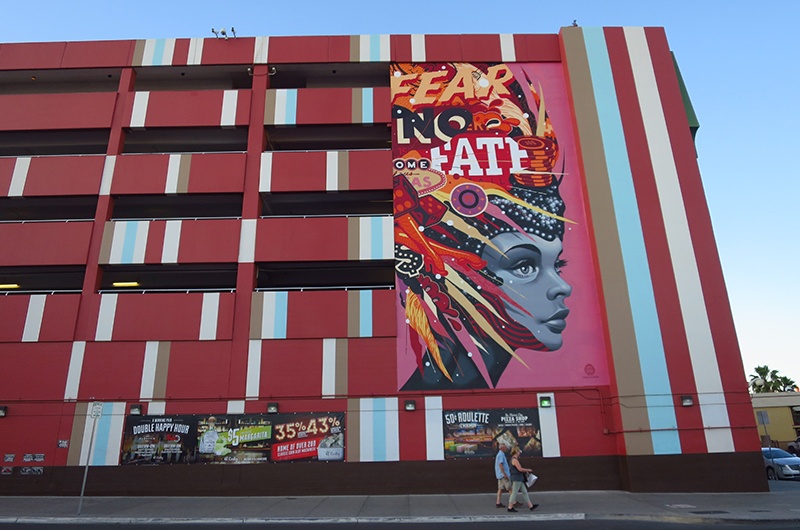 The Downtown streetscape is just as eye-catching during the day.
American pop
It's not all fine dining news though. Black Tap at the Venetian offers award-winning craft burgers, over-the-top shakes and cocktails, and there are numerous burger joints, including some by big-name chefs like Gordon Ramsay.
Downtown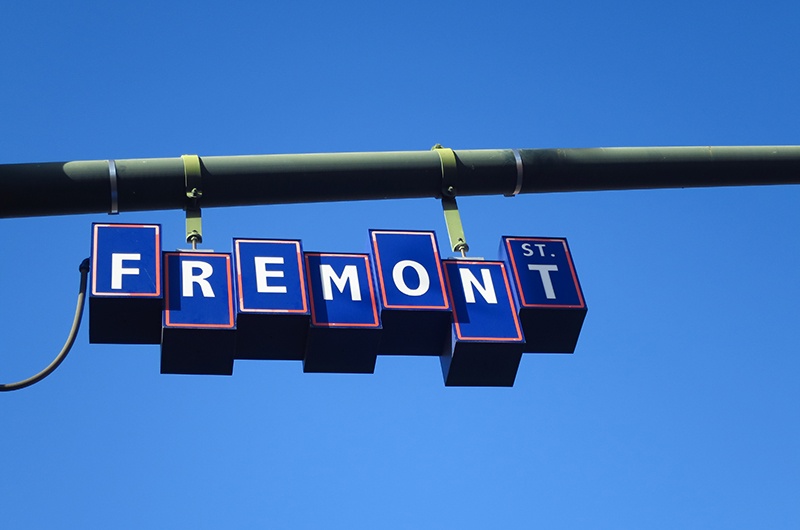 You know you're in Downtown Las Vegas at the Fremont Street sign.
Overshadowed by the Strip in recent years, the Downtown area, including Fremont Street, is the original Vegas and the real heartbeat of the city. It's undergoing a renaissance though, thanks to former Zappos CEO Tony Hsieh who ploughed $350 million into revitalising Vegas' downtown area.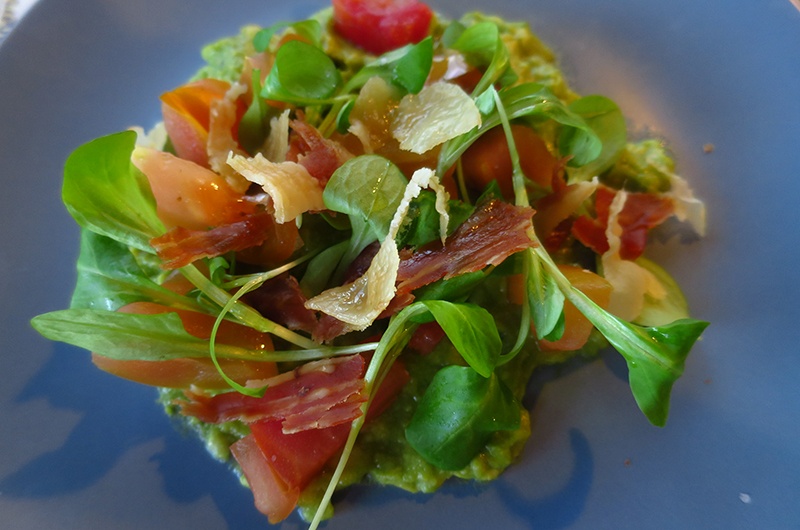 A starter at 7th & Carson adds a modern Vegas twist to the classic Italian Proscuitto e Melone dish.
Downtown is characterised by food trucks, container restaurants, Chicago-type speakeasies and casual American. 7th & Carson chef Gregg Fortunato does mod Italian, which is a cut above the usual American fare with dishes like grilled pear and burrata with arugula black pepper honey and basil pesto served with a special hearth oven bread. Downtown Cocktail Room Sip 'N Tip is a handcrafted cocktail bar by Michael Morey that's been rated one of the top 50 In America. Both are stops on the Lip Smacking Food Tour.
Food tours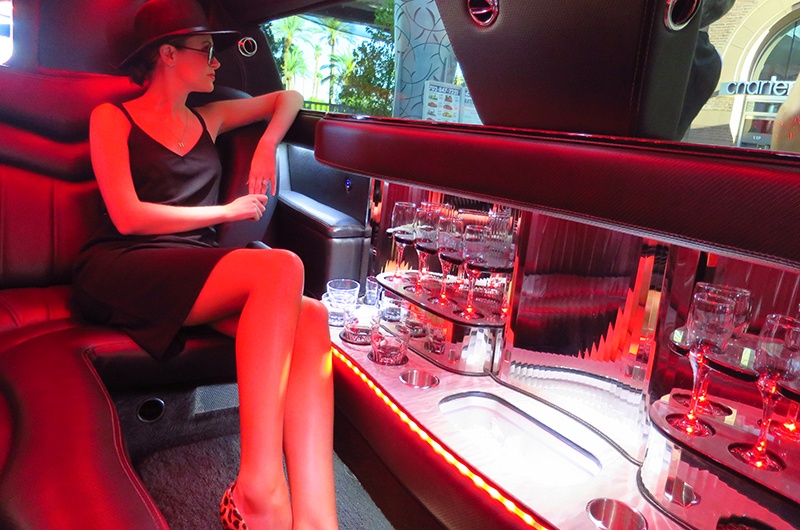 Top tip: when in Vegas, a limousine with drinks service is definitely the way to go.
Lip Smacking Food Tours does day or night tasting tours of top restaurants on The Strip or Downtown area starting at The Container Park beneath the giant metal flame throwing /fire-breathing preying mantis that was relocated from Burning Man, Nevada's desert festival. It's a great way to sample what Vegas has to offer in a short period of time.
Eataly
Opening later this year in front of the Park MGM theatre is a Vegas branch of New York's famous food hall – a deli on steroids – so there's no longer any need to go to the Big Apple to eat well.
Crazy cocktails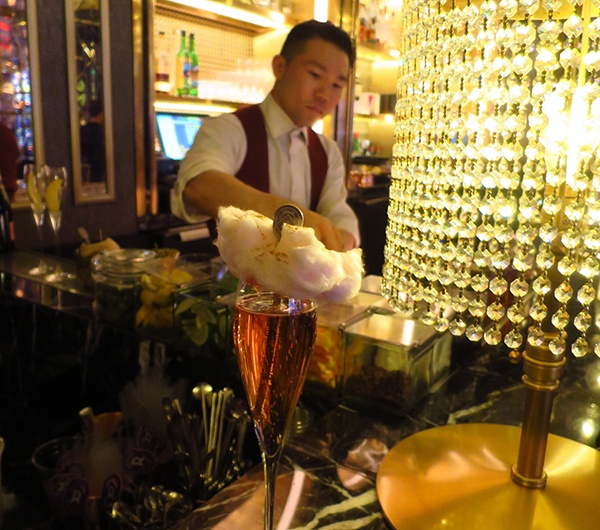 A sweet fairy floss-topped cocktail is the icing on a night out at Art Deco-style Rosina bar at The Palazzo Las Vegas.
Blue, pink, green and foaming with absinthe – nothing is too strange or out of this world for Vegas' cocktail bars and speakeasies. Take Bavette at the Park MGM Las Vegas or Rosina at The Palazzo Las Vegas – both dark, Chicago jazz bar-meets-Parisian salon in feel with lots of beaded brass lamps, embroidered walls, velvet chairs and smoked glass mirrors. There is no such thing as a classic cocktail here.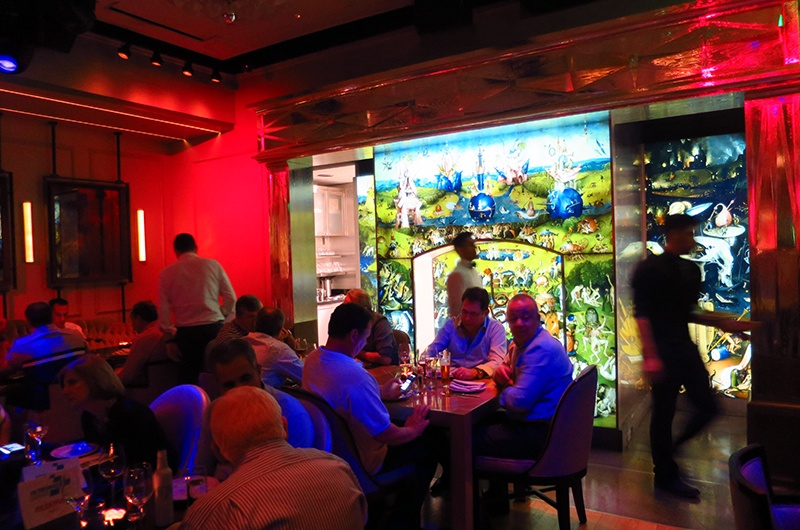 Head down the rabbit hole at Rose. Rabbit. Lie. supper club.
Up the decadence at supper club Rose. Rabbit. Lie. at The Cosmopolitan for an Alice-in-Wonderland night-time adventure with entertainment, live music and delectable eats and cocktails, while vintage decor and gritty style adorns Beauty & Essex Las Vegas, a jewellery box-themed restaurant and lounge, also at The Cosmopolitan.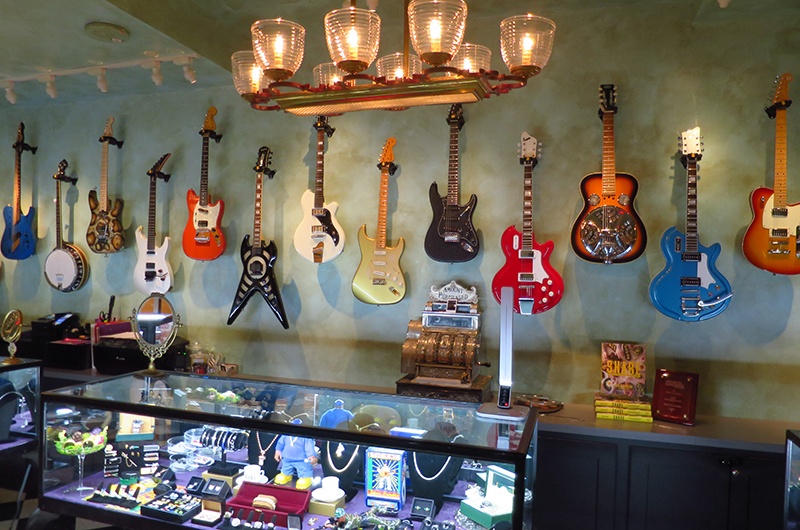 The Lower East Side of NYC meets the Las Vegas Strip at the music-inspired entry to Beauty & Essex at The Cosmopolitan.
Or try handmade Ethel M Chocolates, sip wine and take in views of the Vegas strip from the High Roller Observation Wheel.
Events
Want to try all that Vegas has to offer? This desert city hosts Uncorked, a week-long Food And Wine Week each year in early May that features celeb chefs, food events and tastings and master cooking classes where you can rub shoulders with giants of the food world like Gordon Ramsay, Nobuyuki 'Nobu' Matsuhisa and Iron Chef Masahura Morimoto at ticketed events such as Picnic in the Park and Tasting.
All images: Karen Halabi
---
Ready to explore Las Vegas? Check out our deals on sale now!
---
---
Flight Centre acknowledges the Traditional Custodians of Country throughout Australia.