LA To SF: Driving California's Charismatic Highway One!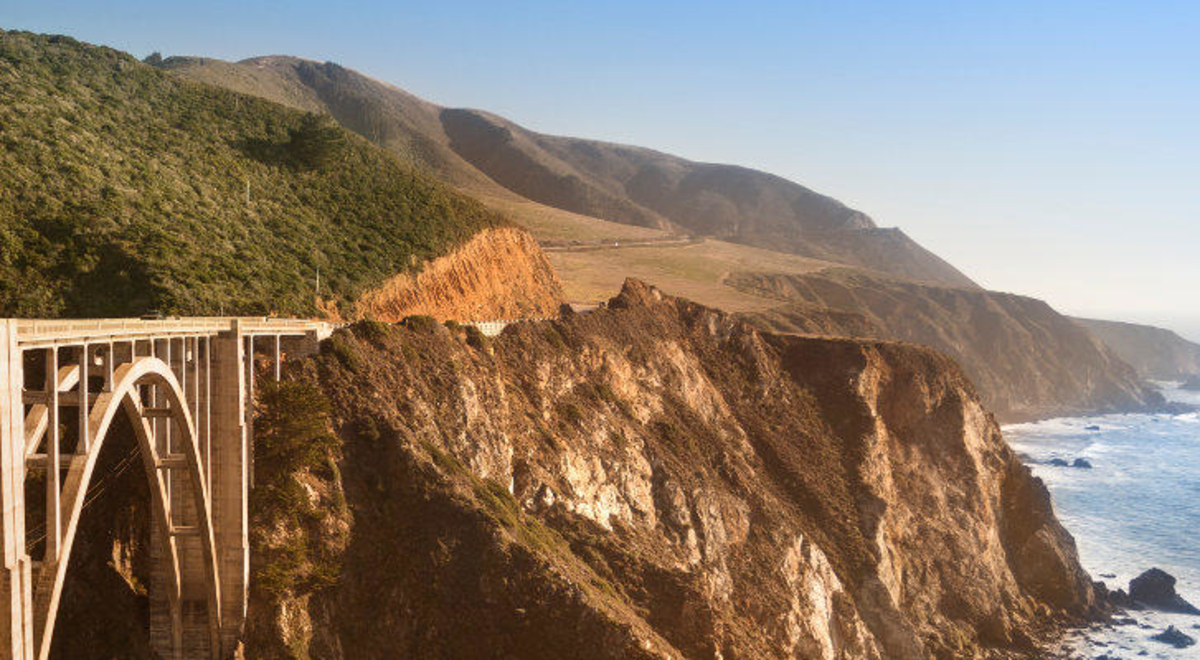 ---
---
Hitting the highway on a classic American road trip is simply one of those must-do experiences. With inexpensive rental-car deals, low petrol costs and an incurable case of wanderlust, my 'one day' arrived sooner rather than later. Although there are many great road journeys to choose from, the Californian charisma of Highway 1 beckoned me with a siren song I couldn't refuse.
Highway 1, aka State Route 1, aka The Pacific Coast Highway along its Santa Monica stretch. Image: Getty
In a journey bookended by the powerhouse cities of Los Angeles and San Francisco, this well-worn trail allows free-spirited travellers to bathe in the untamed beauty of California's coast. But first you need to get out of Los Angeles's choked-up freeway system with your sanity intact – a miraculous feat for a jetlagged traveller, or a fun-filled accomplishment for those in the right frame of mind.
All is forgiven once I hit the Pacific Coast Highway locale of Malibu. Flanked by the sparkling sea on one side and canyons on the other, this area's movie- star good-looks makes it film-setting heaven, with El Matador State Beach's imposing rock formations a favourite with Hollywood location scouts. Cult classics like Grease and The Notebook were filmed at this pocket-size beach, although when I pull over and take a wander, the only filming taking place is for an amateur rap video.
As seen in The Notebook and several other Hollywood productions: El Matador State Beach. Image: Getty
No American road trip worth its salt is complete without a fast-food pit stop, so I choose to get my required dose of trans fats at Malibu's Neptune's Net, a beachside burger joint featured in Point Break and The Fast and the Furious. This no-frills burger-and-fries mecca favoured by local bikies serves up standard greasy food that tastes better with the knowledge that Keanu Reeves once ate here… maybe.
An hour's drive up the highway, Santa Barbara is a classy affair, with luxury spas and upscale restaurants both upping the ante and testing my non-negotiable budget. Known as the American Riviera, Santa Barbara is the playground of the rich and famous and somewhere best visited with wads of cash. Even without the dough it's fun to drive through, gawking at the type of people you'll probably never meet.
As someone slightly obsessed with sparsely populated, tiny townships, there's no way I could pass up a road sign pointing to the blink-and-you'll-miss-it town of Harmony, population 18. Legend has it that it was renamed following a violent blood feud that tore apart this farming community many years ago; renaming a place Harmony is one way to make sure people live in harmony! With a charming wedding chapel and a vintage-feel cafe, Harmony is a soul- warming roadside stop worth savouring.
Cambria's boardwalk gives you a stroll with a view. Image: Getty
Further along the highway, the charming village of Cambria nails the small-town America vibe, making it an ideal place to bed down for the night. With welcoming townsfolk and picture-perfect houses and streets, Cambria is an endearing slice of California that many travellers overlook in favour of better-known stops. For the curious road-tripper, it's a delight to explore.
Armed with some golden local knowledge acquired from a friendly senior, I take the time to wander along the Fiscalini Ranch trails, taking in the beautiful natural scenery around me. Providing rare moments of sweet solitude, it's entirely possible to round this ocean-side trail without seeing another soul.
Nearby, Hearst Castle looms in all its dazzling glory. Set on a sprawling property, Hearst Castle stands as a reminder that money can buy many things, but it can't always buy good taste. Owned by controversial publishing magnate William Randolph Hearst, a visit to Hearst Castle offers a revealing look into the psyche of one of America's best-known multimillionaires. Signing up for a ticketed, timed, guided tour feels slightly restrictive on a road trip that represents freedom, but I'm a sucker for kitsch roadside attractions, and Hearst Castle doesn't disappoint.
Inside, a gaudy mishmash of eclectic themes and styles shows that Hearst's approach to decorating was as unconventional as the company he kept (Hearst was friends with eccentric aviator Howard Hughes). Always spending more money than he earned, Hearst was on a neverending, relentless quest to bankrupt himself, despite his substantial earnings. Hell bent on expansion at any cost, his castle was in a perpetual state of growth throughout his lifetime, and while the interiors of the castle are what people pay to see, the landscaped gardens and opulent swimming pools are the real triumphs here.
Elephant seals on the San Simeon coast, soaking up the sun. Image: Getty
While Hearst put his stamp on this area years ago, the elephant seal colonies of San Simeon own the stretches of sand nearby. Despite having a face only a mother could love, these creatures are content to wallow in their own splendour, providing comic relief for weary drivers needing a break from the road.
Dubbed 'the greatest meeting of land and sea in the world', Big Sur is the show-stopping stretch that all Highway 1 road- trippers come for. With switchback turns, decrepit bridges and regular landslips, this part of the drive is best taken super slow. The weather proves to be as dramatic and changeable as the scenery. In the space of half an hour I feel the warmth of the sun, the chill of the wind and the eerie, gentle touch of a damp fog bank as it moves steadily in from its oceanic origin.
The spectacular Big Sur coastline at Ragged Point, California. Image: Getty
Pulling over onto the side of the road to take in some fresh air or snap photos is easily done, although with kilometres of unspeakable beauty, it's surprising I make it out at all. Joyous jumbles of wildflowers, mountainous cliffs, quiet wilderness and a great blue backdrop combine to create a place of natural reverence that has managed to not only capture the imaginations of literary greats such as Jack Kerouac, Hunter S. Thompson and Henry Miller, but thousands of tourists each year – and I'm no exception. Built partly with convict labour more than 80 years ago, Bixby Creek Bridge still stands strong, quietly holding up its end of the bargain without protest.
Bixby Creek Bridge – probably the most Instagrammed point on the Big Sur coastline. Image: Getty
Shocked into silence by the wild wonder of Big Sur, I resist the temptation to drive back and see it all again and head north to the Carmel and Monterey areas. The town of Carmel-by-the-Sea is a magnet for wealthy retirees, while Monterey has the common touch thanks to its fishing industry origins. While geographically close, these two towns are worlds apart, with Carmel-by-the-Sea boasting impossibly cute luxury inns and boutiques filled with blink-worthy price tags, and Monterey confidently stepping forth with all-you-can-eat crab shacks and vintage bowling alleys. I know which camp I'm in (go Team Monterey!).
The Lone Cypress, between Carmel-by-the-Sea and Monterey, California. Image: Getty
Further along the highway, youthful Santa Cruz revels in skater and surf culture, with a boardwalk theme park providing thrill rides, arcade games and deep-fried Twinkies to the masses. Arty San Francisco is an easy two-hour drive from Santa Cruz but feels like an eternity after many long days driving solo. Returning the keys to my rental car is a symbolic act not lost on me, but the time has come to embrace another American tradition: riding San Francisco's cable cars.
---
---
Flight Centre acknowledges the Traditional Custodians of Country throughout Australia.