What Each New Zealand Ski Slope Has To Offer Your Family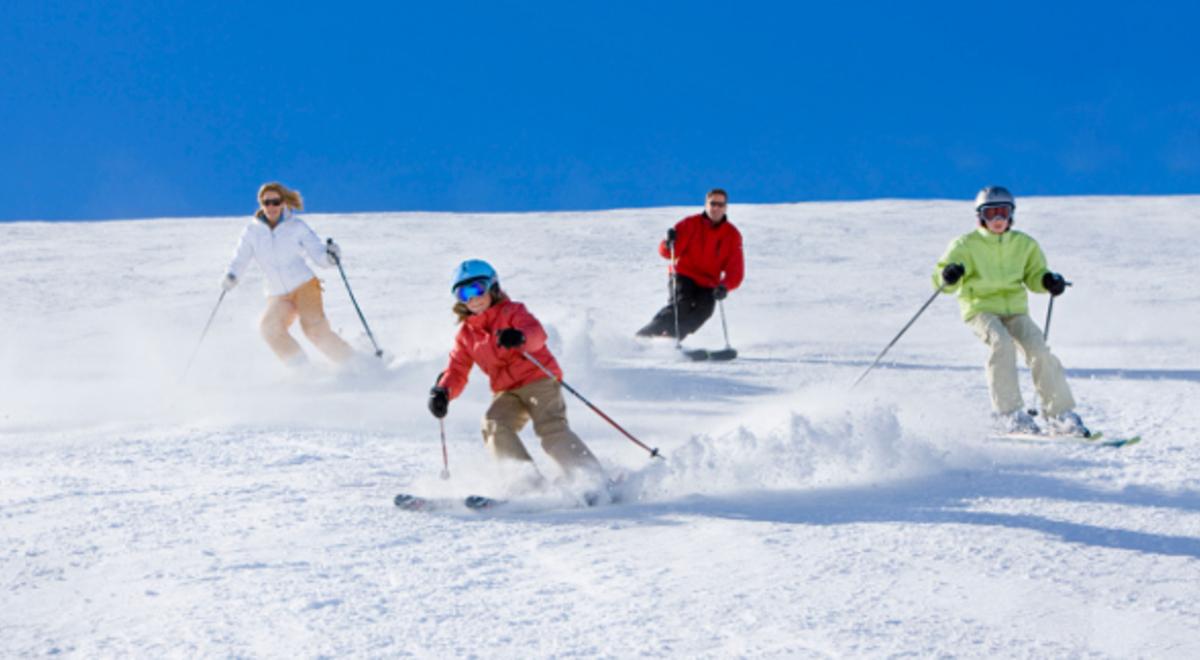 There is no denying family ski holidays are logistical exercises that could justify coming with instruction manuals.
From the amount of gear required to which resorts best teach kids or entertain energetic teens who want to jump off anything they can hit, heading for the hills can be far more complex than tossing a ball around at the beach.
For this reason many of New Zealand's ski resorts have gone all out to tick every single box that might appear on a family's ski trip wish list.
Cardrona has even gone as far as giving its base area the atmosphere of a children's fun park with a cartoon-style clock tower as its centrepiece, and most of the major fields offer child care from as young as three months to give mum and dad time to enjoy the slopes.
Options for a day off the slopes are far more varied in New Zealand than in Australia, too.
This country virtually leads the world for crazy activities, from much-publicised bungy jumping and jet boating to the town of Wanaka's Puzzling World and Toy and Train Museum.
There's even novelty employed when it comes to entertaining the tiny tots – the new slippery dip in the revamped waterside park beside Lake Wanaka is in the shape of a dinosaur.
Mt Hutt
Every parent's attention grabber
The one thing however that grabs most parents' attention is a money saving offer. Mt Hutt, the ski resort about one hour's drive from Christchurch, has a kids free deal (that's children under 10 accompanied by a paying adult) that tops all others in New Zealand (and many around the world for that matter) by going quite a way beyond similar offers.
Mt Hutt's kid's free package extends to free travel to and from Christchurch Airport and Mt Hutt with selected coach companies, free accommodation at certain properties in the town of Methven at the foot of Mt Hutt, and free ski/snowboard rental.
A number of restaurants provide free meals on the deal, and some of the attractions around Methven are free also free to kids.
More music to parents' ears is that Mt Hutt can look after babies from the age of three months. Its version is the Skiwiland Early Learning Centre, (thoughtfully nut free to avoid allergy risks).
Here your child can get used to the touch and feel of snow through a range of activities. For those aged five to 15, Mt Hutt's Kea Club is where they can start learning to ski or snowboard.
Cardrona
Fun, food & snow bucketing down
But when it comes to family skiing, Cardrona, about a 35-minute drive from the town of Wanaka, is king among NZ's ski fields. Its large open ski fields and easily negotiated run layout is hard to beat. The bulk of runs are gentle and as expected extremely well groomed.
Visitors frequently comment how easy it is to improve at Cardrona thanks to its cleverly graded slopes, and while the resort does have a reputation for being an intermediate hill, its steeps are so serious it has been the site of several extreme free skiing competitions.
Topping it off are the spectacular views. Views from every one of New Zealand's ski resorts are special, but Cardrona is the highest of them all and has a possie that gives skiers an almost 360-degree view of the mountains running through the spine of the country.
Older children absolutely love the terrain parks here, as well as the competition-sized half pipe which is usually the only one of its kind built each season in New Zealand.
The three large and progressively more difficult terrain parks are located beneath the major lift that feeds into the ski field, giving everyone on the uphill ride a great view of tricksters doing their thing as well as the ideal place for kids and adventurous adults to try out their skills on the jumps and sliding features.
Cardrona's children's learning centre is recognised as one of the best in Australasia. The large building at the base area contains a fully equipped Ski Kindy with colourful rooms and desks just like a regular childcare centre.
Once outside though the sandpits and swings are replaced by activities such as building snowmen and learning how to form and throw a snowball – a skill that will never go astray - with someone dressed as a giant penguin.
Ski lessons are offered from the age of two years. In short, everything is laid on to make sure your kids come out absolutely loving the idea of being in the snow.
Families will find it easy to please picky eaters too at Cardrona which has made a concerted effort to cater especially to the tastes of children and teens without ignoring the adults.
Craving pizza? Head for Captain's Pizzeria out on the slopes where huge slices of pizza are on the menu along with home made pies, all of which on a good day can be enjoyed on a sunny balcony overlooking an expansive valley view.
The Asian noodle bar in the base lodge has proved a big winner over the years, and a recent spruce up of the facility has seen a fresh juice bar added (quite a feat at altitude) along with a top notch coffee bar and an actual restaurant for the grown ups.
---
There's lots more to Queenstown. 4 Quirky Ways To See Queenstown
Why Wanaka is just right for you. Wanaka: The NZ You've Always Dreamed Of
---
Treble Cone
Here you can ski for free
No it's not a lie: Treble Cone, the other ski field accessible from Wanaka and also about 35 minutes away, so wants to attract beginners and families that it offers an entirely free area for them in which to learn to ski.
Yes – that means you can take the whole family here and potter around all day without spending a cent aside from the money you will no doubt outlay on Treble Cone's superb food and coffee, which has remained consistently high quality over the many years this ski writer has been visiting New Zealand.
The reason why Treble Cone has gone as far as offering the free lifts and area for beginners and families is to counter its long held reputation as being only for the advanced.
In short, it used to scare people off. But in the last few years its intermediate and children's offerings have improved in leaps and bounds. The Jazz Kids' Fun Trail for instance is a cute little terrain park alongside the green (beginner grade) Easy Rider.
It still has jumps and slides, and even a rainbow shaped slide and seesaw roll-box, but all in miniature. Cute.
Wanaka itself, like Queenstown, is lakeside but far quieter than its more colourful mainstream cousin. It has a huge variety of self-contained accommodation and family restaurants, a cosy cinema, and a range of fun activities such as bike riding along the lakeside to indulging in real hot chocolate at the to-die-for Patagonia chocolate shop on the lake shore.
The Remarkables
Snow slopes with families in mind
The mecca of New Zealand skiing is the feeder town for Coronet Peak and The Remarkables and has a spectacular location aside Lake Wakatipu overlooking soaring peaks.
This is the kind of town where families can find any kind of accommodation from five star to budget, food from burgers to sushi and activity booking centres on almost every corner thanks to its international holiday destination status.
If your priorities lie with teaching small children to ski, then the truly gentle slopes at The Remarkables are an ideal choice. Don't be intimidated by the resort's unpaved access road, which can take a good (and bouncy) 40-minute drive up for the uninitiated, or think its slopes resemble the steep rocky spires that loom over the ski field.
In contrast the beginner and intermediate slopes here are the mildest in the country, some learner runs requiring a little push in the middle they're so gentle. Timid intermediates will also love it here.
The Remarkables is also the only ski field along with Cardrona equipped with truly progressive terrain parks, a series of three containing increasingly challenging features.
The ski free kids deal here extends to children under the age of six. One of The Remarkables big selling features is that parents can watch their offspring master snow ploughs and make their first wedge turns from the cafeteria deck conveniently perched overlooking the learner slopes.
There's no risk, either, of the less experienced suddenly finding themselves atop a run that makes them wish they hadn't left the hotel. Slopes for experienced skiers are neatly separated over on a far side of the ski field, while the resort's expert terrain requires some inside knowledge to reach, and definitely technical skill to descend.
Coronet Peak
Anyone for the finest lamb shanks?
Last but not least, Coronet Peak is the most easily accessible ski resort of all on the South Island, being a quick 20-minute zoom up a paved road from Queenstown, as well as the most popular not only for proximity but for immensely enjoyable terrain.
Making all the difference – and drawing even more visitors – is the base facility revamp that took place here five years ago. This stark transformation from tiny cramped cafeteria to world class modern establishment sees visitors now enjoying a huge base lodge with floor-to-ceiling windows plus masses of outdoor seating on a heated deck to minimise slippage risk in ski boots – especially handy when carrying trays laden with the cafe's hearty, healthy food.
Lamb shanks and steaming roasted vegetables were on offer last time we were here, absolutely delicious home cooked fare.
While Coronet has a dedicated beginner's trail separate to the large novice/learning area, Coronet Peak truly comes into its own for intermediate skiers.
Families who get away on average once a year together generally fall into this category, and they can easily ski together on the beautiful rolling terrain that always proves enormous fun to ski thanks to the way it flows and banks around corners.
This is indeed a resort where the phrase 'cruising down a ski run' takes on its true meaning, and like so many of New Zealand's spectacular fields, can infect your family with the ski bug for life.
cardrona christchurch mt hutt queenstown the remarkables wanaka
---
Flight Centre acknowledges the Traditional Custodians of Country throughout Australia.